How to Easily Integrate Automation into Your Marketing Strategy
The marketing industry has never been more advanced than it is today, and that means there are plenty of options available to marketers and businesses looking to reach potential customers more effectively. As a result, many of these marketers are turning to automation.
In a nutshell, automation makes things go faster. Instead of spending time performing the same tasks over and over again, marketing automation programs leave you and your team free to focus on future strategies—or at least they do when properly integrated.
It takes a lot of time to put a marketing campaign together, and many companies who don't have the time or resources to do it all turn to automation. If they integrate these platforms properly, the results are phenomenal. If they don't, it's a mixed bag at best.
So if you're considering automation, take the time to choose the right solution for your business and properly integrate it with your existing strategy for the best possible results. On this page, you'll find out how automation can improve your marketing efforts, as well as how to make automation integration more efficient and effective.
If you'd like to speak with a specialist, you can reach us at 888-601-5359.
WebFX is a full-service Internet marketing agency, and we can help you integrate automation into your marketing strategy.
CHECK OUT OUR MARKETING AUTOMATION SERVICES
How does marketing automation help?
The marketing process is now more complex than ever. You have to make sure every campaign on every channel runs on schedule and under budget.
It's tough for any group of marketers to keep things running smoothly without the assistance of technology, which is why so many are turning to automation to help keep all of their strategies on track.
Here are a few of the benefits you can expect to experience:
Lower marketing costs
Consider all the tasks you have to perform to implement a marketing campaign. Some of these tasks are tedious and repetitive, and you would have to spend a few hundred or even thousand dollars a week to hire people to perform them.
By contrast, you can set an automation platform to perform the same tasks at a fraction of the cost—and with fewer errors.
Easy scheduling
Internet marketing takes place all day, every day. You can't put off sending an email or posting on social media because something important came up. With automation, you don't have to worry about remembering to do all of these small tasks on time.
You can schedule certain tasks ahead of time and rest assured that they're being done while you're focusing on other priorities.
Greater consistency
Integrated marketing requires a cohesive experience across multiple channels, but this isn't easy when multiple teams are performing various tasks at once. An automation program allows you to work across your entire range of channels, ensuring the same message is reaching customers and followers no matter where they are.
Better targeting
Online marketing enables your company to customize communications from one customer to another based on their needs and stage in the sales cycle. No one could keep track of the status of every prospect, but the right software can.
With automation, your site can be set to send the right message to the right person at the right time, resulting in higher satisfaction and conversions.
How can you start using marketing automation?
Automation enables marketers to streamline and expand their programs over time without significant cost increases. But for many companies, there's a long learning curve and some costly mistakes before the process works the way it's supposed to work.
You can avoid these pitfalls by following these tips.
Decide what you'd like to automate
Marketing automation integration is a good idea when marketing becomes increasingly complex. It's not a good idea when it's done just for the sake of doing it. It's a big investment, so understand what you need to automate and why. This will ensure your business gets an immediate benefit from automation.
Examine all of your marketing activities and see where you want to see improvement, such as faster response times or more precise engagement with each lead. Next, think about why you need to automate. If, for example, your current processes are keeping you from expanding or converting more leads, then automation makes sense.
Choose a platform that suits your needs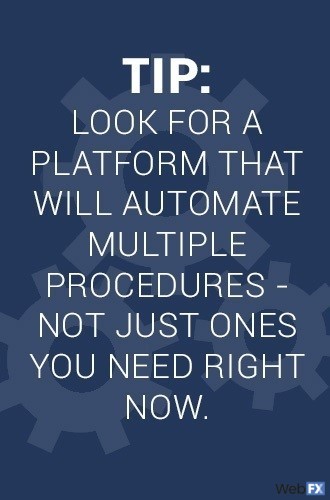 Once you've identified your needs, choose a platform that is capable of meeting them. Be sure that it has all of the features you need built in, and has positive reviews from other business with similar needs.
Also keep in mind that your current automation needs may not reflect what your business will need in the next five years or even 12 months. Even if you only need certain features now, you want a solution that will adapt and scale up along with your business.
Keep this in mind when deciding an automation solution to integrate into your company. Look for a platform that will automate multiple procedures, not just the ones you need right now. Also, look for something that's compatible with several solutions, in case you decide to switch platforms in the future.
Considering using marketing automation?
Even big marketing teams benefit from time-saving automation tools if they're properly integrated. If you're considering integration into your marketing strategy, WebFX can help.
Using our proprietary marketing automation software, MarketingCloudFX, we can seamlessly integrate tools that will improve your marketing efficiency. Contact us today for more information!
Earn a 20% greater ROI with WebFX