5 Top Martech Companies of 2024 in the World
With digital marketing increasingly becoming more competitive, you need an edge to ensure your strategies drive results. And that edge? Martech. If you're searching for the top martech companies of 2024 to build an impressive martech stack for your business, you're in the right place. Just keep reading!
5 top martech companies of 2024 in the world
Browse our list of the best martech companies of 2024 in the world below:
1. WebFX
Location: Pennsylvania, USA

Best for: Revenue acceleration and data-backed end-to-end marketing solutions
First on our list of the top marketing technology companies is WebFX. Wait, aren't we WebFX? Yes, we are! We wouldn't include ourselves on this list if we truly didn't believe we provide the best martech solutions, especially for small to medium-sized businesses (SMBs).
MarketingCloudFX is our in-house revenue acceleration platform that drives sales and revenue for SMBs worldwide. With MarketingCloudFX, you can say goodbye to juggling multiple platforms and say hello to your all-in-one martech solution.
Check out some of the main features of MarketingCloudFX below:
AnalyticsFX: Track the performance of your website in search engines, analyze your web traffic, view your keyword rankings, and more with AnalyticsFX.
CallTrackerFX: Automatically track your phone calls and view which web pages and channels drive the most calls for your company with CallTrackerFX.
Customer360FX: Experience a 16% average increase in sales with Customer360FX. Use Customer360FX to combine customer data with unified customer journeys for real-time audience segmentation to better understand your customer's behaviors and implement strategies accordingly for maximum conversions.
AdTechFX: AdTechFX enables you to launch highly targeted programmatic advertising campaigns based on customer relationship management (CRM) and visitor data, resulting in an 8% average increase in closed sales.
LeadNurtureFX: Experience a 14% average increase in sales with LeadNurtureFX. Use it to expertly nurture your leads toward conversion by launching smart email campaigns using real-time audience syncing from Customer360FX automated segmentation to build relationships with leads before they ever consider a competitor.
LeadManagerFX: Track your leads' journey from initial awareness to conversion across multiple channels, automatically score your leads, and more with LeadManagerFX.
PersonalizeFX: PersonalizeFX enables you to personalize audience experiences that resonate with your audience's interests across your website using demographic and firmographic audience journeys, resulting in an 11% average increase in conversions.
EmailMarketingFX: EmailMarketingFX enables you to take advantage of on-demand email sending with real-time audience syncing from Customer360FX. Use email templates, automate your sending process, track your results, and experience a 16% average increase in leads with EmailMarketingFX.
CompetitorSpyFX: Always stay one step ahead of your competitors with CompetitorSpyFX by tracking your competitors' website changes and monitoring their strategies.
ContentAnalyticsFX: Access real-time insights into which content types provide the highest value for your business with ContentAnalyticsFX.
ContentGeniusFX: Powered by IBM Watson, ContentGeniusFX enables you to create search engine optimization (SEO) content to boost your rankings in the search results, resulting in a 10% average increase in organic traffic.
Nutshell: When you invest in MarketingCloudFX's foundation plan or higher, you'll receive 10 seats in Nutshell, a hassle-free CRM platform for SMBs that helps you close more sales.
Meet MarketingCloudFX:
One platform tracking countless metrics and driving stellar results.
Learn More About Our Proprietary Software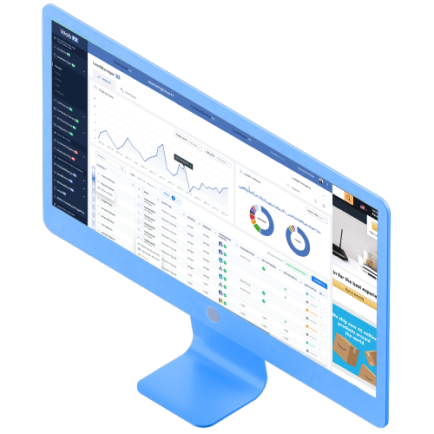 2. Konnect Insights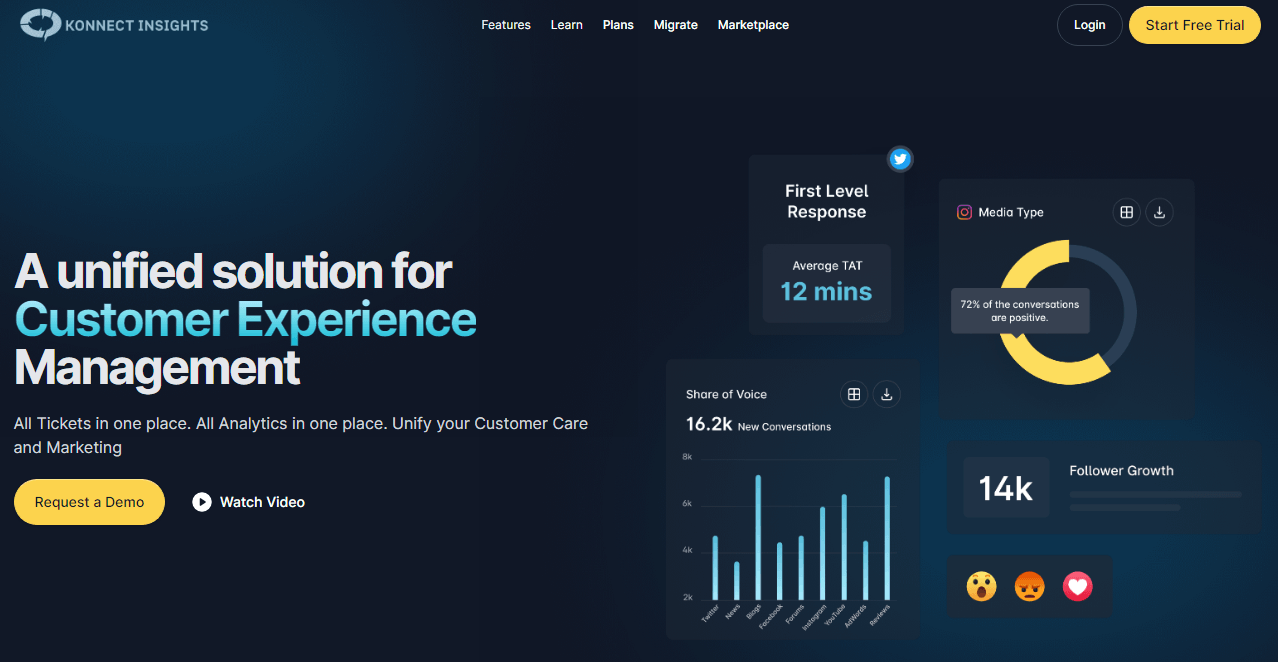 Location: Mumbai, India

Best for: Social media listening and analytics
Headquartered in Mumbai, Konnect Insights is one of the best martech companies in India. Their social media listening and analytics platform enables you to stay on top of your brand's social media mentions across multiple sites, including:
With Konnect Insights, you can:
Never miss an opportunity to engage with your audience and build relationships on social media with listening alerts and notifications.
Analyze customer data to learn more about your audience's demographics and interests and leverage that data to optimize your marketing strategies.
Track your competitors on social media to understand what's working for them and identify gaps that your brand can fill in to stand out.
View over 700 charts to analyze various aspects of your social media campaign, including locations of brand mentions, social media audience, and strategy analytics, competitor analytics, and more.
Understand which messages resonate most with your audience and what times they are most active on social media to ensure your social media content and posts resonate with your audience.
Schedule and publish posts across multiple social media platforms in one dashboard.
Create and send customer satisfaction surveys to gain valuable feedback from your audience to better understand what you're doing well and what you can improve.
If you need a social media marketing platform to add to your martech stack in India, Konnect Insights could be the perfect company to get in touch with.
3. Adjust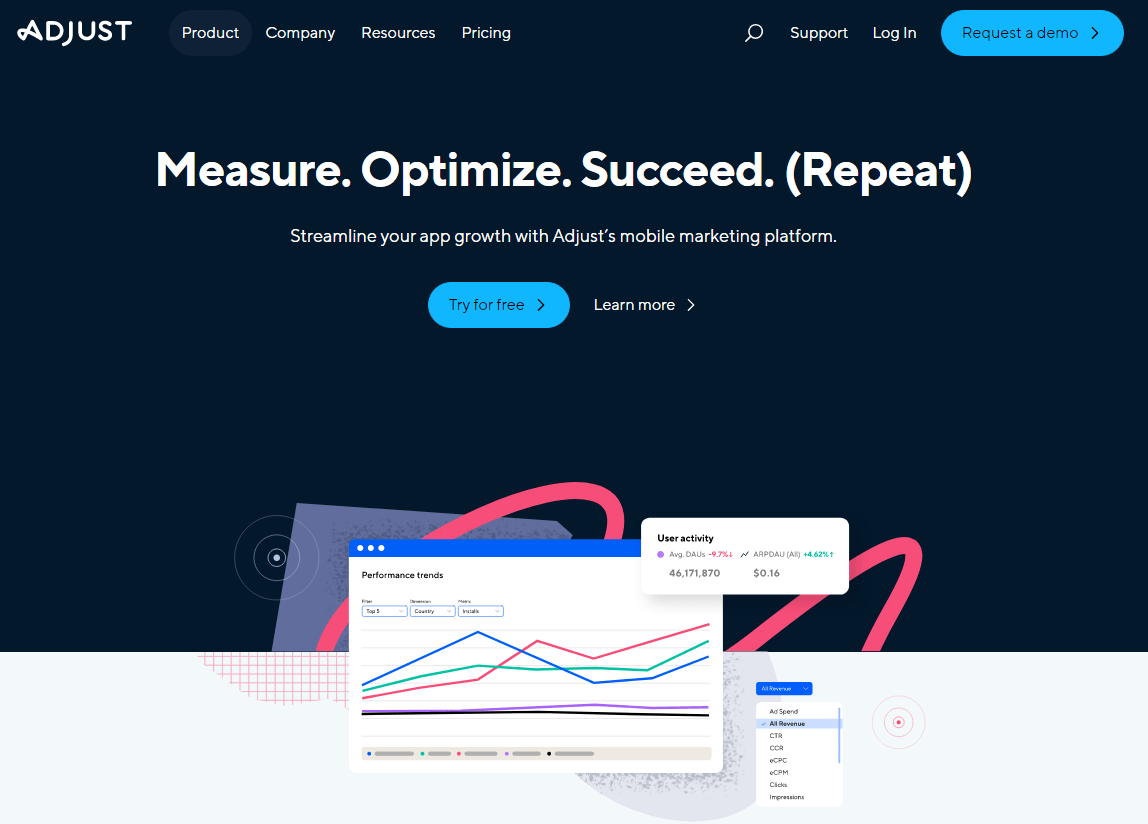 Location: Berlin, Germany

Best for: Mobile marketing
Do you invest in mobile marketing and need a platform that can help you drive better results? Say hello to Adjust.
Adjust is headquartered in Berlin and offers advanced mobile marketing software to help you reach and convert more mobile users.
With Adjust's platform, you can:
Understand the user journey across multiple channels.
Optimize your mobile marketing strategies with insights from holistic reporting on your ad spending and revenue.
Accurately measure the performance of over-the-top (OTT) mobile advertising campaigns.
Compare and analyze ad campaign results across multiple mobile apps in a single view for smarter, faster marketing decisions.
Create custom audiences and update them in real-time to ensure your campaigns always reach your target audience.
Automate time-consuming campaign processes, like manual data entry.
As one of Germany's top marketing technology companies, Adjust can upgrade your martech stack with a powerful mobile marketing platform that helps you manage and improve your strategies.
4. Buzzoole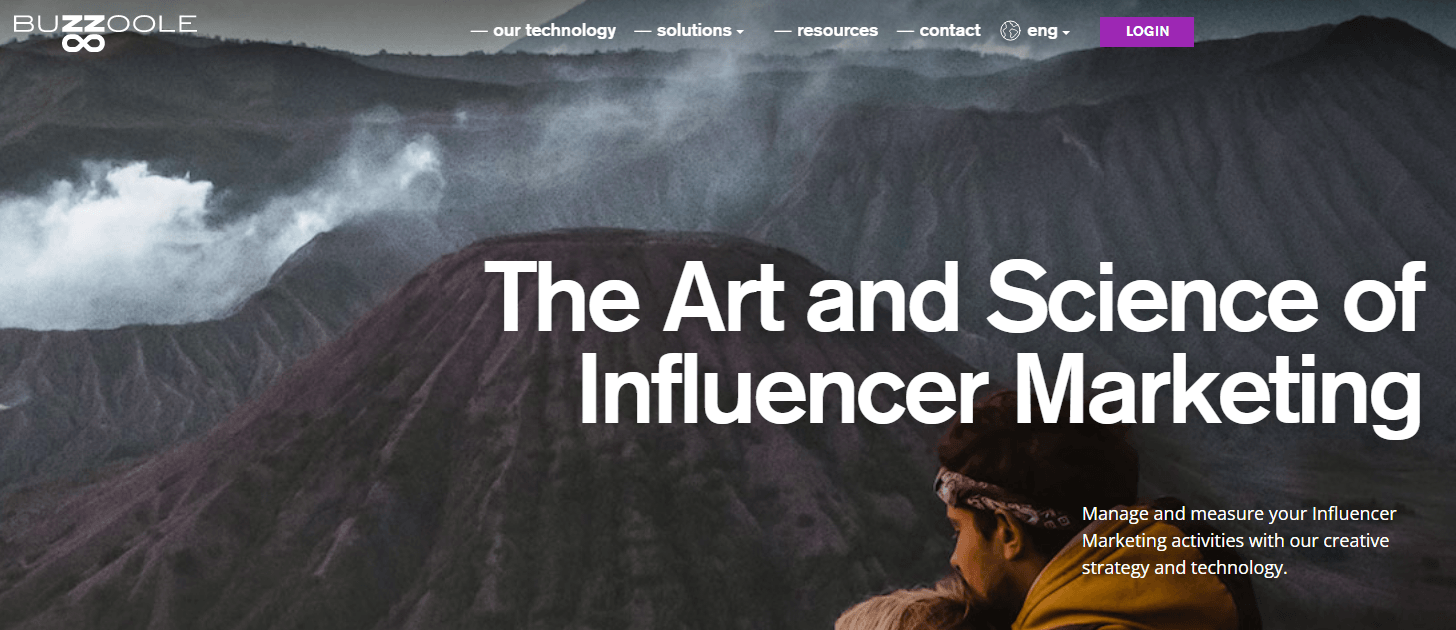 Location: Naples, Italy

Best for: Influencer marketing
Looking to add an influencer marketing platform to your martech stack? Buzzoole has you covered.
Located in Naples, Buzzoole is one of the best marketing technology companies in Italy for influencer marketing.
Buzzoole's software helps you seamlessly collaborate with creators most aligned with your brand so you can reach more members of your target audience.
Check out the main features of Buzzoole's platform below:
Buzzoole Discovery: Buzzoole Discovery allows you to find the best creators and influencers for your brand with unlimited searches across two million profiles and 550 million pieces of content using more than 20 filters.
Campaign Management: The Campaign Management feature makes creating and managing your influencer marketing campaigns You can create detailed briefs, reach out to creators, and approve content in one platform.
Buzzoole Tracker: Buzzoole Tracker enables you to always stay in the loop with the performance of your influencer marketing strategies. View your reach, impressions, interactions, and more with detailed reports.
If you want to boost the performance of your influencer marketing campaigns and further expand your reach, Buzzoole could be a great choice for your business.
5. FullCircl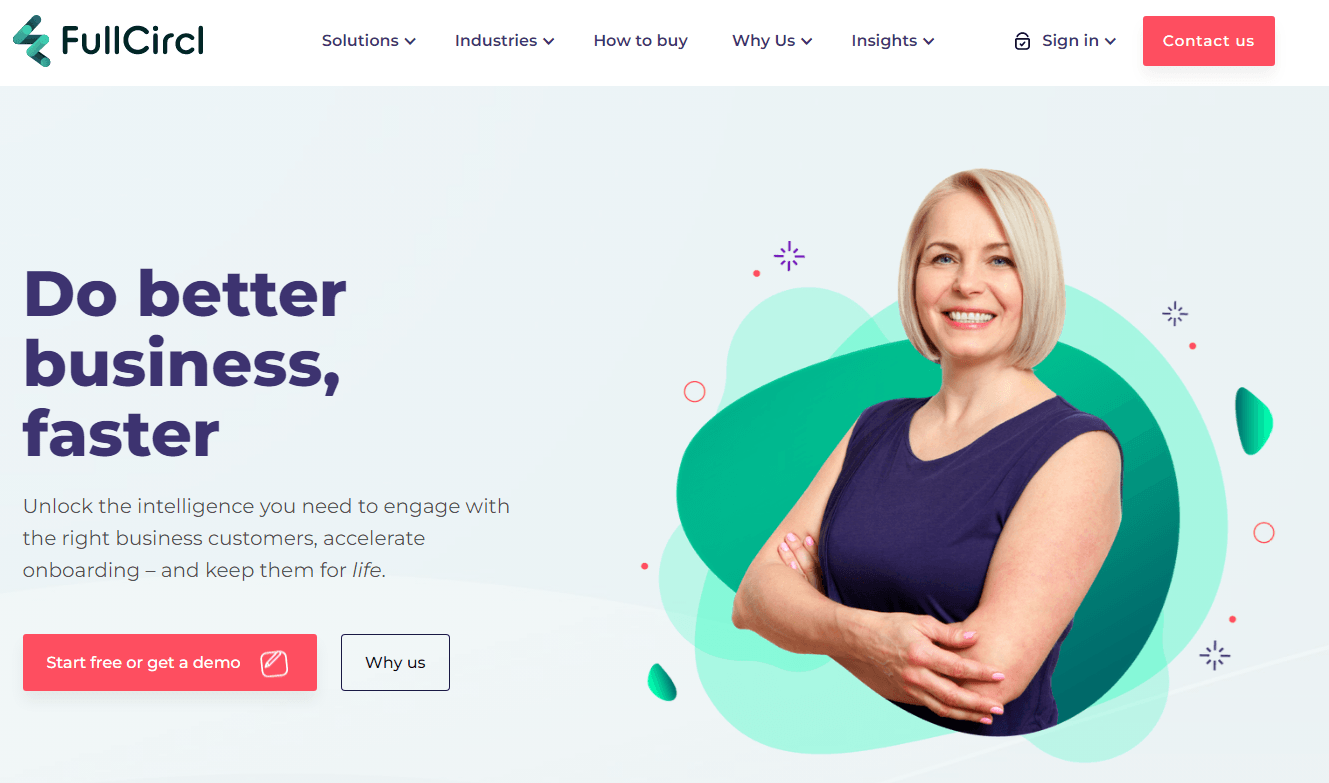 Location: London, United Kingdom

Best for: Lead journey and audience analytics
Last on our list of the top marketing technology companies is FullCircl.
Located in the United Kingdom, FullCircl helps financial service providers gain valuable insight into their audience and marketing strategies to drive future revenue with powerful martech software.
With FullCircl, you can:
Streamline your processes, like data collection and entry, with advanced automation features.
Analyze your customers' journeys from awareness to conversion.
Understand the actions your customers took before conversion.
Gain valuable insights into your audience's demographics and interests.
Launch targeted marketing messages that reach, engage, and convert new customers.
Implement personalized experiences and messages that resonate with your audience's interests.
Accelerate your onboarding process with automated credit check features.
Automate customer monitoring by keeping track of their information and interactions throughout their relationship with your business.
Identify high-value prospects quickly and learn about their pain points, helping you to engage with the prospects at the right time with the right message.
FullCircl helps businesses in the financial service industry, including banking and insurance providers, analyze their customer journeys and implement strategies moving forward that drive more revenue.
So, if you're a financial service provider looking to upgrade your martech stack in the UK, FullCircl could be the perfect company for you.
Finish your search for the top martech companies of 2024 with WebFX
Meet WebFX, one of the best marketing technology companies in the U.S. Our award-winning martech software, MarketingCloudFX, provides you with a complete, all-in-one marketing solution.
From closing deals with a powerful CRM to leveraging deep insights into your audience to launching data-backed campaigns, MarketingCloudFX does it all.
With a client retention rate of nearly 100%, we're confident our software can power growth for your business.
Contact us online or call us at 888-601-5359 to start driving more revenue!
Earn a 20% greater ROI with WebFX