Onsite SEO: 6 Crucial Components of Onsite SEO
Did you know that only 33% of small and medium-sized businesses (SMBs) have optimized websites?
If your site isn't optimized correctly, you'll miss the full potential search engine optimization (SEO) has to offer your business. By optimizing your onsite SEO, you'll produce more effective results with your SEO campaign.
On this page, we'll discuss the basics of onsite SEO, the difference between onsite and offsite SEO, and six crucial components of onsite SEO to drive success.
If you need help implementing on-page SEO techniques to improve your site, call us today at 888-601-5359 to speak with a strategist about our customized SEO campaigns.
WebFX is a full-service Internet marketing agency that can provide onsite SEO campaigns for your business.
What is onsite SEO?
Onsite SEO, also known as on-page SEO, is the process of making your website search engine friendly. When you use this strategy, you focus on optimizing elements on your website that will help you rank higher in the search results and drive more valuable traffic to your site.
This SEO practice requires adjusting elements on your website so search engines can easily crawl your site and index your content. When you utilize onsite SEO, you optimize both the content and HTML source code on a page.
One of the most critical factors of onsite SEO is relevancy. You must ask yourself how relevant your content is to the user's search query and intent behind the search. If you understand your audience, you can create content that helps you reach those leads.
Why does onsite SEO matter?
Onsite SEO is a crucial part of your SEO campaign because it helps search engines interpret content on your page. If search engines can't crawl through your page, they can't index your information. If you have good onsite SEO, search engines can easily understand what a human would see if they visited your page.
Indexing your pages helps search engines serve up the best content to your audience. When search engines know what's on your page, they can easily index your content to appear in the most relevant search queries.
As for the human aspect of SEO, you will appear in front of more relevant leads for your business. They will see your relevant content that fits their search query. It helps you connect with more relevant leads.
WebFX is a partner businesses trust.
Hear from HydroWorx, who saw a 236% increase in organic sessions with WebFX services.
Watch the Video Testimonial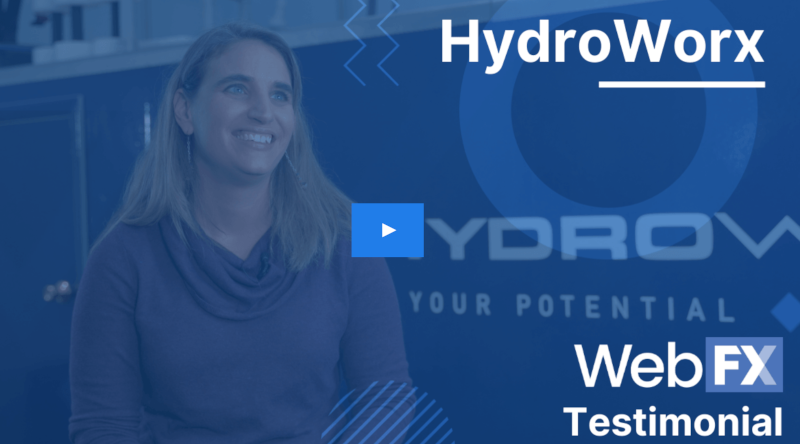 Onsite vs. Offsite SEO: What's the difference?
As you look into onsite SEO, you'll come across the term offsite SEO. So, what's the difference between these two strategies?
Onsite SEO: Focuses on changes you can make on your website to improve rankings.
Offsite SEO: Focuses on external factors that impact your site's rankings.
With onsite SEO, you focus on aspects of your site you can control. These are factors like:
These are optimizations you can do on your own to improve your SEO ranking.
Offsite SEO focuses on external factors that you can't control but can influence your site's ranking. These factors include:
Links to your website from other authoritative sites
Even though you can't control these factors, they still have the power to affect your website and can improve your ranking in the search results.
If you want to have control over improving your site, focus on onsite SEO factors. These factors will enable you to boost your website's ranking in the search results and drive more traffic for your business.
6 important onsite SEO factors
Now that you know the importance of onsite SEO, it's time to start optimizing your site to achieve valuable results. Let's take a look at six crucial onsite SEO factors that you must focus on to maximize your results with SEO.
1. Create valuable, in-depth content to keep leads on your page
Any onsite SEO guide will tell you that content is a critical component of success to SEO. Content drives traffic to your site, gets people to engage with your page, and keeps them on it. If you aren't investing in content marketing, you aren't maximizing the opportunity you have with SEO.
Content comes in numerous forms, including blogs and ebooks. You can cover multiple topics about your industry to help drive leads to your page.
When you create content, you must go in-depth and provide your audience with valuable information. The days of thin content pages are gone. If you want to drive relevant leads to your page, you must create content that is valuable and informative for your audience.
As you're composing and sharing content, make sure it is user-friendly. Your audience should be able to read and understand your content easily. There's no point in creating content if your audience doesn't understand it or can't read it.
Your content should be organized and easy to follow. You can make your content easily digestible by using bulleted lists, numbered lists, and breaking up text into sections.
As you write your content, don't just skim the surface of your topic. You want to go deep into the research and provide your audience with quality information. If you create more in-depth and compelling content, your audience will stay on your site longer.
Good content is linkable. If you're writing something valuable and informative, your audience and other companies will be more likely to share it or link to it.
By creating in-depth content that matches user search intent, you'll drive more traffic to your page and increase time spent on the page. These two actions will send a positive signal to Google that your page is relevant so that Google will boost your ranking. It's a great onsite SEO practice to help improve your SEO ranking.
2. Optimize title tags to appear in more relevant results
When users find your website's pages in the search results, the first thing they look at is the title of the page. The title plays an active role in determining whether they click on your page or move on to a competitor's page. Your title optimization is one of the most critical on-page SEO techniques for getting users to visit your page.
As you focus on the title tag for your page, ensure that it is detailed. It should tell your audience exactly what to expect if they click on the link.
Let's say you're a financial planning institution and you wrote an article about types of investments. Which article title would you be more likely to click on to find information:
"Investing in Your Future" or "5 Types of Investments to Help You Grow Your Wealth?"
More than likely, you would pick the second one. You know if you click on that second article, you're going to see five different types of investments. The first article's title is extremely vague and could cover nearly anything with investing.
The second title also hits the keyword "types of investments." Keyword integration is an integral part of your title because it speaks to relevancy.
Not only does Google look for the keyword in your title to help rank your page, but your audience also looks for the keyword to see if your listing is relevant to their query.
Title optimization is one of the many onsite SEO techniques you can use to improve your site's ranking and appear in more relevant search results.
3. Use internal links on the page to keep leads on your site longer
Whenever you write new pages, you want to link to other pages on your site within your content. These are known as internal links because the keep leads within your site instead of sending them to other, external websites.
Internal links enhance the user experience. They provide your audience with valuable information and help them learn more about your topic.
These internal links help search engines discover more pages on your site, too. When you link internally, Google crawls your page and follows those links to index that content. It's a great way to help Google find more pages on your site and rank them in the search results.
Adding internal links improve the user experience. It allows them to get more information about topics that may be difficult to understand or confusing. These leads spend more time reading the information on your site, which increases their dwell time and improves your ranking.
If you're looking for on-page SEO techniques that help improve your site's ranking, start by linking internally in your content. You will keep leads on your site longer and help Google index more pages on your website to rank in the search results.
4. Improve your page load time to keep your leads happy
Everybody wants information fast. When users conduct searches, they want to click on a link and see the page load immediately. In fact, 83% of users expect a website to load in three seconds or less.
If your page doesn't load quickly, users will abandon your website. 53% of users will leave a page if it takes more than three seconds to load. You can lose half of your website traffic simply by having a page that takes too long to load.
To ensure that you keep leads on your website, you must improve your page's load time. There are numerous ways for you to improve your page's load time, including:
Reducing image file size
Minify CSS, Javascript, and HTML
Reduce white space in coding
Reduce the number of redirects on your site
Leverage browser caching
HOst videos on outside platforms like Wistia
Use a content distribution network (CDN)
These are just a few of the ways you can improve your site's load time. If you want to know which practices will be the most effective, you can use Google PageSpeed Insights to see where you can improve your site.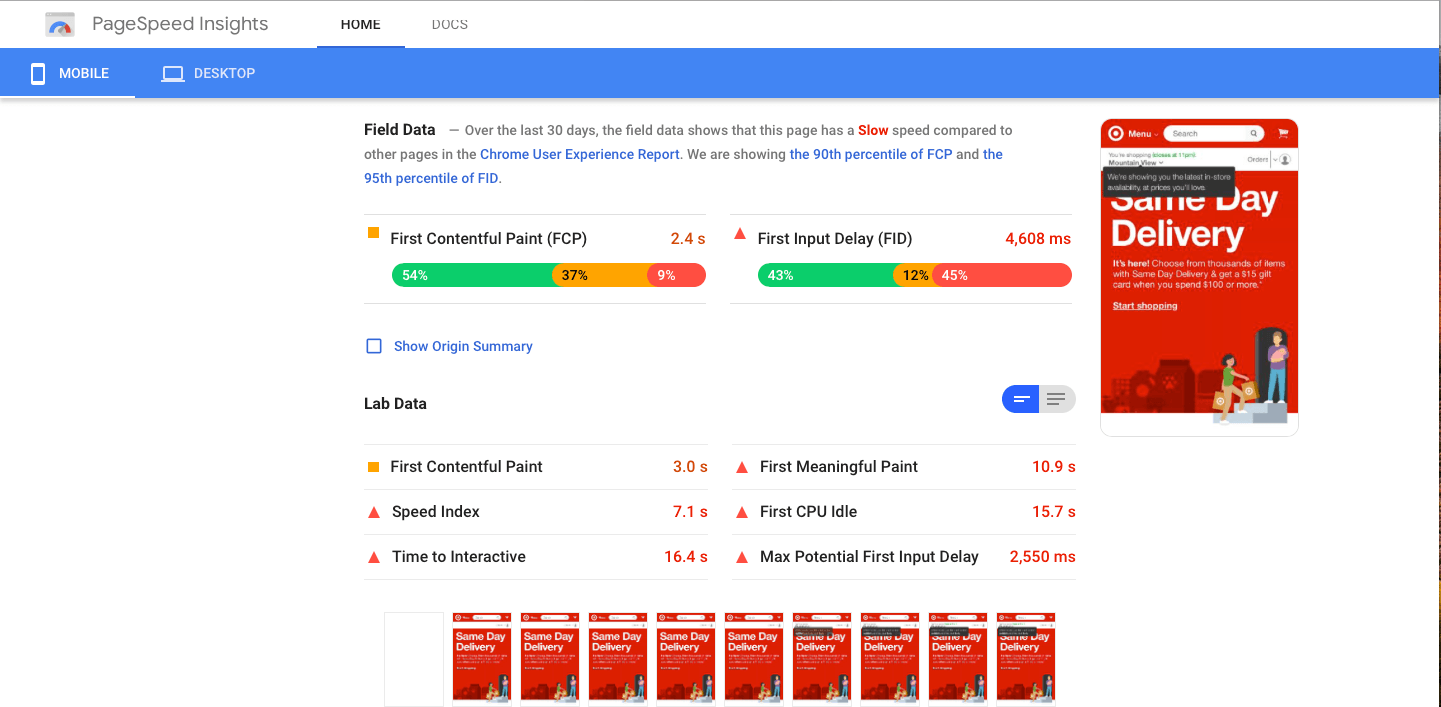 Google PageSpeed Insights is a great tool to help you learn more about your site's load time. You can see how quickly your site loads on mobile and desktop devices. Google will also provide you with suggestions on how you can improve your site's load time.
If you don't have the time to dedicate to improving your website's load time, you can rely on a marketing company to help you improve your site's load time. At WebFX, we offer page speed services to help you improve your site's load time and keep leads on your page longer. Call us today at 888-256-9448 to speak with a strategist about enhancing your site's load time.
5. Create SEO-friendly URLs
Your URL is a crucial part of SEO. When search engines crawl your site, they read your URL to understand your content. If your URL isn't clear, it won't help search engines index your website or help users remember your URL.
The URL helps determine the relevancy of a webpage by search engines. It's a great place to integrate your keywords to improve your site rank better.
Your URL should be clear and have a hierarchy. You don't want a URL that has mixed up letters and numbers. Here's an example of a poor URL website structure:
www.bakinghacks.com/3455jjj/fj320s0a
A URL like this is scattered and unclear. The random numbers and letters don't have any meaning to search engines. Your audience also won't remember a random combination of letters and numbers.
Instead, a better URL looks like this:
www.bakinghacks.com/brownies/triple-fudge-brownies
This URL structure is clear and defined. There is a clear hierarchy, too. The URL goes from brownies, a general category, to triple fudge brownies, a specific brownie type. It's clean and defined, so search engines can easily read your URL.
Users can also remember it naturally. It's much easier to remember brownies to triple fudge brownies than the combination of letters and numbers. Your audience can also see the topic clearly by the URL, which makes them more likely to engage with your relevant content.
By creating a clean URL structure, you'll get more leads on your page and help search engines properly index your pages. It's a great way to improve your onsite SEO and increase your site's ranking in the search results.
6. Ensure your site incorporates responsive design to keep your audience happy
Your audience will access your website from various devices. It's crucial that you create a positive experience on all those devices. If you want to do onsite SEO correctly, you must ensure your website has responsive design.
Imagine trying to access the desktop version of your site on a mobile phone. You would have to zoom in and out to read content, and everything would look disorganized and scaled incorrectly. That doesn't provide your audience with a positive experience and discourages them from interacting with your site.
You must invest in responsive design to provide your audience with the best experience of your site. Responsive design ensures your website adapts to whatever device a user uses. Whether it's a smartphone or tablet, your website will adjust to fit the screen of that device best.
Responsive design helps you create a website that is easily navigable for your audience. Your audience will have a better experience on your site because your design adapts to fit their device.
Start optimizing your onsite SEO today
Onsite SEO will help you create a better website for your audience and keep them engaged on your site longer. If you optimize your site, your audience will spend more time getting to know your business and learning about your products or services. You will continue to boost your ranking in the search results for different pages on your site and reach more valuable traffic.
At WebFX, we have over 25 years of experience optimizing websites for onsite SEO. We have a team of over 500 experts that will help you optimize your site to perform better in the search results. Our team will help you optimize your onsite SEO to drive more traffic to your page.
If you're ready to improve your SEO campaign through onsite SEO services, contact us online or call us today at 888-601-5359 to speak with a strategist about our custom SEO campaigns.
How Is Your Website's SEO?
Use our free tool to get your score calculated in under 60 seconds.