6 Facebook Ad Examples to Help You Shape Your Campaign
Social media platforms enable you to create advertisements to reach your target audience. Facebook allows you to get creative with your ads. With so many different types of advertisements available, you have the power to impact your audience with the type that works best for them.
So, what exactly do these different ads look like?
On this page, we'll discuss six different examples of each type of advertisement and how you can use them to reach new customers and encourage them to purchase. If you want to learn more about the right Facebook ads for your business, call us today at 888-601-5359 to speak with a strategist.
Facebook ad examples
One of the biggest perks of Facebook advertising is that there are many different types of ads you can create. You aren't restricted to one type of advertisement. This gives you the flexibility to create advertisements that will appeal to your target audience.
Let's look at the different types of Facebook ads and examples of each.
1. Photo ads
Photo advertisements feature a single picture that reflects the subject of the advertisement. It includes basic information to entice people to click on the ad.
David's Bridal created a great example of a photo advertisement.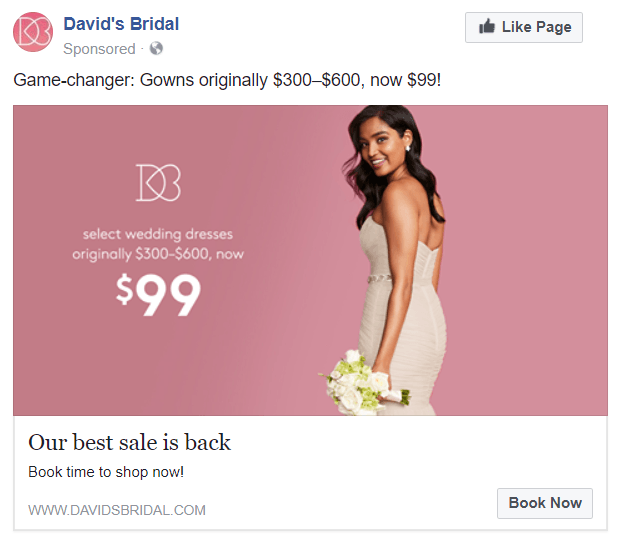 David's Bridal ran an advertisement about a sale on their wedding gowns. They used a simple photo of a model in a wedding dress to highlight the sale and encourage Facebook users to learn more.
For their call-to-action (CTA), they enticed people to "Book Now" to schedule an appointment. Photo ads are one of the most commonly used Facebook advertising methods. These simple ads engage users and encourage them to act.
2. Video ads
Facebook video ads are a common way to advertise your business. Videos are a great way to engage your audience and catch their attention, and they encourage people to engage with your business.
Many companies use videos to get their message across. It is hard to keep your audience engaged, but videos work to increase engagement.
Xfinity used Facebook video ads to advertise their Wi-Fi services. These ads appeared in the feeds of people who recently searched for Internet services.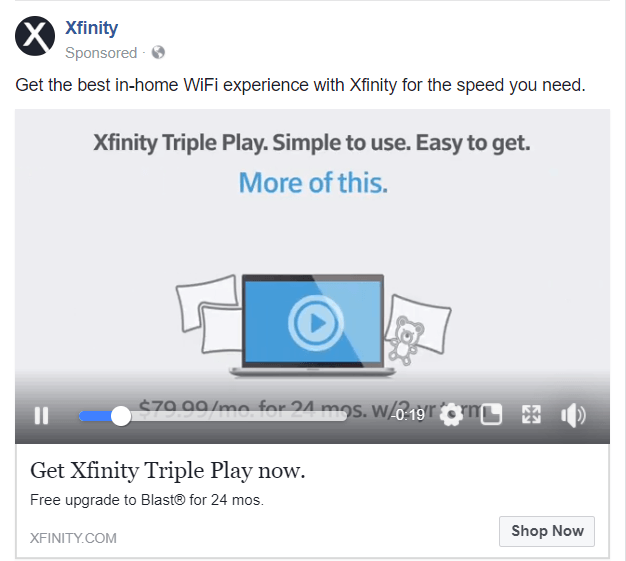 Video ads are effective because they immediately catch your audience's attention. People's eyes are drawn to things that move, and as soon as they scroll to the advertisement, it starts playing the video.
Xfinity wants to entice people to convert. One of the best things they do is include their rates. This provides the audience with valuable information that will help them convert.
In addition, Xfinity included a "Shop Now" button. If people like the prices they see, you want to make it as easy as possible for them to convert. By adding the "Shop Now" as their CTA, Xfinity will see more people convert from their ad.
Video advertisements are a great option to reach new leads and encourage them to act.
3. Offer Ads
If you've ever scrolled through your Facebook feed, you've probably seen an offer ad. These are advertisements that promote discounts on a product or service. When you use offer ads, you can entice people to become customers.
These advertisements are set up to help customers convert right away. Customers go from the Facebook ad straight to the page to make a purchase. It eliminates extra steps, which increases conversions.
James Allen Rings created an advertisement that is a very effective offer ad.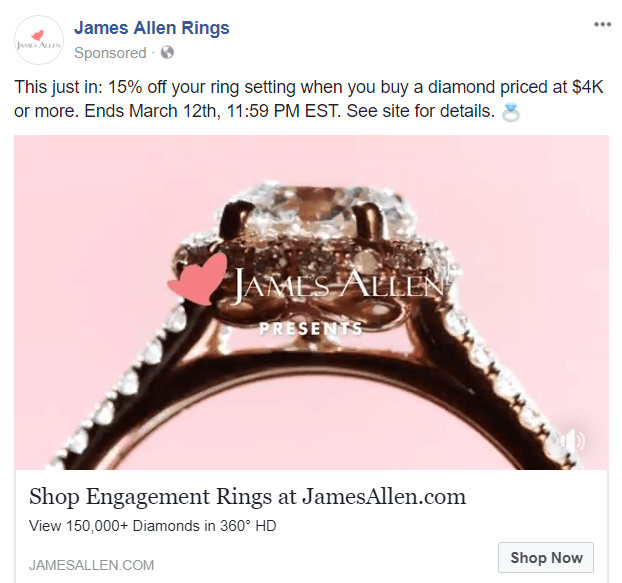 In this advertisement, James Allen Rings offered 15% off a ring setting when the diamond is over $4,000. This is an advertisement that would appear in the feed of anyone looking at wedding or engagement rings. It is an enticing advertisement because it offers a discount on part of the ring.
One of the strongest elements of this advertisement is the offer deadline. The deadline is an important part of an offer ad because it entices people to act immediately. They want to get the deal before it is gone.
James Allen Rings also includes a "Shop Now" button, which directs users straight to their selection of engagement rings. These advertisements entice people to make a purchase before the offer ends.
Offers ad are a great option for your business if you are running a sale or have a limited time deal. They entice people to make a purchase, which means more conversions for your business.
4. Multi-Product ads
These advertisements are a great way for your company to showcase numerous products. Multi-product ads are set up with a carousal, so people can scroll through the photos.
Nissan created a multi-product ad to show off different photos of their cars.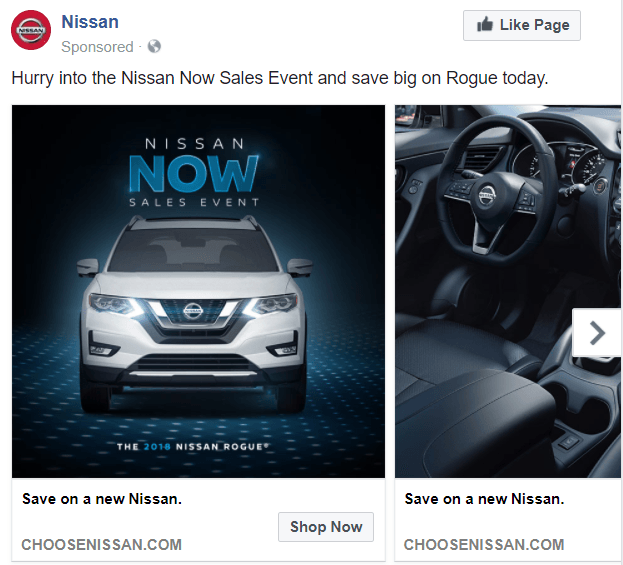 Nissan created this advertisement to generate buzz about their sales event. The Nissan 2018 is their feature product of the ad. In the advertisement, they feature different pictures of the Nissan Rogue. These photos entice users to check out the car.
Each photo has a CTA button at the bottom. In this case, Nissan used "Shop Now" to encourage their audience to look at the car, as well as other similar cars. This ensures that, if one of the photo peaks their interest, they can go directly to Nissan's site to see their selection of cars.
Multi-photo ads are a great way to showcase different products in one area. It gives your company the ability to entice users better because you have multiple options.
Some of our client Successes
5. Retargeted Ads
Have you ever looked at a product and saw ads for it a few days later? If you have, you've experienced seeing retargeted ads. These advertisements are meant to entice people to convert.
When you run retargeted ads, you are working with a specific list of people. These are people you know are interested in your products. You want to entice them to buy the product by keeping it fresh in their minds.
DateBox uses retargeted ads to convince interested parties to try their boxes.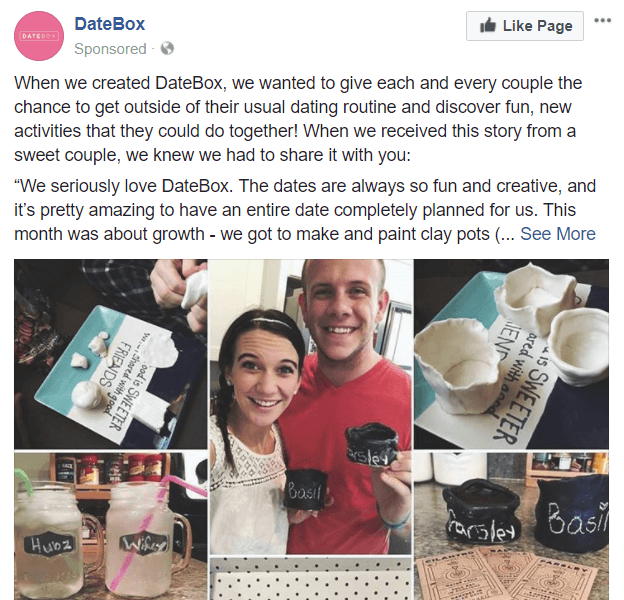 In this case, this advertisement appears in the feed of someone who was researching DateBox. They didn't convert, but they may still have interest in the product.
DateBox takes a unique approach with their retargeted ads. They tell the story of someone who tried a DateBox and their experience with that box. It gives an authentic account of how the boxes work and how someone liked it.
If someone was looking at DateBox and saw this ad, it may entice them to convert. This ad takes an authentic approach with the product. It is a great way to keep the product in the forefront of the customer's mind.
Retargeted ads are a great way to entice people to convert. By using these ads, you will earn more conversions for your business.
6. Boosted posts
Boosted posts are a little unique compared to the other options. These aren't advertisements that are created through Facebook's Ad Manager. Instead, these are posts that are already on a company's page that they pay money to reach more people.
Many criticize this option because there are less options for bidding, targeting, and pricing. Despite this, there are ways to make these posts affective to advertise your business.
For a business like Wawa, the goal of their advertising campaigns is to draw people to stop at their convenience store. Their ads need to engage their audience to think about making a trip to Wawa. So, they utilize boosted posts to advertise their business.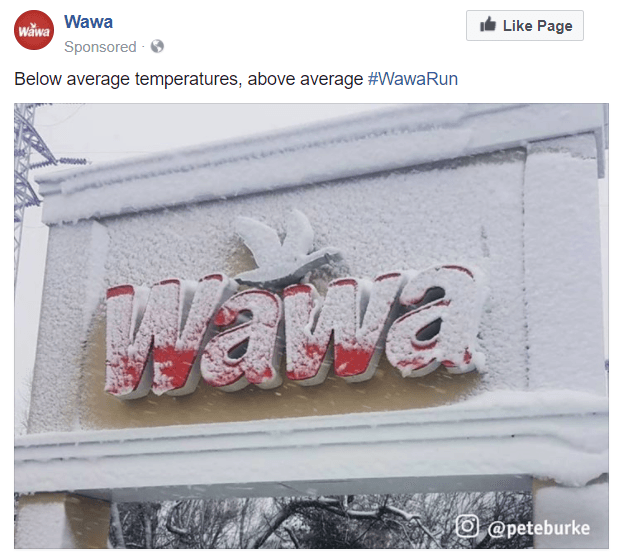 It is a simple photo of a Wawa sign covered in know that says "below average temperatures, above average #WawaRun." While it may not seem like it is advertising much, the boosted post is very effective for enticing people to go to Wawa. The usage of #WawaRun capitalizes on the popular trend of making a quick trip to Wawa.
This boosted post effectively advertises Wawa because it makes users think about visiting their establishment. It is a great way to use boosted posts to generate more foot traffic for your business.
Boosted posts can be used for anything. Whether you want more followers, conversions, or foot traffic, you can use these posts to reach more leads. It is a great opportunity to draw in leads and earn more conversions for your business.
4 tips for creating better Facebook ads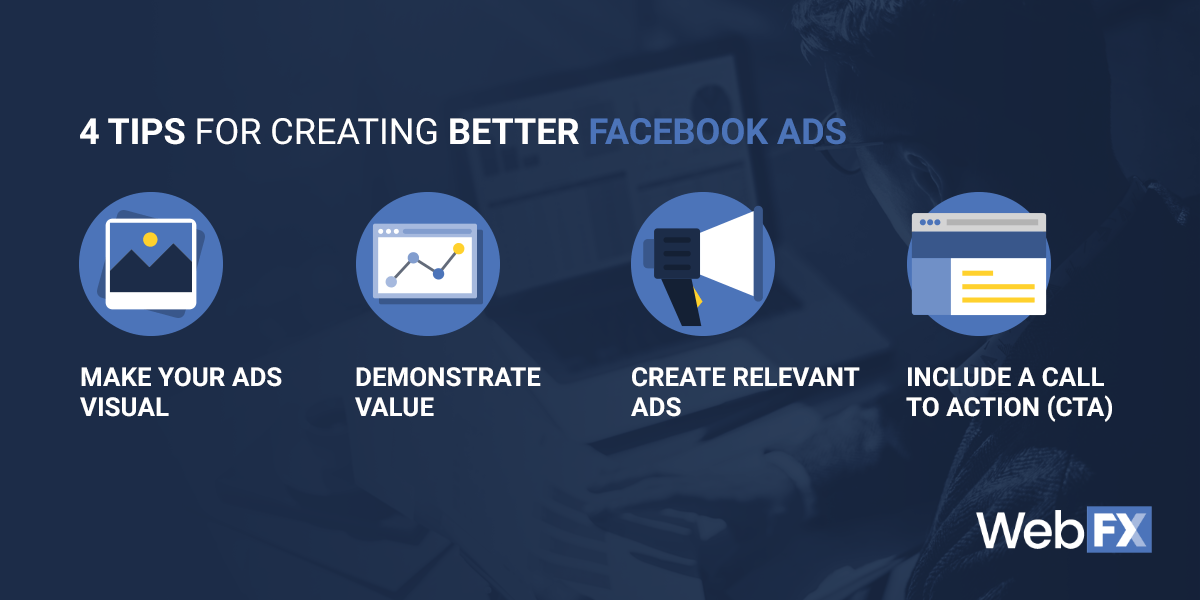 If you want to start creating better Facebook ads, there are a few aspects you need for every advertisement. These aspects will help you make your advertisements more engaging and interesting to your audience. You will see better results by implementing these three tips.
1. Make your ads visual
Visuals engage your audience. They catch your audience's attention and make them take interest in your ads.
Ads with visuals make a bigger impact on your audience. They won't remember a block of text they read, but they will remember a photo or video. You need to make your visual elements appealing for your audience.
By using visual elements, you will see better engagement with your ads.
2. Demonstrate value
What does your ad have to offer your audience? You need to show your audience the value of your advertisement.
There are numerous ways to build interest in your advertisements. You can promote a deal or a sale, or you can show a unique feature of your business. When you create these ads, you need to show people what they will get out of it.
You also want to show why your business is the best choice. Why should they choose you over competitors? What do you have to offer them that is unique?
Overall, you need to show your audience what they will get if they choose your company or products.
3. Create relevant ads
You need to choose your audience from the beginning. If you don't have the right audience, you will waste money advertising to people who aren't interested in your products or services. It is important that you know your target audience first, so you can create the right advertisements.
It may seem difficult to see if your ad is relevant, but it isn't. Facebook gives your ads a relevancy score, which is based on the relevancy of the image, destination page, and ad copy. The more relevant your ad is to your audience, the higher your ad will rank.
By creating more relevant advertisements, you will earn better leads for your business.
4. Include a call to action (CTA)
A call to action (CTA) is an important part of your advertisement. People may see your ad and love it, but how do they take the next step? A CTA guides your audience to the next logical step in the process.
Your CTA tells people to make a purchase, download something, or learn more. The important part is that it should entice them to take a certain action that is relevant to your ad.
By including a CTA in your ads, you will see more engagement and conversions with your ads.
WebFX is a top Facebook advertising company
Facebook offers numerous advertising options for your business. With so many different styles of ads to choose from, it is difficult to know which ones will work best for your business. At WebFX, we know how to create Facebook advertisements that will impact your audience.
We're a full-service digital marketing company with experience creating Facebook advertising campaigns. We have a team of 150+ experts that will bring their knowledge and expertise to your campaign. Our award-winning team will help you create a customized Facebook advertising campaign that will draw in new leads for your business.
If you're looking for results, we know how to bring them. To date, we've driven over $700 million in sales and over 3 million leads for our clients. We focus on putting our clients' success first.
Our clients love the work we do, too. In fact, we have over 350 client testimonials from a variety of industries. Check them out to see what it's like to work with a top Facebook advertising company like WebFX!
Learn more
If you're ready to learn more about how you can reach new leads with Facebook ads, contact us online or call us today at 888-601-5359 to speak with a strategist!
We look forward to working with you!
Need help with your social media? Call 888-601-5359 or contact us online today to learn more about how WebFX can give you the power to reach more people.