Who is the best SEO company of 2019?
In today's digital world, more companies are directing their business strategies and marketing budgets towards the Internet. That's one reason why the search engine optimization (SEO) industry is worth more than $65 billion, according to Borrell Associates, a market research firm
With the industry booming, it's no surprise that there's a ton of agencies offering SEO services. The question is, which is the number one SEO company? Whether you're a business investing in SEO for the first time or a company switching providers, this breakdown of the best SEO company is for you.
Let's get started and discover which agency earned the number one spot this year!
Video: What Is SEO, and What Do SEO Companies Do?
Dan Shaffer, an Internet marketing specialist at WebFX, discusses the basics of SEO, from what it is to how it works. If you're new to search engine optimization, watch this video. It's an excellent introduction to what an SEO company does — and what the best SEO company should do for you.
Get a Free SEO Quote
Call 888-601-5359
How do you determine the best SEO company?
If you search, "best seo companies," or, "who is the best seo company," you get a lot of results back — and we mean a lot, with more than 200 million for, "who is the best seo company," alone. While you'll come across dozens of lists, they often skip on saying why that agency is number one, two, or three.
That's why we started our search for the number one SEO company by looking at the following features: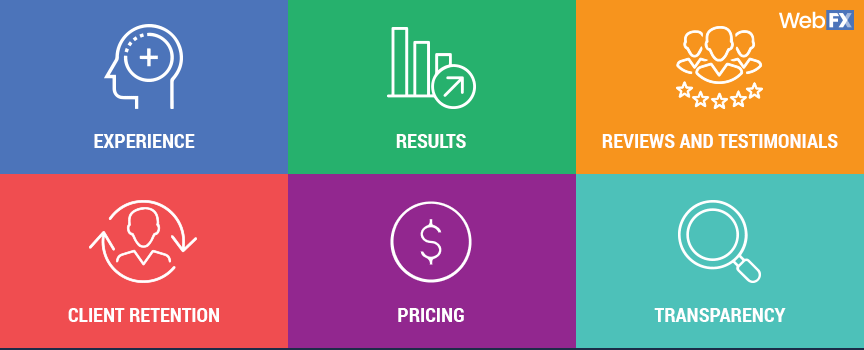 EXPERIENCE
A critical factor in our research was the experience of an agency. While a young start-up can deliver results, it often comes with risks that can impact your company's investment. That may mean your business invests hundreds to thousands of dollars but receives zero deliverables or returns.
It's unfortunate, but younger companies come with several risks, including:
Funding: Unless a start-up's received funding from an outside investor, they're often operating on a limited budget. Without enough clients, they can find themselves closing, which can leave your company without a return on your investment.
Outside investors: Another risk is that the start-up does rely on investors. The challenge here is that these investors often dictate the business' model, as well as strategy. That can lead to big, sudden changes, which can make you feel like you're working with a company you don't know.
Expertise: While the founding team of a start-up may bring years of SEO experience to the business, they're often not the ones managing your account. Or, if they are, they're juggling several others, which can lead to burnout and a low-performing SEO strategy.
Staff: Another reason why start-ups aren't the best SEO companies? They feature a rotating team of inexperienced marketers. That high turnover rate can result in your business switching between account managers that don't understand your company, industry, or goals.
That's why, when researching the best SEO company, we decided to exclude start-ups. Instead, we focused on companies with 10 or more years of experience. By taking this approach, we could compare established businesses with a track record of adapting to search engine algorithm changes.
RESULTS
When it comes to SEO, results matter. They also depend on your goals, which may range from improving conversions to increasing sales. Due to the vital role of measurable results, as well as the various goals clients can have, we knew the best SEO company in the world would have to demonstrate those results.
That's why we looked at agencies that provided an inside peek at their work. We wanted to see case studies from real clients, as well as the why and how behind that agency's approach. That transparency matters when it comes to the best SEO companies because it shows they drive real results.

With that established, we focused on agencies that published several case studies on their website. In most cases, we wanted diverse examples that demonstrated the agency could meet a variety of goals for clients from a wide range of industries.
Coupled with their decade of experience — or more — the results from client case studies narrowed the list of best SEO companies even more.
REVIEWS AND TESTIMONIALS
While an agency's portfolio can reveal their biggest accomplishments, their public reviews will highlight their biggest missteps. Meanwhile, their on-site testimonials will emphasize the best qualities of the company.
To find the best SEO company in the world, we focused on these client feedback factors:
Content: The content of a review or testimonial is invaluable. It reveals an agency's strengths and weaknesses, as well as the severity of those pain points. It can also highlight red-flags for your business, such as prices riddled with hidden fees.
Age: The age of the review or testimonial was also helpful because it could indicate whether the agency evolved and resolved past issues. It also demonstrates if the company's remained consistent with their promoted values, such as providing transparent pricing.
Response: The response of a company to a negative review says a lot about them. It can reveal how they respond to failure, as well as difficult clients. If they ignore reviews on their social media channels, it can also indicate a lack of follow-through.
Another indicator of a leading SEO company was the number of reviews and testimonials. With more than 10 years of history, you'd expect an agency to have dozens of testimonials and reviews. If an agency didn't, it lessened the social proof that they were the best SEO agency.
EXPERTISE
A critical influence on a company being the best in the business is their team. If they're an agency with high employee turnover, it often impacts the quality of their services. That can lead to the agency shuffling your account from one staff member to another, which inconveniences your team.
It also jeopardizes the success of your SEO strategy, which impacts your company's bottom line.
That's why the best SEO company in the world needed to demonstrate low employee turnover. They also needed to maintain a team of experienced professionals, indicating that clients received SEO services from an experienced marketer.

In some cases, it's hard to determine a company's turnover rate. Businesses with a low employee turnover rate are happy to share it, but those with an average or low rate won't advertise it to the public.
With more than 550 million users on LinkedIn, however, you can estimate a company's turnover rate. If you see many employees leaving within one to two years, for instance, it indicates that something's promoting them to leave.
A variety of reasons can cause a person to leave a workplace, but the result is the same — it diminishes the quality of your service and your experience as a customer. Instead of working with a consistent and dedicated account manager, you're working with a new person every few months.
If an agency were the best SEO company, they'd deliver a consistent and optimal client experience.
CLIENT RETENTION
Like employee turnover, an agency's client retention rate can also reveal their quality. SEO is also a long-term strategy — it doesn't deliver results overnight like pay-per-click (PPC) advertising. That's why client retention rate is an essential metric when determining the best SEO company in the world.
While it's normal for every agency to lose some clients, it's a red flag when an agency loses a significant number of clients on a routine basis. For some SEO companies, this is normal as their business model focuses more on replacing customers than retaining them.
What causes businesses to leave their SEO agency? A variety of reasons, including:
Service: An agency's team may provide poor service, such as by missing calls and ignoring emails. In some cases, they may offer clients little-to-no explanation when questioned about the company's SEO strategy.
Results: Another reason a business will terminate their service comes from results. If an agency's unable to meet their promise of reaching a client's goal without explanation, it's understandable that the client would want to find another SEO company.
In other cases, companies will cancel their contract due to internal issues. A budget cut, for example, may not make it feasible for the company to outsource its SEO services. A change in company structure, such as due to a buyout, can also lead to cancellations.
Even so, for a company to earn the title, "Best SEO Company," they need to maintain a high client retention rate. It's a direct reflection on the quality of their service, as well as their team. It also emphasizes the overall satisfaction of clients.
PRICING
A factor that many websites don't weigh when building a list of the best SEO companies is pricing. It's worth investigating, however, as many agencies will lure businesses with the promise of low prices. In other instances, agencies will price gouge companies for their services.
When it comes to delivering a competitive strategy, however, both types of agencies falter.

That's why price should earn consideration when choosing the number one SEO company. The question is, how much does SEO cost? While prices will vary, the average cost is between $350 to $2,000 a month.
For our purposes, we looked at what the agency charged for their services, as well as their location. Depending on a company's location, it made sense for them to have higher prices. An SEO agency in California, for example, will often charge more than an agency in Pennsylvania due to the cost of living.
The idea is that the best SEO agency provides fair prices for their services.
TRANSPARENCY
A lot of agencies that didn't become this year's number one SEO company made transparency a low priority. Instead of providing potential clients with transparent prices and quotes, they delivered inflated quote or prices with a range of hidden fees.
While it's unusual for SEO agencies to publish their prices online, it's not an abandoned practice. The best SEO companies will share their prices with users, as well as provide flat-rate quotes that are transparent.
They'll also continue a policy of transparency after signing a client.
It's vital, for example, that the best SEO company provides its clients with complete access to the results and status of their SEO campaign. Another critical aspect of transparency is that the agency shares these results with complete honesty — they shouldn't hide campaign missteps or failures.
In short, the agency that tops the list of SEO agencies is one you can trust.
One Size Does Not Fit All
Select an SEO service to view custom SEO costs for your campaign
National SEO
Trying to rank a service or product keyword at the top of your favorite search engine? National SEO is the strategy to get there!
SEO Services
Local SEO
Beating out your local competitors can make a huge difference for your business. Make sure your local business shows up with Local SEO.
Local SEO Services
ECommerce SEO
Selling products online? Want to keep inventory moving? Ecommerce SEO is the longterm strategy that keeps your warehouse busy!
Ecommerce SEO Services
7 standards for the world's best SEO company
Before we move on, let's summarize the features of the world's best SEO company:
Experience: An SEO agency that leads will have at least 10 or more years of experience. They'll understand the nuances of the industry. Plus, they'll have an established cash-flow that ensures you receive your promised deliverables.
Results: The number one SEO company will have a proven record of driving measurable results. They'll have collaborated with business from across industries and with various goals. Plus, they'll provide case studies of these interactions.
Reviews: A successful SEO business will feature dozens of authentic reviews or testimonials from past or current clients. These pieces of client feedback can demonstrate the company's growth in service quality, as well as their approach to constructive criticism.
Expertise: An industry-leading SEO agency will maintain a team of experienced SEO professionals. It'll also feature a low employee turnover rate, which ensures clients receive a seamless experience.
Retention: An agency that earns the title, "Number One SEO Company," will feature a high client retention rate. That rate will emphasize the quality of their service and team members, indicating that they meet client goals and expectations.
Pricing: A trusted SEO company will publish their prices online, providing potential clients with a transparent view of their SEO prices. They'll also avoid the unethical practice of including unnecessary additional fees in their services.
Transparency: The best SEO company will value transparency. Whether they're providing a customized quote to a potential client or reviewing a recent report with a client, they'll remain transparent.
At WebFX, we used these seven features to find the best SEO agency in the world.
Ready To Grow? Get Your
Free Quote

Today:

Our digital strategists have put together successful Internet marketing campaigns for businesses ranging from local coffee shops to publicly traded companies. They'll do the same for you. Request a free quote and experience why WebFX is rated as the world's best SEO agency.
Who is the number one SEO company of 2019?
Now that you understand our process and standards for the determining the best SEO agency, it's time to reveal our pick for this year's number one SEO company.
Who is the top SEO company of 2019? WebFX.
A full-service digital marketing agency, WebFX brings more than 20 years of experience to search engine optimization. Plus, they feature an award-winning team and more than 800 satisfied clients. Even better, they provide real and measurable results in addition to transparent pricing.
One of the reasons WebFX earns this year's title for best SEO company? Their R.O.C.K.E.T. approach to SEO.
R.O.C.K.E.T
A look at our SEO process that has driven over 3 million leads for WebFX customers


One of the things that makes us the best is the fact that we understand that every company is different. Different companies call for different needs which means we'll get to know everything about your company, your competition, your goals, and your industry as a whole. This information will help us create the best possible SEO campaign for your company.
In-depth Competitor Analysis
Site & Server Analysis
Analyze 200+ On-Site SEO Factors

In order for Google to understand your company as a website, optimization has to take place. At WebFX, we'll take time to make the big changes and the small detailed adjustments to ensure that Google knows you.
Attention-grabbing titles & meta descriptions
Improve usability
Update Site Architecture

The best SEO companies create the best content - because the best content ranks the highest in search engines. To ensure that your website gets the traffic it deserves, we'll help you to create killer content that will get you noticed by your target audience.
Website Copy That Converts
Longform Copy That Educates
Informative Blog Posts That Intrigue

A website is nothing without effective keyword research. We'll help you come up with a list of keywords that will turn your site visitors into paying customers - and after we have that list, we'll employ the keywords in your content, paid ads, and more.
Competitor Keyword Analysis
Keyword Mapping Report
Advanced Rank Tracking

An impressive backlink profile gives your website more authority and helps you appear as a leader in your industry. We'll help you earn the links that get you noticed.
Content Promotion
Relevant Mentions From Blogs/Press
Viral Marketing Campaigns

Only the best SEO companies will stand with you throughout the entire SEO process. After we help you to earn the links, create the content, and optimize your website, we'll also help you test your site to ensure that its getting the job done.
Conversion Path Analysis
Calls-to-action Improvements
Continual Improvements Via ROI Tracking
Learn more about WebFX and why they're this year's best SEO company, below.
What to expect from this year's best SEO company
As the number one SEO agency in the world, WebFX delivers. As your partner, they'll provide you with:
DECADES OF EXPERIENCE
With more than 20 years of history, WebFX is one of the most trusted SEO companies. The agency's longevity demonstrates its ability to adapt to industry changes, as well as updates to search engine algorithms. Plus, WebFX is a Premier Google Partner, which exemplifies its industry-leading expertise.
That experience and dedication is why WebFX features a client retention rate of almost 100 percent — its Net Promoter Score (NPS) almost tops 100 too. For reference, a company's NPS, which ranges from -100 to 100, represents the likelihood of clients to recommend a company's service.
REAL RESULTS
Browse the WebFX portfolio, and you'll see that the company measures its success by the achievements of its clients. Whether it's increasing a home building company's organic search engine traffic by 298 percent or improving a law firm's conversion rate by 400 percent, the team looks at the numbers.
If you're looking for the best SEO agency, that's what you want. They're focusing on results that drive your business forward, which is one reason why WebFX clients see a 20 percent increase in revenue, on average.
For your business, that means more calls from potential clients, more purchases via your website, and more positive chatter about your company online. In short, you see the results of your Internet marketing efforts in your day-to-day operations and your bottom line.
COMPLETE TRANSPARENCY
Another feature of this year's number one SEO company? Transparency. While some SEO agencies refuse to publish their prices online, as well as break down the costs behind their quotes, WebFX is the opposite.
WebFX shares its prices online for all its services — from SEO to PPC. That provides your company with the means to compare agencies and choose the best SEO company for your business. Plus, it saves you the hassle of calling, which is invaluable when you're researching the best SEO companies.
The transparency of WebFX goes beyond pricing, though. Via MarketingCloudFX, which is WebFX's proprietary and industry-leading software for return on investment (ROI) tracking, your business can see the direct impact of your investment. Even better, you can access MarketingCloudFX every day, all day.
For verified ratings of our marketing services, please view our:
WebFX Agency Rating:
4.9
out of
5
with
111
ratings
INDUSTRY-LEADING EXPERTISE
It's critical for the best SEO company in the world to have more than a decade of experience, but it's essential for it to have a consistent and talented staff. WebFX provides that, which is why they're this year's best online SEO company.
The agency, which is one of the Best Places to Work in PA, features an award-winning team of Internet marketing specialists, social media strategists, and web design experts. Their expertise, plus the company's low turnover rate, translates to a positive experience for clients.
The fact that you partner with a dedicated and hands-on account manager makes the experience even better. Your dedicated account manager understands your business, industry, and goals, which translates to a competitive and results-driven SEO strategy — and more revenue for your company.
PERSONALIZED SERVICE
Another feature that distinguishes WebFX from other agencies on, "Best SEO Companies," lists? Their personalized service. Whether you're an established franchise, local business, or recognized enterprise, they tailor their packages and services to you.
That's why the WebFX team invests the time to learn about your company, as well as your market and goals. That investment translates to a strategy and campaign tailored to your business — not a cookie-cutter approach that drives mediocre results.
Because of that commitment, WebFX has generated more than $1 billion in revenue for its clients.
With WebFX, you can expect more. That's why they're the best SEO company in the world.
Service plans from the number one SEO company
If you're looking to partner with the number one SEO company in the world, WebFX offers four plans:
Each features different tiers to meet your business' unique needs and budget. If you need help comparing the various plans and tiers, you can always reach out to one of our experienced strategists. They'll help you find or build a plan that matches your needs and offers your company the best ROI.
Use the handy table below to learn more about our SEO prices.
Choose the best SEO company for your business
Looking to provide your business with a world-class strategy and industry-leading results?
Trust the best SEO company in the world — WebFX. With more than three million leads generated for our clients, plus a client retention rate of almost 100 percent, we're the agency that businesses trust for performance-driven Internet marketing.
Contact us today or give us a ring at 888-601-5359!
Ready to create SEO campaigns that drive results?
Call 888-601-5359 or contact an expert to learn more about award-winning SEO services from WebFX.
Talk to an expert