A Complete Guide for Calculating Website ROI for B2B Businesses
Calculating ROI can seem like an extremely overwhelming task, especially for lead generation B2B businesses. Below is a step-by-step guide I've compiled for how I determine ROI for my B2B clients. It will take time on your part, but it is absolutely worth it in the long run to determine what is working best for your company!
Gathering Data for Analysis
1)      Setup Website Tracking Software (i.e. Google Analytics)
The first step in determining ROI is to set up website tracking software. This seems like a no-brainer, but I'm amazed by how many B2B businesses have no game plan for judging their internet traffic. Ignorance is not bliss! Unlike other forms of marketing, internet marketing is EXTREMELY easy to track, so take advantage of the available tools!
Personally, I think Google Analytics is the best tracking software. It's relatively easy to setup, costs nothing, and provides a ton of information with the ability to create custom reports, setup scheduled emails and notifications for drops in traffic, etc.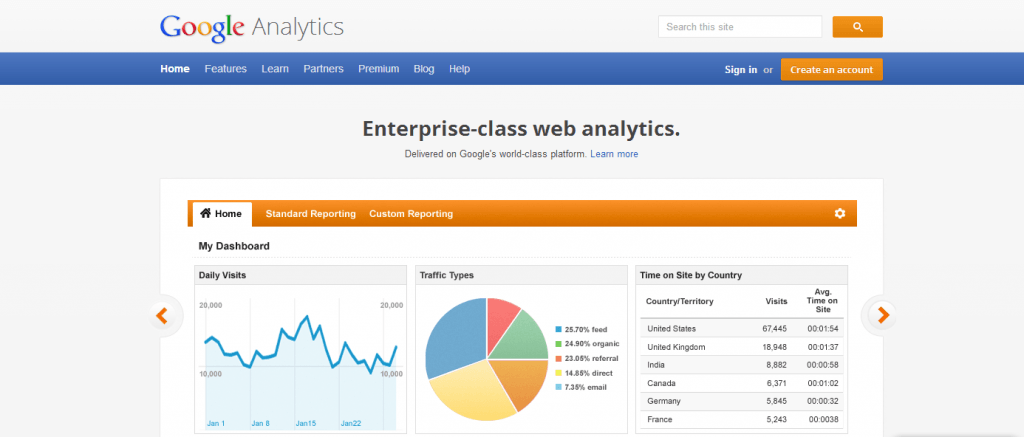 2)      Make sure you're looking at the right data – and know the differences of the different traffic sources. The biggest mistake you can make is to look solely at overall traffic to determine your ROI. There are many different ways (mediums) people come to your site with the following being the most common:
Unbranded, Organic Traffic: This data encompasses people who come to your site via non-paid traffic who are not already familiar with your brand. For WebFX, that would be a visit from someone who typed in "web design company" not "WebFX web design".

Make sure you're looking at unbranded, organic traffic. This is where most B2B businesses can look to improve, as well as see a huge ROI.  In Analytics, go to Traffic Sources–> Sources –> Organic, then choose the advanced filter and select "Exclude, Keyword, Containing, "Company Name". You can exclude multiple fields to exclude things such as any abbreviations, common misspellings, employee names, etc.

 Branded, Organic Traffic: This data includes non-paid traffic for people who are already familiar with your brand but did not type your website directly into their browser. For WebFX, that would be if someone typed "WebFX web design" into Google, rather than typing www.webfx.cominto their browser.

Branded Traffic is good to monitor to ensure people are aware of your brand. In Analytics, go to Traffic Sources –> Sources –> Organic, then choose the advanced filter and select "Include, Keyword, Containing, "Company Name". If there is not a lot of traffic for your brand, you may find that you are not even ranking #1 in Google for your brand. You may also see a trend in people searching for an incorrect variation of your brand name, which may show you that your branding is not providing a clear message.

Paid Traffic (if applicable): If you are running pay-per-click advertising through Google Adwords or Yahoo! Bing Network, you'll want to be sure you're analyzing that traffic in Google Analytics. Make sure you have enabled auto tagging of URLs for Google Adwords and manually tagged your URLs in Adcenter. Google's URL Builder tool can help you manually tag your ads and make sure you have that set up correctly. The difference between organic and paid traffic is that paid traffic is… paid. Each click on an ad (which leads to a visit to your website) costs you money.

Paid Traffic should absolutely be analyzed regularly – you're paying for those clicks! If you have a high bounce rate (users who leave your site after viewing only one page), perhaps there is not a clear next step on your website. It could also be that the traffic is not relevant. Check your "matched search query" data to make sure people aren't searching for something entirely unrelated to your business.

Referral Traffic: This data includes all traffic to your website that comes from a link on another website. If you are listed with your website on an industry directory and someone clicks on your website, that visit will show under referral traffic.

Referral traffic is useful to determine if a specific listing or mention on the web is bringing valuable traffic to your website. This can also be used to see social media referral traffic (i.e. Facebook, Twitter, LinkedIn, YouTube, and Google Plus)

Direct Traffic: This data encompasses all visits to your site for users who type your website directly into their browser.
3)      Setup Measurable Conversions in Google Analytics as Goals –
Determine what a conversion is for your company. A contact form being filled out? A phone call? A newsletter sign up? Viewing the Directions Page?
Setting up Form Conversion Goals –
The easiest way to track form conversions is to set up a unique thank you page for all forms on your site (contact form, quote request, newsletter sign up, etc.) and then track the views of that thank you page as a goal. Go to Admin –> Profile –> Goals and see the screenshot below for a sample "thank you" page setup. You can leave the value as "1" for now, until you've determined a lead value.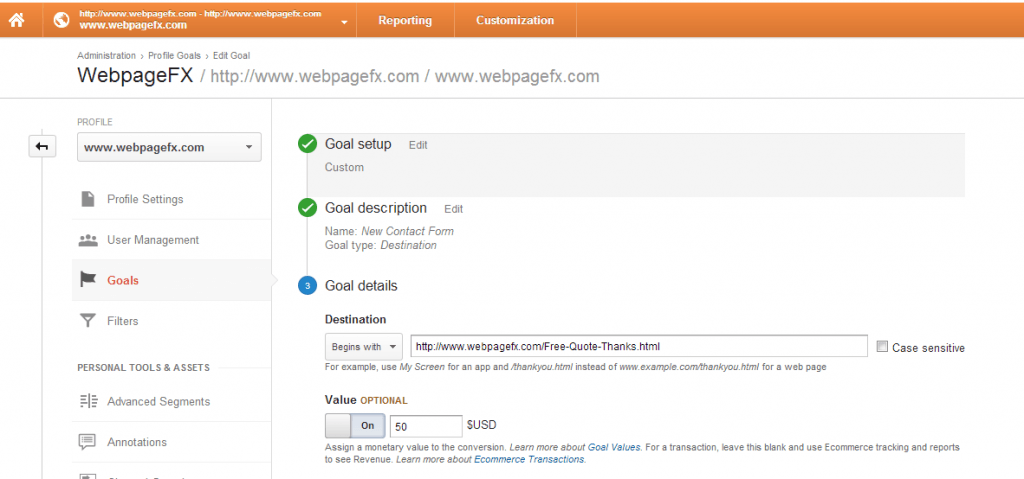 Along with form conversions, you may also want to track specific page views, such as a new product you're offering or a directions page if you're a local business. You can use the same process to set that up.
The Math Part
Now that you are tracking the data from your website, you're ready to calculate the math side of things. I promise this isn't as hard as it may seem! Keep in mind it's not an exact science.
1)      Determine how many leads you get each month. Separate those leads into contact forms, quote requests, newsletter sign ups, calls, and whatever else may be utilized by your company.
2)      Determine how many leads for each lead generation source actually converted. This may need to be calculated after an entire year of data has been collected, depending on your business's lead time.
If you had 30 contact forms filled out in May 2013 and 15 became customers, you have a 50% conversion rate. If you have 5 newsletter sign ups and 1 became a customer, you have a 20% conversion rate for that.
3)      Determine the value for a lead for your company. This can be tricky, especially if you offer a variety of different services. Don't worry if you're not 100% accurate. If you sell a service that costs $5000, what is your profit on each sale?
Using the above example, let's assume you make $1000 on each $5,000 sale. So using the data above, you would multiply $1,000 by the 15 contact forms that converted for a total of $15,000 from that lead generation source. $15,000 divided by a total of 30 leads for the month, gives you a value of $500 per lead. In simple terms, this means 1 in 2 leads will provide your company with $1,000 in profit.
Using the above example again for the newsletter sign ups, take the $1000 you made and divide it by the 5 newsletter sign ups you had for the whole month. You're left with a value of $200 per lead.
4)      Once you have an estimated value for each lead type for your company, you can begin calculating the ROI for each traffic source.
Analyze the ROI from Different Traffic Sources
This is absolutely my favorite part of the process because you get to see how much your hard work on the website has paid off, literally. There are several ways you can set this up with my preferred method outlined below.
Since you already have goals set up in Analytics, go in and add the lead value for each of your lead generation sources. This value won't be retroactive, so keep that in mind! When you go into your different traffic source reports in Google Analytics, you'll now see a conversion rate for each goal, as well as data and values in the Goals Report (Conversions –> Goals –> Overview).
Reports to Utilize in Google Analytics –
1)      Conversions by Medium Report
This report will take some customization but is well worth the time as you can continue to rely on this report each month. It's my absolute favorite for clients who are utilizing different online marketing sources. Go to Conversions –> Multi-Channel Funnels –> Assisted Conversions in Analytics.
Under the Explorer Tab, select Conversions. You'll see a basic break down of website conversions based on the Medium (Organic, Paid, Referral, Direct), with the total value.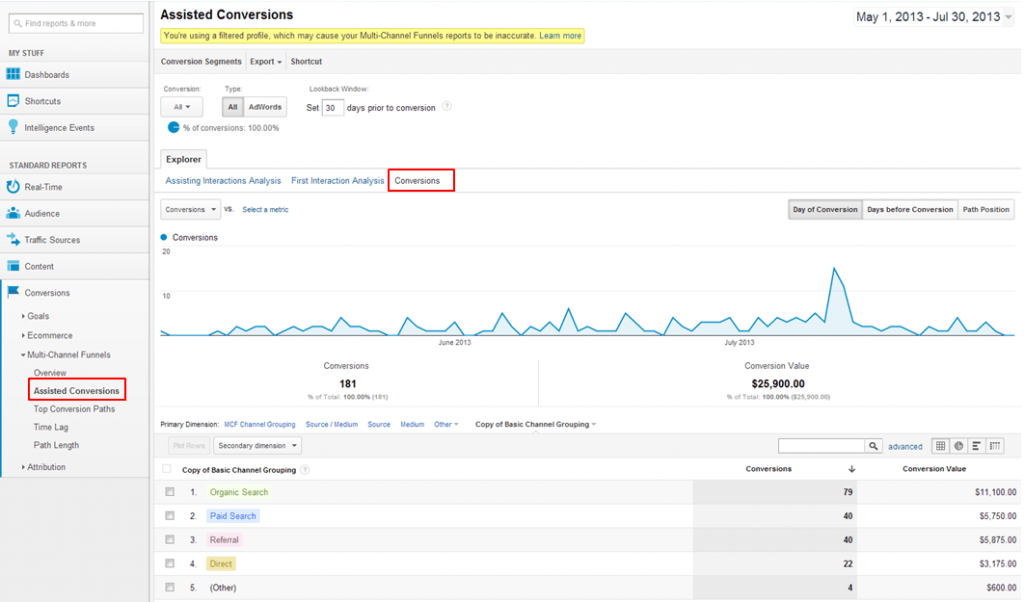 For my clients, I go a step further and create a custom channel grouping (shown below) which allows me to see more clearly which medium is driving the most money for them. In this case, Organic Search – Unbranded, is driving the most money. This client, in particular, is spending about 5 times as much money/effort on Paid Advertising as Organic Traffic. What do you think my recommendation will be given the data below?

By selecting a secondary dimension, you can dig deeper into this data. My preferred secondary dimensions to use are "source" and "keyword", both shown below:


Creating Your Own Custom Channel Grouping – If you want to separate out branded and unbranded traffic, simply create your own by selecting the drop down menu for "Channel Groupings". You'll see you can choose to copy the existing template, which will save you quite a bit of time. Once you have created a copy, simply edit and create new paid search and organic search labels with the following filters (shown below for WebFX, so change that filter to use your company name):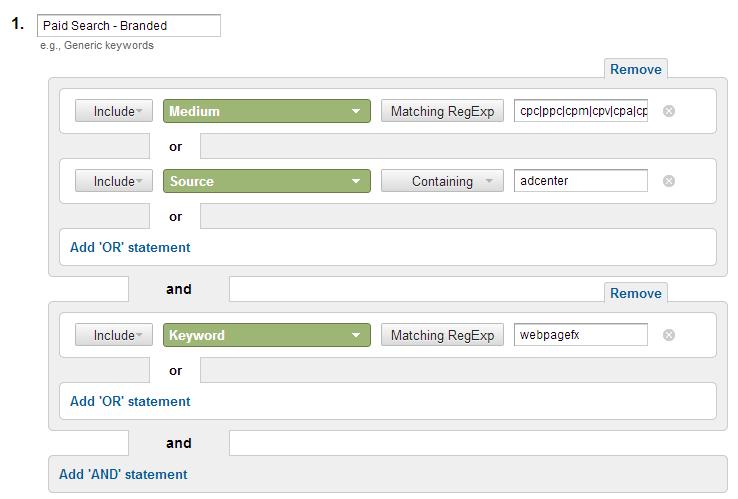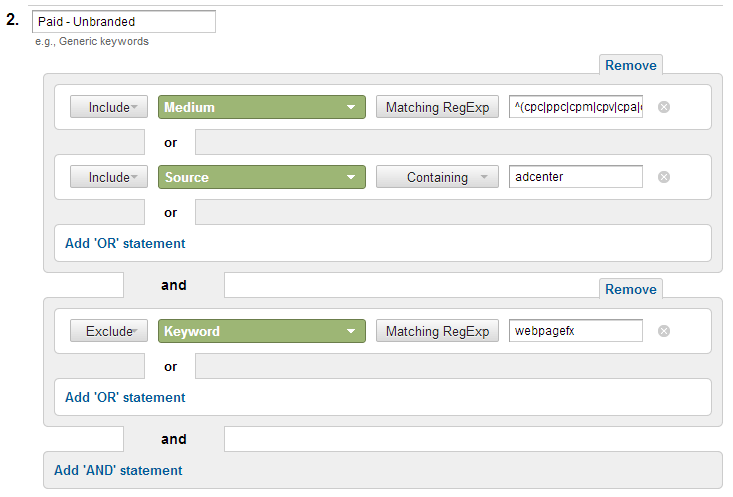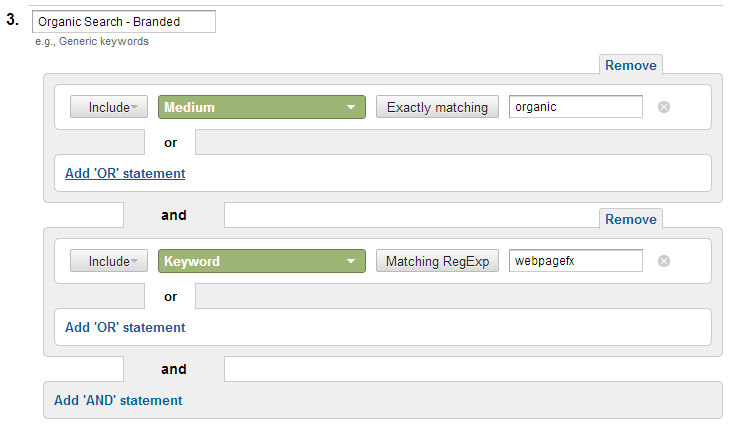 Organic Search – Unbranded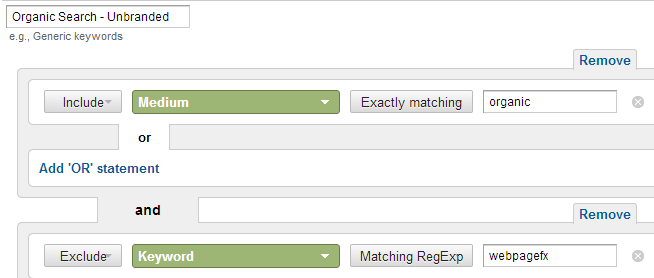 2)      Assisted Conversions by Medium Report
By simply selecting "Assisting Interactions Analysis" on the Explorer Tab in the previous report, you can now view which mediums brought in assisted conversions. This is especially important to review, since not all users convert after their first interaction on your website. The column labeled "Assisted Conversions" shows us which traffic mediums played a role in a conversion in which they did not receive credit as the main source for the conversion. If you do not see a traffic medium converting for you, make sure you're checking the assisted conversions as well, as it may actually be playing a key role in the conversion process!

3)      Top Conversion Paths Report
Go to Conversions –> Multi-Channel Funnels –> Top Conversion Paths.
I love showing clients this report, because it shows them how people come to their site that ultimately leads to a conversion. It's usually not the first time they visit the site!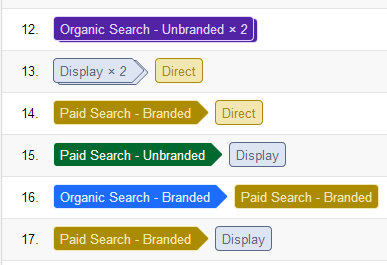 4)      Custom Keyword Conversions Report
If you select the Customization report in the top orange bar within Google Analytics, you can set up a completely customized report. After choosing to create a new custom report, fill out the information below based on what you are looking to analyze: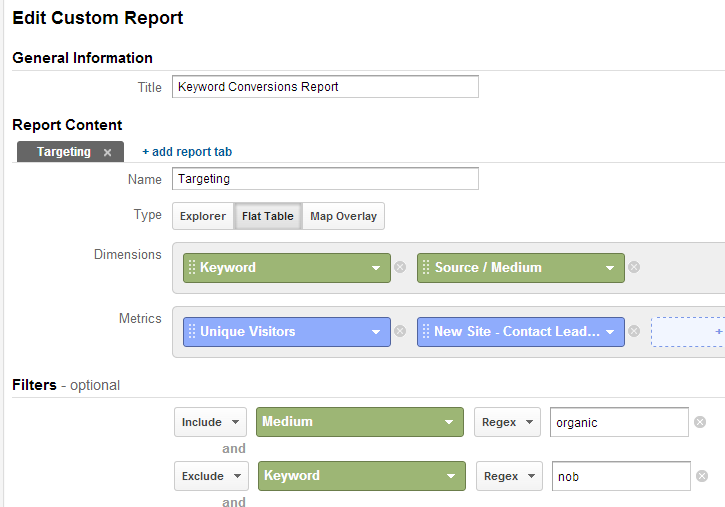 With this information set up, you'll be able to see a report like the one shown below. In this case, I'm analyzing the unbranded, organic traffic to the site to see which keywords are our top converting keywords based on contact form completions. With this data, you can now determine which keywords are bringing in the best ROI.

5)      LeadManagerFX Report
At WebFX, we have our own software to help our clients determine the ROI for their campaigns. You can see a screenshot for WebFX below:

Each lead form has special tracking code added to it so that we are able to import that data into LeadManagerFX. Each contact form is then assigned a value. This data allows us to see the lead medium, keyword searched, as well as the actual data for the lead form that was completed. This process goes beyond Google Analytics which does not give us the information for the user. Using LeadManagerFX, we are able to see not only what medium/keywords converted, but also which ones eventually became customers. Over time, we can also track the ROI for each campaign.
6)      CompanyTrackerFX Report
A unique feature of LeadManagerFX, called CompanyTrackerFX, allows us to see what companies are viewing a website, as well as what medium/keyword brought them to the website, what pages they viewed, and how long they were on the website. There are several ways this information can be used:
For companies who receive more calls than contact forms, we are now able to bridge the gap between companies who view your site, call you, and ultimately convert into a customer.
If a current customer is viewing your site, perhaps a different product than they currently have, you can follow up with them for a possible upsell!
If an old sales lead is viewing your site, now would be the perfect time to follow up with them and see if they are interested in moving forward!
If a large company views your site, does not contact you, and you have not spoken with them before, give that company a call! This is a great way to qualify an outbound sales call, since their interest is already piqued!
While there are several ways to calculate ROI and determine what is working best for your B2B business, these techniques have proven to be the most effective for me. It requires some time upfront, but, long-term, allows you to track your website ROI and compare data from month-to-month and year-to-year. Ultimately, this process will help you invest your time in the areas that provide the best ROI and allow you to show your boss, shareholders, or board of directors that you are on top of your game!
Have any questions? Feel free to leave a comment below!
Get posts by email
Be the first to know when we publish a new blog post!