B2B Marketing Solutions: B2B Marketing Strategies for Growth
Alex owns an auto parts manufacturing company. His traditional marketing methods have always worked well for him, but recently, he noticed he's not getting a lot of new customers. Additionally, his competitor, Mark, seems to be getting more clients by the day.
At this point, Alex is frustrated. What is Mark doing that he isn't?
Two words: Digital marketing.
With the growth of the Internet and people's reliance on it as a source for finding businesses, Mark responded by developing a digital marketing plan for his B2B business to help him reach the right clients.
So, if you find yourself in the same boat as Alex and you want to compete with the Marks of your industry, it's time to invest in B2B digital marketing solutions.
On this page, we'll provide you with valuable information like:
Why you should invest in B2B marketing solutions
Which B2B marketing strategies you can use for your business
How to find a great B2B marketing company to help with your strategy
If you want to hear about what B2B marketing solutions can do for you, contact us online or call us today at 888-601-5359 to speak with a strategist about our digital marketing services!
WebFX specializes in B2B client success.
Wheeler Machinery Co. has been in the business of providing exceptional customer service since 1951.
It was immediately evident to us that they valued treating their customers with a sense of partnership — and we couldn't wait to help their efforts.
Learn More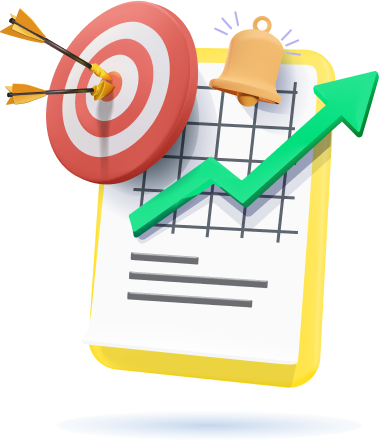 Why should I invest in B2B marketing solutions?
A strong digital marketing plan is one of the most valuable tools in your marketing arsenal.
Here are three reasons you need to invest in B2B digital marketing solutions for your company:
1. You reach more clients
Like Alex, you may see that you're not getting as many new customers with your traditional marketing solutions. If you feel like you're not experiencing the growth you'd like, digital B2B marketing solutions can help.
These solutions enable you to reach more clients online.
Did you know that 74% of B2B consumers conduct half of their research online before making an offline purchase? People want to learn about your business online, so if you aren't optimizing your online presence, you're missing out on potential clients.
Online marketing helps you reach new clients for your business — on Facebook alone, 43% of B2B marketers have gotten new clients. These online platforms have the power to help you grow your company.
2. You can keep nurturing leads
As a B2B business, you experience longer sales cycles. You're not trying to appeal to one person, but rather a group of decision-makers. As a result, it can take longer for you to earn conversions.
You may worry that, during this long sales process, these leads may forget about your business and move on to someone else. Maybe that's happened to you in the past because you didn't have an effective way to reach out to these leads besides calling.
With digital marketing, you don't need to worry about losing your audience's interest. Digital marketing offers numerous strategies, like email marketing and remarketing, to keep your business at the top of your prospects' minds.
As a result, you can continually connect with these leads and nurture them towards conversion.
3. You get a clear return on investment (ROI)
One of the most common problems with traditional marketing methods is that you don't know if they're working. You don't know if the new clients you're getting come from your traditional marketing strategies.
It makes it challenging to know if you should keep investing in those tactics.
With digital marketing solutions for B2B companies, you don't need to worry about figuring out whether your methods work. When you invest in these digital strategies, you get precise data that shows you the effectiveness of your campaigns.
You can track sales and see which methods drive a positive ROI for your B2B company.
B2B marketing solutions for your business: 4 must-have B2B marketing strategies
After reading why you should invest in B2B marketing solutions, you're feeling confident that this is a great option to help you earn more clients. But now that brings the next question: Which B2B marketing solutions should you use?
There are numerous options available.
Focus on the strategies that work best for your business. Some strategies will work better than others, but it's essential to know which strategies to focus on first.
Here are four must-have B2B marketing strategies for online growth.
1. Search engine optimization (SEO)
SEO is the process of boosting your website's ranking in the search results to drive more relevant clients to your site. This strategy helps you reach people searching for your B2B business, products, or services.

You want to invest in SEO because 71% of B2B clients start product research with a search engine. These clients are turning to search engines like Google to help them connect with the right company.
So, how can SEO help your B2B business?
You'll increase brand exposure: SEO enables your business to rank at the top of the search results, which means more people see your brand. Even if leads don't click on your listing, they'll be exposed to your brand and remember your business later.
You'll increase traffic on your site: SEO helps you drive traffic to your pages. When you optimize your pages to perform better in search results, you can rank better, which leads to more traffic on your page.
You'll reach relevant leads: A core component of SEO is keyword selection. Keywords trigger your website to appear in relevant search results. By optimizing for relevant industry keywords, you'll put your business in front of the leads that want your products or services.
Learn more about SEO:
2. Pay-per-click (PPC) advertising
Another great B2B marketing strategy is PPC advertising. PPC ads are paid advertisements that appear at the top of the search results above organic listings. They're tagged with the word "ad" to indicate paid content.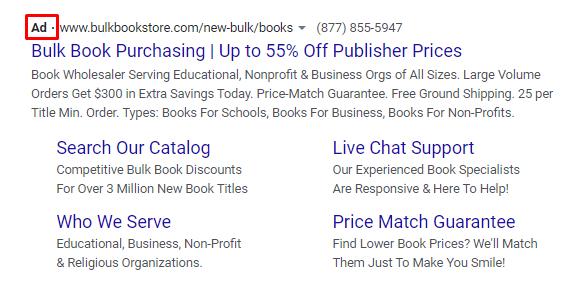 Ad clickers are 50% more likely to purchase than organic visitors, so if you want to earn more sales, you need to invest in a B2B digital advertising strategy like PPC.
Here's why PPC is one of the best digital marketing solutions for B2B:
You can outrank your competition: PPC ads operate on a bidding system, where the most relevant ads appear for a user's search. If you have more relevant ad content than your competition, you'll get a better ad position, which can give you a leg up on your competition — especially if they outrank you in organic results.
You can earn more sales: As the statistic we shared earlier shows, you earn more sales from PPC ads. Not to mention, businesses make $2 for every $1 spent on PPC ads. This strategy is great for helping you earn more sales and a positive ROI.
You can get immediate results and adapt: As soon as you launch your PPC ad, you can see how it performs. This advantage enables you to see if, over a short period, your strategy works effectively. You can see what works and what doesn't so that you can adjust accordingly.

Learn more about PPC:
3. Email marketing
How would you like to get up to $44 for every $1 you spend on a campaign?
If it sounds like a dream, it's not — you can achieve that kind of ROI with email marketing.
Email marketing is a strategy that lets you send valuable information directly to your audience's inbox. It's an excellent idea for nurturing B2B leads towards conversion because it allows you to keep your brand top-of-mind.
Here's why you'll want to include email marketing as a part of your B2B marketing strategy:
You can segment prospects: People have an interest in your B2B company for different reasons.For example, a bulk book buyer may attract colleges and universities, as well as religious organizations or non-profit after school centers. Instead of sending the same message to all prospects, you can segment your lists to send information that's relevant to those subscribers.
You can personalize your clients' experiences: Personalization improves open rates by 41%. Whether you add someone's name or tailor the email content to their specific interests and pain points, you can provide them with an experience unique to their interests. It can help increase engagement and sales for your company.
You can keep costs low: Email marketing is a relatively cost-effective method for reaching your audience. The average company spends $9 to $1000 per month when they self-manage their email campaign — the cost varies based on the platform and subscribers. This low cost enables companies to create more room for profit.
Read more about email marketing:
4. Content marketing
Next on our list of B2B marketing strategies is content marketing. Content marketing is the process of sharing your knowledge and expertise with your audience to drive traffic to your site. When you create content, you provide your audience with valuable information.

From blog posts to videos, you can use various mediums to share valuable information that attracts interested leads — that's why 88% of B2B marketers already use content marketing.
So, why should you include content marketing as one of your B2B marketing strategies?
Your help build yourself as an authority: Content marketing requires sharing your knowledge, which helps you position yourself as an authority in your field. Your audience will trust that you're knowledgeable in your field, which can help you earn conversions later.
You increase time spent on your website: When you create content, you keep your audience on your site longer. That means your audience spends more time getting to know your brand and learning about your products or services. Building brand recognition can lead to these companies contacting you later to learn more about what you offer.
You boost your SEO: Content marketing is a valuable tool for increasing your SEO ranking.Creating optimized content helps you rank better in search results. As a result, more people click on your content rather than a competitor's. This increase in clicks will lead to a higher ranking because you're driving more credible traffic that spends time on your site.
Learn more about content marketing:
Investing in B2B marketing services: Should I hire a B2B marketing company?
It takes a lot of time and effort to implement a digital marketing plan for your B2B company. When you're busy managing other projects, you may not have the time to develop a marketing campaign for your company. As a result, you may look to hire a B2B marketing company.
But is this the best option for your business?
Generally, hiring a B2B marketing company is an excellent option. Not only does it take work off your to-do list, but it enables you to give the work to a company that has experience running campaigns. You can rely on experts to manage your strategy for you.
Investing in B2B marketing services is an excellent option if you want to reap the benefits of digital marketing without lifting a finger.
If you decide to hire a B2B marketing company, make sure they:
Fit your budget
Offer the B2B marketing strategies you need
Have a portfolio you can look through to see their work
Have worked with your industry or other B2B companies
Have experience driving results
Time to Level Up Your Sales
Our long list of services helps you grow every aspect of your business with marketing strategies that are proven to increase bottom-line metrics like revenue and conversions.
In the past 5 years, we've managed more than 12.9 MILLION transactions across our client base.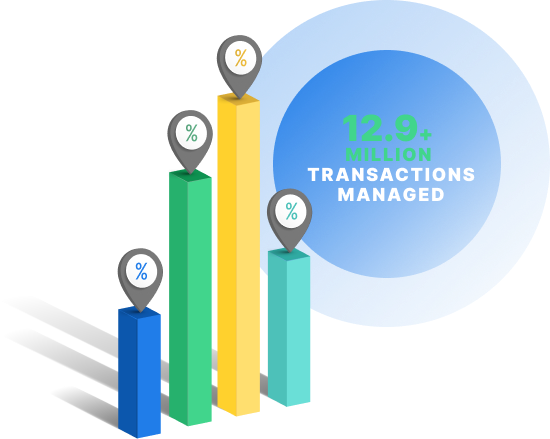 B2B marketing solutions from WebFX
Are you ready to be like Mark and start using digital marketing to market your B2B business online?
If so, WebFX is here to help.
We're a full-service digital marketing company that offers everything you need to grow your business online. We offer digital marketing solutions for B2B companies that help you thrive online.
You can count on us to drive results for your business. In the past five years, we've driven over $3 billion and over 7.8 million leads for our clients.
Want to learn more about B2B marketing solutions? Contact us online or call us today at 888-601-5359 to speak with a strategist about working with a B2B marketing agency!