Building a customer base is key to any business. Part of that process involves establishing your company and making sure people can find you. That's where a marketing strategy comes in handy!
A marketing strategy is your plan for finding prospects and creating materials to turn them into customers. Whether you want to create a new marketing strategy or revamp your existing one, it's crucial to understand everything from the features to implementation.
On this page, we'll cover marketing strategy examples, uses, and more:
Marketing strategy definition
Types of marketing strategies (with examples)
How marketing strategies can help your business
4 tips for creating a winning marketing strategy
Want to skip to the good part? Call 888-601-5359 to get ahead on your strategy!
Don't miss our Marketing Manager Insider emails!
Join 200,000 smart marketers and get the month's hottest marketing news and insights delivered straight to your inbox!
Enter your email below:
Inline Subscription Form – CTA 72
"*" indicates required fields
(Don't worry, we'll never share your information!)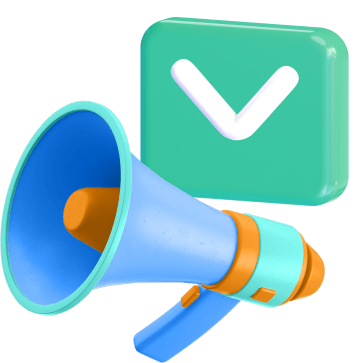 Marketing strategy definition
A marketing strategy is a company's long-term plan for finding prospects and turning them into customers. Every company's strategy will look different, but they all have the same goal of converting people into clients.
Marketing strategies can include:
Establishing a target audience
Deciding what channels you want to use
Creating promotional material
Setting a publishing or distribution schedule
Types of marketing strategies (with examples)
So, how do you create a marketing strategy? Building a marketing strategy can help you outline and optimize your approach for long-term success.
You can choose one or more channels to market your businesses and keep in touch with potential and existing customers. Here are five different types of marketing strategies to get you started.
Search engine optimization (SEO)
SEO is the process of improving your website to increase organic traffic, and it's the basis of the digital marketing industry.
On Google, the first five positions get 68% of all clicks. With SEO, you help your site rank higher on the search engine results pages (SERPs) by appealing to the search engine's algorithm.
Some SEO principles include:
SEO can help you create a powerful website that Google deems a reputable source of information.
Below is an example of organic rankings, which is where your content will rank. Ideally, you will rank at the top!
With higher rankings, more people will find your site, boosting your chance for conversions.
Email marketing
Email marketing uses commercial messages to connect with prospects and current customers. While there are many types of emails you can include in your campaign, some include:
Weekly or monthly newsletters
Promotions with coupons, special deals, or in-house offers
Follow-up transactional emails reminding customers to finish shopping
Company announcements
The key to email marketing is sending purposeful, consistent messages. You could send a quick update email, like this example from Figma.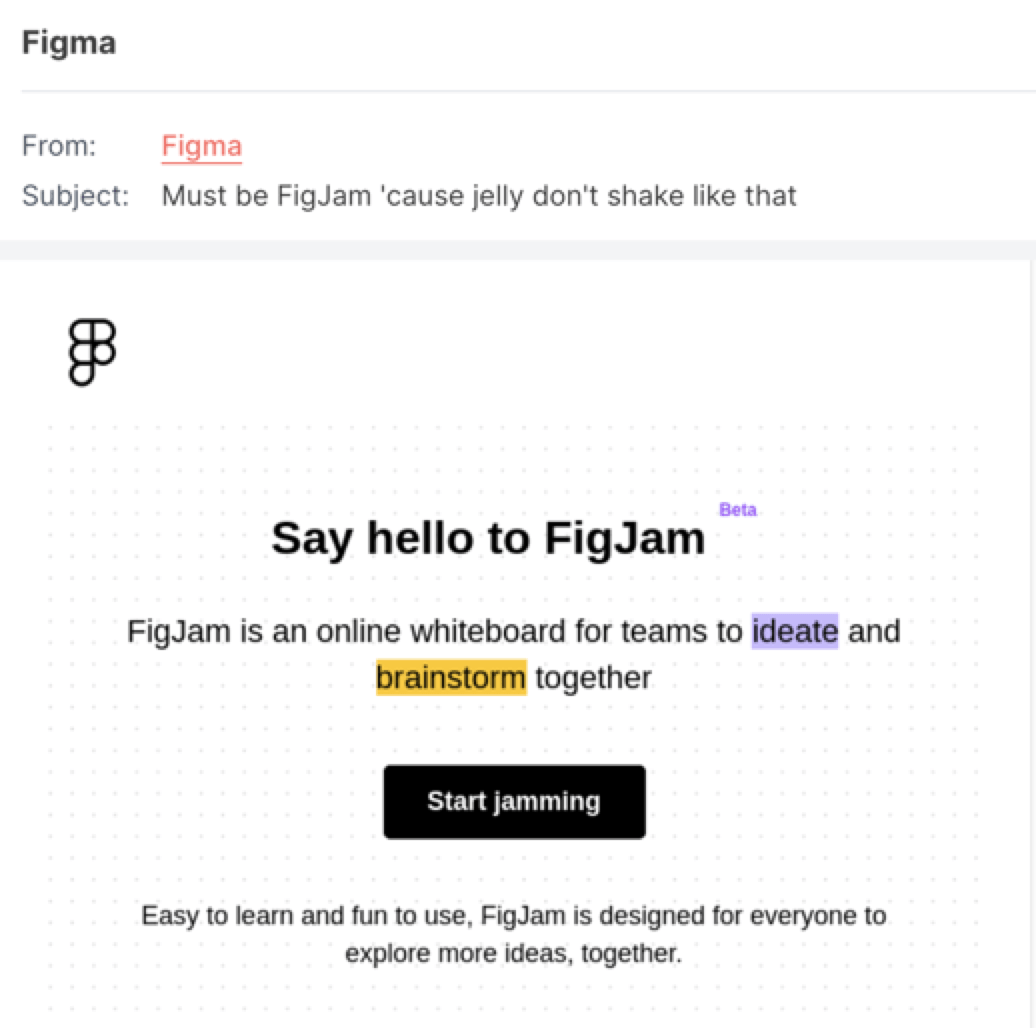 You can also use emails to remind customers about their abandoned carts.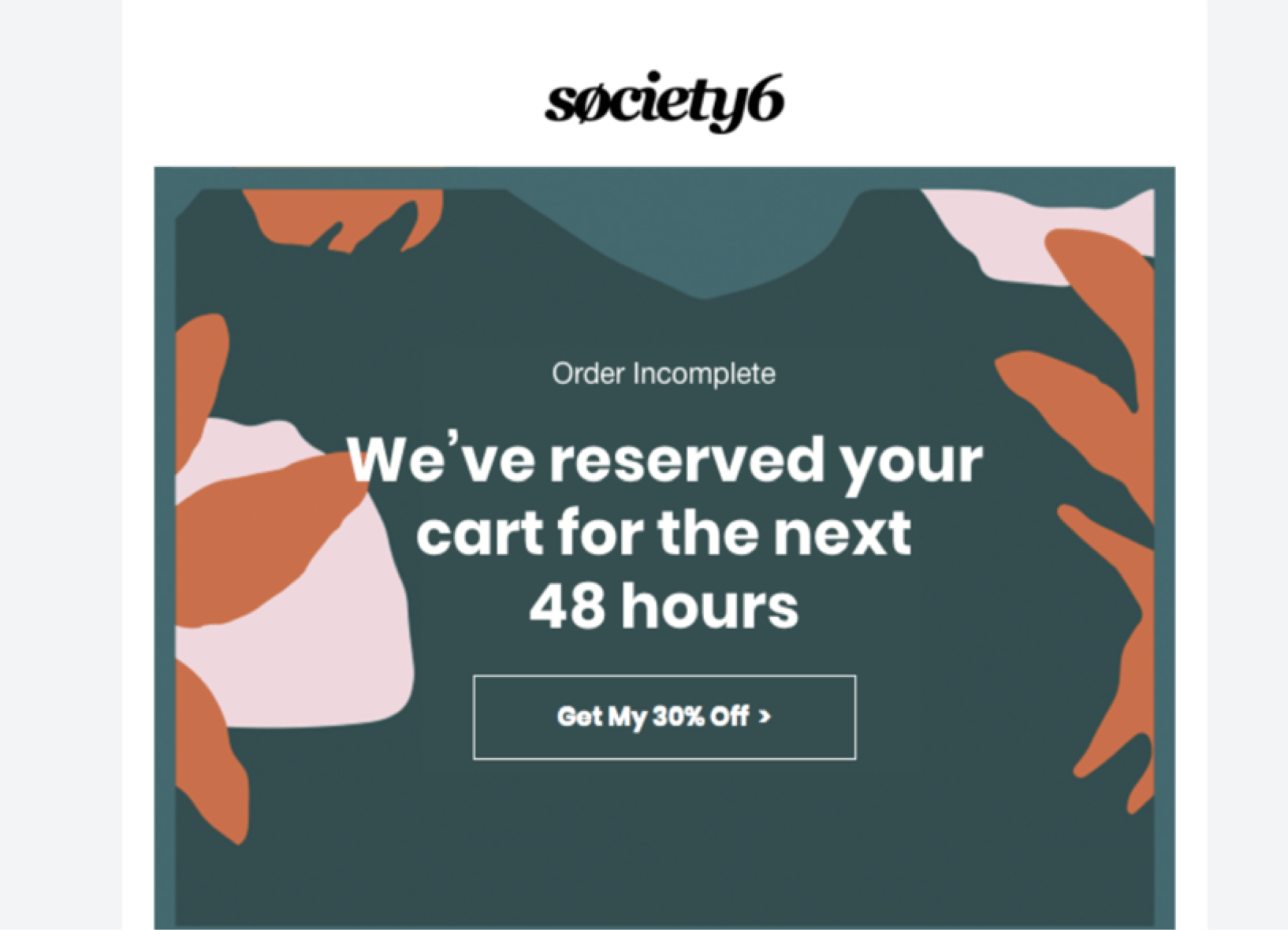 Email marketing keeps an open line of communication that benefits your reader and strengthens customer relationships.
Social media
Social media is for more than sharing pet pics — you can market your businesses there, too!
Social media marketing is the process of connecting with your audience and building brand recognition on platforms like Facebook, Instagram, and others.
Of the users who follow brands online, 96% of them interact with those brands.
With social media marketing, you can use apps like Twitter, Facebook, Instagram, and even TikTok to promote your brand and share product information. You can also find your audience on social media apps to reach them better and place your company in their feed.
Here is one example social account from Duolingo: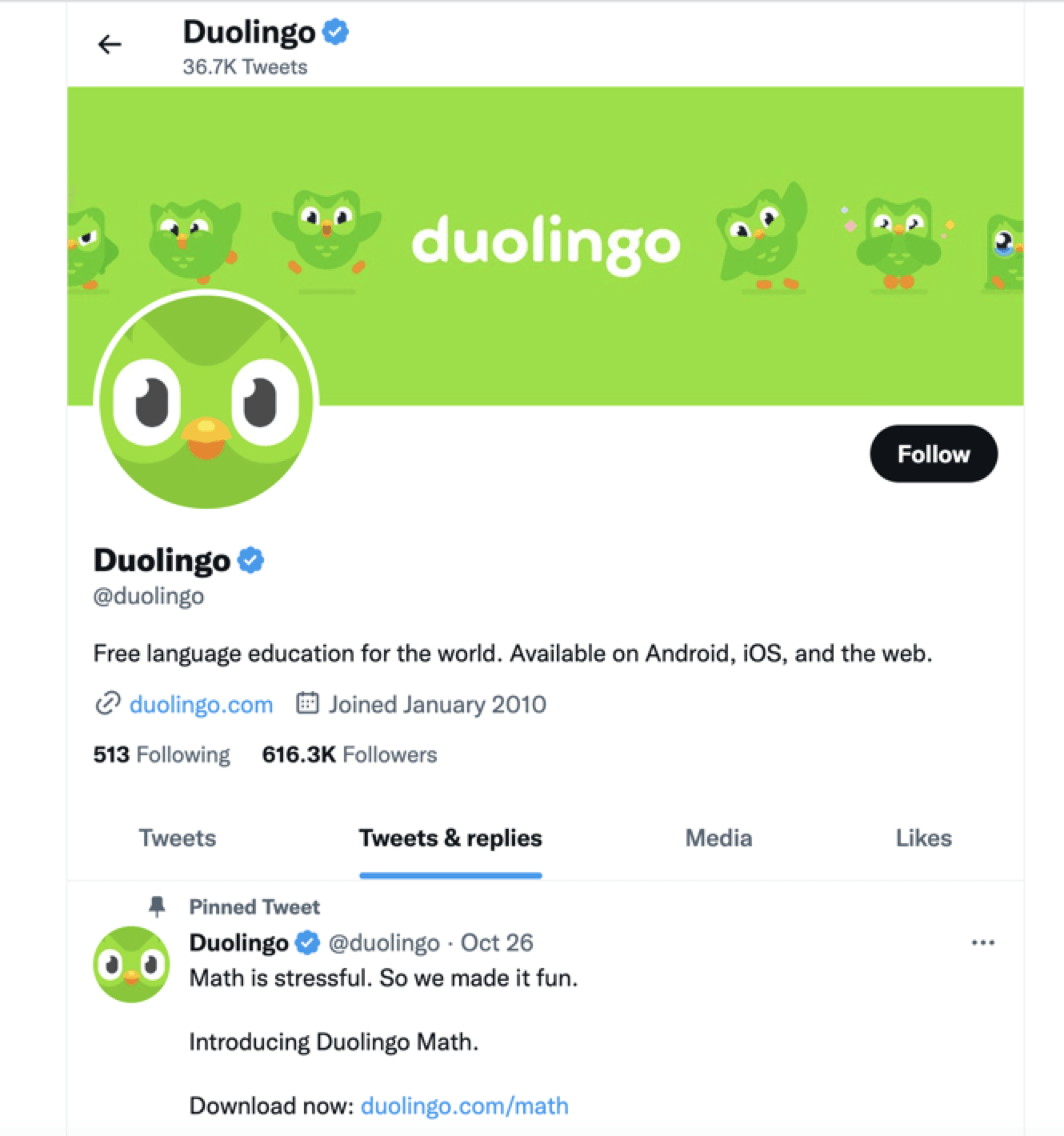 With social media marketing, you can create short posts that maintain your online presence. Best of all, social media is free to use, so you can save money by creating free accounts!
Content marketing
Content marketing is the process of creating and publishing written or visual pieces for online audiences. On average, content marketing generates 54% more leads than traditional marketing methods.
With content marketing, you can:
Discuss industry topics to position yourself as an information source
Answer questions in detail about your product or services
Blogging is the most basic form of content marketing, but you can also create content to share through other marketing strategies. For example, if you write a blog post about a new product and its features, you can create a social post or email to boost it across channels.
One recent example of content marketing includes podcasting. Trader Joe's created a podcast discussing their story, what it's like working at Trader Joe's, their company culture, and products.
Pay-per-click (PPC) advertising
With PPC advertising, you pay search engines to place your advertisement higher.
When someone searches for a keyword, your ad enters an auction where Google decides which ad is most relevant. If your ad wins, it will appear in the search results. You will only pay when someone clicks on your ad.
Your ad will appear above the organic traffic with an "Ad" label: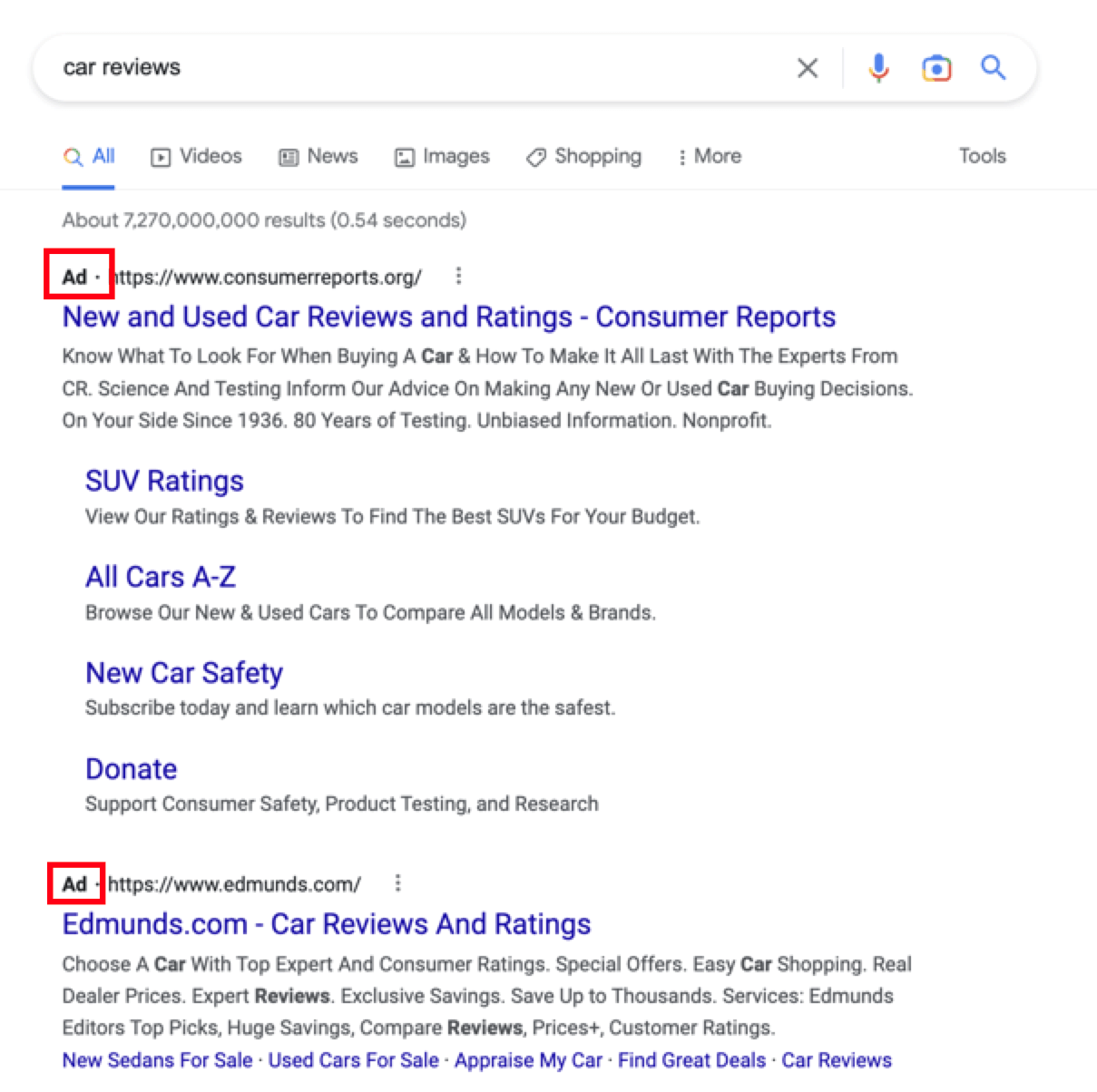 You can also use PPC ads on social media sites, like Facebook advertising. This Best Buy ad has the "sponsored" phrase, so you know it's a paid advertisement.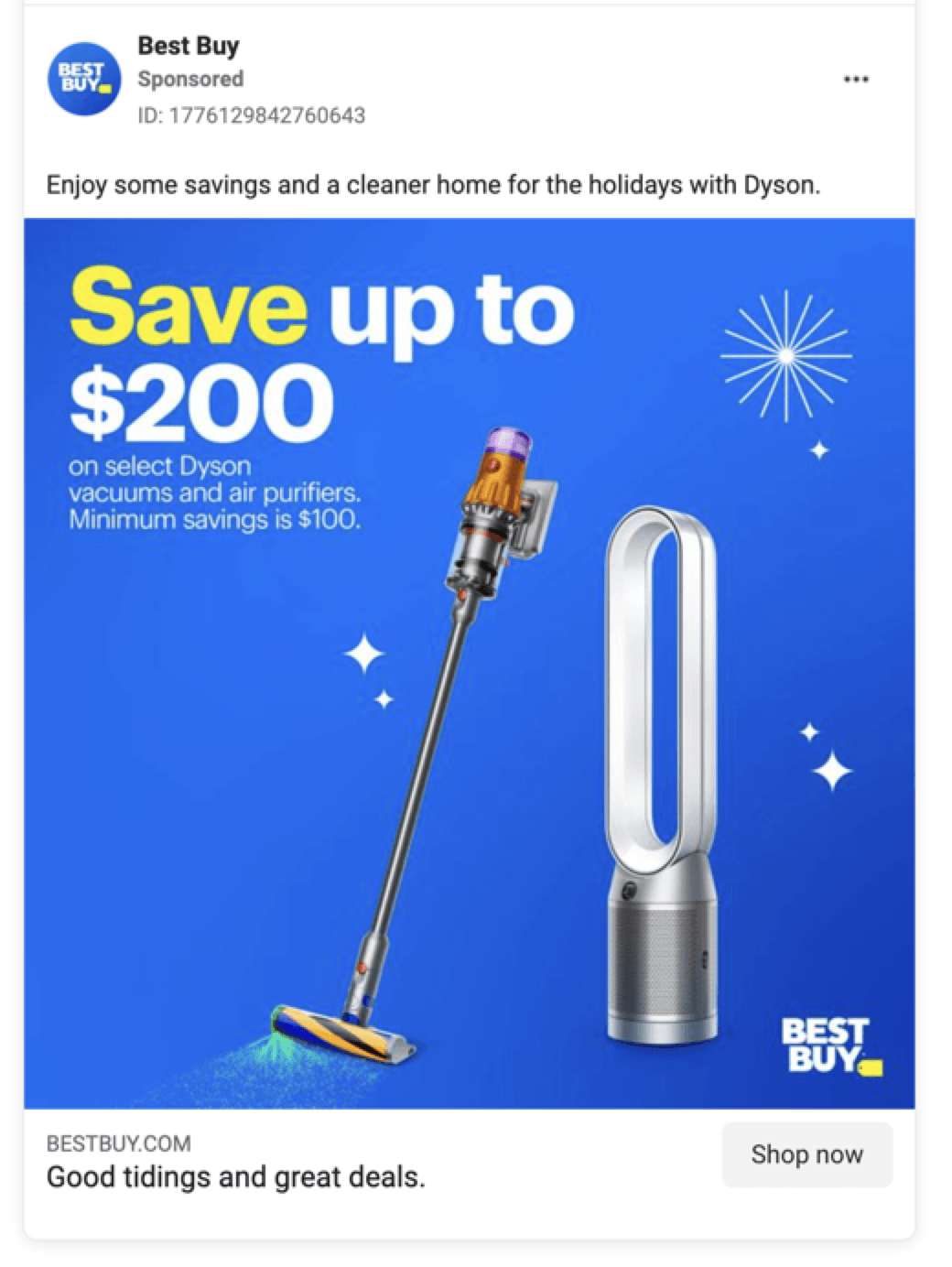 If you want an instant boost in traffic for a sale or product launch, PPC is an excellent tool.
How marketing strategies can help your business
Every company's marketing approach looks different, but the benefits are similar:
Improved user experience (UX): Updating your website, creating helpful content, and communicating with customers gives them a better experience. Customers who feel valued and enjoy your brand will be more likely to purchase.
Consistent branding: By focusing on your brand, prospects will recognize your material across channels. You can create an established identity that gives customers something to connect with.
More conversions: Marketing increases your conversions — you can see 6x more with content marketing alone. More conversions mean more revenue and enhanced growth for your company!
Increased competition: Stand out from your competitors with personalized content and stronger client relationships. If your competitors are doing something you aren't, you can add their tactics to your strategy and make it even better.
4 tips for creating a winning marketing strategy
Thinking about how to tackle your marketing strategy? Check out these tips!
1. Outline your goals
Before you decide on a marketing strategy, you must determine what you want to accomplish. Do you want more conversions on your website? Or do you want to get better customer reviews?
Your goals will be unique to your business. Ask yourself the following:
What is my marketing budget?
How long do I want to wait to see results?
What is my team already doing to spread awareness?
What action do I want customers to take when they come to my site?
Lay the groundwork and decide what you want from your strategy before picking a path.
2. Use multiple channels
With so many options, you should use an omnichannel marketing strategy to get the most reach.
Say your goal is more conversions. You could use a PPC campaign to boost traffic immediately, while focusing on SEO for consistent results over time. Then, you could work on your content marketing to connect with your audience and encourage conversions.
3. Consistently evaluate your strategy
Marketing is an ongoing process — as your business grows and changes, so will your strategy. Consistently evaluating your marketing goals and results can help you see what's working and where to improve.
Tracking key performance indicators (KPIs) can help you track your progress with quantitative data. Before you implement your strategy, do a baseline analysis of the following KPIs:
Then, after a period, track the changes to see where your stats have improved. Depending on your strategy, you might not see immediate boosts, but consistent trial and evaluation will ensure long-term results.
4. Work with an expert
Outsourcing your marketing with experts can ensure you get the results you want. Many companies outsource their marketing to keep the workload even across teams. This step is where WebFX comes in!
Outsourcing with WebFX is great if:
You don't have the internal resources to stay on top of marketing
You prefer to invest your own time into other tasks
You want a hands-off solution
If you're new to the marketing game or want to minimize the additional workload, partnering with an expert is a great choice.
Our digital marketing campaigns impact the metrics that improve your bottom line.
See More Results

WebFX has driven the following results for clients:

$3 billion
In client revenue

7.8 million
Leads for our clients

5.2 million
Client phone calls
Want some help getting started with your marketing strategy?
Welcome to WebFX, the leader in digital marketing solutions that drive results. For over 25 years, we have helped companies in all industries achieve their marketing goals.
Our results tell our story. In the past five years alone, we have generated 7.8 million leads and more than $3 billion in revenue.
We focus on data-backed solutions that evolve with your business. If you want help building a digital marketing strategy, call us at 888-601-5359 or request a quote from our team!
How is your website's SEO?
Use our free tool to get your score calculated in under 60 seconds.
Get posts by email
Join 200,000 marketing managers and subscribe to Revenue Weekly!
"*" indicates required fields
WebFX Careers
Join our mission to provide industry-leading digital marketing services to businesses around the globe - all while building your personal knowledge and growing as an individual.