Transcript: If you run a service business, listen up! Google has a tool called Local Services ads that can have a massive impact on your business's lead generation efforts. But what are Local Services ads?
Keep watching to find out!
What are Local Services ads?
Local Services ads (LSAs) are pay-per-lead advertisements for service businesses, and these ads show up at the top of Google's search results. That's right folks! You heard that correctly. LSAs are a pay-per-lead tool, meaning you don't pay when someone clicks on your ad. The cost of an LSA only comes when someone contacts you from the ad.
I'll explain more a little later.
What's in a Local Services ad?
Local Services ads, or the ads that pop up at the top of certain local search results, include:
Your business name

Your ratings

Your service area

Your hours

Your phone number

The Google Guarantee badge – Your LSAs also have a Google Guarantee badge, which helps you build trust with consumers.
When you click on a Local Services ad, you have that information in detail and so much more. Your business profile includes details like:
Reviews

Bio

Licenses

Hours
The information included offers almost everything a person needs to make a decision. It takes what could be hours of frustrating research for a consumer and instead, makes it easy and fast for a shopper to find your business.
How do I create a Local Services ad?
You can sign up for Local Services ads through Google Ads. Partner with an agency like WebFX, and we can create and manage your Local Services ads for you. When you go to the LSA homepage, click the "Get Started" button.
That will take you to a "Welcome" page where you'll fill out your information.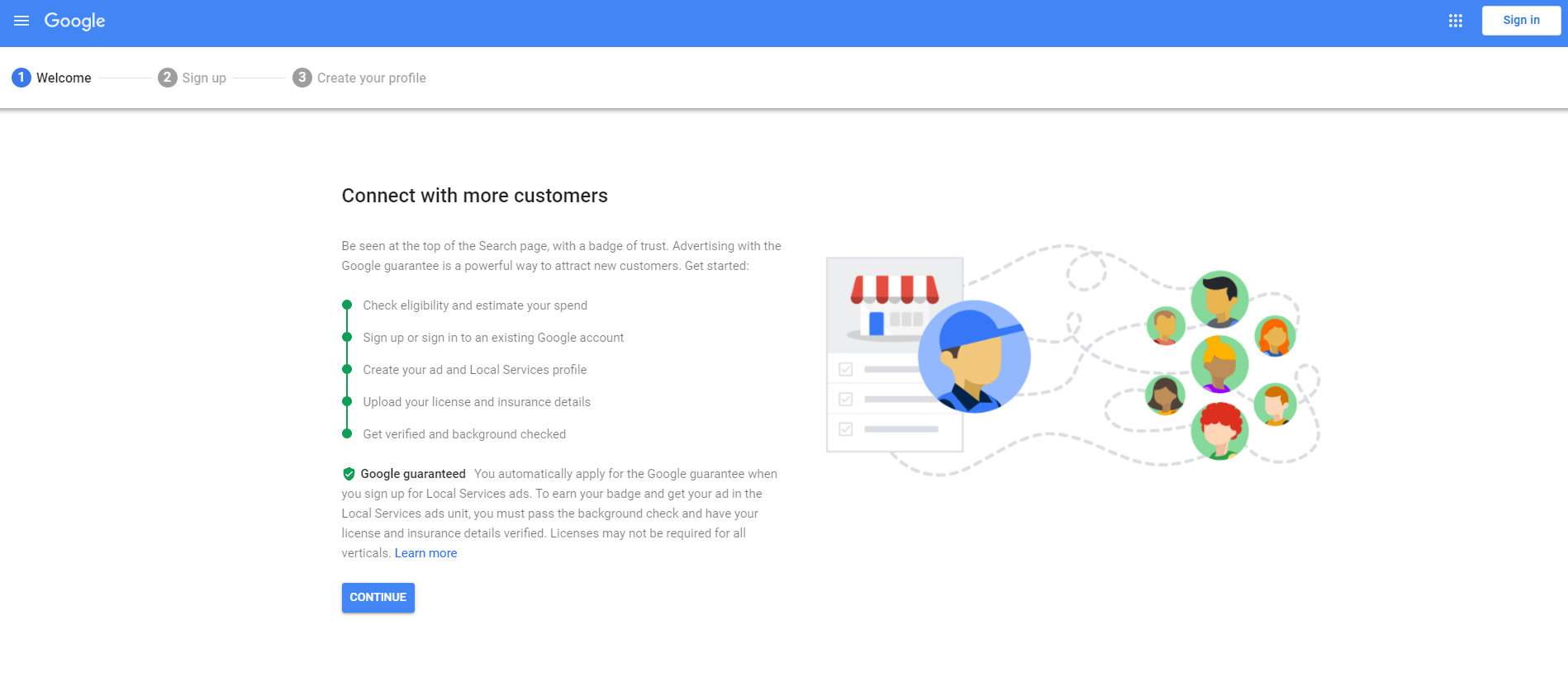 Local Services ads are available to a variety of service businesses, but there are some limits. The focus of Local Services ads right now is mainly on home services, so if you're not in the home services business, LSAs are probably not right for you just yet. LSAs aren't available everywhere, either, but you can check your eligibility with Google when you go to sign up.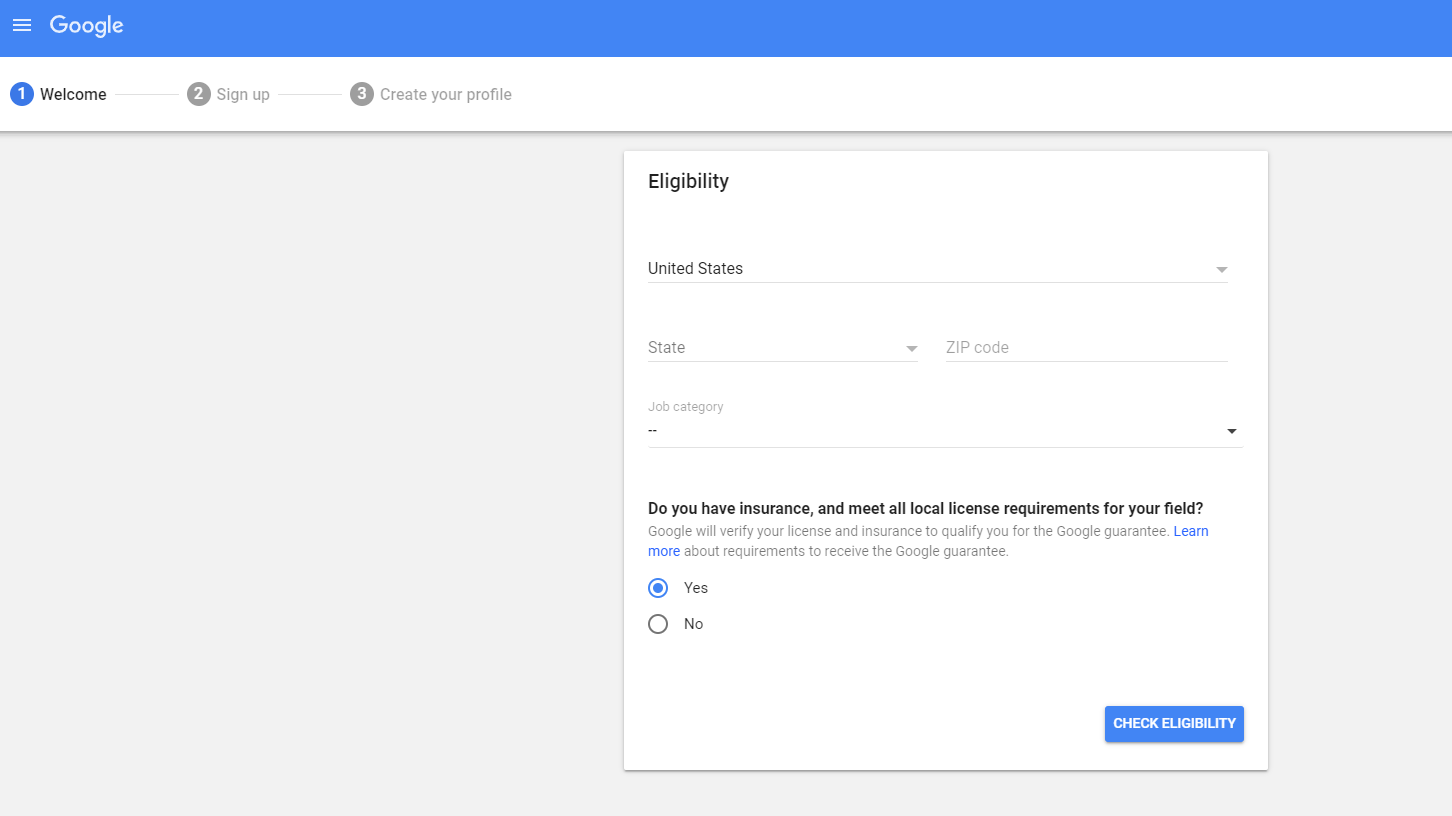 Google has a whole list of businesses that qualify for Local Services ads. A few examples of companies eligible for LSAs are:
Carpet cleaners

Electricians

Plumbers

HVAC

Roofers
Check the Google LSA information page to see if your business is included in the list. Once you confirm that LSAs are available for your geographic area and job category, you'll estimate your weekly spend. After you create your account, you can adjust your preferred weekly spend and create a set monthly budget.
Then, fill out your business information and get one step closer to having your business listed at the top of Google's search results. You can manage your account online or on Google's Local Services app. It's that easy!
How do you get the Google Guarantee?
You get the Google Guarantee when you sign up for your business's Local Services Ad and go through Google's background check. (It's free!) The background check lets Google guarantee you as a safe choice for a potential lead.
Google will require, however, that any business owners or employees out in the field performing services undergo a background check. With the guarantee, Google will cover up to $2000 in refunds if a customer isn't satisfied with your work. But the caveat is that they have to have found you through an LSA.
How much does a Local Services ad cost?
Like I said before – LSAs follow a cost per lead bidding model. How much a lead costs can vary for a number of reasons like what industry you are in or what area you typically service. The best part is you get to set what you want to spend weekly and monthly for your budget. You might spend more than your weekly budget in some weeks and less during other weeks, but you'll never go over your monthly budget. It all depends on the number of leads you get from the ad.
Why use Local Services ads?
Local Services ads are a great way to drive leads to your business. In the past, if a customer needed to look for a plumber, they would search, "local plumber," and see Google Business Profile listings. They might see some ads, and then they would have to go to the website, research any licenses a company should have, and vet the plumber themselves.
That takes a lot of time and can be frustrating, especially if you REALLY need a plumber. As a business, if you were running an ad, you'd be paying per click, even if that customer didn't end up contacting you and, ultimately, giving you a call. Local Services ads change that by compiling a ton of necessary business information for the potential customer and guaranteeing that your business is trustworthy. This makes it easier for your potential customers to get in touch with you. They also get rid of the cost-per-click (CPC) model and only have you pay for actual business reaching out to you from your ad. All around, LSAs save everyone time and money.
93% of WebFX customers are extremely satisfied with their digital marketing results.
"Working with WebFX, everything is very organized and strategic. We're only a year into our partnership, and our expectations have definitely been met."
View More Client Testimonials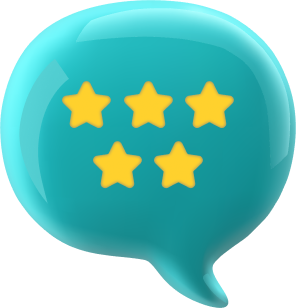 Now that you know what Google Local Services ads are, you're ready to get started!
Are you ready to get started with Local Services ads, but need some help? Check out our Local Services ads management services and see how our award-winning team can help your company earn more leads. Contact us to start driving leads with your LSA today!
WebFX Careers
Join our mission to provide industry-leading digital marketing services to businesses around the globe - all while building your personal knowledge and growing as an individual.