When you operate an online store, you want to do everything you can to increase the visibility of your products, so you can drive more sales. So you dive into ecommerce SEO best practices, creating new content and strategies to boost your keyword rankings, but competition from paid search, shopping, and even video ads seem to push your products lower and lower in the search engine result pages.
What if we told you there was a way to get your products on different channels of Google without pivoting your strategy?
We've put together a guide to Google's Free Product Listings. Keep reading to learn how to optimize your ecommerce product line and grow your revenue!
Google Merchant Center Overview
Google Merchant Center (GMC) allows you to grow your online business with a simple integration of your online product feed.
With GMC, you can manage how your in-store and online product inventory appears across Google, helping you reach more customers and drive more revenue for your business.
The program is completely free to join, with additional opportunities to link your Google Ads account to run Shopping or Performance Max campaigns.
GMC has grown and evolved over the years — transforming from a product inventory management platform to its own database with real-time insights and reporting. In fact, GMC now offers nine programs available for merchants to use, including:
Shopping ads
Buy on Google
Free product listings
Dynamic Remarketing
Customer Reviews
Free local product listings
Promotions
Product Ratings
All participating merchants qualify for each of these programs, but not all products may be applicable.
For example, if your store solely operates online and does not offer a local inventory, you're welcome to opt out of programs like "Free local product listings" and "Local inventory ads."
What are free Google product listings?
Free product listings let you show your products at no cost on Google. Rather than paying for your products to appear through Google Shopping Ads, this program allows you to show your products in more places and help your customers find your products more easily — for free!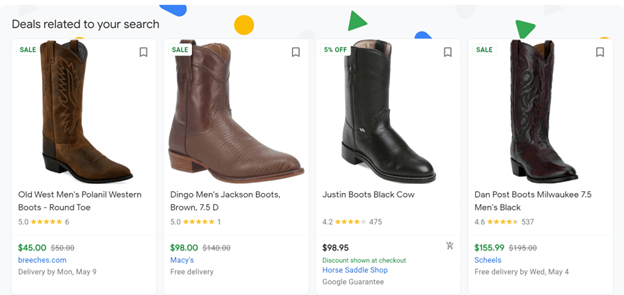 Because of the shift to online sales, Google originally designated the Google Shopping tab to consist mainly of free listings. Now, Google brings in free listings to the main Google search result page, helping shoppers find and choose products created by the sellers that will serve them best.
Since implementing this change, merchants across the Google shopping platform have seen significantly higher engagement, clicks, and impressions to their product listings, resulting in more revenue and sales for their business.
How do free Google product listings impact Google Shopping?
It's important to note that free listings will not "outperform" Shopping ads on the first page of the search engine result pages. It's like organic search results versus paid search results — you don't expect your organic pages to outperform a competing search ad.
There is a dedicated space for Shopping ads at the top of the first page of results on Google that won't get replaced by these free product listings on Google.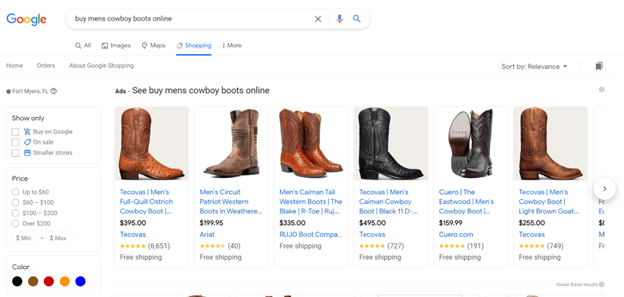 However, where we can start to see this distinction lives in two places: Lower on page one and in the Shopping tab. For relevant queries, Google has started to build out a designated section for popular products, where you'll find a selection of free product listings.
While the typical user won't make this distinction, this new section breaks up the search results and is an engaging, visual element available to sites that enroll in free listings.
In the Shopping tab, you'll find listings broken down by programs available to merchants in Google Merchant Center. Here, you'll find Shopping ads at the very top, followed by free listings and buy on Google products.
The products are then broken up by customer reviews and ratings, followed by promotions and deals related to the search. The Shopping tab makes it easy for users to filter products by size, color, and price – it's almost like shopping on your website before they even visit!
How to set up free product listings on Google
Free product listings position your store's products in a way that can boost brand visibility and sales. You could be missing out on obtaining new customers by opting out of this program!
If you want to earn more customers for your business, it's time to launch your free Google product listings. To get started, follow these steps:
New Google Merchant Center Account
Visit Google Merchant Center and select Get Started
Enter your business information
Choose where your customers check out (Google, your website, etc.)
Choose your third-party platforms and select your email preferences
Upload your product feed by selecting the Free Listings destination in your basic information step
Existing Google Merchant Center Account & Product Feed
Login to Google Merchant Center
Find the Growth tab in the lefthand sidebar
Select Manage Programs
Find Free Product Listings and select Get Started
Follow the step-by-step instructions to launch your free listings!
How to track and measure the performance of your free Google product listings
Within Google Merchant Center, you have access to performance reporting for your free product listings to see how much engagement your products drive. Using the Overview tab, you can find a broad overview of your product performance.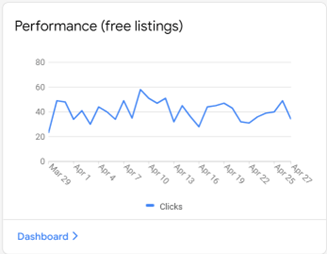 This tab will show you how many products are active, expiring from your feed, pending review, and if any products are disapproved.
You can also view the individual performance of products. Let's say you have 10 products that you want to evaluate. In the All Products report, search for those product titles to get individual insights about their performance.
Looking for more specific insights? You can make custom reports right in your Google Merchant Center account!
Under the Performance tab, you can choose between dashboards, reports, and even competitive visibility, to pull the right information you need. By connecting your Google Analytics account to Google Merchant Center, you can even see conversion tracking data for your paid and free product listings!
Start using free product listings today
If you're looking to reach more people with your products, free product listings from Google are a great place to start. They're free to use, easy to measure, and come with a lot of benefits to help support your online business and help your products grow.
Need help launching and monitoring your free product listings? Our team at WebFX can lend you a hand!
We'll be your partner, helping you run and manage your Google Merchant Center account and launch product listings that drive more sales.
We've already driven $3 billion in revenue and handled over 12.9 million online transactions for our clients, so you can feel confident we'll drive the results you desire.
If you're ready to get started, reach out to us online to speak with a strategist about our Google marketing services!
How is your website's SEO?
Use our free tool to get your score calculated in under 60 seconds.
WebFX Careers
Join our mission to provide industry-leading digital marketing services to businesses around the globe - all while building your personal knowledge and growing as an individual.