Google's Keyword Planner has long served as a great way to collect a list of keywords for your SEO efforts. However, now that Google is restricting access to the tool to users with active campaigns, it's time to search for some alternatives!
More keyword tools are becoming available to help even beginner-level SEO or content writer find what they need in terms of keyword research.
So how important is keyword research, you might ask?
It's absolutely vital to the process of optimizing your site. If you don't know what topics your audience is interested in or what information they're searching for, you could end up wasting your time creating pages that never attract any traffic.
Thankfully, successful keyword research can help you avoid that problem.
Let's take a look at some tools that are equally as effective as Google Keyword Tool, and can help your company improve your overall SEO strategy.
KeywordsFX
KeywordsFX really hits every possible keyword that you could want to consider.
When you type in a keyword at the top, it creates a list using that keyword in conjunction with other words and phrases users commonly search for. When you comb through these lists, you may find entirely new avenues for your starting keyword.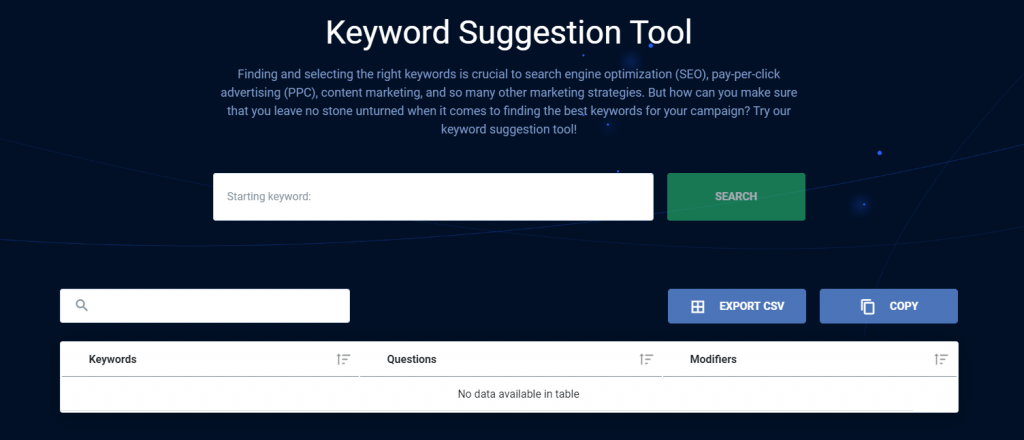 Plus, most of the keywords are long-tail, making them more specific and likely easier to rank for than your original keyword.
Biggest Perk: You can download a spreadsheet of all the keywords the site generated, making it easy to keep track of which ones you want to use on your site.
SEO Book's Keyword Suggestion Tool
SEO Book has several free tools on their site, and one of the most useful is their Keyword Suggestion Tool. This tool pulls in data from Google and provides suggestions based on the original keyword that you entered.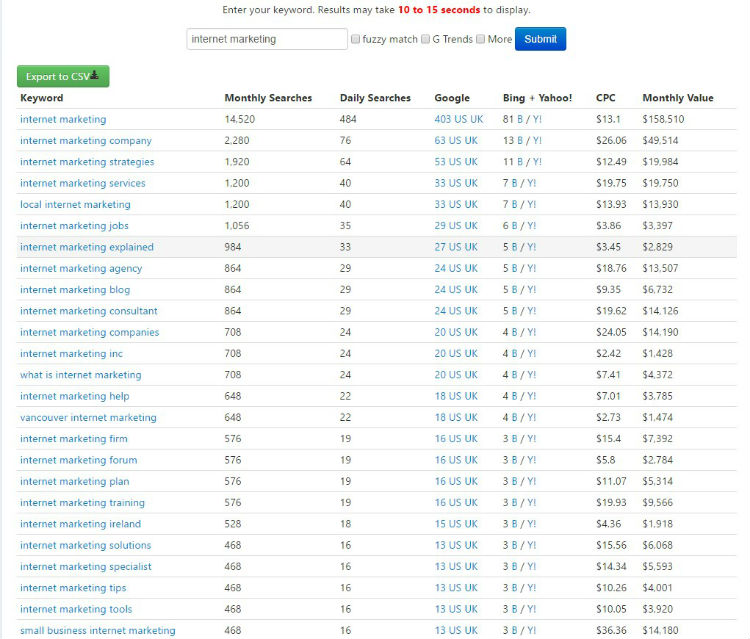 It also shows you useful information such as monthly and daily search volume of that keyword. And it's completely free, as long as you sign up for an account!
Biggest Perk: This site pulls in information from Google Trends, something that is fairly unique across search keyword generators!
Keyword Tool
Keyword Tool is great for viewing a list of keywords for free. This tool creates an extensive list of keywords that add terms both ahead of and after the keyword you searched, allowing for a range of different options.
In the free version, you'll be able to get a super long list of keywords that range from short-tail to long-tail. This tool is a great for generating keyword phrases that you may not have considered, due to the fact that the words placed before and after the keyword allow the topic range to extend immensely.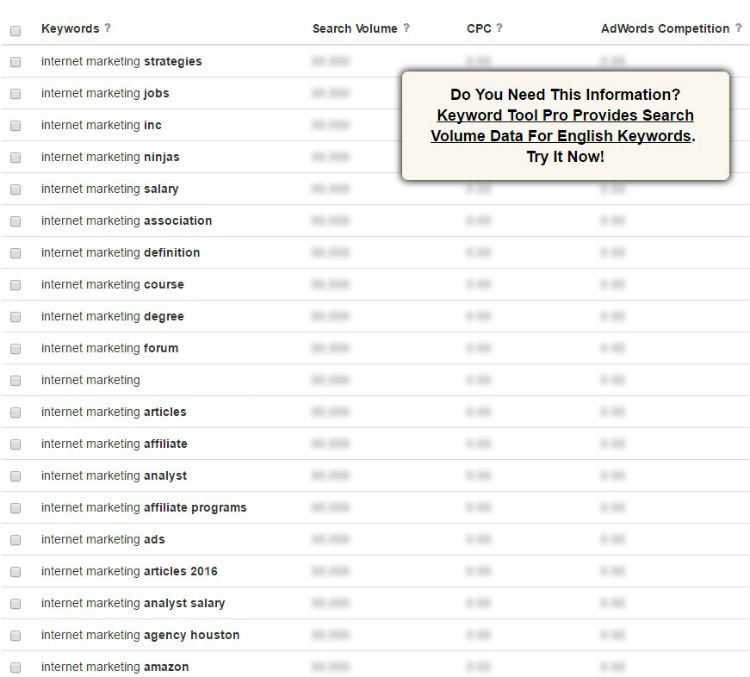 If you're interested in exporting your list (or taking advantage of their other features), they charge anywhere from $48 to $88 per month, in three level options which each offer different capabilities.
Biggest Perk: You can opt to include negative keywords in order to filter out terms that aren't useful for your company.
Moz Keyword Explorer
Though many of Moz's tools are only available with a subscription, their new Keyword Explorer allows you to run 2 free searches per day even without an account.
When you perform a keyword search with MOZ, you receive not only a list of keyword suggestions, but also the search volume, difficulty, opportunity and potential. You can also view SERP analysis reports for each keyword, which is extremely helpful in your search.
Your query also allows you to see the top organic results for that keyword along with each page's page authority, domain authority, Facebook shares and links to the page and domain respectively. This tool also allows you to see how difficult (or easy) any given keyword will be to rank for.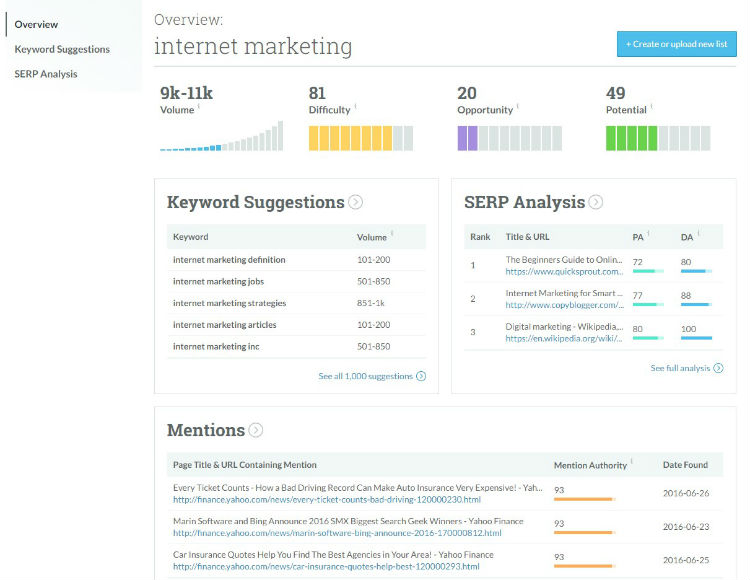 Biggest Perk: Huge amount of information that you can export to a CSV file. You can also download MOZ bar, which shows up at the top of your screen, allowing you to see the page and domain authority, the spam score and the shares of any website that you are currently viewing.
SEMrush
SEMrush is another paid tool, but is definitely worth the cost. When you type a keyword into the phrase overview field, you receive a live update of the volume and number of results for organic searches with this keyword and the cost-per-click and competition of the paid searches.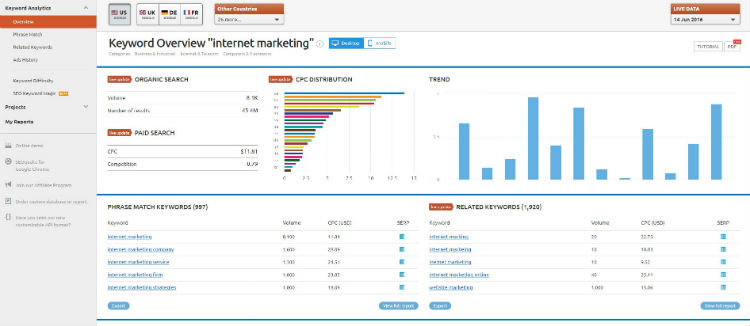 You will also see a list of phrase match keywords with the respective volume and CPC along with a SERP analysis. Not only will you see that list, but also a list of related keywords that carry all the same information.
You will pay anywhere from $69.95 to $549.95 per month for this tool, but its benefits are vast.
Biggest Perk: Using the tabs on the side of your overview, you can look in depth at phrase match, related keywords, ads history, and keyword difficulty. The best part is, you can export all the lists!
BuzzSumo
Buzzsumo is best used following the use of one of the above keyword generators. It is worth noting that this tool does not actually generate keywords, but it is useful after you have already compiled a list of keywords.
This tool allows you to enter a topic or domain and receive a list of articles that have ranked for that keyword. The information provided includes social media shares and a bubble indicating its total shares, allowing you to see the articles that are really being talked about with your selected keyword.
BuzzSumo is great to use when you aren't quite sure how to utilize the keywords  you find, because the articles given provide potential contexts for your keywords.
If you start a free trial, or purchase the full version of this program (ranging from $99-$999 per month) you can also view the sharers of each specific article and analyze their backlink profiles.
Biggest Perk: There are a variety of filters that allow you to see results based on date, language, country, domains and content type. You can also export your results!
Which keyword tool is right for you?
Looking through all of these tools you may be overwhelmed with the thought of choosing the one that is best suited for you and your SEO efforts. My best advice would be to test them all!
There is no single correct choice as far as tools that you use. One may work better for your technique than others. There are plenty of free options that work great if you are just getting started and aren't interested in fronting any cash. You never know until you try!
What are your thoughts?
What tools have you found to work the best? Is there one keyword research tool that you prefer over the rest?
We want to know your keyword research techniques! Tell us your thoughts on Twitter or Facebook, or leave a comment below!
Get posts by email
Be the first to know when we publish a new blog post!