Want to improve your search engine optimization (SEO) results? Of course you do! While SEO is a long-term strategy that requires continual effort, there are lots of small changes you can make right now to improve your site's visibility in search.
So, we compiled this list of 15 quick actions you can take to improve SEO results for your website. Many of these items only take an hour or less! While these changes are relatively small, if you use them together, you could see some significant improvements in your SEO.
As a top SEO agency, we use many of these tactics as part of the results-driven, data-backed SEO strategies we create for our clients. If you want to learn more about our SEO services, feel free to contact us! To get your 15 tips to improve SEO results, just keep reading!
Before getting started: Which content should you work on?
Before we dive into the tips, it's important to establish where you should apply these quick wins.
If you want to know how to increase visibility on Google, you need to determine which pages to focus on for these tips.
Check how to test and improve your SEO with our Five-step SEO tool kit
For the biggest improvements, focus on pages that are ranking relatively well but could benefit from a slight improvement. A page that ranks near the top of page number two for a given keyword, for instance, is a perfect candidate. Only 25 percent of users go past the first page of search results on Google, meaning 75 percent stick to the first page.
If you can bump your content from page two to page one, you'll get a massive boost in visibility. So, by focusing on content that's close to the first page, you can get the maximum benefit for your efforts.
15 quick ways to improve SEO results
Now that you know which pages to focus on, let's dive into our 15 SEO tips.
1. Add multimedia
Adding multimedia elements, such as images, video, or audio, to a page can significantly improve SEO results. In fact, using video on your website makes you 53 times more likely to show up on the first page of Google. If you already have a multimedia element you can add, you can implement this tip quick!
For example, you might embed a video from your YouTube page into a blog post. If you don't have any relevant multimedia elements ready to go, consider making a quick video of you explaining a key topic or recording an audio file of yourself reading through the post.
2. Compress your images
While adding visuals to a page helps increase engagement, they won't do much good if they won't load, especially since 83% of users expect pages to load in three seconds or less. Large image files can slow down your page, possibly causing some users to click away. If large numbers of users leave your page shortly after arriving on it, Google will view this as a sign that visitors didn't find your page useful, which may lead to lower rankings.
You can use image compression to reduce image size without reducing quality. Use tools like Photoshop and Kraken to compress your images.
3. Add alt tags to images
For search engine crawlers to understand your images, you need alt tags. What are alt tags? They're image tag attributes that provide a short description of an image.
For example, if you add a photo of a bear catching salmon in a river, your alt tag might be "brown bear catching salmon in a river." Make sure all of your images have short, descriptive alt tags. These tags will help search engines understand your images and index them properly so they show up in image search results. Including a core keyword in your alt tag can also boost your page's relevance for that keyword.
Alt tags also help visually impaired readers understand your images, which enables your site to provide a better experience. Your alt tags will also display if your images fail to load, which ensures your audience knows what the image was, even if it doesn't load.
4. Optimize your images' file names
Another quick tip for how to improve SEO results with images is to optimize your images' file names. Like with alt tags, make sure your image's file names are short and descriptive. Don't use default file names like "image3.png." Instead, describe your image in several words, separated by hyphens.
Descriptive file names, like alt tags, help Google understand the subject of your image so that it can display it in relevant search results.
5. Create engaging thumbnails for your videos
If including a video on a page, take some time to choose an engaging thumbnail — the image users will see before they click play on the video. Choose one that looks high-quality and piques users' interest. An engaging video thumbnail encourages users to watch your video, which keeps them on your page longer.
Google interprets this higher dwell time as a sign that users find your page valuable, which can improve your rankings. Consider creating a custom thumbnail using a photo or a still from the video with text and effects placed over it, like the thumbnail for this video: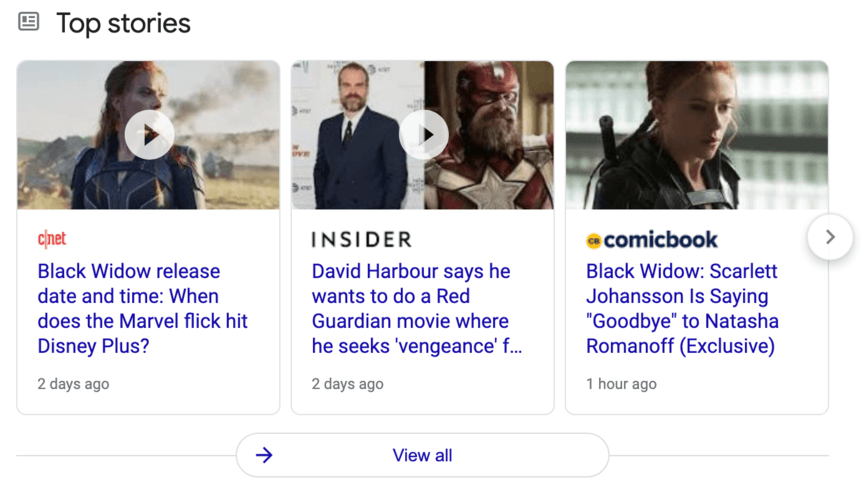 6. Add copy
The average length of pages in the top 10 results on search engines is over 2,000 words. If your copy is on the short side, consider adding a few paragraphs to boost its SEO performance. Not sure what to add?
Try answering the questions in the "People also ask" (PAA) box on the SERP. As an example, here's the PAA box for "how to improve SEO results:" Just make sure that everything you add is relevant to the page's topic and useful to the reader.
7. Add header tags
Header tags help break up your content, making it easier to read. Since this creates a better user experience, it can help keep users on your page longer. Header tags also give you a chance to include keywords in prominent positions within your content.
Try breaking up your content into smaller, logically organized sections and separating the sections with H2, H3, and other headers.
8. Improve your readability score
Making your content easier to read can improve user experience, keeping users on your page longer. This increased engagement sends a signal to Google that your page is valuable. Check your page's readability score with our readability test tool.
Then, improve your readability score with simple changes like shortening your sentences and using less passive voice.
9. Add related keywords
Another tip for improving SEO results is to add a few related keywords to your copy. Doing so helps you rank for more keywords relevant to your topic. You can a keyword research tool, like KeywordsFX, to find recommendations related to your main keyword.
Just make sure that any keywords you add fit naturally into your copy so that they don't interrupt the user experience or seem spammy.
10. Add internal links
Here's another quick tip for how to increase visibility on Google for a given page: Add a few links to your page from pages on your site that perform especially well. These links will pass domain authority from the high-performing page to the page you want to improve, boosting its search engine performance. It will also help Google discover, crawl, and index your page, allowing your page to appear in search results.
11. Find and fix broken links
Broken links make for poor user experience and can also hurt your search performance. If people can't visit a page on your site because of a broken link, they're likely to bounce from your page and go back to the search results. Check for broken links on your site in Google Search Console by navigating to Crawl > Crawl Errors and then the "Not Found" tab.



To fix broken links, first check if a typo or other small error is causing the problem.
If the problem is due to the fact that the page moved to a new URL or no longer exists, you can redirect the link to either the new version of the page or another, similar page.
12. Optimize your title tag
Your page's title plays a crucial role in its search performance. It helps inform Google and users about the context of your page and entices users to click and visit your page. Improving your title tag can increase clicks on your site, which helps improve your ranking.
Include your core keyword at the beginning of your title and try to make it enticing to users. Also, try to keep your title to 60 characters or less so that Google won't truncate it on search results pages.
13. Optimize your meta description
A meta description is a short description of your page. It's usually less than 155 characters and shows up under your title in search results. Check out this screenshot to see what a meta description looks like on a Google search results page.



Your meta description can encourage users to click through to your page, and increasing your click-through rate can improve your rankings.
Include your core keyword in your meta description, ensure it accurately describes your page's content, and try to use it to pique users' curiosity.
14. Optimize your URL
Another item you can quickly optimize is your page's URL. Avoid default URLs that are a random sequence of letters and numbers. Instead, make your URL short and descriptive of your page's content and separate words with dashes.
A descriptive URL helps search engines and users quickly determine the context of your page. For example, if your page is about how to bake chocolate cake, you could make your URL "website.com/how-to-bake-chocolate-cake." One of the best approaches is to simply make your URL your target keyword. Doing so increases your page's relevancy for that keyword while also describing the content on your page.
15. Ensure your Google Business Profile information is accurate
Google Business Profile allows you to manage the information that people see when your business shows up in local search results. For example, if you run a barbershop and someone in your area searches "barbershop near me," your business may show up in the local SEO 3-pack that looks like this: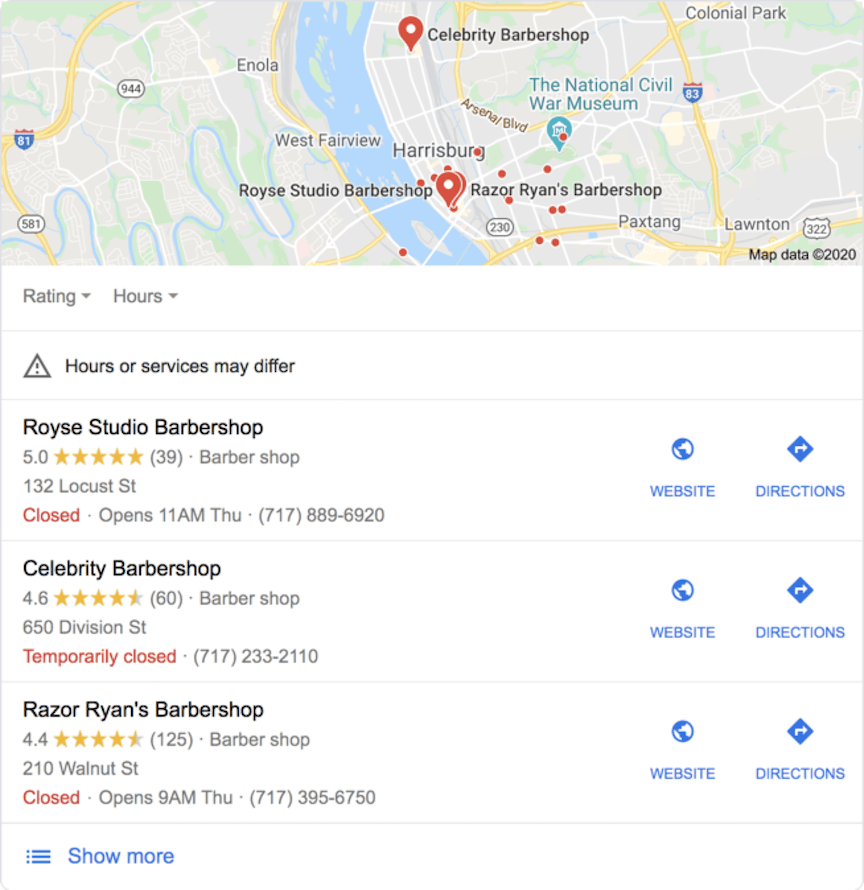 To help your business show up for the right searches, include relevant keywords in your description and other content in Google My Business. Making sure your information is up to date helps you deliver the relevant information to your audience and get them to engage with your listing.
Improve your SEO results with WebFX
At WebFX, we have more than 25 years of experience and a team of more than 500 digital marketing experts.
We know quite a bit about SEO, and we love using our knowledge — along with concrete data — to help our clients grow their businesses. We've generated more than 7.8 million leads for our clients in the last five years! If you want to learn more about SEO, check out our free resources.
To learn more about our SEO services, contact us online or at 888-601-5359.
WebFX Careers
Join our mission to provide industry-leading digital marketing services to businesses around the globe - all while building your personal knowledge and growing as an individual.