Did you know that more than 50 percent of website traffic comes from organic search? With search driving such a large percentage of traffic, businesses need to take steps to help their sites rank well in search results, which is precisely what search engine optimization (SEO) does. You might want to use different kinds of SEO, depending on your company's needs.
What are the different types of SEO techniques? In this post, we'll go through the main types of SEO and when you might want to use each one. If you'd prefer to learn via a video, check out the one we've embedded below.
To get more information about SEO from a top-rated SEO agency, check out our free resources or subscribe to our weekly newsletter!
Time to Level Up Your Sales
Our long list of services helps you grow every aspect of your business with marketing strategies that are proven to increase bottom-line metrics like revenue and conversions.
In the past 5 years, we've managed more than 12.9 MILLION transactions across our client base.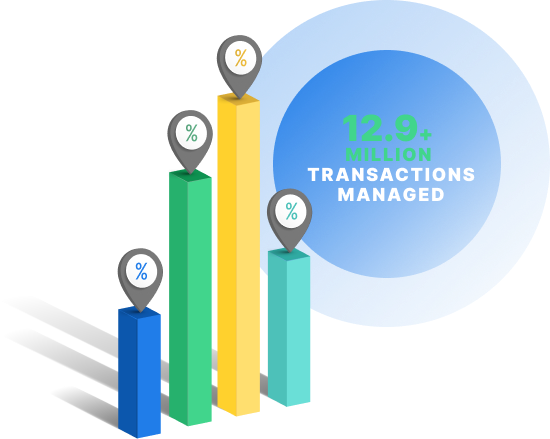 What is SEO?
SEO is a set of strategies used to increase the quantity and quality of traffic to a website from organic search results.
SEO strategies help websites rank well in search results for relevant keywords. Below, for example, are some top results for the search "where to buy hiking boots." If your business sells hiking boots, you might optimize your site to help it show up on this search engine results page (SERP).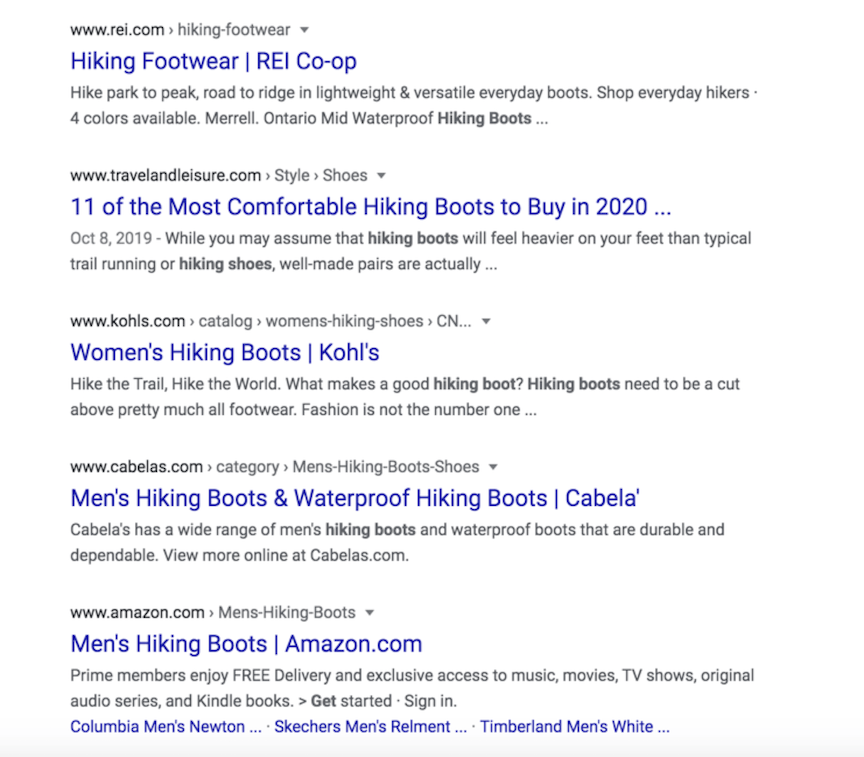 What are the different types of SEO?
SEO consists of a wide variety of tactics, and there are several types of SEO strategies. These types include:
On-page SEO
Off-page SEO
Technical SEO
Local SEO
Enterprise SEO
Let's look at these different types of SEO strategies!
1. On-page SEO
What is on-page SEO? On-page SEO is one of the main types of SEO. It refers to optimizing elements on your website that you can control directly.
You should employ on-page SEO techniques on your website if you want your site to appear in relevant search results. Some elements of your website you can optimize as part of on-page SEO include:
URLs: Each page's web address should briefly describe its content and include a relevant keyword.
Title tags: Your titles should be descriptive and contain keywords. In addition, they should entice readers to click on your articles.

Meta descriptions: Meta descriptions describe the content of your page in around 160 characters or fewer and appear below your title in search results.

Some examples of on-page SEO techniques include:
Creating content that appeals to your customers' interests and includes relevant keywords
Including keywords in elements such as your URLs, title tags, and heading tags
Simplifying your site navigation to make it more user-friendly
Improving your website's design so that your site is more aesthetically pleasing and easier to use
2. Off-page SEO
In addition to on-page SEO, your site also needs off-page SEO. This type of SEO includes factors outside of your website that you don't control directly. The most notable off-page SEO tactic is earning backlinks.
Backlinks are links to your site from other websites. Google uses the quantity and quality of links to your site to determine its reputability and relevancy, which impacts search result rankings. Backlinks also help Google find pages on your site, crawl, and index them.
There are three main types of links to consider:
Natural links: When other sites find your content on their own and link to it, you gain a natural link.
Built links: You gain built links when you promote your content to someone, and they then link to it.
Created links: Created links are ones that you place on other pages, such as directories or press releases, yourself. This strategy isn't recommended, as search engines may consider it spammy.
So, off-page SEO focuses on increasing the quantity and quality of natural and built links to your site. Some off-page SEO techniques include:
Creating highly linkable content, such as guides and infographics
Reaching out to bloggers and suggesting they link to your content in a post
Sharing your content on social media to help it gain traction
3. Technical SEO
Technical SEO focuses on backend website and server optimizations that help your site rank better in search engines. It often focuses on helping search engines crawl and understand your website, but it also improves user experience. Technical SEO is another type of SEO that every website needs.
It ensures that search engines index your site and helps you make the most of your on-page and off-page SEO. Some examples of technical SEO improvements include:
4. Local SEO
Local SEO strategies focus on searches that relate to specific locations, especially the searcher's local area. They help your business rank well for searches that contain phrases such as "near me" and searches including the names of cities, regions, or other areas. For example, if you run a pizza shop, local SEO can help you show up in local 3-packs on Google search results pages.
Here's an example of a local 3-pack for the search "pizza shops near me."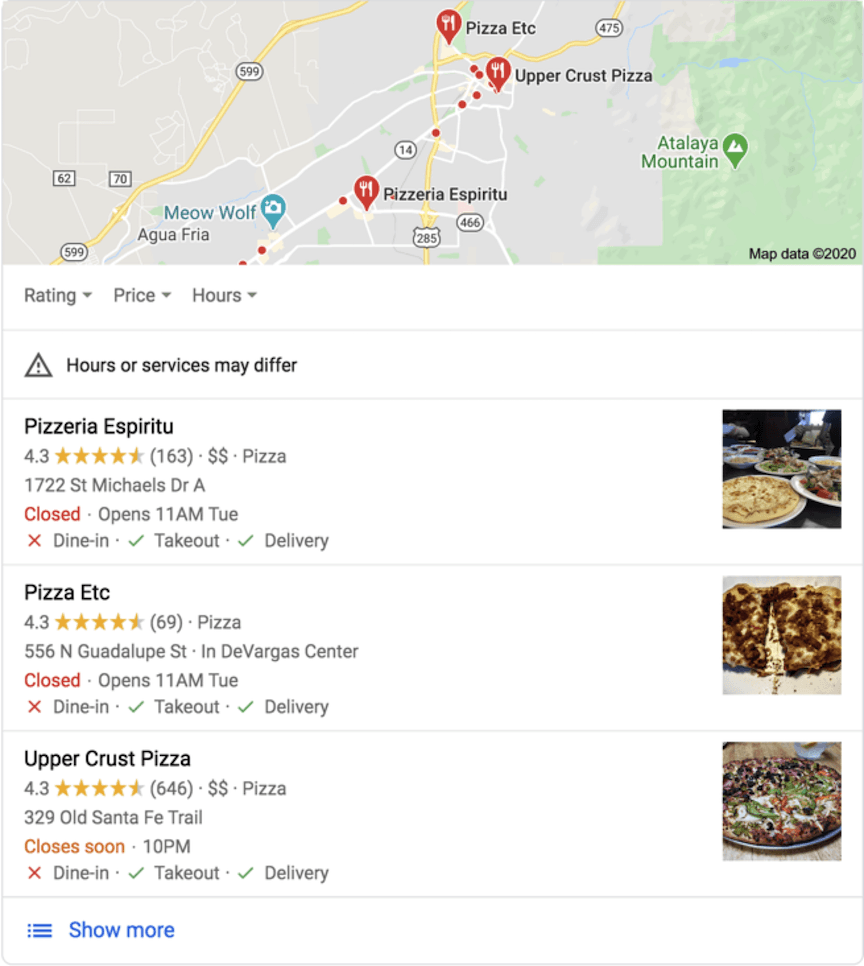 Different kinds of businesses need different types of SEO services. Local SEO is essential for any business with a physical location and local presence, especially considering that 46% of Google searches are for local businesses, and 80% of local searches convert. Some examples of local SEO techniques include:
Claiming and optimizing your Google My Business listing, which includes ensuring your information is up-to-date, adding photos, and writing an introduction.
Creating content related to your local area and including location-specific keywords in your content.
Encouraging customers to review your business online and responding to posted reviews.
5. Enterprise SEO
Enterprise SEO shares many goals and techniques with traditional SEO, but is tailored to the needs of especially large websites. What is SEO like for large websites? The main difference between standard and enterprise SEO is that enterprise SEO focuses on short-tail, high-competition keywords.
Short-tail keywords are typically only one or two words long and more generic than long-tail keywords. For example, "affordable Windows business laptop" is a long-tail keyword, while "laptop" is a short-tail keyword. "Laptop" has a much higher search volume and is harder to rank for than "affordable Windows business laptop" due to increased competition.
Smaller sites typically go after long-tail keywords that are easier to rank for and target. However, once you rank for a significant amount of them, the best way to improve your SEO and grow your site is to go after highly competitive short-tail keywords. While enterprise SEO uses many of the same strategies as traditional SEO, some enterprise-specific tactics are:
Creating content that targets short-tail, high-competition keywords relevant to your industry and goals
Using highly competitive keywords across your site
Learn more about SEO with WebFX
To increase your visibility and drive leads online, your business needs to use the right types of SEO strategies. Every website needs on-page, off-page, and technical SEO. Depending on your business's characteristics, you might also want to focus on local or enterprise SEO.
At WebFX, we offer many types of SEO services, including all of those listed in this post. We have more than 25 years of experience, and our digital marketing strategies have driven more than 7.8 million leads for our clients over the last five years. To learn more about our SEO services, contact us today or call us at 888-601-5359 to speak with a strategist!
WebFX Careers
Join our mission to provide industry-leading digital marketing services to businesses around the globe - all while building your personal knowledge and growing as an individual.