It's the age-old match-up: TikTok vs. YouTube.
Okay, maybe not age-old, but since recently, the TikTok vs. YouTube debate has been at the forefront of the conversation among advertisers looking to grow their presence on one of the two video-sharing platforms.
Both social media sites offer amazing opportunities for businesses to connect with their audience through creative, engaging video content. But with so many different features available, it can be tough to choose between YouTube and TikTok for business.
In this article, we're breaking down the major differences and similarities between the two platforms with a quick TikTok and YouTube comparison and giving some helpful tips on deciding which video platform is the best choice for your business.
Need some help with developing a social media strategy for your business? The dedicated social media and content experts here at WebFX are ready to help you. Learn more about how WebFX can help your business grow its social media presence by contacting us online or giving us a call at 888-601-5359 today!
74% of people use social media when making a purchasing decision.
Make their decision easy with a stellar social media presence. See how your brand can level up by requesting a no-obligation proposal today.
One of our experts will be in touch within 24 hours!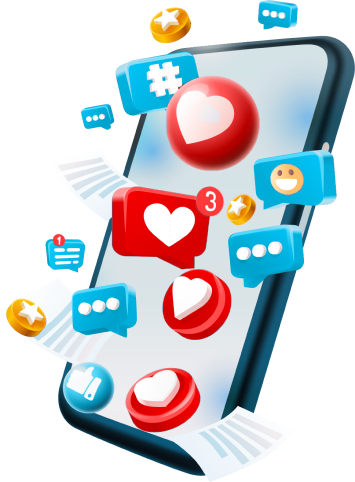 TikTok vs. YouTube: A quick comparison
Let's take a quick look at a TikTok and YouTube comparison, including some of the major differences between the two platforms regarding their content, audiences, and advertising opportunities.
Content
Both TikTok and YouTube are major video-sharing platforms, but each has unique differences that make choosing between the two tricky for advertisers looking to dive into video marketing.
TikTok
TikTok is fairly new to the social media and video platform family, having gained popularity within the last few years. TikTok's platform is dedicated to short-form video content, with the longest-allowed videos clocking in at 10 minutes long.
For the most part, TikTok is all about creating original content right within the app, with plenty of filters, sound, and video effects to make your video masterpiece stand out. Users can also upload their own videos to TikTok.
YouTube
YouTube is the classic video-sharing platform that's given us gems like "Charlie Bit My Finger" and "How Animals Eat Their Food." Just like TikTok, the platform is dedicated to sharing video content. The key difference, though, is that YouTube is more focused on long-form content.
Users can upload their video content to their channels, optimize their posting times, and share them with the millions of users on the platform or create YouTube Shorts within the YouTube app. Shorts are YouTube's answer to TikTok and Instagram Reels, offering bite-sized video content users can scroll through.
Audiences
TikTok and YouTube have unique audience bases with many niches, making them ideal platforms to explore for advertisers looking to reach those specific people.
TikTok
TikTok's audience is primarily made up of users between the ages of 18-29, with 48% of the app's users falling into that age bracket. Following close behind, 22% of TikTok's users are 30-49 years old.
YouTube
YouTube's audience is slightly older than TikTok's. The platform's most prominent age group is 25-34 years old, making up 20% of YouTube's audience. 16% of YouTube's active users are 35-44-year-olds. While there are younger views on YouTube that are under the age of 18, YouTube has consistently been home to Millennial users.
Advertising capabilities
Both TikTok and YouTube offer several advertising options for marketers looking to get the word out about their brand and increase visibility.
TikTok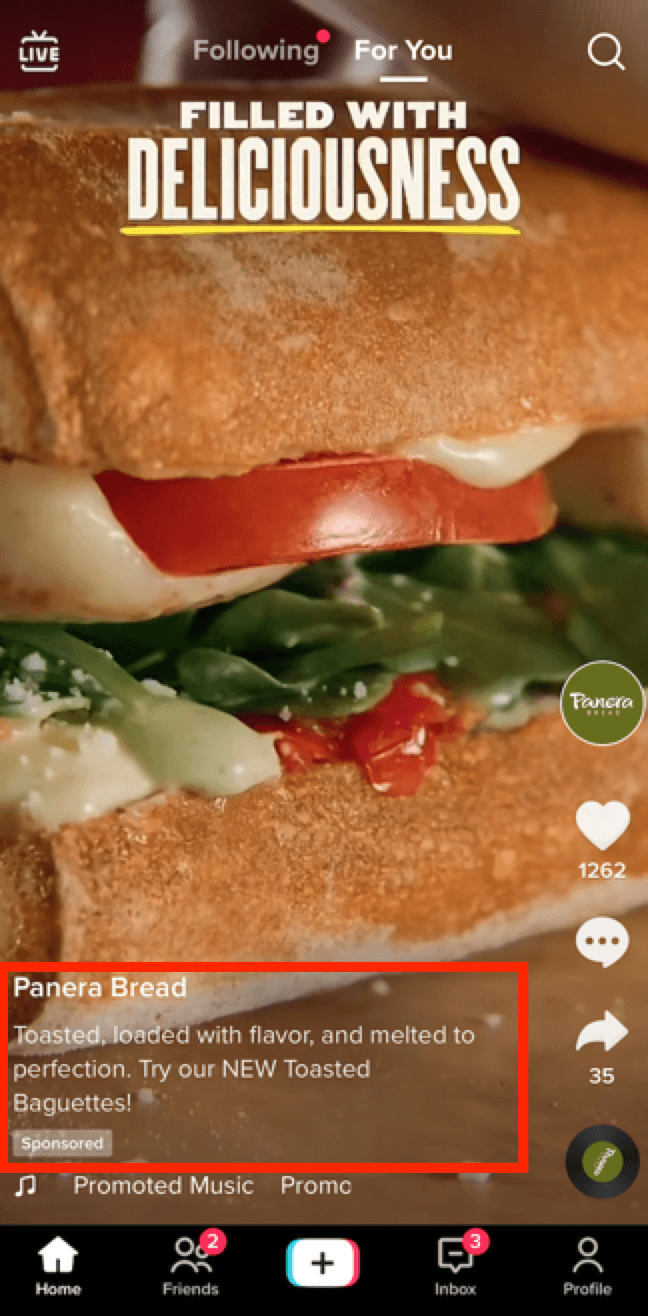 TikTok advertising includes several different paid ad options for businesses on the platform, including:
In-feed ads: These video ads appear in between normal user videos as you scroll through your For You page. Typically, a call to action (CTA) button is visible at the bottom of the video to signify that it's an ad and not normal user-generated content.
TopView ads: TopView ads capture user attention by appearing at the top of the For You feed upon first opening the TikTok app. This spot is prime real estate for TikTok advertising, offering high visibility rates and impressions.
Branded Effects: Branded Effects allow users to incorporate your branded content, like filters, stickers, and other effects into their own videos to share with their followers.
Branded Hashtag Challenges: Branded Hashtag Challenges encourage users to create their own content using the hashtag associated with your brand.
Brand takeovers: These full-screen ads are the first thing a user sees when they open the TikTok app, allowing for maximum brand exposure.
YouTube

Like TikTok, YouTube advertising offers its own share of ad types for marketers to use to grab viewers' attention:
Overlay ads: Overlay ads are nonintrusive and hover on the bottom part of a video, acting as an in-stream ad without disturbing the user's content viewing experience.
Bumper ads: This is the shortest type of YouTube ad, clocking in at only six seconds. Bumper ads "bump" into the video the viewer is watching and are non-skippable.
Non-skippable ads: These ads pop up periodically within YouTube videos with a length of 10 minutes or more and do not offer a Skip option. Non-skippable ads usually run between 15 and 20 seconds long.
TrueView ads: TrueView ads are the most common ad on YouTube. They're video ads that play before normal YouTube content and are skippable after 30 seconds. They usually include a CTA button within the ad.
Discovery ads: These video ads are visible on YouTube's home page, search results pages, and watch pages under Related Videos.
How to choose the right platform for your business
When deciding between TikTok and YouTube, the following factors can help you make your decision.
Consider your audience
One of the most important things to consider in the YouTube vs. TikTok debate is your target audience. Who are you trying to reach with your video campaign?
As we mentioned earlier, both platforms are home niche audiences. Depending on who your target audiences are, they could very easily sway your decision towards one platform or the other.
On YouTube, gaming and beauty content are huge players and draw millions of niche audience members. From gameplay videos and live streams to how-to beauty tutorials and product reviews, gamers and beauty gurus are lively audiences to potentially tap into on the platform.
On TikTok, beauty videos are also a big hit, but many different industries are active on the platform. One of the common denominators with TikTok's audience is that the user base is younger, and very in touch with trends. So, if your brand is trying to connect with the younger generation, TikTok could be the platform.
Overall, though, the platform you choose comes down to who your target audience is.
Identify the type of content you want to create
On TikTok, audiences want bite-sized content. Whether it's quick tutorials or trendy life hacks, users want easily digestible content. When choosing between TikTok or YouTube for business, think about the type of video content you want to put out.
If your business is looking to produce more long-form, in-depth videos regarding your products and services, you may consider building a YouTube presence. On the other hand, if you're looking to produce quick explainers and how-to videos, you may have more luck on TikTok.
Choose the advertising options that align with your campaign
You should weigh your advertising options for each platform, because one may better suit your brand than the other.
If you're looking to increase brand visibility, YouTube advertising opportunities like in-video ads and bumper ads might work better for your business, especially since some of them are non-skippable. You're guaranteed a specific slot of time to grab your audience.
On TikTok, you'll have a bit more opportunity for brand engagement with TikTok advertising options like branded hashtag challenges and effects. These ads encourage users to interact with your brand more than traditional video ads by getting them to create and add their own unique content to your campaign.
Growing your social presence with WebFX is a walk in the park.
"WebFX allows growing your social media platforms to be stress-free! They are knowledgeable and adapt to your company needs!"
Learn More About Our Social Media Services

Take over the right platforms with WebFX
At WebFX, we're in the business of helping you build a social media presence on the platforms that are more profitable for you. Whether it's TikTok, YouTube, both, or neither of them, we'll help you choose the right social media platforms that'll connect you with your target audience.
From social media management to marketing content creation, we've got your back and will help you develop a social media strategy that drives revenue and traffic to your brand. Learn more about what WebFX's social media strategists can do for you by giving us a call at 888-601-5359 or contacting us online today.
How is your website's SEO?
Use our free tool to get your score calculated in under 60 seconds.
Get posts by email
Join 200,000 marketing managers and subscribe to Revenue Weekly!
"*" indicates required fields
WebFX Careers
Join our mission to provide industry-leading digital marketing services to businesses around the globe - all while building your personal knowledge and growing as an individual.