Digital Advertising for SMBs: 5 Types of Online Advertising
It's no surprise that digital advertising is the norm, with the Internet marketing industry worth about $121 billion and continuously growing. As a small-to-midsized business (SMB), digital advertising is critical for moving your business forward and helping you reach people interested in what you offer.
SMB
Home How to Open an Amazon Storefront (And Start Selling) With more than one million small-to-midsized businesses selling on Amazon, your company needs to stand out from the competition. Opening an Amazon storefront, also called an Amazon Store, can set […]
SMB
Home How You Can Use Native Advertising for Your Small Business There is a lot of buzz around the term "native advertising" right now, and whether you realize it or not, there's a good chance that you already see it […]
To help you get started with digital advertising for SMBs, we'll answer questions like:
What is digital advertising for SMBs?
What types of digital advertising can I use for my SMB?
How do I start with digital advertising for SMBs?
Keep reading to learn more about how you can start advertising your business online! If you need help getting your SMB digital advertising plan off the ground, WebFX has a team of over 500 marketing experts ready to help. Contact us online or call us today at 888-601-5359 to speak with a strategist about our digital advertising services!
What is digital advertising for SMBs?
Digital advertising is the act of promoting your business online through paid channels. These channels include social media, pay-per-click (PPC) advertising, and more. These paid channels enable you to put your business in front of qualified prospects and turn them into customers.
5 types of digital advertising for SMBs
Advertising online is a great way to reach prospects interested in your products or services. To help you reach the right people, you must take advantage of different channels to promote your business.
Here are five types of digital advertising for SMBs that you can use:
1. Social media advertising
If you're only "getting your feet wet" with online advertising for SMBs, a great place to start is with advertising through social media. These online platforms, like Facebook and Twitter, make it easy for businesses of all sizes to run paid ads to put in front of interested leads.
Social media offers a variety of ad types, from video ads to text and image ads, that appear in the feeds of targeted users.
Additionally, many social media platforms give you control over your budget. Facebook, for instance, enables you to set a max daily budget so you don't spend your ad budget all in one day.
Once you launch a social advertising campaign, you can easily track your ad performance through the platform. You can see which ads work and adjust ads that aren't driving the best results.
Overall, social media advertising is a great entry point for advertising your business to interested leads.
2. Pay-per-click (PPC) advertising
Similar to paying for ads on social media platforms, doing a pay-per-click (PPC) campaign through Google Ads is an effective way to market to your audience.
Unlike social media ads, these PPC campaigns will automatically reach a wider audience because they won't be limited to a single platform — you can reach anyone who searches your targeted terms.
Google is a popular search engine with 4.3 billion users worldwide and 3.5 billion search queries per day. These numbers make Google an excellent option for advertising your business to potential customers searching for your products or services.
With PPC for your SMB, you'll create text-filled ads that appear at the top of search results. You'll target specific keywords related to your ad to help it appear in relevant search results. You can include additional features, such as ad extensions, to help you earn more clicks on your ads.
3. Programmatic advertising
Programmatic advertising is an SMB digital advertising option loved by those who want a "hands-off" approach where they can set parameters and then let the system work its magic.
This form of advertising automates the process of buying ad space through ad exchange software. The supply-side platforms allow publishers to offer ad space to buyers, so they can display ads on the supplier's website.
What makes programmatic advertising even better is that the bidding is automated. The artificial intelligence (AI) system uses user history data to make bidding decisions, which means your bidding becomes increasingly effective over time.
Between AI and real-time bidding, you can have complete peace of mind when it comes to managing your ads.
4. Google Local Service ads
If your SMB is a service business, Google Local Services ads is a great option for you. This advertising option enables your business to show ads to people who look for businesses like plumbers, electricians, and other service companies.
Google Local Services ads operate on a pay-per-lead basis, meaning you only pay when someone contacts your business from your ad. This format is especially helpful for small businesses looking to only pay for qualified leads.
These local service ads contain essential information for a viewer to make an informed decision and have a way to contact you. The ad has your:
Business name
Service area
Hours of operation
Phone number
Ratings from previous customers
These ads make it easy for searchers to get critical business information without having to hunt for it.
In the long run, Google Local Services ads is the way to go if you only want to pay for leads who express an explicit interest in your company.
5. Geofencing advertising
Another popular option for SMB digital advertising is geofencing, which limits who sees your ad based on a geographical perimeter that you choose. This option is a convenient way to customize your audiences and target specific locations.
With geofencing, you set up a "fence" or perimeter around an area, whether it's a radius around your business or your competitor's shop. When someone enters this virtual fence, they can see ads or push notifications from your app to entice them to visit your business.
Competitor geofencing is particularly effective for driving customers to your business instead of your competitors. You can remind them of your company as they're near your competition, which can help you drive people to your business.
Geofencing advertising is a great strategy to help you target people in your local area and get them to make unplanned visits to your business.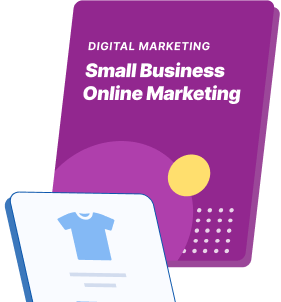 Small Business, Big Growth Potential
Written by our expert marketing team to help your small business grow your online presence!
Get My Free Guide
How to get started with digital advertising for SMBs
Getting started with digital advertising, regardless of your business size, can feel overwhelming. You must choose the type of advertising you want to use, brainstorm compelling ads, and more.
To help your online advertising for SMBs get off on the right foot, follow these best practices:
Establish your target audience to ensure you're reaching the right people with your ads
Set goals for your ad campaigns, so you have something to achieve
Keep your ad copy relevant to the focus of the ad
Test your ads frequently to put out better versions of your ad
Use high-quality visuals for photo and video ads to ensure engagement
Establish your budget early, so you know how much you can spend
Watch for ad fatigue and filter out any ads that start to decline or underperform
By following these best practices, you can set your business up for success with SMB online advertising!
Capture more revenue with SMB digital advertising
SMB digital advertising is an excellent strategy for helping your business attract qualified leads looking for your products or services. If you find yourself feeling overwhelmed with launching a PPC strategy, WebFX is ready to help.
WebFX is an industry-leading SMB digital advertising agency. We'll manage all your digital advertising needs, so you don't have to worry about your campaigns. From PPC advertising to social media ads, we can help you do it all.
With our 91% client retention rate and having generated $3 billion in revenue for our clients in the past five years, we will give you the expertise and resources you need to succeed.
Contact us online or call us today at 888-601-5359 to find out how we can help you boost your business's revenue through our digital advertising services!