Digital Advertising for Ecommerce: 4 Types of Advertising You Should Use
If you want to reach more qualified leads for your ecommerce business, you must invest in digital advertising. Digital advertising enables you to put your business front and center for people interested in your products.
Ecommerce
Home How to Open an Amazon Storefront (And Start Selling) With more than one million small-to-midsized businesses selling on Amazon, your company needs to stand out from the competition. Opening an Amazon storefront, also called an Amazon Store, can set […]
On this page, we'll answer important questions you have about ecommerce digital advertising, including:
What is ecommerce digital advertising?
Why does digital advertising for ecommerce matter?
What types of ecommerce online advertising are available to my business?
Keep reading to learn more!
P.S. Need help driving more revenue from your ecommerce digital advertising plan?
Our team of over 500 marketing experts can help you do everything from creating ad copy to monitoring ad performance. Contact us online or call us today at 888-601-5359 to speak with a strategist about our digital advertising services!
Partner with a team of ecommerce masters!
WebFX campaigns have delivered more than 12,936,451 ecommerce transactions in the last 5 years
Read the Case Studies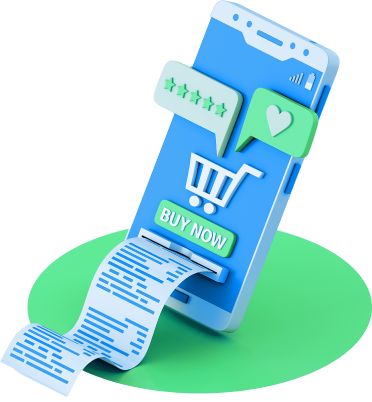 What is ecommerce digital advertising?
Ecommerce digital advertising involves creating paid advertisements to promote your products or services. This strategy helps you reach interested prospects where they spend their time online, whether it's at the top of Google search results or in their social media feeds.
Why is ecommerce digital advertising important?
Ecommerce digital advertising is critical for businesses that want more people to discover their products. There are numerous benefits to doing ecommerce digital advertising, including:
Increasing brand recognition: Ecommerce online advertising helps you get your brand in front of more people. When people continually see your brand and get familiar with it, they're more likely to choose you when it comes time to convert.
Reaching more qualified leads: With ecommerce digital advertising, you reach more qualified leads who are likely to buy from you. Paid advertising enables you to target people by the keywords they search or their demographics, so you put your business in front of people who want your products.
Earning more conversions: Since paid advertising puts your business in front of qualified leads, more people buy your products. As a result, you'll see an increase in conversions and revenue for your company.
These are just a few of the many reasons why ecommerce digital advertising is critical for your business. Paid advertising strategies will help you boost your leads and revenue to help your business grow online.
4 types of digital advertising for ecommerce
So, what types of online advertising for ecommerce can you do for your business? Check out these four major types of advertising for ecommerce you can use to grow your company!
1. Social media advertising
Social media advertising is a type of ecommerce online advertising that enables you to put ads in front of people through their social media feeds. You can use social media advertising to target people who fit your buyer personas and are likely to purchase your products.
You can advertise to prospects on multiple social media platforms, including:
To create effective social media ads on these platforms, you must create visually engaging ads that provide compelling and informative ad copy. You also need to direct shoppers to a relevant landing page where they can buy your product.
At WebFX, we know how to craft compelling social media ads that drive clicks and conversions.
Our team of experts can help you do everything, from targeting the right audience to creating custom images for your ads. With a team of over 500 social media experts backing your campaigns, you can feel confident they'll drive results!
View Our Social Media Advertising Services
2. Pay-per-click (PPC) advertising
Pay-per-click (PPC) advertising is another strategy you can use to promote your products to interested leads. These ads appear at the top of search engine results pages (SERPs).
PPC ads help you reach people searching for the products you offer. Since they appear at the top of search results, people are more likely to notice them and click on them. As a result, you can attract qualified leads that turn into sales.
To launch a traditional PPC advertising campaign, you must bid on keywords. Keywords trigger your ad to appear in relevant search results. You'll bid on keywords to have your ads appear for those search results.
Your bid amount and Ad Rank will determine your ad's placement.
Then, when users search using your targeted keywords, your ad will appear at the top of search results and can drive them to your business.
At WebFX, our PPC advertising services help you craft ads that drive results. From writing compelling ad copy to creating custom landing pages, we help you craft ads that take people from visitor to customer.
View Our PPC Advertising Services
3. Programmatic advertising
Programmatic advertising is the process of buying ad space for your company through automation.
The process of programmatic advertising includes the following platforms:
Demand-Side Platforms (DSPs)
Supply-Side Platforms (SSPs)
Data Management Platforms (DMP).
These three platforms contribute to the process of bidding on ad space.
When you run programmatic ads, your ads get auctioned off in real-time in a matter of milliseconds — visitors don't even know it's happening.
Here's how the process works:
User visits a website that has programmatic ad spots
Companies automatically bid for ad space based on who's visiting the website
The DSP and SSP communicate with each other to deliver the most relevant ad
The ad appears on the page
Programmatic is a great, budget-friendly option for helping your business maximize your ad budget and show your ads to the most relevant leads.
At WebFX, we offer programmatic advertising services that help you launch a successful ad campaign. We can help you craft beautiful, eye-catching eyes that appear in front of the right people.
View Our Programmatic Advertising Services
4. Marketplace advertising
Marketplace advertising is another type of digital advertising you can use to reach interested leads with your products. Marketplace ads enable you to show ads on different marketplaces, like Facebook Marketplace, as people shop through results when they search.
These ads appear as promoted posts within users' search feeds. You can target relevant categories to help your business reach people already searching for what you offer.
Within working through marketplace ads, there may be qualifications that are needed for your business to apply. You'll need to check the requirements for each marketplace to make sure you can run ads on it.
When creating marketplace ads, make sure you use a high-quality visual to help your ad stand out from other listings. You'll also want to make sure you target relevant keywords, so the right people see your ads.
At WebFX, we can help you run ads on multiple marketplaces, from Facebook to Walmart. We can help you target the right searches to appear in front of people who want your products. Our team of experts will craft visually appealing ads that help you drive leads.
View Our Walmart Marketplace Advertising Services
View Our Facebook Advertising Services
Drive more sales with digital advertising for ecommerce
Interested in boosting your sales and accomplishing your business goals? WebFX is the perfect fit for you. With a competitive and strategic plan, our team of experts can help you craft compelling ads that drive more revenue for your business.
We know how to craft advertising campaigns that help your business grow. In the past five years, we've driven over $3 billion in revenue and managed over 12.9 million transactions for our clients.
If you're ready to increase revenue and sell more products, contact us online or call us today at 888-601-5359 to speak with a strategist about our digital advertising services!