4 of the Greatest Email Marketing Benefits
In the world of digital marketing, there are countless strategies you can use to get the word out about your business. Today, popular strategies include SEO, PPC, social media marketing, and others – but many marketers overlook one of the most important and effective online marketing channels: Email. Email marketing is one of the most beneficial marketing strategies available to businesses of all sizes. It's cost-efficient, and can help you reach customers that you already know are interested in what your business has to offer. On this page, we'll discuss the many benefits of email marketing, and how to start your own email marketing campaign.
Who can benefit from email marketing?
Email marketing is a strategy that can benefit any business, from small mom-and-pop shops to enterprise-sized companies.
Some marketing strategies are out of reach for smaller businesses, simply because of the cost. But email marketing is a cost-efficient strategy that can be done on any budget – making it a great option for even new companies.
But just because it's great for small businesses doesn't mean that it's a less effective channel than its costly counterparts. As companies get larger, they can upgrade their strategies to include automated email marketing campaigns, drip campaigns, and personalized content.
So no matter your business model or company size, you can benefit from email marketing.
What industries can use email marketing?
Another question marketers sometimes have is whether not email marketing is a good solution for their industry.
The short answer is yes – businesses in all industries can benefit from email marketing.
Email marketing allows you to reach customers that are already interested in your products or services, and therefore, have a higher chance of converting than audiences on other channels.
This means that email marketing can work for any industry – mostly because it helps you stay in contact with people who've already shown that they're potential customers or clients.
In order to start an email marketing campaign, you first have to build a list of subscribers. Emailing without permission is not only ineffective, but is also illegal – so you should only contact those who submit their email addresses via contact forms, in person, or on social media.
The great thing about contacting your provided contacts is that you already know that they want to learn more. This means that they will likely open your emails, and may even click the links to your site for more information.
Unlike many other marketing strategies, which involve sending mass messages to large audiences, and hoping that some of them are interested, email gives you a direct line of contact to people who are already interested in your brand.
Plus, as you run your email marketing campaigns, you can monitor your results to see what works and what doesn't. And considering that all of your recipients willingly opted into hearing from you, your results are a direct reflection of what kinds of content connects with your target audience.
Our digital marketing campaigns impact the metrics that improve your bottom line.
See More Results

WebFX has driven the following results for clients:

$3 billion
In client revenue

7.8 million
Leads for our clients

5.2 million
Client phone calls
4 benefits of email marketing
Now that you know email marketing is fit for virtually any business size and any industry, it's time to talk about the benefits and why your company should use email marketing as a part of your marketing strategy.
1. Ultra-targeted
Unlike other advertising methods, like billboards or radio ads, email marketing only contacts customers that already know about you.
Segmentation is another targeting feature that takes your strategy to another level. This refers to the practice of breaking your subscriber list into individual segments, and sending emails that are more tailored to members of each one.
For example, if you're a sporting goods store that has three different locations, but only one location is having a sale, you can segment your email list by location and only send a promotional email to subscribers that live closest to the storefront having that sale.
To go even further, when you provide the form for users to sign up for your email newsletter, you can also ask what they're interested in. If you're a specialty store, you can ask which brands or product categories they're interested in, and only send emails related to those interests.
2. Cost-efficient
Another point that makes email marketing particularly beneficial is the cost.
Email marketing is one of the most affordable and reliable ways to market your business online.
Consider this – you could potentially pay hundreds of dollars to see an ad for your company appear in your local newspaper or magazine, or to have a physical brochure or print ad sent to everyone within a certain zip code.
But with email marketing, you don't have to pay advertising costs, and you don't have to pay postage.
You simply choose an email marketing platform, write your content, and send it to your subscribers – possibly for no cost at all.
And if you're looking to take your email marketing strategy even further, you can invest in professional copywriting, marketing automation, drip campaigns, and tracking software. Still, the price of these add-ons is relatively low in comparison to other marketing strategies.
3. Trackable
Sometimes, it can be difficult to see exactly how users are interacting with other marketing strategies.
For example, there's no hard-and-fast way to know how many people see the billboard that you post on the highway – except for maybe your influx of sales. But even then, you can't be sure if those sales have anything to do with your billboard, or if it's just a coincidence.
However, with email marketing, it's easy to track – so you know exactly how users are interacting with your emails.
If you opt into tracking software for your email marketing campaign, you'll be able to see how many people opened your email, how many people converted because of that email, and the way users clicked through the email.
All of that information is extremely important to understanding how to improve your newsletters in the future, and where to go next.
4. Sky-high ROI
Perhaps the best benefit of email marketing is the incredible ROI.
Because of its low cost to use, it's easy to achieve a much higher ROI with email than any other channel. In fact, email marketing campaigns generate an average ROI of 3800%, which works out to your company making $38 for every one dollar you spend.
Email marketing statistics
The four benefits we listed above are just a few of the many you can experience with email marketing, but just to touch on the rest, we'll take a look at some of the most impressive statistics.
92% of adults use email, and 61% use it daily.
90% of emails are delivered to your recipient's inbox where they are more likely to convert, and only 2% of your Facebook friends see your posts.
83% of B2B marketers use email newsletters as part of their content marketing campaigns.
Email is 40 times more effective at acquiring new customers than Facebook or Twitter.
72% of people prefer to receive promotional content through email.
Sending four emails per month instead of just one significantly increases the number of recipients that open more than one email.
How to start an email marketing campaign
Any effective email marketing campaign begins with the same step – collecting contact information and building a list of subscribers.
You can do this in a number of ways – signup forms on your website, social media, in your physical storefront, or even some more creative ways like prompting users to provide an email address to get a special offer.
After you've collected a list of contacts, you'll be able to start emailing.
Newsletters are one of the best ways to share information with your subscribers. Your newsletters should include photos to keep users interested, links to your website, and calls-to-action that encourage them to visit your site and purchase a product or service.
After you've started sending your email newsletters, you should track the progress to ensure that you've created the best possible email marketing strategy.
For more information, check out our free email marketing guide!
Time to Level Up Your Sales
Our long list of services helps you grow every aspect of your business with marketing strategies that are proven to increase bottom-line metrics like revenue and conversions.
In the past 5 years, we've managed more than 12.9 MILLION transactions across our client base.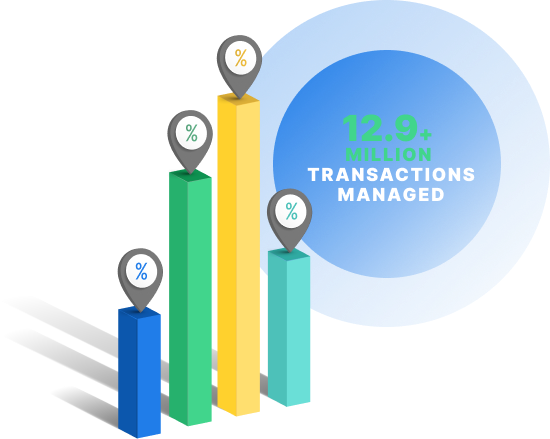 Does your company need help starting an email marketing campaign?
Are you ready to start using email marketing to reach your company's goals?
WebFX can help.
No matter the size of your business or the industry that you work in, we'll work with you to create a custom email marketing campaign to help reach your goals.
We'll get to know your business to ensure that your emails target your most important audience to generate conversions and improve your overall revenue.
And when you partner with us, you'll also gain access to our proprietary email marketing software, EmailMarketingFX. This platform allows you to create drip campaigns that will help to nurture your leads, create an automated schedule, and track each email as it's sent.
You'll be able to see which recipients open your emails and how often, and gain impressive insight into how you can make your emails even better.
Contact us to talk to a specialist and get a free quote!