The Beginner's Guide to Effective Email Marketing: Why Email Marketing?
Keep reading this email marketing guide to learn why email marketing is the strategy for businesses today!
Table of Contents:
The Beginner's Guide to Effective Email Marketing
According to AdWeek, 28% of Americans check social media networks multiple times per day. With nearly a third of the US population receptive to marketing messages or advertising on social networks, you might expect this to be the best way to reach potential customers – but you'd be wrong.
Research by Exact Target found that 91% of consumers use email at least once per day. This means that over three times the number of daily social media users are checking their inboxes frequently. Whether it's at work or at home, email has become one of the most popular methods of communication.
Even as new marketing methods emerge, email remains one of the most reliable ways to reach both potential and existing customers, convey marketing messages, and boost ROI. Despite online claims that email is dead or dying, revenue from this form of marketing is expected to reach $20 billion per year by the end of 2017.

Email may not seem like the most desirable way to reach interested consumers, but it's just as effective today as it was ten years ago – assuming, of course, that your approach has shifted along with the changing expectations of consumers. With the right tactics, email marketing can become one of your most profitable channels, leading to new customers and business leads that you may not have obtained otherwise.
Not convinced that email marketing is worth your time? Here are a few other statistics you should know.
Email's ROI is Out of This World
Do you know what the average return on investment of a single email marketing campaign is? Do you think it's 10%? 20%? Maybe even 50%?
According to research by the DMA, the average ROI on email is 4,300%, or approximately $40 for every $1 invested. Furthermore, a poll by Econsultancy found that 68% of businesses rate email's ROI as either "good" or "excellent."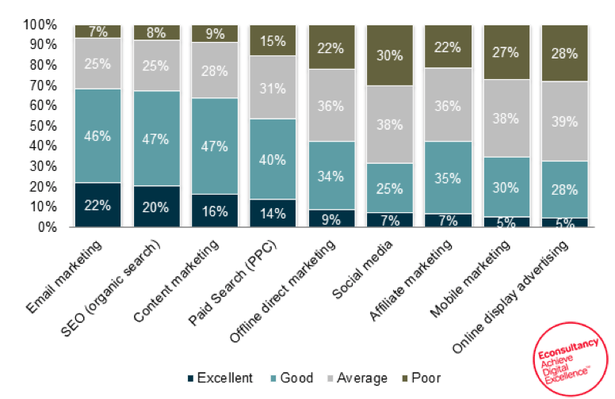 Consumers Prefer Email
One of the biggest concerns about email as a marketing method is that consumers simply don't like it. As traditional advertising continues its decline and inbound marketing gains more traction, some might consider email too "salesy," especially since it demands more attention than other methods.
However, 74% of adults say that email is their preferred form of communication with businesses. When it comes to social media or SMS vs. email marketing, a large majority still prefer to receive email from the companies they're interested in.
Email is Extremely Affordable
As you've already learned, email's ROI is often very high. Much of this is due to the low cost of composing and sending email: many providers are low-cost or free, so if you're only investing a few pennies per email, you can easily make that back with just a few purchases or leads.
Econsultancy found that companies typically only spend 16% of their marketing budget on email. This leaves quite a bit of room in their budgets for other activities, and but also increases the likelihood of this particular marketing method becoming profitable.
Ready to Get Started?
Now that you've learned about the benefits of email marketing, you're hopefully convinced that email is a worthwhile investment for your business. But what happens now?
We've put together this guide to walk you through the process of setting up your own email marketing program. From creating a list to designing your email template, this detailed guide will help you start and grow your email campaign until it becomes a full-fledged part of your marketing plan.
We'll start the process by helping you put together your own unique email marketing strategy. This strategy will be the guiding principle behind all your email activity, and will ensure that everything you do ties back into the goals you likely already have for your marketing programs.