Did you know that the average user spends 28% of Internet time on social media?
If you don't have a presence on social media, you're missing a prime opportunity to reach shoppers where they're spending their time online.
With social media for grocery stores, you can build your social presence and start attracting leads to your store.
On this page, we'll provide you with six tips for creating a successful supermarket social media strategy. If you want to get a jump start on building your social media presence, contact us online or call us today at 888-601-5359 to speak with a strategist!
1. Choose platforms where your audience engages the most
Before you start posting, you need to make sure you're reaching grocery shoppers on the right platforms. If you want to see success with your grocery store social media strategy, start by identifying where you can reach your audience on social media.
First, you need to establish your target market. Who is likely to shop at your grocery store? You'll want to define attributes like:
Age
Gender
Occupation
Socioeconomic status
Location
And more
As a grocery store, you will have multiple types of customers that come through your door. You can create buyer personas, which are fictional representations of actual customers, to help you target the diverse group of customers you serve.
Once you know who you're targeting, you can figure out where to target them.
You can build a presence on numerous social media platforms, including:
If you aren't sure where your audience spends their time, check out each platforms' user demographics. This demographic information can give you a good starting point for figuring out which platforms to use.
Keep in mind that you may use different platforms for buyer personas. So, you may use Facebook to target your middle-aged shoppers, while you rely on Instagram to attract millennials.

Hear What It's Like to Work With WebFX!

"I am an avid fan of WebFX because they have really helped to take our search optimization to the next level. Thanks to their help, I know that our hard work with creating a great content is really set up for success. Thanks, WebFX!"
Food Service
2. Get creative with your content
Once you establish your platforms, you can start posting content to garner a following and boost engagement. The type of content you post will vary between platforms. You'll need to investigate your platform(s) of choice to see what you can post.
Keep in mind that your audience follows dozens of businesses on social media, so it's easy for your posts to get lost in a sea of content. If you make your content creative, however, you have a better chance of catching your audience's eye and getting them to check out your content.
So, how can you get creative with what you post? Try these ideas!
Share recipes for meals your audience can make with ingredients purchased at your grocery store
Create a video of your store manager quizzing employees on where products are in different aisles
Create a poll asking how many people use coupons
Share content that other users posted featuring your grocery store or products they purchased from you (also known as user-generated content)
And more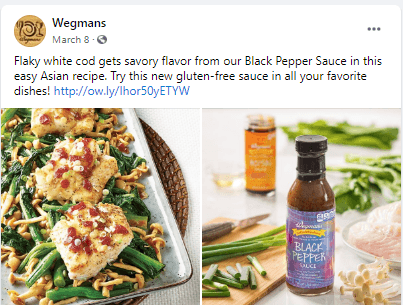 Although it might be easy to post a photo and hope that users engage, you must step outside the box to create posts that users have never seen before.
3. Encourage engagement with your audience
Social media is one of the few places where you can build a one-on-one connection with your audience. You can interact with them on a personal level by interacting with them in the comments or answering their messages in your platform's messaging platform.
You can also encourage engagement by creating open-ended posts on your social media. A prime example of this is a poll. Some platforms, like Facebook and Twitter, give you the option to post polls, which creates a great interactive opportunity to get followers to engage with your grocery store's content.
Another option is simply to ask a question!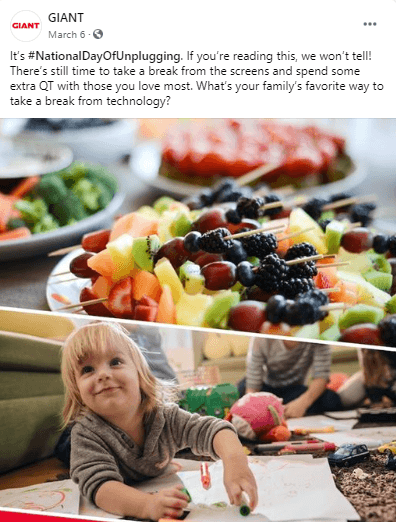 By asking a question, you can get leads to interact on your post and answer your question.
Encouraging engagement is crucial to building brand awareness for your grocery store on social media. The leads that interact with you on social will become more familiar with your brand and can ultimately become a customer as a result.
4. Use your platform(s) for customer service
In addition to encouraging engagement, you'll also want to use your social platform as a means for customer service.
While some of your posts may be encouraging engagement by answering a question, you will have people that comment on your posts to complain, report an issue with your store, or ask questions. You'll want to use this as an opportunity to answer and address questions and concerns.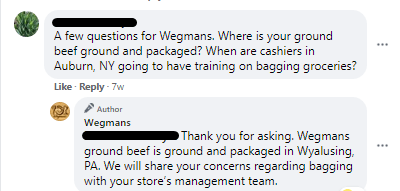 Answering people's questions or addressing their concerns helps show other followers how you treat unsatisfied customers. It lets your followers know that you're paying attention and care about customer feedback.
If a new lead stumbles across one of your posts and sees a complaint, they want to know how you handle it. By replying to the comment and trying to resolve the situation, you'll show that you care about the satisfaction and wellbeing of your customers.
Additionally, you can use social media messaging as customer service, too. You'll want to stay on top of your messages to answer any customer questions or concerns before they shop in your store. Taking time to respond to personal messages can help you get more customers in your store.
5. Run social media ads
A critical component for your grocery store social media strategy is running social media ads. Social media ads are paid advertisements that appear in users' social feeds. These ads look like regular social posts, except they're tagged with the word "sponsored."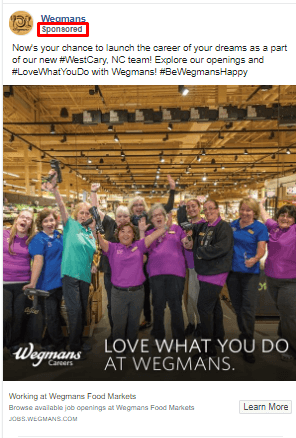 Your social media ads can help you achieve many goals, including:
Increasing followers
Increasing brand exposure
Increasing leads
Increasing conversions
And more
Aside from goals, you'll also be able to use multiple ad formats. The format availability will vary depending upon the platform.
As an example, if you run an ad on Facebook, you can choose from the following formats:
Image ads
Video ads
Collection ads
You'll want to try different ad formats to see which types of ads encourage engagement with your audience.
Social media ads are great for helping you reach shoppers that haven't discovered your grocery store yet. With precise targeting, you can create tailored advertisements that appeal to your audience. It's an excellent method to add to your supermarket social media strategy if you want to get more customers in your store.
6. Build brand consistency across the board
When you choose to use multiple social platforms to advertise your grocery store, you must ensure your brand is consistent across every platform. You want people to recognize your grocery store, regardless of the social platform they use.
First, you'll want to ensure that your profile photo is the same across all platforms. If the social sites you use have a cover photo, you'll want that to be consistent, too.
When it comes to the content you post, you'll want it to have the same look and feel on every platform. So, if your grocery store's style is clean and modern, you'll want to convey that in all content you post on social media platforms. Or if you use a specific filter on your Instagram posts, you'll want to carry that through to Facebook.
This brand consistency helps you build better brand recognition and makes it easier for customers to remember your brand in the long run.
Social media for grocery stores is the next step in growing your store online
A supermarket social media strategy is key to helping your grocery store reach people interested in shopping at your business.
But when you're busy keeping shelves stocked, managing employees, and keeping customers happy, you may not have time to dedicate to building your social media presence.
With over a decade of experience, we know how to run social media campaigns that help our clients grow their business online. That's why we have over 1020 client testimonials — our clients just love the work we do!
Find out how we can help you grow on social media by contacting us online or calling us today at 888-601-5359 to speak with a strategist about our social media plans!
Earn a 20% greater ROI with WebFX