Social Media

How to Create a Social Media Marketing Plan for Your Business in 7 Steps
How to Create a Social Media Marketing Plan for Your Business in 7 Steps
August 5, 2021
9 minute read

Trevin serves as the VP of Marketing at WebFX. He has worked on over 450 marketing campaigns and has been building websites for over 25 years. His work has been featured by Search Engine Land, USA Today, Fast Company and Inc.
Many people who are just starting out with social media marketing mistakenly believe that their experience with their own personal accounts is all they need to start using various platforms to further their business's goals. Unfortunately, that's not the case at all. Much like any other aspect of your marketing strategy, you need to know how to make a social media marketing plan.
Without it, your chances of reaching potential customers in a consistent, interesting way are slim, and it may end up being a waste of your time.
If you want to make the most of your time spent on social media, you need a comprehensive plan. Keep reading to find out why, as well as step-by-step instructions for developing an effective strategy for your business.
74% of people use social media when making a purchasing decision.
Make their decision easy with a stellar social media presence. See how your brand can level up by requesting a no-obligation proposal today.
One of our experts will be in touch within 24 hours!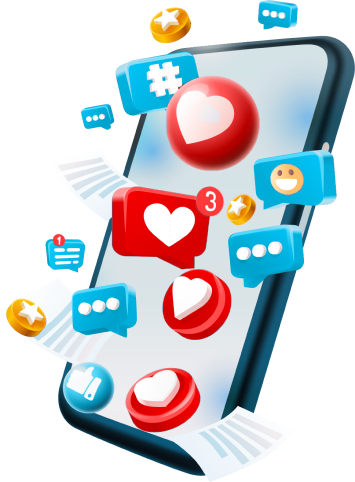 What is a social media marketing plan?
A social media marketing plan is exactly what it sounds like – a detailed plan for how you intend to use each of your social profiles to further your company's goals.
Every post, tweet, status, and photo should ultimately be a part of this strategy, and it should aim to deliver a cohesive message across all platforms. The most difficult part of creating a social plan is coming up with specific goals for each platform. While you should keep your tone and style consistent across all of them, each one requires content in different lengths and mediums, and as a result, different forms of measurement and analytics.
Because of this, a one-size-fits-all social marketing plan simply won't work.
Organic or Paid Social Media Marketing? See What the Experts Say.
If that sounds way too confusing, don't worry. The following seven steps will help you create a comprehensive, effective strategy for your social media marketing efforts: Now, let's take a closer look at each of these seven steps.
1. Examine your social profiles as they are
If your business has no social presence whatsoever, you can skip this step. But if you have any social accounts at all, examining what you're already doing can help you identify where there is room for improvement. For each platform, take a look at how many times you post per day or week, and what kinds of content you post.
Then, look at which posts received the most engagement. For example, do you get more likes or favorites on photos, or on business-related content? If you've included links in your posts, which ones had the highest click-through?
These questions will help you identify what kinds of posts your followers like. When combing through your profiles, you should also take note of the tone you use in your copy. Does it sound serious and professional, or is it more friendly and casual?
If multiple people have made posts (or you've just used a few different styles yourself), this can also give you an indicator of what your followers respond well to.
2. Scope out the competition
Once you have a good idea of how your business is doing on social, it's time to see how you stack up against the competition. You probably already know who your main industry competitors are, so take a look at their social profiles and see how well they're doing. If you don't know where to start, take a look at the "Pages to Watch" section of Facebook Insights, and choose a few of the businesses they suggest.
How often are they posting, and what kind of content? Which posts do their followers engage with the most? This will help you understand what your followers (and potential followers) expect from you, and it may even give you some ideas for your own social content.
3. Determine your objectives
Arguably the most important part of creating any plan is determining what exactly it is that you hope to accomplish. What do want to achieve with your social media presence? And where does social media fit with your marketing goals as a whole?
Social media can serve a wide variety of purposes, but here are a few common objectives you may choose to pursue:
Building relationships with your followers
Engaging with existing customers or clients
Reaching new customers or clients
Attracting the attention of potential applicants/employees
There are many possibilities, and these only scrape the surface of what you can do with social media, but I recommend that you stick to one or two per platform. Connecting with an audience is much easier if all of your posts are intended for the same group of people.
4. Choose the platforms that suit your objectives
For example, if you want to use social media for recruiting purposes, you should definitely be on LinkedIn. But if you want to focus solely on building customer relationships and showing your company's personality, you could safely stick to Facebook and Twitter. Of course, this decision also depends heavily on your target audience.
Not all demographics use the same social platforms, and you may have to do some research to determine where yours spends time online. And if teenagers are a part of your intended audience, this survey can provide some insight.
5. Set specific social media marketing goals
Part of learning how to write a social media plan is learning to set solid goals. Once you have objectives, you need to create a specific plan for how you intend to meet them. These goals will depend on what exactly you're trying to accomplish, as well as how much time you're willing to spend on building your social presence.
Your first set of goals should be content goals. How often will you post? What types of content will you share, and in what amounts?
What tone and style will you use, and will it be the same across all platforms? From there, you may want to create a calendar or set reminders for yourself. These goals are entirely up to you (or your social team) to meet, so it is 100% possible to meet them even in your first month.
The next set of goals, however, depends on your followers. If you're trying to attract new followers, how many? If you're trying to build engagement, how many likes or comments do you want per post?
These goals will be a bit more difficult to estimate, but your current social platforms, as well as those of your competitors, should give an idea of what to expect.
The content calendar approach to goals
A great way of handling this is to structure your social media marketing goals as an official, team-wide content calendar. Content calendars provide you with a top-down view of all monthly goals and progress, and ensure there's no intra-team confusion or overlap. If you've had trouble sticking to deadlines in the past, or find yourself failing to post as frequently as you'd like, maintaining a content calendar is a great idea.
When you want to perform a month-end analysis of your goals (where you succeeded, where you failed, etc.), all you have to do is look at your content calendar. It simplifies the entire process by keeping all important information in a centralized place. If you're interested in going the content calendar route, the complexity of it is up to you.
You could have a bare-bones calendar that simply marks what dates your social content will be published. Or, you could create a more complex calendar that also tracks things like re-post frequency, engagement levels on different days, and so on. If you're looking for content calendar inspiration, check out this free editorial calendar template!
Bonus: The Best Social Media Templates to Save You Time
6. Define which metrics you'll use to measure
After you've set goals, it's time to figure out how you'll measure your success. For your content and follower count goals, this could be as simple as using tools like Facebook Insights and Twitter Analytics. For other goals, you may need to dig a little deeper.
If you're attempting to increase site conversions (like ecommerce purchases or contact form submissions), you'll need to set up a goal in an analytics tool like Google Analytics.
7. Measure and revise your social media marketing plan
Once you've spent a month or two with your marketing plan for social media, it's time to analyze your success. This is what determines whether your strategy is working, and whether it's time to head back to the drawing board. Of course, you need to be honest with yourself here.
If you haven't actually stuck to your plan, analyzing your results probably won't tell you much. But if you've followed it reasonably closely (give or take a tweet), it's time to take a look at how your results stack up with your goals. If you took the time to define your metrics clearly and set up the correct analytics tools, this should be a breeze.
And if you're happy with your results, then you're well on your way to social success. If you aren't so happy, however, you'll need to revise your plan. If you realize that your goals were too ambitious, this may be as simple as setting more realistic goals with the intention of eventually scaling up.
But if you think that your goals were reasonable, and your methods were the issue, you may find it helpful to zero in on metrics of your individual posts. Which ones did users engage with? Which ones did they ignore?
Engagement is one of the most telling metrics on every social platform and should give you an indicator of what your followers respond well to. Of course, if you're completely at a loss, outsourcing is always an option. And while some marketing agencies may only work with clients who allow them full control over all aspects of their strategies, you can also opt to find an agency that works specifically with helping clients build online communities through social media.
Time to get started!
If you haven't created a social media marketing plan yet (or know that your current one needs work), it's time to get started.
And if you have any questions about coming up with a strategy, or any suggestions for others who are attempting to do the same, contact us at 888-601-5359!
Trevin serves as the VP of Marketing at WebFX. He has worked on over 450 marketing campaigns and has been building websites for over 25 years. His work has been featured by Search Engine Land, USA Today, Fast Company and Inc.

WebFX is a full-service marketing agency with 1000+ client reviews and a 4.9-star rating on Clutch! Find out how our expert team and revenue-accelerating tech can drive results for you! Learn more
Twitter and Facebook Status Generator
Finding engaging social media content for your business can be difficult. Use our tool to quickly find ideas and post directly to your page.
Give Me an Idea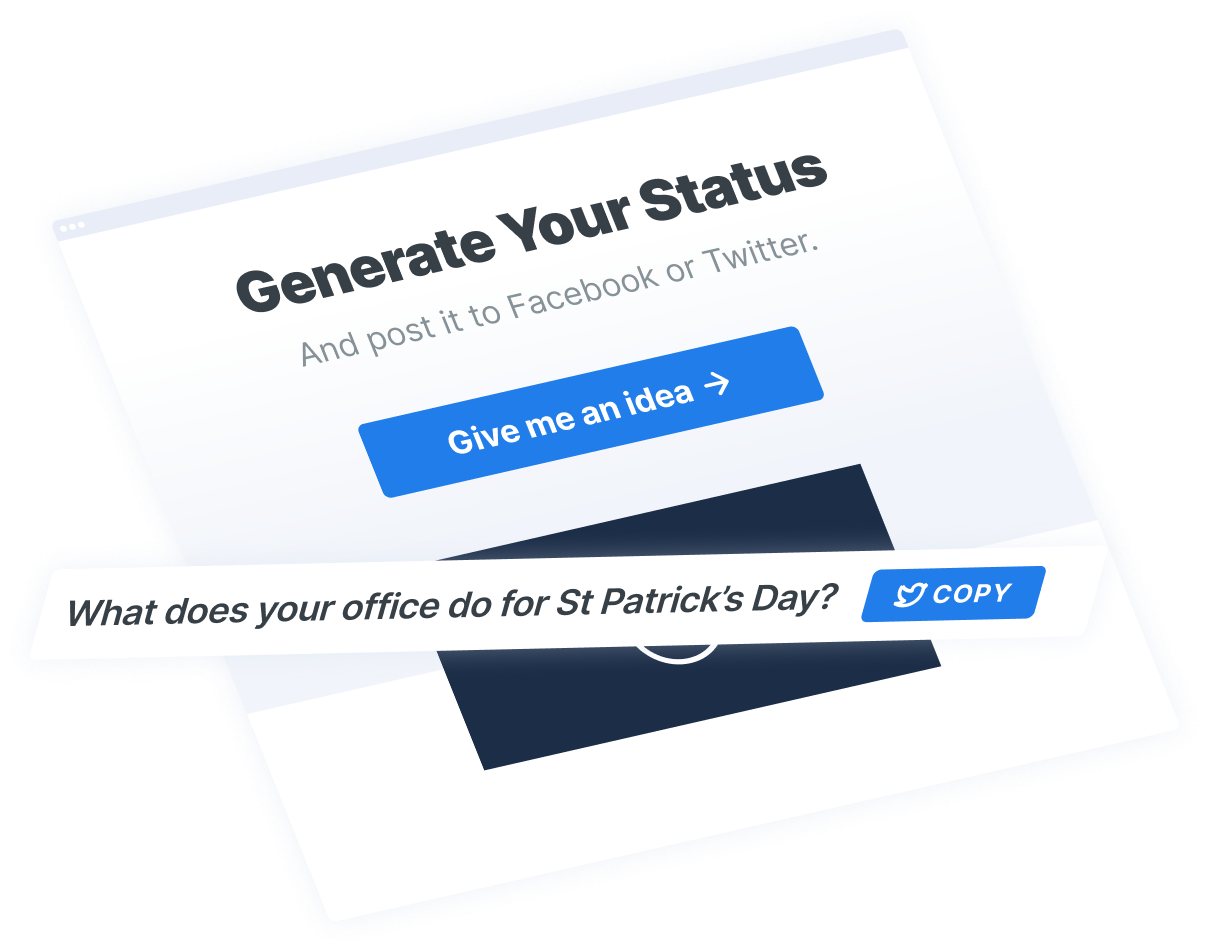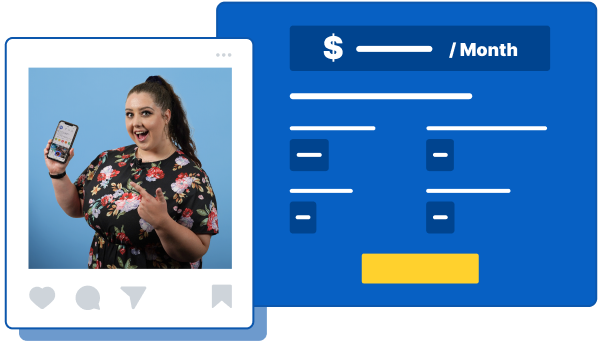 Twitter and Facebook Status Generator
Finding engaging social media content for your business can be difficult. Use our tool to quickly find ideas and post directly to your page.
Give Me an Idea