Do you want to drive more leads and revenue for your industrial business? Digital marketing helps you expand your reach to earn more potential clients and drive revenue.
On this page, we'll take a look at five of the best industrial marketing examples of 2024 to inspire your campaign. So, keep reading to learn more!
Bonus: Would you like the inside scoop on all things digital marketing? Then sign up for our newsletter, Revenue Weekly! Our subscribers get the latest digital marketing advice and tips sent straight to their inbox for free from our award-winning experts!
The best industrial marketing examples to inspire your campaign in 2024
Digital marketing strategies help you boost your online visibility to enable more potential clients to discover your industrial business online. So, if you're looking for some inspiration for your industrial marketing strategy, we've got you covered.
Check out the best industrial marketing examples of 2024 below:
1. Drive more traffic to your website with search engine optimization (SEO) – General Electric
Billions of people use search engines like Google each day to research and purchase products and services. An SEO strategy helps you reach these users at critical points in their research and purchasing journey by increasing your rankings in the search results.
SEO helps you achieve a top spot in the search engine results pages (SERPs) so more potential clients can discover your business online. Increasing your search engine rankings is essential because more than 75% of users only visit websites from the first page of results.
Check out this SEO industrial marketing example from General Electric below: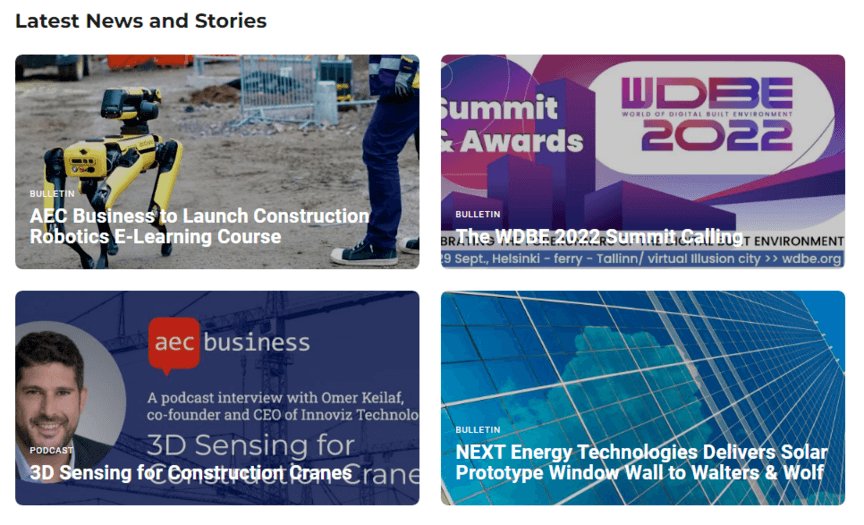 In this example, General Electric is currently ranking at the top of the search results when you search for the phrase "renewable energy equipment." General Electric's SEO strategy enables them to improve their website to rank higher in the SERPs.
As a result, their website is one of the first results users will see when they search for keywords and phrases related to renewable energy, increasing their web traffic and conversions.
Do you want to implement an SEO strategy to outrank your biggest competitors in search engines like Google? Then check out our SEO services below!
2. Build a reputation as an expert in your field with content marketing – AEC Business
Next on our list of marketing examples for industrial companies is AEC Business. In this example, AEC Business created a company blog to share industry news and business updates on their website.
AEC Business writes blog topics covering a wide range of construction topics, from technological advancements to sustainable energy practices.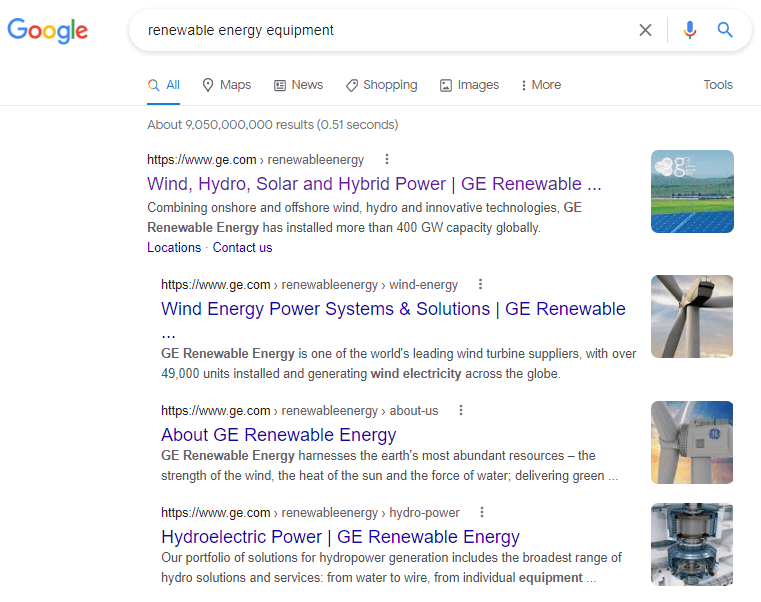 When you create custom content like blog posts and articles, you demonstrate your expertise in your industry. When users read your content, they will begin to recognize your industrial business as a leader in your field, building your brand trust and loyalty.
In addition, creating content provides you with more opportunities to insert high-value keywords throughout your website to boost your search engine rankings.
VIEW CONTENT MARKETING PACKAGES
3. Boost your brand awareness with social media marketing – ArcelorMittal
When it comes to your industrial marketing strategy, promoting your company on social media is a must. Social media marketing enables you to promote your products and engage with your audience to build brand awareness and loyalty.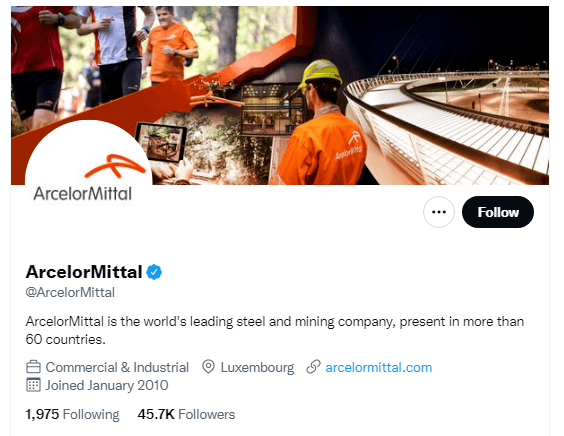 In this example, ArcelorMittal expertly promotes their company on Twitter. ArcelorMittal uses their social media page to engage and interact with their audience by responding to their comments.
The company also shares their blog posts and other custom content to drive more traffic to their website and build a reputation as an expert in the steel and mining industry.
Do you want to boost your online visibility on popular social media platforms, but don't have the time to manage your campaign? WebFX can help! Check out our social media marketing services below!
VIEW SOCIAL MEDIA MARKETING PACKAGES
4. Earn more conversions with email marketing – Argonomist & Arable Farmer
Next on our list of marketing examples for Industrial companies is Argonomist & Arable Farmer. Argonomist & Arable Farmer is a leading company in the agricultural industry.
In this example, Argonomist & Arable Farmer provides an email newsletter sign-up option on their website for users to sign up for their frequent email updates.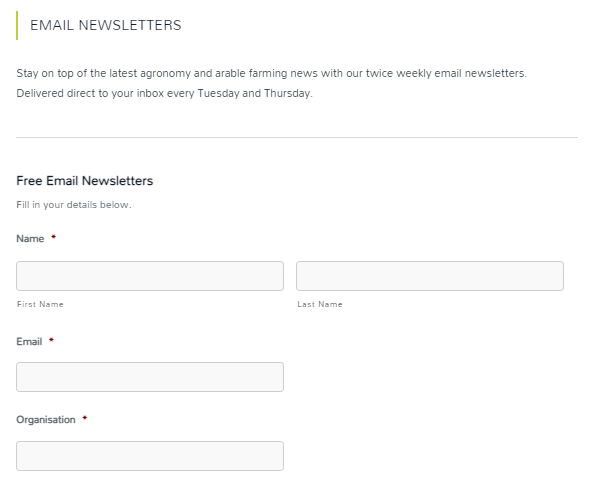 By providing an email newsletter sign-up option on your website, you can generate and nurture more leads for your company.
When users sign up for your emails, they'll voluntarily provide you with their name and email address. That means you'll have a list of email addresses of the prospects who want to learn more about your business and products.
You can then begin to nurture your leads with your email marketing campaign by sharing industry news and your custom content.
As a result, you can use your email newsletter to encourage more users to convert into paying, loyal clients.
5. Drive more revenue with pay-per-click (PPC) advertising – Xometry
Did you know that you can earn $2 for every $1 you spend on PPC ads? PPC advertising is an excellent way to boost your online visibility in search engines and drive more revenue for your industrial company. In fact, over 32% of companies use PPC ads to sell products and services directly to prospects.
Take a look at this PPC advertising example from Xometry below:

Xometry is a manufacturing company specializing in computer numerical control (CNC) machines. The company's PPC ad displays as the second website in the search engine results when users search for CNC machines and parts.
When you invest in PPC ads like this one from Xometry, you can outrank some of your biggest competitors in the search results. As a result, you can drive more traffic to your website and encourage more users to convert into loyal clients.
Plus, you can choose how much you want to spend on your PPC ads, making PPC marketing an excellent way to drive more revenue for your business, no matter your marketing budget.
Our digital marketing campaigns impact the metrics that improve your bottom line.
See More Results

WebFX has driven the following results for clients:

$3 billion
In client revenue

7.8 million
Leads for our clients

5.2 million
Client phone calls
Hear What It's Like to Work With WebFX!

"We had been looking for a new SEO firm responsible for industrial companies and we found the right one with WebFX. We have had nothing but great experiences so far and don't expect anything to change moving forward."
Boiler Installation
Implement these industrial marketing examples into your campaign with WebFX
Are you ready to implement effective marketing strategies after checking out those industrial marketing examples, but don't know how to get started? WebFX has you covered.
WebFX is a full-service digital marketing agency with a team of more than 500 marketing experts. Our team has helped industrial businesses like yours drive over $3 billion in revenue in just the past few years. And we can help your company achieve incredible results too.
Get ahead of your competitors today. Chat with one of our strategists by calling 888-601-5359 or contact us online to learn more about how our digital marketing services can help your industrial company grow.