As a business, your primary concern is getting people to buy your product or service. Leads — people who have expressed interest in your company — are the people you want to target since they're most likely to convert.
Lead generation is the process of finding and encouraging people to purchase — lead generation for 3D printing targets 3D printing customers specifically.
This page will cover the following topics:
What is lead generation for 3D printing
How to generate leads for 3D printing companies
3 lead generation tips
Read on to learn more, or contact a strategist today to see what lead generation can do for your 3D printing company!
Our digital marketing campaigns impact the metrics that improve your bottom line.
See More Results

WebFX has driven the following results for clients:

$3 billion
In client revenue

7.8 million
Leads for our clients

5.2 million
Client phone calls
What is lead generation for 3D printing?
Lead generation for 3D printing is the process of finding and attracting leads to your website through various digital methods. For 3D printing companies, this can include anyone from individuals looking to buy their own printers to companies needing 3D printing services.
There are multiple types of leads:
Marketing qualified lead (MQL): Leads that come from your 3D printing marketing campaigns.
Sales qualified lead (SQL): Leads that show immediate interest by submitting a contact form or requesting a proposal.
Product qualified lead (PQL): Leads that have tried out your services through a demo or trial. They usually ask questions after trying the product.
Service qualified lead: These leads already use your products or services, meaning they have an interest in them. They could be interested in an upsell, like if they want to buy an additional printer or order in higher quantities.
Since leads are people who have already expressed interest in your company, lead generation helps you find places where you can market directly to those people. That way, you spend less time (and money) on people who are unlikely to become qualified leads.
How to generate leads for 3D printing companies
Now that you have a basis for what lead generation for 3D printing is, we can jump into a few different tactics.
There are many ways to reach leads and encourage them to convert. Below are three different strategies, but working with a lead generation agency can help you outline and define the right plan for you.
Search engine optimization (SEO)
SEO is the process of having your website rank higher in search engine results pages (SERPs). When people enter keywords into the search bar, you want your website to appear higher up so people will see and click on it.
As a 3D printing company, your goal should be to target 3D-printing related keywords. For example, if you sell 3D printers, you might target a keyword like "personal 3D printers."

SEO is an ideal tactic for overall brand awareness and helping people find your services. Also, as you build out your website, you can give your customers a better experience with your brand and encourage them to complete forms, request information, and make purchases.
Email marketing
Email marketing can help you connect with prospects, engage with existing customers, and retarget those who have expressed interest previously. There are several types of emails, including:
Transactional emails: Relating to purchases or invoices.
Marketing: Containing informational materials about your company.
Promotional: Containing discounts, coupons, and other promotional information.
Using emails can help you keep in touch and connect with new prospects. You can also use email automation to save time and resources while improving your lead generation tactics.
Social media
The last lead generation tactic — and one of the most essential — is social media. Social media marketing for 3D printing can help you connect with customers and prospects on a more personal level and give them more access to your company.
You can use social sites to create posts or run advertising campaigns for your products and services: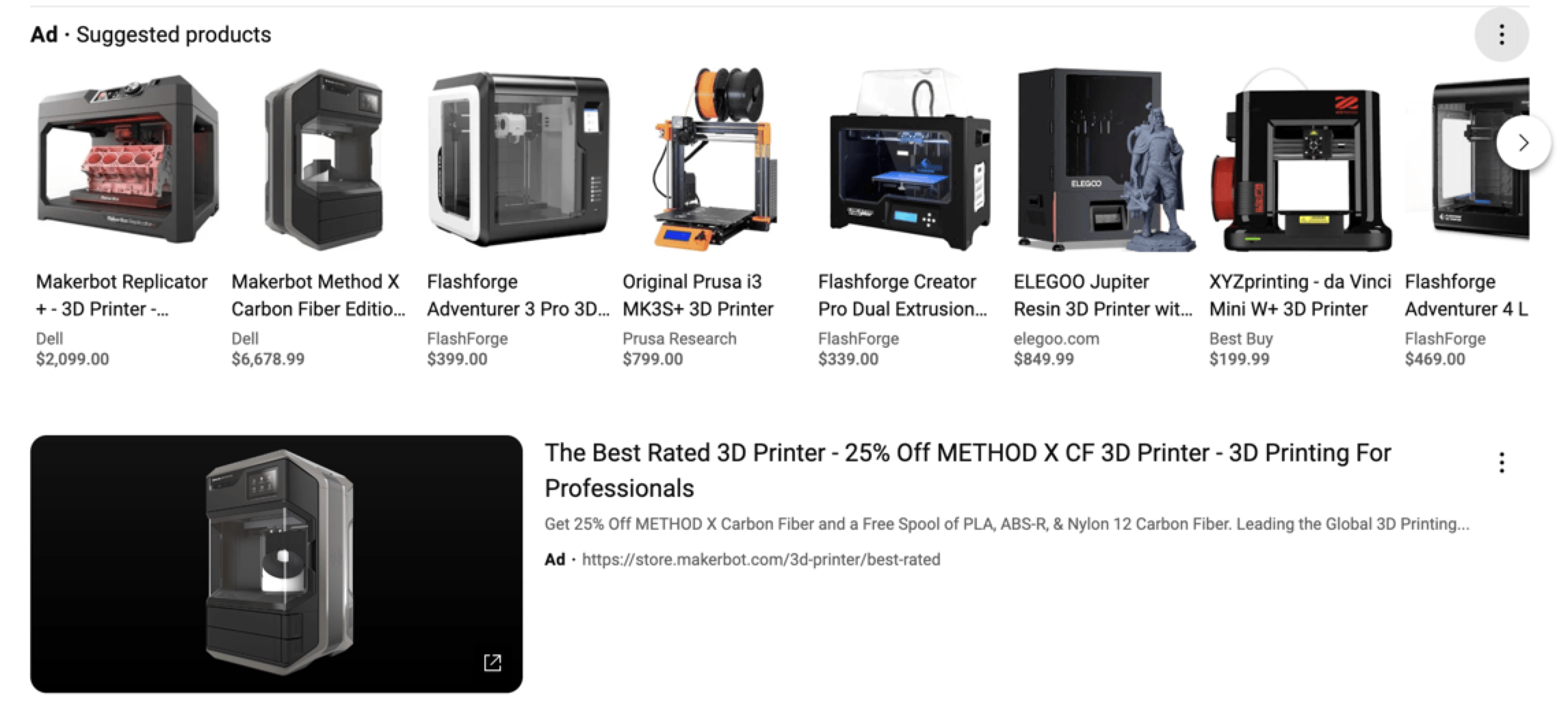 Considering 66% of marketers generate leads from social media by spending only six hours on social media marketing, it's one of the most effective ways to generate leads for any industry.
3 lead generation tips
If you want to build out a lead generation strategy for 3D printing, you need to know where to start. Keep these tips in mind as you begin planning your approach.
1. Define your target audience
Before you can start tracking your leads, you need to establish your target audience. Knowing who needs to see your advertising and marketing materials will help you save resources on advertising to the wrong people.
Ask yourself the following questions:
Which people are most likely to need your services?
Who will benefit from your products?
What kind of people typically buy from you now?
Creating buyer personas can also help you better target your lead generation tactics. For example, you can take demographic information and turn it into a general idea of who your customers are to give them engaging content.
2. Create compelling content
Whether you are creating ads, emails, or other marketing materials, your content should be engaging to encourage people to reach out. Once you know who your audience is, you can create 3D-printing related materials to share with them.
For example, you could create the following materials:
Product videos that showcase your printers
Explanation videos that detail your services
Blog posts that cover industry topics
Emails detailing company announcements and changes
All this content should represent your voice and brand while connecting with your audience and encouraging them to reach out.
3. Use consistent branding
Branding is important for giving your leads a seamless experience with your company. As you target leads with varying methods, you want to make sure that your voice, colors, tone, and branding are consistent.
For example, if you have any slogans or logos that you display on your website, you can include them in your social posts and YouTube videos. Also, since brand recognition can increase up to 80% with a consistent color palette, keeping your appearance consistent matters.
Having established brand guidelines will also help you and your team create the same look and feel for your brand across platforms.
Measuring the metrics that affect your bottom line.
Are you interested in custom reporting that is specific to your unique business needs? Powered by MarketingCloudFX, WebFX creates custom reports based on the metrics that matter most to your company.
Leads

Transactions

Calls

Revenue
Learn More

Explore lead generation for 3D printing with WebFX
If you want help generating leads for your 3D printing company, WebFX can help. As a leading digital marketing agency, we have the tools and experience to help.
So far, we have generated 7,839,684 leads for our clients, bringing in $3,021,182,299 in revenue. That includes 5,239,028 calls, along with emails, advertisements, and social posts.
Ready to experience our results yourself? Request a quote today for our lead generation services!
Increase your leads, sales, and revenue with digital marketing
Find Us Driving Revenue Nationwide