Social media is a critical part of any digital marketing plan. It gives you a great way to promote your business, you can regularly keep in touch with your customer base, and you can expand brand awareness at the click of a button.
With so many advantages in one marketing strategy, every insurance agency should use social media.
Keep reading to learn more about social media for insurance agents, from why it matters to how to get started. If you're looking for professional help with social media marketing for insurance agents, check out our social media marketing services!
Not happy with your social media engagement?
We've got just the blog post for you.
Read the Blog Post & Watch the Video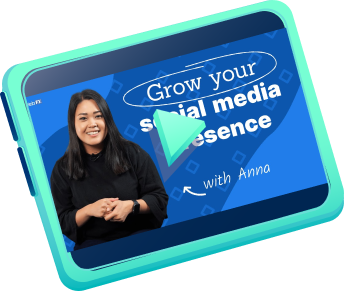 Why is social media for insurance agents important?
Social media for insurance agents matters because social media is popular. Facebook has over a billion users, Twitter has just under a billion, LinkedIn connects millions of professionals, and Pinterest is growing faster than any other social network out there.
Basically, there's guaranteed to be a couple of people interested in your insurance agency already on these social networks. That means all you have to do is make a profile and communicate with them.

Hear What It's Like to Work With WebFX!

"WebFX provides professional, knowledgeable SEO services that can help any business. They are thorough and always provide detailed responses to help educate you on what they're doing and why. I've learned a lot from WebFX and it helps me do some SEO in-house while continuing to use their services."
Insurance Company
6 steps for getting started with insurance social media marketing
The best success with insurance social media marketing comes from building a plan or strategy for promoting your business through social media. That's why this article shares a six-step process for getting started with social media marketing as an insurance agent.
1. Create your social media accounts
Just go to the social networks' homepage and make an account. Focus on the platforms that your audience uses. Then, fill out all your information as comprehensively as possible.
Your name, address, and phone number are especially important since that is the best way for you to generate leads from social media. If someone needs an insurance agency, and they find that you're near them, they might as well call to get a quote from you.
2. Add photos to your social media profiles
Next, upload photos of your insurance agency to give your company a more human face. Instead of someone feeling like they're talking to a corporation, they can start to feel like they're talking to someone face-to-face, even when it's through email.
3. Promote content on your site
When you're posting to social media as a part of your insurance social media marketing strategy, you need to offer something that has substance.
That means adding a link to a new blog, a popular infographic, an informative video, or some other form of content. That'll give your followers a reason to stay in touch with your company, and it can also help attract them to become customers.
Plus, this gives your followers a reason to comment on your social media profiles and talk to you directly. And when they talk to you, you can take that opportunity to engage them with additional comments, information, or content on your site, so you can stay in touch.
4. Communicate with followers
You should also specify a time for members of your company to check your social media profiles for interaction. Interaction usually comes from customers responding to your posts or asking questions on your social media profiles.
If someone talks to you, you should respond.
For people who are complimenting your post, a quick "Thank you!" really helps show that you're engaged with your social media and that you appreciate positive feedback. For people who are poking holes in your posts, you can thank them for their comment and explain your reasoning. And for customer complaints, you can respond to them publicly or privately, depending on your preference.
5. Encourage followers to share posts
Along with communication, it's also important that you urge your followers to share your posts with their followers as a part of your insurance social media strategy.
This gives you a huge potential audience, especially if you have savvy people following your insurance agency. They can share your post to make sure their followers see it, and if their followers re-share it, you've exponentially grown your audience.
That doesn't necessarily mean everyone who sees your post is going to become a customer. But it does mean that you're at least building brand awareness.
Unfortunately, brand awareness isn't measurable, and this is where social media marketing for insurance agents can be like regular advertising. You don't always control who sees your post, but they know your name, and that's a step in the right direction.
6. Use paid ads for exceptional content
If you've created an infographic, video, or some other form of content that you really want to promote, you can do it with paid ads.
Every social network offers paid ads in some capacity. Unlike traditional marketing, social media ads are highly-targeted, affordable, and easy to use. That makes them one of the best ways to build traffic and brand awareness to your website.
Most social networks let you choose certain search terms that users can enter to discover your ad. Sometimes, you can also target users depending on what they've liked or followed on a certain social network. Regardless, you can be sure you're showing your ad to people who already have an interest in insurance.
74% of people use social media when making a purchasing decision.
Make their decision easy with a stellar social media presence. See how your brand can level up by requesting a no-obligation proposal today.
One of our experts will be in touch within 24 hours!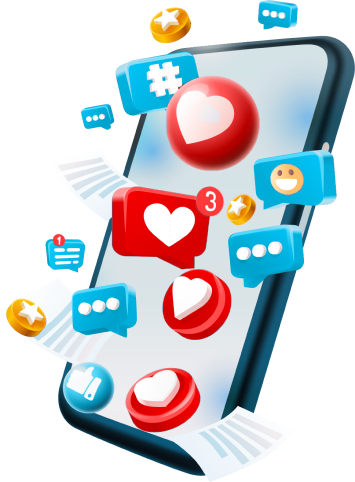 Get the most value from social media for insurance agents
At WebFX, we have a whole team of insurance social media marketing experts who know exactly what it takes to make your social media accounts pay off. They're pros at scheduling and promoting content, both with and without paid ads, and they can help you grow your business with minimal investment.
Do you want more customers for your insurance agency? Contact us today to craft a social media strategy for you!
Earn a 20% greater ROI with WebFX