Are you looking for a way to reach new customers and get them to engage with your business?
If so, social media for industrial companies is an excellent option for connecting with interested leads and turning them into conversions. This strategy allows you to develop a personal connection with your audience and build brand recognition, so they ultimately choose your company for their industrial needs.
On this page, we'll provide you with four tips for creating a successful social media strategy for industrial companies. If you want to learn more about social media marketing and how it will help your business grow, call us today at 888-601-5359 (or contact us online) to speak with a strategist about our social media packages.
Time to Level Up Your Sales
Our long list of services helps you grow every aspect of your business with marketing strategies that are proven to increase bottom-line metrics like revenue and conversions.
In the past 5 years, we've managed more than 12.9 MILLION transactions across our client base.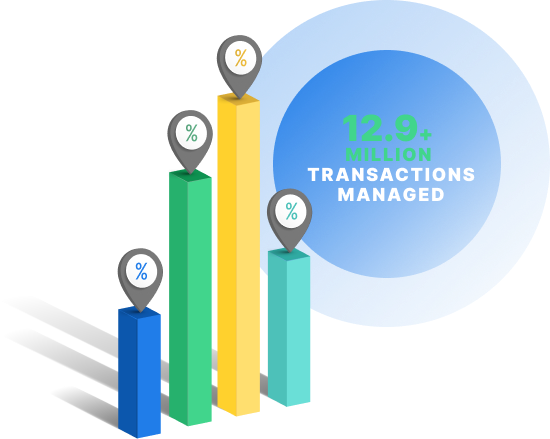 1. Nail down your target audience
Before you start posting on social media networks, you must establish your target audience. Your target audience helps determine which platforms you should use for your social strategy.
To establish your target audience, start by taking a look at your current customer base. Analyze your customers and see what similar traits they share. You should consider:
Age
Gender
Occupation
Location
Hobbies
Interest
Buying habits
When you gather all this information, you can create a buyer persona. Buyer personas are fictional people you generate to model your ideal customer. It helps you focus on who's likely to buy from your business.
You can create more than one buyer persona, too. Many companies have multiple buyer personas they use to target different groups of people interested in different areas of their business.
For example, if you manufacture car parts, you're going to have a few different buyer personas. You'll have car dealership owners, car enthusiasts, and garage owners interested in your car parts. Each of these people represents a different kind of buyer that has unique interests in your business.
Setting your target audience is a critical component of a social media strategy for industrial companies.

Hear What It's Like to Work With WebFX!

"We had been looking for a new SEO firm responsible for industrial companies and we found the right one with WebFX. We have had nothing but great experiences so far and don't expect anything to change moving forward."
Boiler Installation
2. Decide on social media platforms for your industrial company
Once you know your target audience, you can figure out which platforms are best for your industrial business. You want to choose the social platforms where your audience is most likely to engage. It's not required for you to be on all platforms, but more important to focus on the platforms that your audience uses most.
There are numerous popular platforms you can choose from, including:
You can use any combination of these platforms in your social media strategy for your industrial company.
3. Post content frequently on your social media pages
Once you have your platforms established, you can start posting on your social media platforms. If you want to be successful with your social marketing strategy for your industrial company, you must post content frequently.
Your audience follows dozens of other pages on social media. With so many people in their newsfeed, it's easy for your business to get lost. If you don't post content frequently, your company may fall into the background with other companies.
By posting content frequently, you'll create more opportunities for your audience to see your industrial company and get familiar with your business and what you have to offer.
So, what type of content should you post?
Different kinds of social media content performs better on different platforms. For example, on Facebook, you can post images, videos, and even polls in addition to written content.
Other platforms, like Instagram, are hyper-specific. With this platform, you can only post photos and videos in addition to your text caption. These platforms take a visual approach to content, so you'll have to focus on creating high-quality visuals, like images of your products or videos showing how to use them.
You'll want to post a variety of content on your platform. Even on a platform like Instagram, you can vary your content between photos and videos. You can create variety with the kinds of photos you share, too.
To help you post content consistently, utilize a content schedule.
A content schedule will help you plan and organize when you want to post content. A key component of social media marketing is posting frequently, so scheduling content for specific days will help you stay organized. With social media scheduling tools, like Buffer and Hootsuite, you can create content and schedule when you want it to be published.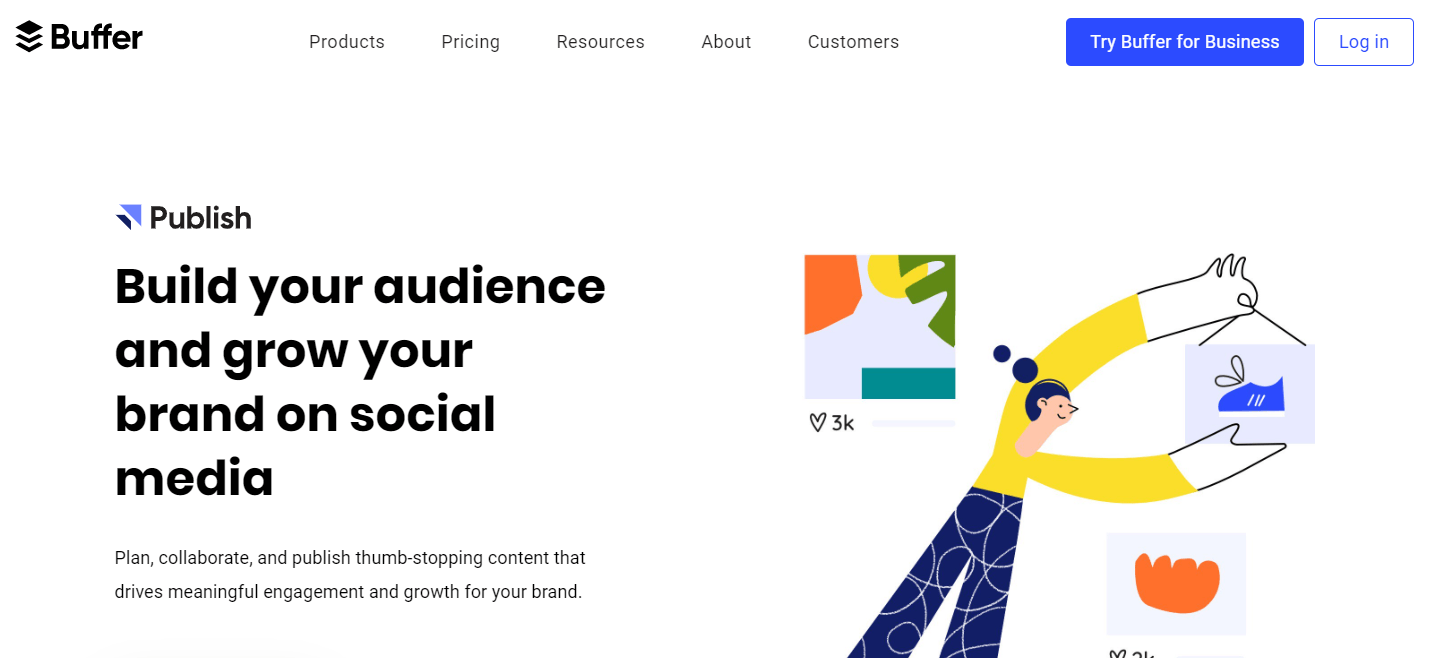 When you schedule content, you'll want to schedule your information to appear when users are most likely to engage. You can look at previous content to document trends of when users engage with your content the most.
It's important to schedule content when your audience is likely to engage so you can get your brand in front of them. If you post your content when your audience isn't engaging, they're likely to miss you in their newsfeed.
A content schedule gives you the full scope of your campaign. You'll create a more cohesive social media campaign by planning out when you're going to post content and what type of content it is.
4. Run social media ads for your industrial products
One of the most beneficial social media tips for industrial companies is to run paid social media ads on your selected platforms. Social media ads help you reach people that haven't found your business yet. It's an excellent strategy for obtaining new leads and growing your business online.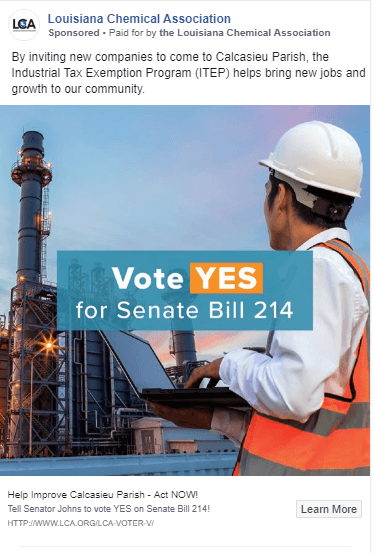 When you establish which platforms you're using, you can check out their advertising options. Each social media platform offers different types of advertisement options.
Decide on the ad objective
First, you'll decide your ad objective. You must decide what you want to achieve with your ad, whether it's increasing traffic or increasing conversions.
Decide on content and format
Second, you'll want to decide on your content and ad format. You want to create an ad that entices users to take action. Whether you're marketing your business or individual industrial products, you want to make your ad appealing to your audience.
Each social media platform offers different ways for you to present your advertisement. Platforms like Facebook offer numerous types of ads, from a simple photo ad to an in-depth and detailed Instant Experience.
Set your target audience
Once you choose your ad format, you'll set your target audience. Your target audience is a core component of your social media ad. It determines who sees your ad, and even determines how successful your ad will be.
For example, if you target the wrong audience, you won't get much interaction with your ad. However, if you put in the time to find your perfect target audience, your ad will receive lots of clicks since you're putting them in front of people who are interested in what you have to offer.
Social media ads have advanced targeting that allows you to reach more interested leads. You can target people based on information like:
Demographic information (age, gender, location)
Occupation
Buying habits
Hobbies
Interests
This advanced targeting allows you to target leads more precisely, so you're reaching people most interested in your industrial company.
Set your budget
After choosing your target audience, you'll set your budget. You get complete control over your budget and can set daily limits to allow your ad to run longer. The amount you set for daily limits will depend upon your cost-per-click (CPC). Your CPC is the amount you pay each time someone clicks on your ad.
You'll want to set a daily limit that enables you to get enough leads, but not spend your entire budget at once. If you know approximately how many leads you want to obtain and the cost to obtain them, you can use that information to adjust your budget accordingly.
Launch your campaign
Once all your information is in order, you can launch your social media advertising campaign and start reaching new leads for your industrial company.
Social media ads are an integral part of a successful social media strategy for industrial companies. These ads help you reach people that have an interest in your products or business but haven't found your company yet. It helps you reach more valuable leads that you can turn into conversions for your industrial company.
Growing your social presence with WebFX is a walk in the park.
"WebFX allows growing your social media platforms to be stress-free! They are knowledgeable and adapt to your company needs!"
Learn More About Our Social Media Services

Start using social media for industrial companies to grow your online presence
By following these social media tips for industrial companies, you'll be on your way to building a better social media plan for your business. A strong social media strategy will help you engage your audience, get them familiar with your brand, and earn new leads.
If you don't have the time to dedicate to developing your social media campaign, our team at WebFX can help. We have a team of over 500 social media savvy experts that can help you launch your social media strategy. With over a decade of experience, you can count on us to create a social media strategy that drives results for your business.
If you're ready to grow your industrial business online through social media, contact us online or call us today at 888-601-5359 to speak with a strategist about our custom social media plans.
Earn a 20% greater ROI with WebFX