Your 6-Step PPC Auditing Checklist
If you already have a PPC campaign in place, congratulations! You're likely driving tons of leads for your company with one of the best marketing strategies out there. However, if you've already adopted a PPC strategy, but you're not seeing results, it's time for a comprehensive PPC audit.
A PPC audit can help you pinpoint any issues with your current campaign so that you can fix them and start driving valuable leads for your company.
Keep in mind that you shouldn't necessarily wait until your PPC campaign shows a decrease in clicks — PPC auditing is great for any campaign and should be done regularly to ensure that your strategy is on the right track.
On this page, we'll talk about how you can complete a PPC audit for your company's campaign to ensure peak performance.
BONUS READING: 6 COMMON PPC QUESTIONS ANSWERED
If you'd like to speak to a PPC specialist before reading on, please feel free to give us a call at 888-601-5359 !
Don't forget, we provide our digital marketing services to clients around the world. So whether you need PPC services in Cleveland or a PPC campaign in Jacksonville, we've got you covered.
WebFX Knows PPC Auditing
WebFX can help your company audit your PPC campaign to ensure that it's working with peak efficiency.
When should PPC auditing be a priority?
As we mentioned before, it's not necessary to wait until your PPC campaign shows a change in effectiveness — it's important to audit your campaign regularly.
However, there are a few timeframes that are more important than others to audit your PPC strategy:
If you're having issues
If you notice that your PPC campaign isn't driving results, it's time for a PPC audit. It can help tip you off as to what the issue might be and get you back on track to success.
If you've just changed your strategy
If you've just added new products or services to your list of offerings, dropped some products, or changed your business strategy, it's time for a PPC audit.
When you get new products and services, you'll want to add keywords based on those into your Google Ads campaign, and you'll want to get rid of keywords in your campaign if you no longer sell a particular product.
If you want to make your campaign more effective
Everyone wants an effective PPC optimization campaign, and if you feel like nothing's necessarily wrong with your campaign, but it could be doing better, a PPC audit can help you find new areas of opportunity.
What can PPC auditing do for your campaign?
Similar to how you take your car to the mechanic for routine inspections, you should perform PPC audits on your campaign regularly to ensure that it's driving optimal results for your business.
PPC auditing can expose areas of opportunity and areas of weakness in your campaign and help you end up with the most effective campaign possible.
Below, we'll go over our failproof PPC auditing checklist to ensure that you don't leave any stone unturned when it comes to your PPC campaign. We'll talk about how to spot areas of opportunity and how to close the gap.
Let's get started!
Your 6-step, failproof PPC auditing checklist
We're so confident about our PPC audit checklist that we're calling it failproof. There is always something to be learned about your campaign, and every time you perform a PPC audit, you'll likely find room for improvement.
Don't get discouraged — making small tweaks and changes to your campaign is often the difference between a successful campaign and an incredibly successful campaign.
1. Get all your ducks in a row
Perform an effective PPC audit by looking at the right information first.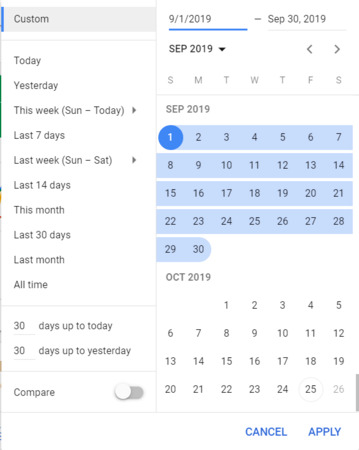 Ensure that you're looking at the right date range: You'll want to start by determining how long your PPC campaign has been running. If you've just switched around your campaign a week ago, you won't have enough analytics information to draw solid conclusions or create a sound PPC audit.You should make sure that you have at least three months-worth of analytics to look at before you dive into your audit.
Decide what information you want to concentrate on: Before you can do a beneficial audit of your PPC campaign, you have to decide what information you want to focus on. If it's clicks that you've seen a decrease in, then concentrate on that specific key performance indicator (KPI). If you've recently changed the appearance of your ad and things went amiss after, that might be what you want to audit.
2. Look at your campaigns
Now that you're prepared for your PPC auditing session, it's time to look at your campaigns.
When it comes to organizing your PPC strategy within Google Ads, campaigns are a way to structure your strategy. Depending on how you structure your campaigns, you may set up your strategy to be more or less successful.
For example, you can organize your campaigns around target personas, business objectives, service lines, or subject matter.

After you've confirmed that your campaigns are each targeting something specific, you'll want to consider other campaign elements like:
Geographic targeting in correspondence to each campaign
Device targeting
Is your bid strategy effective? Has it been effective in the past?
Is your budget correct?
Do users see your ads in the way that you want them to? In other words, are your ad delivery methods correct?
Once all these questions are squared away, you can mark campaigns off your list of strategy elements to check.
3. Dive into your ad groups
Ad groups are a way of organizing your target keywords so that you're able to attract clicks from the right audience. Without correct keyword targeting, it's nearly impossible to reach the right people with your ads.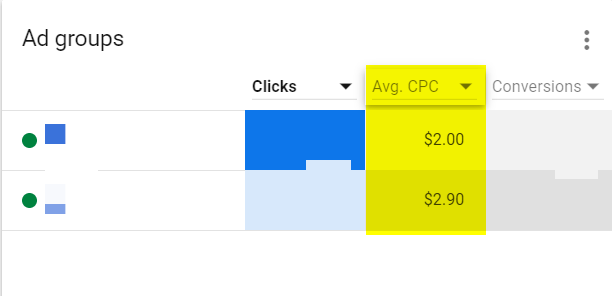 Here are a few things to consider when you audit your ad groups:
Don't just focus on keywords, focus on the intent of your ads. When it comes to your ad groups, it's essential to have an organized group of keywords. However, you shouldn't just target keywords for the sake of targeting them. Always pay attention to user intent, and what they're really trying to accomplish when they search for the keyword you're targeting.
Take a second look at your cost-per-click(CPC). To ensure that your budget stays intact, consider your maximum CPC for each of your groups. Are you spending an astronomical amount on bids that won't benefit your campaign? If so, you might want to scale it back or up depending on the keyword.
Look closely at your budget. Similar to taking a second look at your max CPC, you'll also want to look at where the bulk of your budget goes, and if it's the correct place to invest. For example, if an ad group isn't performing, even after you've increased your budget for it, you might want to scale back. Double check your budget for effectiveness.
4. Don't forget about your ads!
The appearance and content of your ads have a lot to do with whether someone clicks on them. Far too often, ads are left out to dry without being tested or tweaked. This is one way to lose money without even trying.
You should A/B test your PPC ads, which means you'll test version A against version B. For each test, you'll only tweak one element to ensure that the results are conclusive.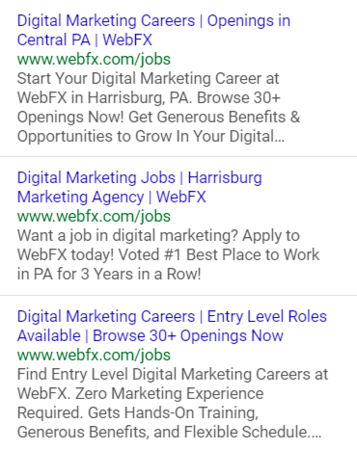 For example, you wouldn't want to change the appearance and the content of an ad because if it ends up performing great, you won't know if it's due to the updated look or updated content.
As you A/B test your ads, consider testing for these things:
Different ad variations
Different appearances
Different wording
Different calls-to-action
After testing these areas, you'll essentially be able to create the perfect ad since you know what works best in terms of appearance, wording, and CTAs.
5. Study and test your landing pages
Landing pages can make or break a sale, and you don't want it to be the latter. You should audit your landing pages to determine if they're driving sales. If they're not, you may need to update them.
Landing pages are where a user ends up when they click one of your ads. You should consider including these elements in your landing pages:
Product picture that was featured on your ad
Product information (e.g. material and dimensions)
Product care instructions
Product size variations
Product price
Product reviews from other customers
If something's missing, you can use this opportunity to increase your conversions. Depending on the product or service, not all these elements will be applicable, but this is a great basic outline to follow when auditing your landing pages.
6. Create an action plan
After following steps one through five, it's time to compile a complete audit along with an action plan.
Organize the notes you took about each area of your PPC campaign into a list of action items. From there, you can break out your action items into priority levels so you'll know exactly what to work on first, and what you can save for last.
Then, you can put together a plan of how you'll tackle each update, and before you know it, your campaign will be more successful than ever!
The goal of your audit is to scrutinize your campaign, so if you end up with a list of many action items, you performed the PPC audit correctly! Just remember that whether your campaign is successful or could use some help, there are always things to improve. A long list of action items is never a bad thing!
Looking for top-of-the-line PPC audit services?
If you feel overwhelmed at the thought of performing a PPC audit for your campaign, don't worry — WebFX is a full-service digital marketing agency that offers FREE PPC auditing services to help businesses like you succeed with PPC.
We've been in business for over a decade and have helped hundreds of companies just like yours succeed with PPC. Currently, over 650 clients trust us with their PPC campaigns, and we can't wait to help you, too!
Since we're a full-service agency, we also offer the following services that pair perfectly with PPC:
If you want to work with an agency that takes pride in helping your company reach your goals, WebFX has a team of PPC experts that is here for you.
Feel free to fill out a free quote form for your FREE PPC audit! You can also contact us online, or give us a call at 888-601-5359 to talk about your existing campaign, or to implement one from the ground up!
We can't wait to work with you!
Earn a 20% greater ROI with WebFX