SEO is an important component of your company's online success, because it determines your site's visibility. It can be utilized as a tool to attract more traffic from search engine results, and as a result, generate more sales and revenue.
If a potential customer searches for one of your products in a search engine like Google, you want to make sure that your site ranks well for the keywords they use. According to Search Engine Journal, 75% of users never scroll past the first page of search results – so if you want potential customers to find you, it's necessary to put the time and effort into optimizing your site.
SEO can be challenging for ecommerce, but there are a few strategies you can use to improve your rankings and become visible to potential customers. Call 888-601-5359 to speak with a strategist, or keep reading for ten ecommerce SEO strategies you can implement on your site today.
LEARN ABOUT THE LATEST ECOMMERCE SEO TRENDS
1. Create unique product descriptions
It's important to write original product descriptions for each item on your site. Duplicate descriptions may cause your rankings to drop, so it's worth your time to write unique descriptions for every product page.
Use colorful, energetic words to describe your products, in an aim to illustrate the specific qualities of each one. For example, you might think that hand soap is a relatively straightforward product – but this description from Dr. Bronner's does a great job of giving potential customers a clear idea of exactly what to expect.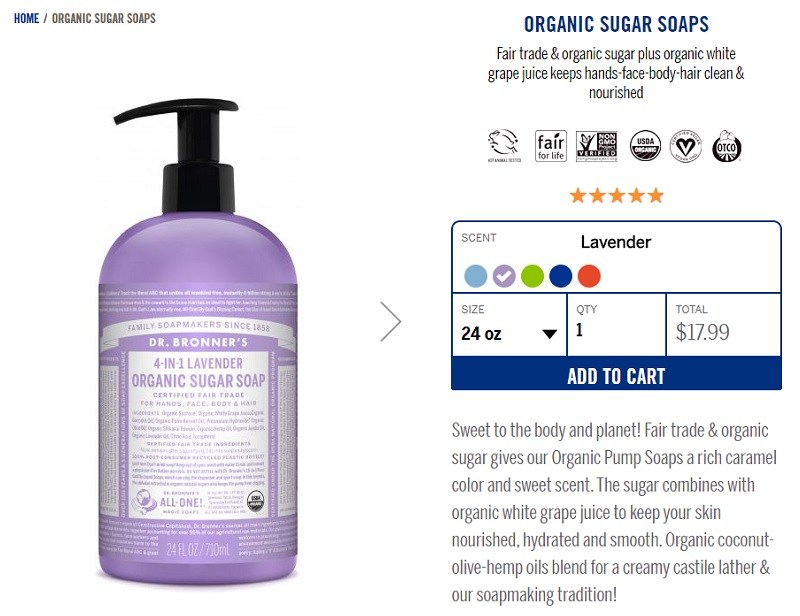 The more unique your product descriptions, the more likely you'll be to reach search engine users looking for exactly what you have to offer.
2. Optimize your meta descriptions
Your presence in search results is typically limited to your title tag and meta description, so it's important that these stand out from other results on the page.
The goal of a meta description is to get users to click through to your site – but you only have 160 characters to tell them why. A good meta description should make searchers want to learn more, and show them that your product is the one they want.
LEARN ABOUT THE LATEST ECOMMERCE SEO TRENDS
3. Use SEO-friendly URLs
Your URLs should match the products on each page, so it's important to include descriptive keywords that reflect what a user will find on it. It's also best to use hyphens to separate words in your URL.
That being said, it's also important to note that you should only include keywords in your URL if they're actually relevant to the content on the page. Including unnecessary words and phrases – with the goal of ranking for those keywords in search results – can harm your SEO and have the opposite effect.
4. Build a strong internal linking structure
Internal links connect the pages on your site to one another. This is essential for SEO, because search engine crawlers use these links to find and index – and rank – a new page son your site.
You can use Moz's Open Site Explorer to see where your site's links stand, and where improvements need to be made. Linking between pages whenever possible also makes for a much easier navigation experience for users.
5. Publish original content
Creating content like blog posts and informative articles will also increase your search engine visibility. When users search for information, and not specific products, these are the pages that will typically rank in results.
Write informative pieces and how-to guides that are relevant to your products and industry. Although there is no minimum word count for content, keep in mind that the more valuable information you provide, the better.
For example, say you sell cosmetics. You can attract potential customers and keep current customers coming back by creating and sharing helpful content like make-up tutorials and beauty advice articles.
No matter what, it's most important that your content is well-written and useful. Poor-quality content will not rank well and can cause you to lose credibility with your audience, so spend time creating content that's unique, informative, and interesting.
In short, great content will help Google and other search engines find your site, attract new visitors, and engage your customers.
6. Include reviews
Allowing a space for customers to leave product reviews is a great way to not only add more content to your site, but also help build trust with potential customers. Shoppers tend to trust customer reviews more than company product descriptions, and many of them also like to see that you give customers the opportunity to communicate opinions about any issues with your products.
Encourage customers to leave feedback by making it easy for them to do so on your site. Use a rating and review plugin so that each product page displays customer comments, or have a link on your site to a community forum.
As an added bonus, many reviews are loaded with keywords, which will help with SEO.
7. Improve your site speed
Nothing can lose a potential customer quicker than a slow-loading product page. According to Kissmetrics, 40% of people abandon a website that takes more than 3 seconds to load.
That's not a lot of time to grab a potential customer's attention – so you need your site to load as quickly as possible. One way to improve speed is to optimize your images, as oversized images take longer to load. You can do this by resizing large images and using tools like Kraken to compress them.
8. Use straightforward navigation
Along with optimizing your site's speed, make sure your site is easy to navigate and user-friendly. Users should be able to easily search and find products that they are interested in, and they shouldn't have to waste time sorting through complicated menus.
Ideally, your customers should be able to find the products they want within two clicks. The less time and energy they spend searching for specific products, the less likely they are to get frustrated and leave your site for a competitor's.
BONUS READING: ENTERPRISE ECOMMERCE PLATFORMS
9. Use responsive design
Many people shop on their smartphones, tablets, and other devices, so your site needs to be accessible on all of their browsers and screen sizes. If this isn't yet the case for your site, you should make it a priority to fix as soon as possible.
According to OuterBox, 80% percent of consumers use smartphones to look up product reviews, compare prices, or look up information while inside a physical store. And considering the increasing use of smartphones, you can see how important it is to cater to this audience.
The best way to do this is with responsive design. Responsive sites adapt to all browsers and screen sizes, and provide the same user experience regardless of device. This means that no matter how your potential customers access your site, they'll be able to learn about your products and make a purchase quickly and easily.
Curious about how much ecommerce website designs cost? We can help.
10. Regularly test and improve
Even after you've optimized your ecommerce site, you should regularly test your site for errors. There are plenty of online resources to help you test your site's usability.
For example, dead link checker is a free resource that tests your site for broken links. Using tools like this to monitor your site's performance will help you identify and fix any issues that may be preventing your potential customers from making purchases, and can improve your sales and revenue over time.
BONUS CONTENT: 130+ USEFUL ECOMMERCE STATS FOR 2024
Ready to reach more customers with SEO?
SEO is essential for ecommerce success, and can help you attract the traffic and sales you want. And at WebFX, we have years of experience helping our ecommerce clients reach and convert more customers.
Contact us today to speak with a strategist and get a free quote!
How Is Your Website's SEO?
Use our free tool to get your score calculated in under 60 seconds.