Real estate is one of the most competitive industries in the world — and one of the most profitable.
Regardless of your area, you probably have a variety of competitors ranging from nationwide companies to local self-starters.
If you want to keep your business running, you have to figure out a way to stand out against your competition. Fortunately, pay-per-click advertising (PPC) is designed for that exact purpose.
This page lays out how PPC works and how you can use it for your company. Read on to determine the best ways for you (and your partner realtors) to reach new clients on search engines and social networks!
Traffic attracted through PPC advertising yields 50% more conversions than organic advertising.
Are you leveraging PPC in your marketing efforts? Let's get started.
View the Guide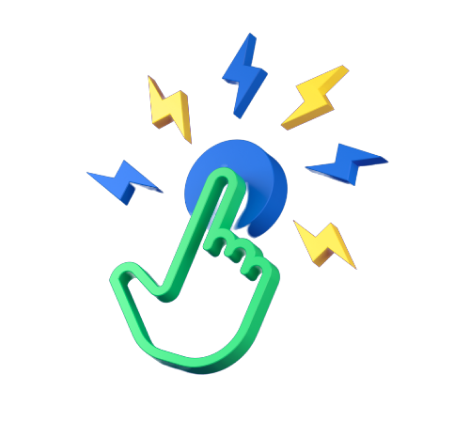 Step #1: Finding your PPC outlet
A lot of different companies offer PPC solutions for realtors.
The most popular is Google, which runs on a system called Google Ads.
In Google Ads, you research different keywords that you'd like to target. These targets usually reflect some part of your customer demographic, so you can effectively reach more potential customers.
One valuable keyword for your real estate company may be "houses for sale in [your city]" or "real estate consultants in [your city]." That way, when someone types those phrases into Google, they'll see your company in the ads, click on it, and go to your site.
On Google, your ads display at the very top or to the right side of search results. That means that in addition to the regular or "organic" listings, people also have the option of visiting your site.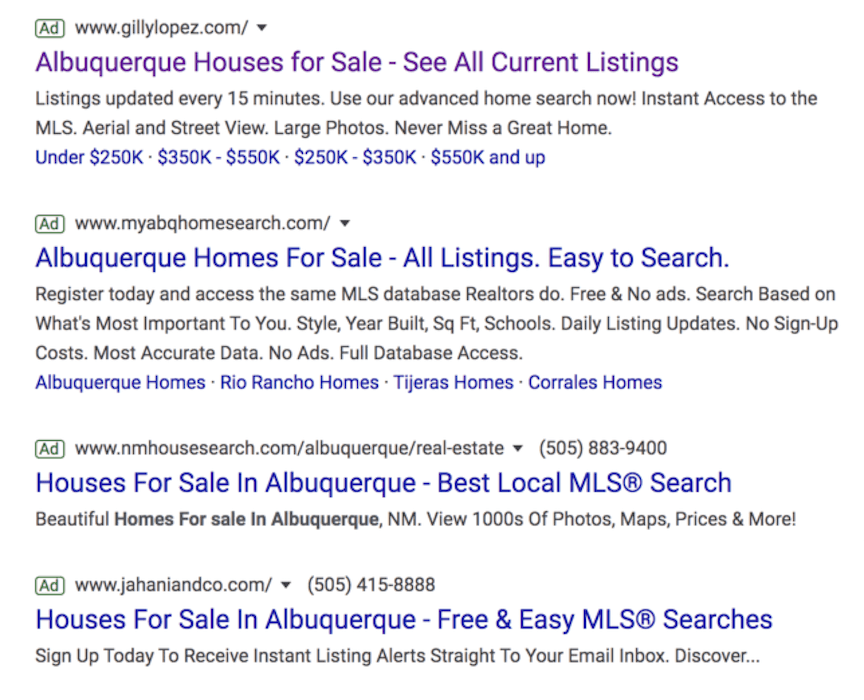 You compete against other companies in Google Ads by selecting a "bid" price for each keyword. Then, when a Google user searches your keyword, Google looks at who bids the most. The company offering the most money for that keyword is usually the ad at the top of the page, followed by the second-highest, third-highest, and so on.
However, you don't pay for your ad unless someone clicks on it, and Google will never charge you more than your pre-set budget.
That means, if you don't have a lot of money to spend on marketing, PPC is a great way to stay within your budget.
You also have Bing Ads, which operates very similarly to Google Ads.
There's also Facebook and Twitter, two social networks that use PPC ads frequently.
Facebook's ads operate based on interests and demographics of its users. In other words, you can choose who sees your ad based on what they liked on Facebook and the personal information they share.
So if you're trying to appeal to people looking to buy their first homes, you could take out an ad that targets men and women between the ages of 18-34 who live in your area and indicate that they want to buy.
You set a budget for Facebook ads, and they'll never charge you more than the maximum limit you set. Unlike Ads, Facebook bills you monthly.
Twitter operates similarly to Ads, and it lets you use search terms and other valuable information to target your potential buyers.

Hear What It's Like to Work With WebFX!

"We were referred to WebFX and have been wowed with their company culture, professionalism and attention to our business needs. It has been a great few months working with them and we look forward to continuing our relationship with them and enhancing our seo!"
Real Estate Agency
Step #2. Creating your ad format
When you're advertising real estate through a PPC system, you have to adhere to the rules set up by your PPC outlet.
All of the above PPC systems have specific rules about profanity and off-limit topics like alcohol and gambling. Make sure you know what you can and can't do before you make your first ad.
On Google, your ad can only be text. You have a little space to make a headline, a little more to write a description, and then you're done. It's not much, but Google Ads drives a lot of qualified traffic to your site when you use it correctly.
On Bing, you can write a headline, add a description, and link to different pages on your site (if applicable).
On Facebook, you can create text, image, or video ads, all of which have different rules and styles that you have to know.
On Twitter, you can use text or "card" ads.
Now that you know the basics about PPC providers and their formatting, you need one final key element to bring everything together.
Step #3. Creating your landing page
Now that you have a provider and ad chosen, you need to create a landing page on your real estate website.
A landing page is a location on your site that is designed to appeal to people who have clicked a specific ad. The best way to do this is to create a different page for each ad, so you can copy and calls to action that directly relate to the ad they clicked.
In terms of content, a landing page should have several hundred words of text that discuss the topic of your ad in-depth. It can include images, video, or interactive elements, if you'd like.
But the end goal is always the same: Turning a new visitor to your site into a sales lead.
You can do that by adding a call to action (CTA) to the bottom of each landing page that encourages the reader to take some kind of action.
That action could be signing up for your email newsletter, contacting you about a specific property, or even calling your office to set up a consultation.
Basically, your landing page should tell new visitors exactly what they can do to become your customer.
Step #4. Bringing it all together
Now that you have a provider, an ad, and a landing page, you can bring them all together to create a great user experience.
Place your ad on your provider's site and link it to your landing page. Then, use the built-in tracking tools (each provider has them) to see how your ad performs.
Over time, you can make tweaks to your ads and landing pages to increase clicks or conversions. When you do that, you increase the value of your ad even more and boost your ROI.
With all of this at your disposal, you can easily use PPC ads as a realtor to get a cut above your competition and attract more customers.
WebFX has a full team of PPC experts
If you're tied up working with other marketing initiatives, WebFX is here to help your real estate office with its PPC needs! We have an experienced team of PPC marketers who know each provider and ad format inside and out. Their expertise has achieved an excellent value for our clients in the past, and we'll do the same for you!
Contact us today to create a PPC strategy specific to your real estate company!
Earn a 20% greater ROI with WebFX