Are you looking for higher education marketing strategies to help increase applications and enrollment rates? If so, you've come to the right place!
We've got six proven tactics to help you increase applications and get more students to choose your higher education institution!
Keep reading to learn more about higher education marketing strategies and give us a ring at 888-601-5359 (or contact us online) to see how our award-winning team can create a custom digital marketing package for your organization!
1. Build your social media presence to connect with students
One of the most critical marketing strategies for higher education is social media. As a higher education institution, your primary target market is teenagers looking to go to college. Considering 70% of teens use social media more than once a day, you need to be on these platforms to reach them.
Social media marketing enables you to build a social media presence so prospects can connect with you and learn more about your school.
To get started with this digital marketing strategy for higher education, you need to choose your platforms. You'll want to pick platforms where your prospective students spend most of their online time.
Some platforms include:
You can choose one platform or multiple platforms to reach your prospects. It may require doing a little research to see which platforms your prospects engage with the most.
It's important to note that if you're targeting multiple types of students, you may need to invest in different platforms to reach those different markets.
For example, you may find that the teens you're targeting spend most of their time on Instagram and Twitter. On the other hand, the prospects you target for continuing education and grad programs are mostly on Facebook and LinkedIn.
So, you would need to build a presence on all four platforms to reach different prospects.
Once you establish your social media networks, you can start posting content to garner interest from your prospects. You have numerous opportunities to engage potential students and help them get a glimpse into your university.
A few ideas include:
Share information about your top-performing programs
Talk about special on-campus events as they happen
Share information about financial aid and funding education
Create a virtual tour of your campus that social followers can watch
And more
Overall, social media marketing is a critical component of your higher education marketing plan because it lets you build connections with prospects.
Extra credit: Go above and beyond with your social media strategy by investing in social media advertising. Social media advertising will allow you to reach prospects that haven't discovered your institution yet by placing an ad in their social feed. It's one of the best university marketing strategies for building brand awareness and garnering new applicants.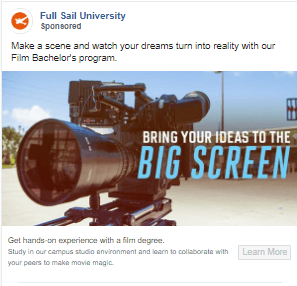 Hear What It's Like to Work With WebFX!

"Our account manager is professional, skilled, and wonderful to work with. She takes the time to get us up to speed on best practices and adjustments she recommends so that we can get the most out of our monthly investment."
University
2. Create personalized email campaigns to draw interest in your institution
When it comes to higher education marketing strategies, you need to make your institution stand out from other colleges and universities. These institutions target similar prospects to your higher ed establishment, so you're going to have to edge out the competition with every tool you can use.
Personalized email campaigns are what you need to edge out your competitors.
With personalized email campaigns, you tailor your information to prospective students' interests.
Let's say you have a prospective student, Leslie, who's interested in your nursing program. You have another prospective student, Rita, that wants to study chemistry.
Imagine that you send a generic email to both prospects that shares details about how excellent your university is, how many programs you offer, and more. While it's a great way to inform these prospects about your school, it isn't going to get them excited about your university.
Now, let's see what happens when you add personalization into the mix:
Leslie receives an email about your institution's nursing program. It details fieldwork opportunities, nursing class sizes, and specialized equipment students get to use during their education.
Rita receives an email that shares details about your state-of-the-art labs and lab equipment, intern opportunities with big-name companies, and information about careers former chemistry students ended up doing upon graduation.
Wow, now these emails get prospects excited!
These personalized email examples are tailored to the student's unique interests and give compelling reasons to choose your program. It gets them more interested in your higher education institution because they can see what they'll get from choosing your school.
Email marketing is one of the best college marketing strategies that you don't want to neglect. It provides you with an excellent opportunity to show prospects how your institution fits best with their interests and learning goals.
Extra credit: Add a prospect's name to your emails! It's a small touch of personalization, but it can really make students feel important and give them the impression that you care about delivering them the best educational opportunities.
3. Create helpful content to help students feel more informed
Finding and applying to colleges is a scary and stressful process, especially for first-generation college students. You can make the process less stressful for students by using content marketing as one of your higher education marketing strategies.
With content marketing, you share your knowledge about college with prospects.
You can share this content in the format of:
Videos
Ebooks
Podcasts
And more
When you create content, you provide valuable information to your prospects. You establish yourself as a knowledgeable authority and build trust in prospective students.
If you create content, you can cover numerous topics, including:
How to manage finances while in college
How to apply for financial aid
Tips and tricks for choosing the right college
How to set up a college tour and what to look for on college tours
How to choose a major that fits you
And more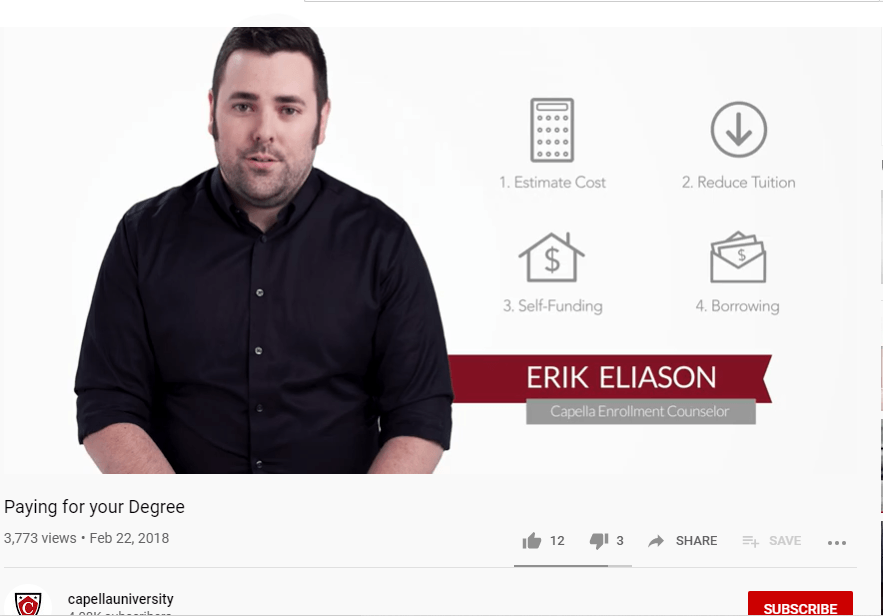 This type of information is immensely valuable to prospective students. By providing the information and answers to these topics, people will take an interest in your institution and see what you have to offer them.
If you want to see success with your higher education marketing plan, make sure you include content marketing as one of your university's marketing strategies. This tactic will enable you to share valuable knowledge with prospects and get them one step closer to becoming a student.
Extra credit: Use a variety of content formats to keep prospects interested and engaged. Don't just stick to blogs or videos. Making a variety of content will help you reach more people and keep your content exciting and fresh!
4. Share videos of alumni testimonials to give prospects insights
Video marketing is one of the best digital marketing strategies for higher education. This strategy catches your prospects' attention and gets them to engage. People are ten times more likely to engage with video than text, so you don't want to ignore this strategy.
Videos of alumni testimonials are a great way to show prospects what it's like to attend your higher education institution. You can get testimonials from alumni of different programs, which will allow you to personalize the videos and send them to prospective students.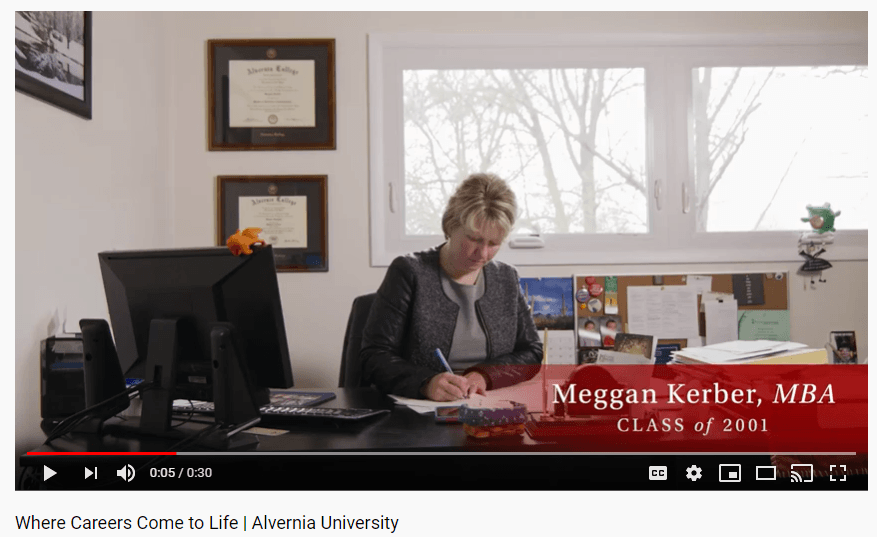 For example, if you did an alumni video with a student who was in your nursing program, it would be a great piece of marketing material to send Leslie, the student we talked about previously.
This information helps prospective students get insight into the program and see how others liked it. If you want to help build a positive impression of your institution, use alumni testimonial videos as one of your higher education marketing strategies.
Extra credit: Share your testimonial videos on social media! Whether it's an organic post or through an ad, these videos can help boost engagement and interest in your higher education institution.
5. Create a web design that's unique to your institution to help you stand out
When you're competing with other higher education institutions, you need to stand out from your competition. One of the best digital marketing strategies for higher education that enables you to stand out is web design.
As prospects look at their options for higher education, they're going to turn to your website as a primary source of information. If you have a lackluster or outdated design, you risk losing these prospects immediately.
Since 94% of people base first impressions on web design, you need to invest in building a beautiful web design that 'wows' prospects and gets them interested in learning more about your institution.
If you want to stand out from the competition, invest in a custom web design.
A custom website allows you to create a design unique to your college or university. You can implement your institution's unique colors, style, and visual imagery to give a complete visual experience of your school.
By creating a custom design for your organization, you'll help your institution stand out from your competition and provide a unique experience for prospects.
Extra credit: Create a style guide to ensure that all your pages fit with your new design. A style guide allows you to establish your company's colors, typography, and more. That way, regardless of who works on your site, your pages will all look consistent.
6. Use pay-per-click (PPC) ads to reach highly interested students
If you're looking to increase applications at your institution, pay-per-click (PPC) advertising is the higher education marketing strategy you want to add to your list. These paid ads appear at the top of search results, so they have the power to drive more qualified prospects.
PPC ads present an excellent opportunity for you to reach prospects who are searching for specific programs or interests. Since PPC ads get triggered by keywords, you need to target keywords that prospects search to find higher ed institutions.
For example, let's go back to Leslie, the prospect interested in nursing. She's not sure where she wants to go, so she searches "nursing programs in New York City."

When conducting this search, she immediately sees listings at the top for nursing schools. These are ads, but since they're at the top of the search results, Leslie is more likely to click on them because she believes they fit her search query.
Since these ads appear at the top, your university has a better chance of taking prospects from your competition. It's an excellent way for you to reach potential students that are making highly specific searches, like "nursing programs in New York City," and drive them to your institution.
Extra credit: Adding ad extensions to your ad can take your PPC listings to the next level. These extensions allow you to add additional information, like links to specific pages and your address, to give prospects more valuable information and drive them to visit your website.
Invest in higher education marketing strategies to reach prospective students today
Higher education marketing strategies are the key to driving prospects to your college or university and turning them into students. With these strategies, you'll reach more prospects and help them get to know your institution.
Unsure how to go about marketing your institution? Let WebFX handle your marketing strategy for you!
We have a team of over 200 experts that know the ins and outs of digital marketing. We've driven over 4.6 million leads for our clients in the past five years. You can count on our higher education marketing agency to help you invest in the right marketing strategies for higher education to drive enrollment.
Give us a call at 888-601-5359 (or contact us online) to see how we can help you enroll more students at your institution!