On this page, we'll provide you with five helpful tips for getting started with SEO. To learn more about how SEO will help you grow your business, contact us online or call us today at 888-601-5359 to speak with a strategist about our SEO plans.
Independent research from Clutch has named WebFX the
top SEO company

in the United States.

Clutch has personally interviewed more than 250 WebFX clients to discuss their experience partnering with us.

Read More Clutch Reviews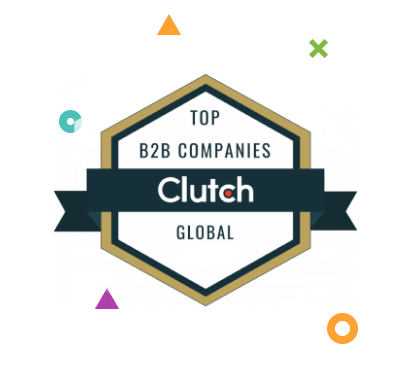 1. Target relevant keywords and integrate them into your site
Keyword selection plays an essential role in optimizing your site with SEO. Users search for different keywords and phrases to help them find relevant content, and if you want your building material supply company to appear in front of interested leads, you must optimize for relevant keywords.
The first step to targeting relevant keywords is finding them. You must conduct keyword research to help you find the right key terms for your listing. Keyword research will help you discover pertinent terms that drive leads to your page.

As you conduct keyword research, focus on long-tail keywords. Long-tail keywords contain three or more words, like "building material suppliers in Harrisburg, PA." These key phrases work better for your campaign because they're more specific, which drives more interested leads for your business.
Once you have your keywords selected, you'll integrate them into your site. Keyword integration helps you appear in relevant results. You'll want to incorporate keywords into different places, such as:
Your title tag
Your meta description
Throughout your page
In your headings on your pages
Placing your keywords in these areas will help you rank for them. As you integrate keywords, be sure not to use them too often. Overusing keywords can lead to keyword stuffing, which negatively impacts your ranking.
You'll want to use your keywords where they fit and flow naturally. It will help you create pages that effectively rank for key terms.

Hear What It's Like to Work With WebFX!

"The sophistication and professionalism of the team at WebFX, and the agency itself with their proprietary tools and platform, is hands down the best I've ever experienced. Highly recommend."
Building Manufacturer
2. Create content to help your audience become knowledgeable
Content creation is a valuable part of SEO. If you want to drive traffic to your site, content will help you do it. With content creation, you'll provide your audience with valuable information they seek.

To start creating content, use keyword research to help you decide on topics that are most important to your industry.
Once you determine content topics that are the highest value to your business, you'll choose your content format. You'll want to use a variety of formats of content to ensure you're keeping it fresh and exciting for your audience. Content formats include:
Podcasts
Guides
Ebooks
After you choose your format, you'll start creating your content. You want to ensure that you're providing your audience with all the information they need on the topic you choose.
When you create long-form content (content that is more than 2000 words), users spend more time on your page — sending a positive signal to Google that your site is useful and has relevant information for your audience.
As a result, your page is more likely to rank higher because you provide your audience with valuable and helpful information. It's a great way to help you improve your SEO for your building material supply company.
3. Match user search intent to drive more traffic to your page
As you create content and spruce up pages on your site, you must match user search intent. When users search, they want to find information that's relevant to their search query. If you not only want to increase traffic to your website but increase the number of conversions, creating content that matches search intent is crucial.
So, how do you discover the search intent of users?
Input the keyword you want to rank for into Google and check out the current search results. Take note of what kinds of content ranks, how the content is formatted, and what information is given.
By combing through these top-ranking sites, you'll be able to use competitors as a guide to help you shape your content. This process works great whether you're deciding how to format your homepage or creating a blog post.
When you match user search intent, you drive more leads to your site. You'll increase traffic on your page which will help you improve your rankings in the search results.
Keep in mind that you never want to copy your competitors' content, though!
4. Optimize your site to provide a positive user experience
Google wants to promote sites that offer a positive user experience for its audience. If you're going to do SEO for construction right, optimize your website for the user experience.
Let's take a look at a few SEO best practices that will help you improve user experience.

Optimize your page speed
Users hate to wait for slow-loading pages, and if your site takes too long to load, your audience will lose interest. Matter of fact, users expect your website to load within two seconds.
If your site loads too slowly, you risk users bouncing from your website. A high bounce rate tells Google that your site isn't relevant or helpful to users, which can potentially diminish your ranking.
To optimize your page speed, you need to analyze your site's current load time. Google PageSpeed Insights provides you with all the valuable information you need about your site's load time.
With this free tool, you can see where you need to optimize your site to improve its load time. This insight helps you improve page speed, so leads remain on your site longer.
If you don't have experience optimizing your site to improve page load time, our team of over 200 experts will help you improve your site's load time with our page speed services. Call us today at 888-601-5359 to speak with a strategist about enhancing your site's page speed.
Create easy-to-use navigation
If you want users to find content on your site, you need to make it easy for them to peruse on your page. When you design your navigation, choose one that's simple and easy for your audience to use. You want to keep your navigation organized, so your audience can find information fast.
Use broad categories, so you can put related subcategories beneath them. You can have a general category like "Products" with subcategories for each building material product type you offer. This process will help you keep your site organized for your audience, so they can find information quickly.
Add visual elements to break up the text
Visuals are an essential part of the user experience. If a user visits your site and sees walls of text, they will lose interest or feel discouraged by the overwhelming amount of information. You must add visual elements to your site to help create points of interest and break up text on your site.
You can use videos and photos to help make your site more visually appealing. While you can use stock images, it's highly recommended you use authentic pictures of your business. You can use photos of your staff, products, and company as visual elements for your page.
Visuals are great for giving your audience insight into your company and providing relief on your pages. It will keep them more interested and engaged on your site.
5. Optimize for local SEO
One of the essential SEO tips for building material suppliers is to invest in local SEO. If you serve customers in your area, you want them to find you when they search for local building material suppliers. By optimizing for local SEO, you'll help drive these local leads to your business.
To start optimizing for local SEO, claim your Google Business Profile listing. When users conduct a local search, it generates a box with three local listings. This listing is known as the local SEO 3-pack.
Users will use the local SEO 3-pack to find local businesses that fit their search query. If you want these leads to find your business, you must claim your Google Business Profile listing.
Once you claim your listing, you'll fill it out completely. Verify your business name and location are correct. Add your contact information and current hours of operation so that leads can get in touch with you.
After you add the core information to your listing, you can start adding additional information. You can add a short description of what your business does, photos to showcase your products and company, and more. You have an excellent opportunity to share helpful information with your audience to get them to click on your listing.
By claiming your Google My Business listing, you'll drive more local leads for your building material supply company. It's an excellent opportunity for you to drive more local leads through SEO.
Our digital marketing campaigns impact the metrics that improve your bottom line.
See More Results

WebFX has driven the following results for clients:

$3 billion
In client revenue

7.8 million
Leads for our clients

5.2 million
Client phone calls
Start implementing SEO for building material suppliers today
By looking at all the SEO tips for building material suppliers, you'll be fast on your way to creating a successful campaign. When you strategize your SEO campaign correctly, you'll drive better traffic and more interested leads for your company.
If you feel overwhelmed by the task of implementing these strategies to improve your SEO campaign, our team of SEO experts will help you get started. In the past five years, we've driven over $3 billion in sales and over 7.8 million leads for our clients. You can count on us to help you create an SEO campaign that drives better results for your building material supply company.
Ready to see how we can help your business grow online? Contact us online or call us today at 888-601-5359 to speak with a strategist about our custom SEO campaigns.
Earn a 20% greater ROI with WebFX