When people choose a funeral home, it's not a decision they tend to make lightly. Delivering a final goodbye to your loved ones is no small thing. Everyone will want to find a funeral home that can do their friends or relatives justice.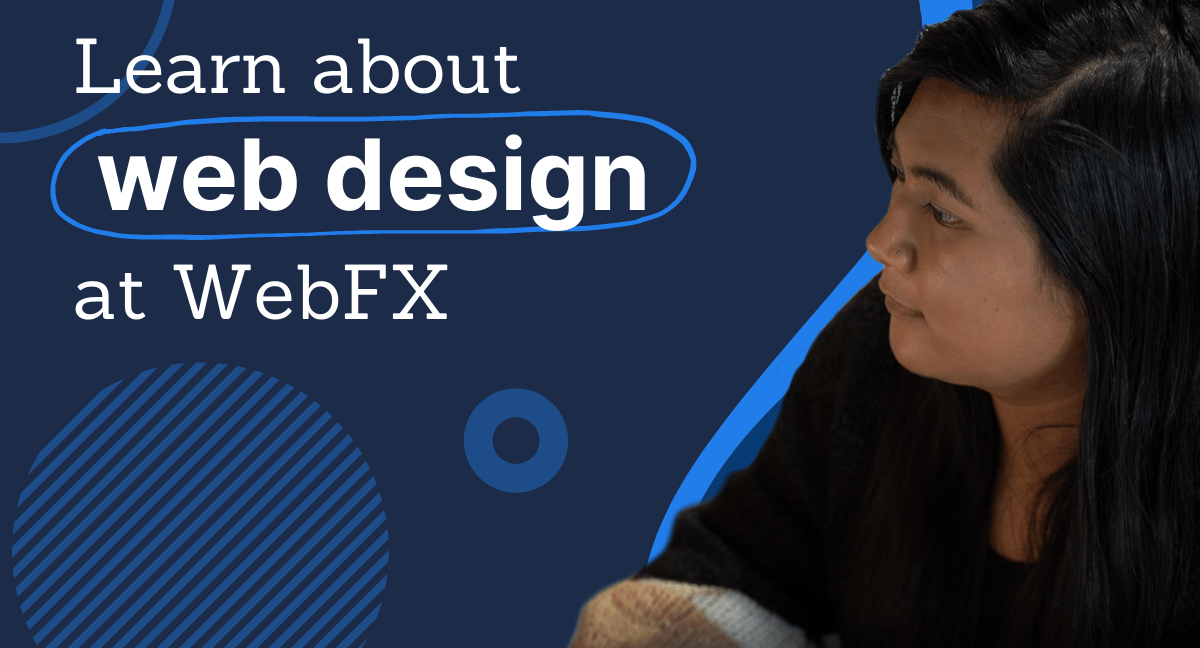 To convince people that your funeral home is the one for them, you have to have a high-quality marketing campaign, and that starts with good web design. Everyone who works with you will end up on your website at some point or another, so it needs to impress.
But how can you get the most out of web design for funeral homes? If you're not sure how best to optimize your website, you can partner with WebFX, the web design agency with over 1020 client testimonials.
Learn more about our website design services for funeral homes, as well as five definitive features of our web design services and how they can benefit your funeral home. Read on to learn more, and then call 888-601-5359 or contact us online to get started!
Explore funeral home website design services
With WebFX, you get access to a few different funeral home website design services:
All our web design services provide your funeral home's site with the following:
Custom design
HTTPS
Responsive (or mobile-friendly) design
Dedicated project manager, plus web design and web development team
Conversion rate optimization (CRO) best practices
You can learn more about our funeral home web design services by contacting us online or giving us a ring at 888-601-5359. Check out our portfolio and client testimonials, too, to learn more about partnering with our award-winning, U.S.-based team!

Hear What It's Like to Work With WebFX!

"WebFX did amazing work creating a new website for us on a tight schedule. They have taken the time to learn about our business and give us ideas of how to make our digital marketing better. We still have work to do with WebFX but overall very pleased."
Professional Service
5 definitive features of funeral home web design from WebFX
When you partner with WebFX, our funeral home website design services will provide your organization with a complete web design solution. Here are just five of the things our team of experts will offer your funeral home!
1. Navigation
One of the first features we'll provide for your website is good navigation. Website navigation refers to the components that guide visitors from one place to another on a site. Good navigation should clearly show the site's layout and make it easy to go from page to page.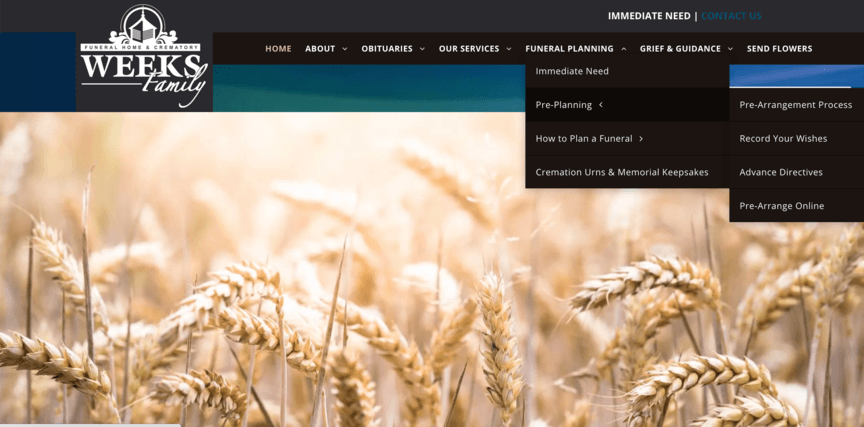 Navigation is crucial for a website because it's what enables users to find their way around it. If you don't do a good job of showing users how to find a specific page, it probably won't get much traffic. And if users can't figure out where anything is, they won't stay.
That's where WebFX comes in. We can design or redesign your entire website from scratch, and when we do, we'll factor in good navigation from the very start.
We can craft simple and efficient navigation bars to give your site a sense of structure. We can also use tools like breadcrumb navigation to show users where they are on your website at any given time.
With our funeral home web development, you'll never have to worry about visitors getting lost on your website.
2. Copywriting
Having web pages on your site won't do you much good unless there's actual content on those pages. That's why we offer a full array of copywriting services to help you convey whatever message you want to convey on each page.
At WebFX, we have a team of professional copywriters to craft all the textual content for your site. This content can accomplish a variety of purposes and can take a variety of formats.
On one page, you may want a series of small text blurbs to summarize the funeral services you offer. On another, you may want a full-length article about how the funeral process typically works. If you want a blog on your site, copywriting services will be beneficial to you.
Whatever content your website requires, WebFX has the dedication and resources to write it in a way that will keep visitors engaged and informed. In fact, we feature a team of more than 100 specialized writers.
3. Images and videos
Another of WebFX's best funeral home web development services is image and video optimization.
You don't want your entire site filled with text on a plain background — that won't prove very engaging to users. Keep people around by harnessing the power of multimedia, particularly with visual graphics like images and videos.
At WebFX, we know the importance of multimedia to web design for funeral homes. For that reason, we'll help you craft the perfect images and videos to use on your website.
Not only will we source these images and videos, but we'll optimize them to generate maximum traffic. For example, in the case of images, we'll compress them to keep your site from running too slowly. We'll also give them alt tags, so they'll rank higher on Google.
4. Responsive design
Responsive design is easily one of the most critical elements of funeral website design. It refers to the practice of having your website optimized for all devices, from smartphones to laptops. When you make a website, it's easy to forget that it might get viewed on other devices.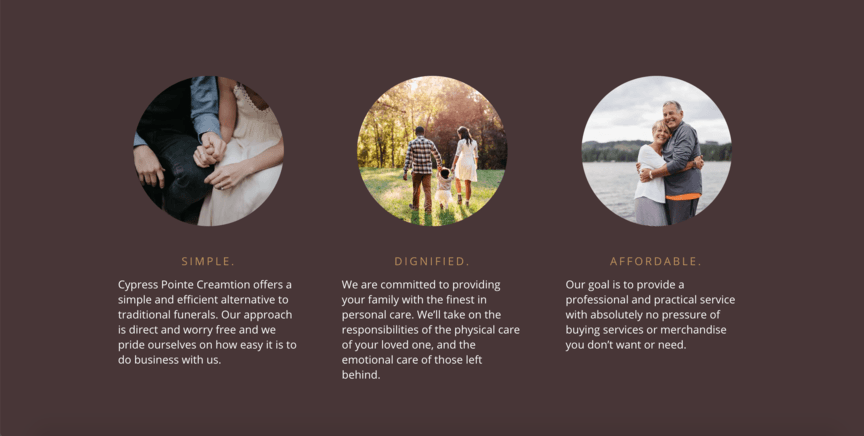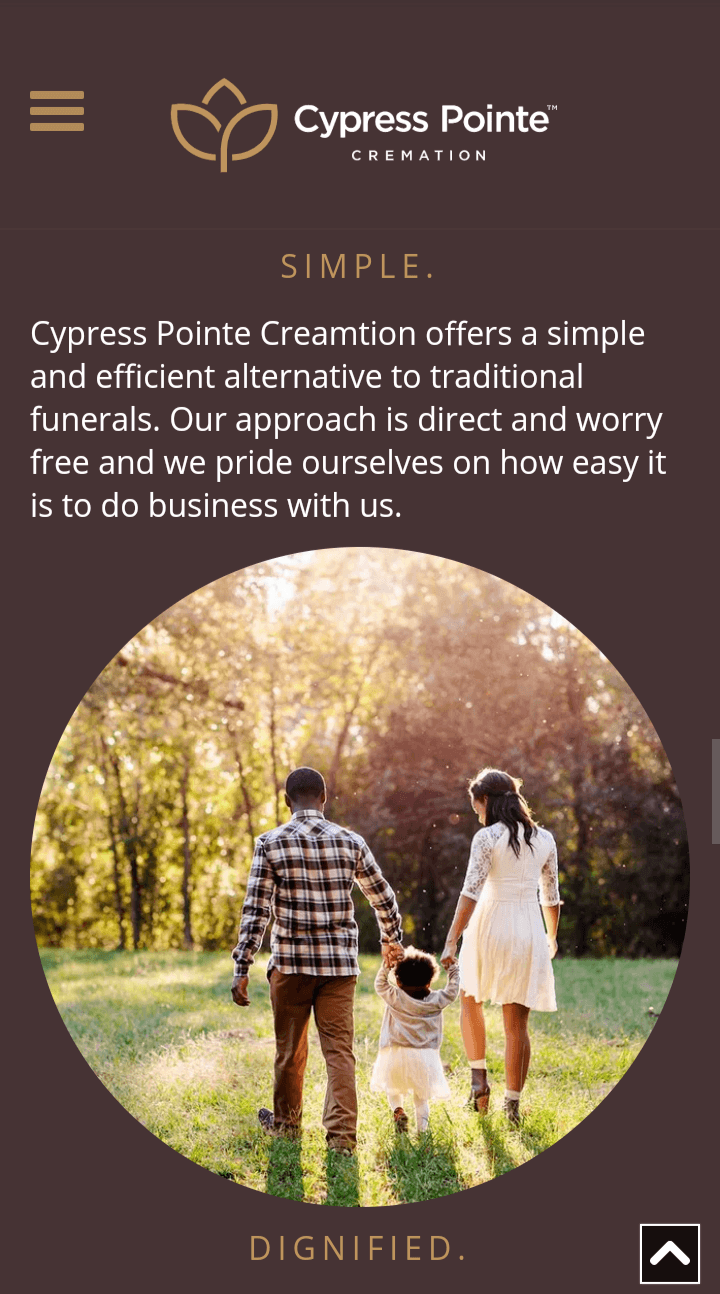 Fortunately, when you work with WebFX, this won't be an issue. We'll integrate responsive design seamlessly into the rest of your funeral home web design, ensuring that every page is perfectly optimized for both computers and phones.
There are two reasons this is so important to get right. The first is that if users visit your website on a phone and find that it isn't optimized for their device, they'll have a bad user experience and won't stick around.
The other reason, though, is that Google ranks sites based on their mobile-friendliness. That means that if your site doesn't practice responsive design, you have no shot at ranking in search results, so most users won't find you online.
That's why WebFX takes responsive design so seriously and why we'll be sure to implement it for your website, so you don't miss out on any traffic.
5. Page load speed
Page load speed has a massive impact on how much traffic your website receives. When pages on your site take a long time to load, many users will grow impatient and hit the back button. But when it loads quickly, you can keep people engaged.
Most users expect web pages to load within two seconds, meaning that's what your site should aim to hit. Generally, one or two seconds is good, while three is pushing it. Three seconds might not seem like a long time, but in the world of page load speeds, it's an eternity.
The great news is, WebFX can bring down your page load speeds when we optimize your funeral website design. We'll do this by using a combination of different methods, including the following:
Caching web pages
Minifying code
Limiting redirects
Compressing image
Even as we craft high-quality pages for your site, we'll ensure they don't slow down your load speeds.
We'll help you create a website that stands out.
"WebFX has been instrumental in helping us develop a new website, allowing us to be a leader in our industry."
Learn More About Our Web Design Services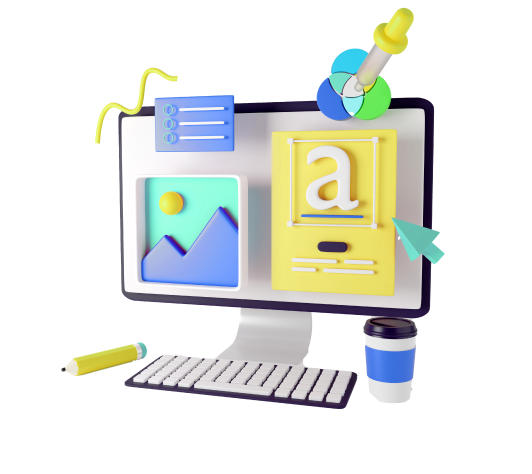 Optimize your funeral home web design with WebFX
Ready to get to work on your funeral home web development, but not sure where to start? WebFX has you covered! With over 25 years of experience in the digital marketing industry, we're the experts on web design for funeral homes.
When you partner with us, we'll help you optimize your website for every single one of the features listed above — and more! You'll also receive a dedicated account representative to keep you informed and involved with what we're doing every step of the way.
To get started with our web design services, just call us at 888-601-5359 or contact us online today!
Earn a 20% greater ROI with WebFX