Social media is one of the best tools for helping you connect with people interested in your funeral home. From inspirational quotes to information about your services to how to plan a funeral, you can share valuable information with your audience and build connections with them.
A social media strategy isn't as simple as posting content and hoping people engage with it. You need to create a comprehensive plan that helps you connect with your audience and build a relationship with them. This ultimately leads your audience to choose you when they need your services.
Keep reading to get seven tips on successfully implementing a social media strategy for your funeral home.
If you want to get started with your funeral home social media campaign, WebFX can help. With our team of over 500 marketing experts, we'll help you create engaging social media campaigns that help you build better connections with clients.
Give us a call at 888-601-5359 to learn more!
1. Figure out the right platforms to reach people who need your services
To get started with social media marketing for funeral homes, you need to find the right platforms to use. Not every platform is suitable for your business or will help you connect with the right prospects.
You can choose from numerous platforms, including:
To figure out which platforms work best, you need to consider your target audience. Your target audience is the group of people who are most likely to need your services. It's crucial to figure out where they spend their time so that you can connect with them on the appropriate platforms.
If you don't know your target audience, take some time to look at the people who use your services the most. Identify characteristics like age and gender in your audience.
When you know these characteristics, you know who's likely to need your service and can choose the platforms where these audiences spend their time.

Hear What It's Like to Work With WebFX!

"WebFX did amazing work creating a new website for us on a tight schedule. They have taken the time to learn about our business and give us ideas of how to make our digital marketing better. We still have work to do with WebFX but overall very pleased."
Professional Service
2. Use videos to get your audience engaged
When you create social media posts for funeral homes, videos are one of the best format options. Videos are an excellent way for you to connect with your audience and deliver valuable information to them.
Here are just a few stats that show the impact of using videos:
As you can see, video marketing has a profound impact on increasing dwell time, brand recognition, and conversions.
To get started with videos, you need to come up with topics. You can talk about any number of topics related to your industry. Here are a few ideas:
Create a video that talks about your services
Give a tour of your funeral home
Collect video testimonials from satisfied families who have used your home
When you create your videos, make sure they're informative and provide your audience with all the information they need.
As you create videos, you'll want to test different video lengths. Your audience may like shorter videos that are 30 seconds, or they may like videos that are 5 minutes. You'll want to test different video lengths to figure out what works best for your audience.
3. Post supportive messages to help build a positive brand image
Part of working at a funeral home is offering comfort to grieving families. You can take that notion of comfort and implement it into your social media posts.
You can share quotes about grief, healing, or offer inspiration to your audience. These quotes are a great way for you to show your audience how much you care. It will help your audience feel comfortable choosing your funeral home.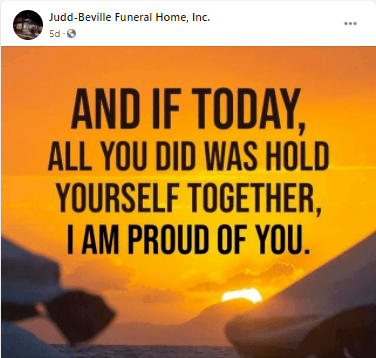 You can use a program like Canva to help you create quick and inspirational graphics to share on your profile.
4. Highlight positive feedback about your funeral home
When you do social media for funeral homes, you want to take time to share positive feedback about your funeral home. People rely on others' experiences and feedback to help them decide on the right funeral home, so sharing this feedback can make them feel confident in selecting yours.
When people share feedback about their experience, you can take that information and put it into a graphic to post on your social site. You can obtain feedback from reviews on your Facebook profile, Google profile, or posts people tag you in on social.
Highlighting this feedback can help you make people feel more confident about choosing your funeral home.
Here's an example graphic for how you can highlight feedback:
It's an easy and simple way for you to highlight what people love about your funeral home and build confidence in people who may need your services in the future.
5. Offer informational content to help inform your audience
When you create social media posts for funeral homes, consider posting content that's helpful for your audience. Many people are unfamiliar with how to plan a funeral or what they need to know to arrange one.
You can help your audience by sharing valuable content on those topics to help them feel informed. Create blog posts or videos that explain topics your audience might need information about, like:
How to choose between cremation and burial
Cost of an average funeral
Choosing open casket or closed casket
Helpful information about grief and grieving
This type of content is valuable to your audience, and you can help them feel more informed by providing this information. As a result, they'll feel confident that you're knowledgeable and can provide excellent care for them.
6. Engage with your audience to build brand trust
When you do social media marketing for funeral homes, a critical component of your social media success is engaging with your audience. Engaging with your audience enables you to build brand recognition and trust with your audience.
If someone comments on a post, comment back. Whether someone leaves excellent or bad comments, take time to respond appropriately.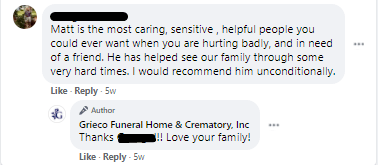 Engaging with your audience tells them that you're paying attention and listening and that you value their comments and feedback.
7. Use a social media scheduling tool to make posting easier
Social media posts for funeral homes are a core component of a successful strategy. You need to post often to ensure that your audience sees your content in their feed. When you post a lot of content, it can be hard to keep track of what you're posting.
That's why you want to use a social media scheduling tool, like Hootsuite or Buffer, to help you organize your social media content. With these tools, you can plan your social media content a month in advance and schedule it for the month.
Using a tool like this enables you to schedule your content once instead of taking time each day to post — making your social media strategy more efficient.
Additionally, you can see all of your content at once, which enables you to see if it's cohesive. It's also helpful for identifying gaps in your social media schedule where you should post content.
Good agencies have more than 50 testimonials.
Great agencies have more than 100 testimonials.
WebFX has over 1000+ glowing client testimonials.
See What Makes Us Stand out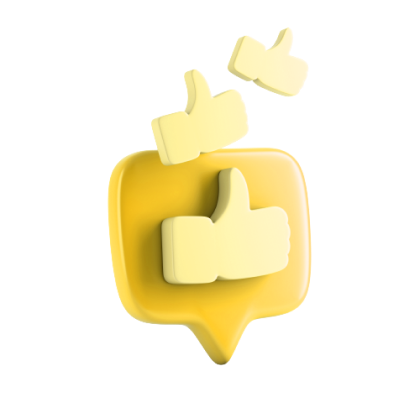 Social media for funeral homes: Partner with an expert like WebFX
Social media is a valuable tool for helping you connect with people who need your funeral services. It's an excellent opportunity for you to build brand familiarity and help people feel confident in choosing your services for their needs.
When you create a social media strategy, it can be a big undertaking, especially if you're busy helping grieving families. That's where WebFX can help.
We have over a decade of experience in creating social media campaigns that drive results. In the past five years, we've driven over $3 billion in sales and over 7.8 million leads for our clients. You can count on us to help your funeral home grow through social media.
Want to get started with social media for funeral homes? Give us a call at 888-601-5359 or contact us for a free quote to learn more about our social media marketing services!
Earn a 20% greater ROI with WebFX