As a radio station owner or marketer, it's up to you to expand the station's reach by drawing the attention of listeners and advertisers. Growing your audience expands your reach and shows advertisers that you have a valuable platform.
Before you can flood the phones with listener call-ins and ad placement requests, you'll need to garner leads. A lead is someone who has indicated an interest in a brand, service or product by interacting with marketing content.
For your radio station, a lead is any potential advertiser or listener who submitted an online contact form, followed your social media pages, signed a physical contact list, or connected with your marketing team. Leads become dedicated listeners or repeat advertisers, so generating them is crucial to success.
Read on to learn the ins and outs of lead generation for radio stations. If you need more assistance generating leads for your radio station, call WebFX at 888-601-5359 to build a strategy with our expert marketers.
37% of marketers say that generating high-quality leads was one of their biggest challenges.
We want to decrease that percentage.
WebFX can help you generate high-quality leads with a customized marketing strategy.
Learn More About Lead Generation Services
Lead generation in 6 steps
Lead generation is the process of focusing your marketing strategy by targeting these specific groups. However, 34% of salespeople think lead qualification and prospecting are the biggest challenges, so it's also often difficult for radio stations. Fortunately, there's hope — the right lead-generation tactics and tools can expand your station's listener base and garner ad revenue.
A successful lead-generation strategy consists of a few components — data on your ideal leads, content to reach those leads and keep them engaged, and a way to monitor the leads you've generated. You can generate leads for your radio station by following a few steps:
Determine your target audience.

Market with content that

directs your audience to a landing page

with a contact form. A potential customer becomes a lead when they fill out the form.

Organize and assess information from those that fill out your landing page's contact form.

Keep track of

lead attribution

so that you know which strategies generate the most attention.

Develop personalized content to

nurture your leads

until they become listeners or request an ad spot.

Track

each lead's position in the sales funnel

to see who's close to a conversion and which strategies drove them there.
Online lead generation methods for radio stations
Lead generation is an intuitive process that can yield impressive results for your station using the right strategies. Here are the online lead generation methods that will have the most significant for your radio station in today's market.
1. Search engine optimization (SEO)
You have a website, so make sure your target audience can find it. Search engine optimization (SEO) is a strategy that pushes your site further toward the top of the search engine results page (SERP) when an internet user searches for a relevant topic.
Google and other search engines want to provide relevant SERP results to build trust with users. You can improve your site's SERP rankings by targeting keywords that match the phrases and words your audience uses as search terms. Local SEO is important for A.M. and F.M. stations targeting listeners and businesses located within their regions.
Keep page design in mind, too — Google rewards a positive user experience.
2. Content marketing
Content marketing targets the users visiting your radio station's website who still have a way to go in the customer journey. Fill your website with blogs, infographics, videos, and other content that provides information your target audience wants.
A content marketing strategy aims to build awareness and prove that you're a reliable source of information for the topic at hand.
For your radio station, consider having your hosts post blogs relevant to their shows' topics. Hosts of your music shows could cover their favorite singles released that month or list upcoming concerts happening in the area. Your sports reporters could post power rankings or discuss the local teams.
3. Pay-per-click advertising
Pay-per-click advertising (PPC) is a form of paid marketing that targets your potential leads through the channels they use most. A PPC ad will appear at the top of a SERP when a user searches for the keywords the ad targets. Advertisers bid for higher placement by offering to pay a certain amount for every click the ad receives.
A PPC advertisement can boost your content marketing efforts by ensuring readers find your articles. These campaigns are easy to build around a specific target audience, so they produce excellent lead data and reliable returns.
4. Email marketing
Email marketing is a lead nurturing strategy you can use to engage with those who have already expressed interest in your radio station.
Use the contact information you gain from your landing pages to form segmented email lists. Then, create and distribute personalized email content that targets individuals according to where they stand in your marketing funnel.
Email marketing content should be personal and relevant to the reader's interests. Reach out to listeners about upcoming events or radio show segments you know they'll enjoy. If your leads like a certain band and you'll be hosting them for an interview, shoot those leads an email to let them know.
Valuable content that piques your audience's interest will keep your station on a potential listener's radar.
5. Social media marketing
Your station's social media platforms are powerful tools to generate and nurture leads. New leads can discover your station through the content and social media advertisements you post. Existing leads can continue engaging with social media content that interests them.
Your social media team can target users at every marketing funnel stage:
Create broad-appeal videos or post your website's blogs to target those toward the top of the funnel.

Post events or links to your online broadcasts to target potential listeners ready to engage with your station.

Achieve two-way engagement through your comment sections to solidify positive relationships with leads.
Social media content reaches advertisers directly, too. Surveys have found that 43% of business-to-business marketers found clients through Facebook, so you may find your next advertising partner.
Meet WebFX:
Your world-class, tech-enabled marketing agency with over 1.6 million hours of combined expertise.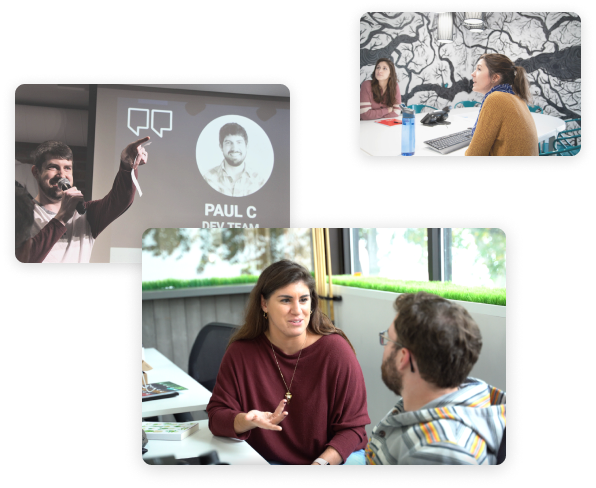 Gather, nurture, and convert leads with WebFX
Lead generation helps radio stations secure listeners and attract advertisers. If you want proven results, implement our lead generation tactics into your strategy.
For more help maximizing your lead generation return, let WebFX help. We offer lead generation services for radio stations, so contact us online and discuss ways we can expand your reach.
Increase your leads, sales, and revenue with digital marketing
Find Us Driving Revenue Nationwide