What Is ReviewAccelerationFX?
ReviewAccelerationFX is one of our latest features on MarketingCloudFX. As local factors become more important for Google rankings and customer engagement, so does the need to manage online reviews.
On this page, we'll discuss the features of ReviewAccelerationFX, as well as some of the benefits of integrating it into your digital marketing strategy.
Measuring the metrics that affect your bottom line.
Are you interested in custom reporting that is specific to your unique business needs? Powered by MarketingCloudFX, WebFX creates custom reports based on the metrics that matter most to your company.
Leads

Transactions

Calls

Revenue
Learn More

What is ReviewAccelerationFX?
ReviewAccelerationFX allows companies to request and track online reviews from their customers.
The tool works by sending out automated emails to customers you have done business with. The email prompts customers to provide feedback on their recent experiences with the company on a customer satisfaction scale of one to ten. Based on the score the customer gives, they will receive different options on how to send your review.
What is included with ReviewAccelerationFX?
Here's what you'll get with ReviewAccelerationFX as an existing client:
Dedicated account representative
When you have any campaign with WebFX, ReviewAccelerationFX is free — and so is your dedicated account representative. If you're not sure how to interpret ReviewAccelerationFX metrics, your rep will always be there to break down your reports and help you understand key metrics.
Not only that, but your account representative will make suggestions on how you can improve your campaign and what you should consider moving forward.
More than two decades of experience
When you use ReviewAccelerationFX, you can rest assured that you're working with a team that has more than two decades of experience in the digital marketing space.
That means your account representative knows how to handle negative reviews, how to encourage reviews, and all the behind-the-scenes work that goes on to make it happen.
Increased review power
The purpose of ReviewAccelerationFX is to encourage satisfied customers to leave reviews — and that's exactly what you'll get.
Our program helps track all the most important metrics that affect user reviews, and our team will help you understand them. Not only that, but we'll help you reply to negative reviews, too.
Benefits of managing online reviews
Managing online reviews with a tool like ReviewAccelerationFX can provide many benefits to businesses.
First, it is extremely significant for potential customers to see good reviews. Research shows that users tend to trust online reviews just as much as they trust the advice of friends and family. Therefore, it is vital that you get good reviews to attract a customer. A positive online review could be the difference between getting a new customer and them taking their business somewhere else.
Online reviews can also send positive local ranking signals.
In a study by Moz, it was concluded that signals sent from reviews made up 13% of what Google looked for when determining the ranking for local results. This number continues to grow every year.
Meet MarketingCloudFX:
One platform tracking countless metrics and driving stellar results.
Learn More About Our Proprietary Software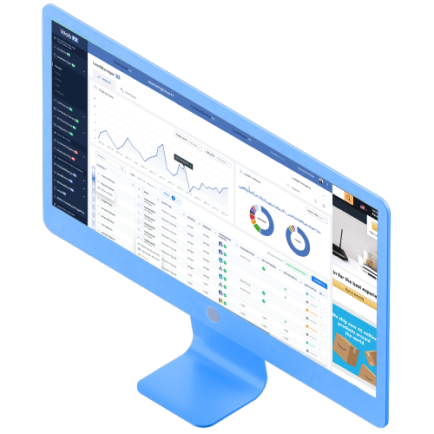 Getting started with review management
Wondering how much is costs to get started on ReviewAccelerationFX? It is free for any client of WebFX to use! With the free version of the tool, you can request and track new reviews of your business.
To check out our pricing options for more advanced review monitoring packages, PPC management or to see costs for non-WebFX clients, contact us today!