How to Sell on Walmart Marketplace in 6 Simple Steps
Each month, more than 100 million unique visitors arrive at Walmart.com to shop. With the rise of Walmart in the ecommerce industry, as well as the launch of Walmart Marketplace, it's not surprising that companies want to learn how to sell on Walmart Marketplace.
Learn how your business can become a part of the Walmart Marketplace in six simple steps!
Just keep reading to get started. Or, if you're looking for professional assistance, contact WebFX. With our award-winning team of more than 500 digital marketing specialists, we've generated more than $3 billion in revenue for our clients in the past five years.
Give us a ring at 888-601-5359 or contact us online to learn how we can help your business grow!
Need help marketing your business on Walmart Marketplace?
CONTACT US TODAY TO LEARN MORE
1. Submit your Marketplace Seller application
Compared to other ecommerce platforms, like Amazon, Walmart Marketplace maintains a strict set of standards for applicants. Unlike Amazon, it also manually approves each application, ensuring every business meets its requirements for sellers.
Before you apply to Walmart Marketplace, make sure your company meets these requirements:
Global Trade Item Number (GTIN) or Universal Product Code (UPC) GS1 company prefix number
Past marketplace experience
Competitive pricing
Fast and reliable fulfillment
Business-to-consumer (B2C) U.S. warehouse
First class customer service
S. tax ID
W-9 form
If you're ready to apply to Walmart Marketplace, set aside 10 to 15 minutes to submit your application.

The Walmart Marketplace application consists of five steps:
Primary Contact
Business Information
Product Assortment
Ecommerce and Marketplace Experience
Operations
Due to the application's depth, it's essential to have the following information on-hand:
U.S. tax ID (EIN)
Annuals sales revenue (offline and online)
Primary product category (based on sales)
You also need to have the following information about your SKUs available:
Number of active SKUs
Percentage of SKUs with UPC code
Percentage of owned SKUs
Percentage of dropshipped SKUs
Percentage of SKUs delivered via Fulfillment by Amazon (FBA)
Once you've completed your application, go ahead and click, "Apply Now."
2. Complete your User and Partner Profile registration
Within a few weeks of submitting your application, you should receive an email from Walmart. If approved, the email will have the following subject line, "Congratulations! Time to Setup Your Account on Walmart Marketplace!"

It's essential to routinely check your email for this notification, as you need to complete your registration within 48 hours. If not, your team will need to contact Walmart Marketplace for additional assistance.
As a part of your registration, you need to complete the five following steps:
Create your account
Via Seller Center, your business can access everything related to Walmart Marketplace, from your product inventory to your product shipping. Get access to Seller Center by creating your account with a secure password and security questions. Walmart Marketplace generates a username for you, based on your application.
Register your company
Next, you can register your business with Walmart Marketplace. This information helps Walmart create your Partner Account, as well as provide helpful information to shoppers. Choose a display name for shoppers to see and list your corporate address for Walmart's private records.
Provide your W-9 tax form
Before you begin your account registration, make sure you have Form W-9 on-hand. Walmart requires Form W-9 for tax purposes. At the end of each year, Walmart will issue a 1099, which your company will need to reference when filing its taxes.
Complete your payment information
During your Walmart Marketplace registration, you will need to create an account with Payoneer. A Walmart partner, Payoneer processes all payments made to businesses on Walmart Marketplace. Payoneer does not limit transfers or charge any fees for bank transfers.
If your company already has a Payoneer account, you need to link your Payoneer account to your Walmart Marketplace account. Operating the two as separate accounts can result in a fee every time your business withdrawals funds.
Once you've created your Payoneer account, look for a confirmation email from Payoneer. When you receive that email, go ahead and proceed to the next step in registering your account. Do not continue with the registration process until you receive this email.
Choose your shipping policies and prices
Next, your business needs to determine your default shipping rate. This rate applies to everything you sell on Walmart Marketplace, though you can modify this price with shipping exceptions. You can access shipping exceptions when creating a product listing.
For shipping rates, Walmart Marketplace offers two options:
Price of the total order: If your company offers free shipping or scales shipping rates off the total order price, select this option.
Item weight or number of items per order: If your business bases shipping rates off the total order weight or total number of products in an order, choose this option.
Once you determine your shipping rates, you need to decide what shipping methods or speeds your company will offer on Walmart Marketplace. As a marketplace seller, you can provide the following shipping methods:
Value
Standard
Next Day
Expedited
Your business can also customize its shipping regions for each shipping method. For example, if it's impossible for your team to fulfill an order destined for Alaska or Hawaii with next day shipping, you can disable next day shipping for those locations.
For the best customer experience, you should also note transit times for each shipping method. As an example, standard shipping to the 48 contiguous states may take two to five business days, while the same shipping method to Hawaii or Alaska may take three to six business days.
After completing your shipping information, you'll have finished your account registration.
3. Customize your Partner Profile
Following your registration, Walmart Marketplace will automatically log you into Seller Center. At this point, you can take a break or continue customizing your account. Once you finish your Partner Profile, you can move into adding your products.
Your Partner Profile, which you access via the General Settings, consist of five parts:
Company information
Your company information provides shoppers with helpful information about your business. Per Walmart Marketplace, your team must complete this section. If you don't, Walmart Marketplace will not allow your store to launch.

As a part of your company information, provide the following details:
Display name: Create a display name that shoppers recognize. For example, if your company's legal name is Wool Industries, but you do business as Sheep Socks, you'd want Sheep Socks as your display name.
Logo: Upload your company's logo, which will display across Walmart.com. Per Walmart Marketplace requirements, your logo must be 400 x 50 pixels in either a JPG or PNG format. Coordinate with your graphic design team, if needed.
Description: Write a short, original description of your business in 4,000 characters or less. This character limit translates to around 500 words. Do not include any URLs to your business or any other website.
Before updating your company information, make sure to proofread your display name and description.
Customer service
Next, detail your organization's customer service policies by providing the following data:
Customer service email: For everyday customer communication, shoppers can use this email. Walmart uses encryption to protect your customer service email, as well as the emails of shoppers that contact you.
Customer service phone number: Shoppers with questions or concerns can use this number.
Customer service escalation email: If a user ticket requires additional assistance, this email is what Walmart's team of customer service representatives can use. Unlike your customer service email or phone number, this contact information is unavailable to shoppers.
Customer service policy: All shoppers can review your customer service policy. It should include your customer service email address and phone number, plus hours of operation. Like your company description, you have a 4,000-character or 500-word limit and cannot include URLs.
Before uploading your customer service email, double-check to ensure its accurate and up-to-date.
Shipping
As a part of your Partner Profile, you need to expand on these shipping and delivery features:
Shipping rates: If you need to update your shipping rates from the previous section, you can revise them here. Remember, you can change your shipping methods, shipping regions, and shipping prices.
Standard processing schedule: Provide shoppers with accurate delivery dates by specifying your operation days and hours for order processing. For example, if your warehouse operates Tuesday through Friday, note it here.
Shipping policy: Summarize your fulfillment and shipping policies in this section. If your company operates on other ecommerce platforms, like Amazon, you may already have a policy on-hand.
Once you finish your shipping standards, you can move onto your company's return policies.
Returns
In your Partner Profile, you can detail your methods, rules, and fees for returns. It's essential, however, that your company's return policies comply with Walmart's Marketplace Returns Policy. Otherwise, you could experience delays launching your store.
In Seller Center, there are five sections related to returns:
This setting details how your team issues refunds, as well as how your shoppers ship return items.
In Walmart Marketplace, you must issue a refund within 48 hours manually or automatically. For return shipping, you can either use your company's carrier account or Returns Shipping Service (RSS), which offers discounted rates.
Businesses on Walmart Marketplace must have at least one return center. If you have more than one, Walmart Marketplace selects the closest one to a customer's location. You can, however, arrange for select products to always go to a specific return center.
Via your return rules, your company can detail your return window, restocking fee, and return shipping fee policies. You can customize your return rules by department and product.
Depending on your products, you may have scenarios where it's more cost-effective for a shopper to keep, rather than return, a product. Per "keep it" rules, you can specify a product price point that enables the "keep it" rule for a return.
Return policy display settings
It's essential for shoppers to understand your return policy before buying your product, which is why you need to complete your return policy display settings. Detail your return policy, plus any additional rules in 4,000 characters or less. Do not include any URLs.
Like your shipping and customer service details, you should ensure your return policy is up-to-date.
Privacy policy
Next, you can complete your company's privacy policy, which is available for shoppers to view. Use your privacy policy to disclose how your business uses and protects customer data. Like other information visible to shoppers, your content must not include URLs or exceed 4,000 characters.
Tax information
Depending on your products, a user may pay sales tax when buying your goods. That's why you need to complete the tax portion of your Partner Profile. This portion consists of three sections, which you must finish to launch your store.
Tax information required by Walmart Marketplace includes:
Nexus: In this section, you must detail the jurisdictions where you have a tax obligation. Walmart relies on this information to charge shoppers the appropriate amount of tax for their purchase.
Shipping tax codes: For the shipping methods your company offers, like Expedited or Next Day, you need to provide tax codes. Walmart Marketplace provides a comprehensive guide on shipping tax codes for reference.
Sales tax policy: Your company also needs to inform shoppers about your sales tax policy. Again, do not include URLs in this section or exceed 4,000 characters.
Once you complete your tax information, you're ready to launch your store.
4. Build your product catalog
Now that you have your company's account set up, you can begin creating your product catalog. Whether your business features a small or expansive product line, Walmart Marketplace offers a streamlined way to add all your items.
On Walmart Marketplace, you can upload your products four ways:
API
For companies with an expansive product catalog, as well as a dedicated technical team, API is a go-to integration method. As it relies on programming and a specific skill set, however, your business may need to take an alternate approach.
Bulk upload
If you have an impressive number of products to sell — but without the expertise required by API — you can use bulk upload. This option uses Excel spreadsheets to launch your products onto Walmart Marketplace.
Single item
For businesses with a small product catalog, as well as limited technical capabilities, there is single item integration. With this approach, your team manually adds your products to Walmart Marketplace.
Solution provider
Companies that partner with a solution provider, like GeekSeller or SellerCloud, can also coordinate with their solution provider to upload their product catalog. Your solution provider manages and oversees your product integration.
Depending on your chosen upload method, your team may have to complete the following steps:
Choose a category and subcategory for products:Walmart.com features 24 categories and dozens of subcategories. Your team will need to read the guidelines for each group to determine the best one for your products.
Upload product image files or URLs to product images: When you create your product catalog, it's essential for your team to have product images on-hand. You can upload the photos or provide Walmart with a URL to the image file.
Prepare Item Setup feed: As a part of your Item Setup, you provide several essential pieces of information for Walmart, as well as shoppers. This information, which you can supply via an Excel document, includes a product's SKU, description, price, and more.
Finish creating your product line, and you can start testing it.
5. Test your order fulfillment
It's essential for Walmart.com to provide the best possible shopping experience. That's why companies on Walmart Marketplace must preview their product listings, as well as place test orders. With these preliminary steps, you ensure shoppers can view and buy your goods.
Preview your products via your Seller Center account. If you haven't previewed any products yet, you can access your inventory by selecting the dropdown menu, "Launch Checklist" at the top of the page and choosing, "Complete Item & Order Testing."

The page will update with an inventory grid. In the column, "Item Details," each product will feature a "Preview Item" button. When you click this button, a new window opens and displays your product, as it appears for shoppers.
Go ahead and make any changes to your listing. Once you're satisfied, you can test product ordering.
On Walmart Marketplace, a product order test means publishing your product. As you're making your product accessible to shoppers across Walmart.com, it's essential for your team to adhere to Walmart's recommendations for product testing, which include:
Test two to three products
Set product prices to $19.99 or less
Update each product's inventory to one
When you're ready, go to the inventory grid and select "Publish Item" from the "Actions" column.
In a few minutes, your product will appear on Walmart.com. When that happens, your team needs to add the product to your cart and complete your purchase. You will, however, need to create a customer account.
If you place more than three orders in an hour, you will trigger Walmart's fraud system. The system cancels any orders that appear fraudulent. Bypass this trigger by creating separate customer accounts for each order or publishing and testing two to three products over an extended period.
For the best results, Walmart recommends experimenting with these three scenarios:
Order cancellations
Order shipping
Order adjustments
Based on your experience, you can make changes to your products and processes before going live.
6. Launch your store
With all the above requirements completed, your company can move forward with launching your products on Walmart Marketplace. Before you can start selling on Walmart.com, however, a Marketplace Integration team member reviews your profile and product order tests.
The Marketplace Integration team looks for at least two things when checking a profile:
At least 10 percent or 1000 of the items in your product line are in sellable condition (sellable condition refers to the price and inventory status of an item)
At least 95 percent of your products are classified correctly
You should also confirm that the following settings are up-to-date and accurate:
Shipping
Customer service
Return
Tax
Privacy
Pricing
Inventory
It's also essential for your business to confirm the activation and setup of your Payoneer account. Walmart Marketplace also encourages companies to train team members on Walmart.com to ensure a streamlined experience when it comes to order fulfillment and customer service.
Once you've reviewed all these features, click, "Ready to Launch" from the Launch Checklist menu.
If your profile adheres to Walmart Marketplace standards and passes inspection by the Integration Marketplace team, you will receive an email. Within 48 hours of sending that email, your store and products will become available to Walmart.com shoppers.
Now that you know how to become a Walmart Marketplace seller, are you ready to get started?
Time to Level Up Your Sales
Our long list of services helps you grow every aspect of your business with marketing strategies that are proven to increase bottom-line metrics like revenue and conversions.
In the past 5 years, we've managed more than 12.9 MILLION transactions across our client base.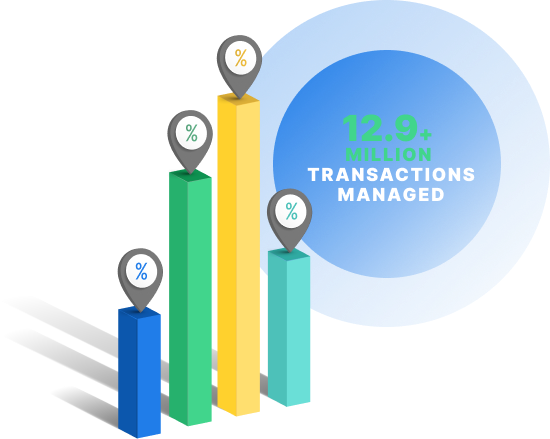 Get more from Walmart Marketplace
With more than 12.9 million managed client transactions, plus more than $3 billion generated in revenue for clients, WebFX is a trusted choice for ecommerce businesses. Our experience, as well as our client retention rate of 91%, demonstrates our commitment to results.
Learn how our custom and data-driven strategies for Walmart Marketplace can help your company sell more by contacting us online today. Need to talk to an experienced strategist now? Call us at 888-601-5359!