How to Maximize Digital Marketing Efforts With ePROMIS
If your business uses ePROMIS ERP to help you consolidate information and automate sales, you need to pair it with a strong marketing campaign. Read on to find out how you can maximize digital marketing efforts with ePROMIS!
Digital marketing can boost your ePROMIS optimization
When it comes to making your business run more efficiently, it's hard to beat the power of an enterprise resource planning (ERP) platform like ePROMIS. An ERP can help you centralize data from across your company and automate basic actions.
But ePROMIS can only do so much on its own. It can help you automate sales, but only if you're successfully driving those sales in the first place. And it can centralize your data, but it's dependent on you to generate and provide that data.
To improve ePROMIS's efficiency, you must pair it with a killer online marketing campaign. Online marketing has the potential to massively boost your ERP's usefulness, just as your ERP can help you improve your marketing.
Read on to find out more about how marketing and ePROMIS can go hand in hand. Then consider partnering with WebFX — the agency with over 25 years of experience — for our top-of-the-line digital marketing services. Just call 888-601-5359 or contact us online to get started!
Our digital marketing campaigns impact the metrics that improve your bottom line.
See More Results

WebFX has driven the following results for clients:

$3 billion
In client revenue

7.8 million
Leads for our clients

5.2 million
Client phone calls
How can marketing improve ePROMIS for your business?
There are several ways marketing can improve the effectiveness of ePROMIS for your company. You can also use ePROMIS to boost your marketing, forming a continuous cycle of progress.
Here are three of the biggest ways marketing can help with ePROMIS optimization!
1. Improve the user experience
The user experience is one of the most vital facets of your marketing. A positive user experience will encourage users to continue engaging with you, while a poor one will push them away. Fortunately, the combination of marketing and ePROMIS can help you improve the user experience.
ePROMIS is the perfect tool to boost the user experience on your website, as it can automate certain tasks related to customer service. Marketing, on the other hand, can heighten your web design and keep users interested.
You can also use ePROMIS to help obtain more data about the users who visit your website. That data can then feed into your marketing, helping you see how to adjust your marketing to reach more qualified leads. As a result, your improved marketing can then drive even more results than before.
2. Drive traffic to your website
Another way you can boost your ePROMIS optimization is by increasing your incoming website traffic. Marketing is the perfect way to push people to your website — organic search, paid ads, and more can encourage users to visit so they can read your content or browse your products.
Once users are on your site, they start generating data that you can use ePROMIS to collect. You can then have ePROMIS analyze that data to give you more insight into your target audience. With that insight, you can see how to better cater to them.
You can use that information back your marketing campaigns and make them more effective, ultimately driving even more users to your site.
3. Generate leads and conversions
Finally, ePROMIS and marketing can help you drive more leads and conversions. ePROMIS is excellent for managing your leads and automating sales processes, but it takes a solid marketing campaign to drive those leads and sales first.
Marketing is every business's ultimate tool for persuading people to take interest in their brand or make a purchase. You can use various strategies to accomplish those tasks, but once you do, you'll give ePROMIS more data to continue generating leads.
You can also use the data from your ERP to drive even more conversions by improving your marketing. Ultimately, pairing ePROMIS with digital marketing will significantly increase your overall revenue.
How can WebFX help you maximize digital marketing efforts with ePROMIS?
Marketing is the perfect way to boost your ePROMIS optimization, but what exactly does that marketing entail? More specifically, what strategies can WebFX help you harness to improve ePROMIS for your business?
Here are three key marketing services that will help you with your ePROMIS optimization:
1. Search engine marketing
First among our marketing services is search engine marketing. With 93% of all online experiences beginning on a search engine like Google, it's the perfect place to reach users, and there are two major ways we'll help you do that.
To start with, we'll implement search engine optimization (SEO), optimizing your web content to rank in Google search results. As users encounter your content in their searches, they'll visit your website and familiarize themselves with your company.
We'll also help you launch pay-per-click (PPC) advertising campaigns, where we'll display paid ads for your business at the top of search results pages. Those ads will take users to landing pages that encourage them to buy your products or services.

2. Social media marketing
Another strategy WebFX can help you master is social media marketing. With social media, you can reach large audiences of people, and you can sway them toward making purchases — 74% of people use social media when making purchase decisions.
WebFX can help you harness social media by setting up an account for you on the platform(s) of your choice. We'll then craft engaging content like infographics and videos that you can post to attract your audience.
We'll also help you launch paid social media ads, which can appear right in users' feeds. You can target those users based on demographics like age and location, ensuring you reach the right audience.
3. Web design and development
The third major strategy we specialize in is web design. Our team can build you a website from the ground up or reoptimize your existing site. We'll ensure that your site is primed to attract traffic and drive conversions.
Our web design experts will optimize your visual design and your site's functionality, including assets like page load speed and mobile-friendliness. We'll also craft compelling content that draws in users and nudges them closer to conversion.
If your site is an ecommerce site, we can help you set up your online store too. That includes:
Securing your site

Setting up product pages

Optimizing your branding through visual design
Ultimately, our services will help users feel at home on your site with appealing visuals and secure transactions.
Why choose WebFX?
Unsure why you should partner with WebFX with your marketing? Here are the three biggest reasons you'll want to choose WebFX to help you maximize digital marketing with ePROMIS:
1. WebFX has decades of experience
The first thing that sets WebFX apart is our exceptional amount of experience. WebFX was founded in 1996 — we have well over 25 years of experience. In that time, we've become incredibly proficient in the world of digital marketing.
When you partner with us, you'll gain access to that impressive expertise, which we can then apply to your campaigns.
2. WebFX has a history of driving stellar results
Another reason WebFX is such a standout agency is because we drive results unlike anyone else. In just the past five years, we've generated 7.8 million leads and $3 billion in revenue for our clients. That's a big part of why our clients have shared over 1020 glowing testimonials.
When you partner with us, you'll see why our clients love working with us. We'll provide you with the same incredible service we gave them, driving up your profits significantly through lead management and conversions.
3. WebFX is a full-service digital marketing agency
WebFX holds the advantage of being a full-service digital marketing agency. That means we offer a wide range of services that cover all the major facets of digital marketing, as opposed to some other agencies that only specialize in one or two strategies.
Our strategies include:
The reason that's so beneficial is that it allows you to centralize your marketing. You can get help with everything from SEO to web design with us, rather than outsourcing to multiple different agencies.
WebFX is a partner businesses trust.
Hear from HydroWorx, who saw a 236% increase in organic sessions with WebFX services.

Watch the Video Testimonial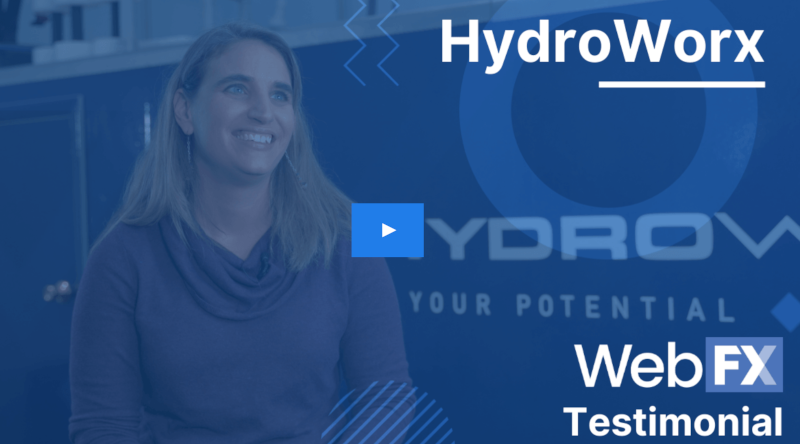 Let WebFX drive results for your ePROMIS marketing
WebFX can't wait to help you get started with your ePROMIS marketing. When you partner with us for our digital marketing services, you can get help optimizing for all the strategies listed above and more.
Furthermore, you can expect only the highest-quality service from us. We put our clients first, so when you call us, you won't get left on hold for hours or stuck talking to a bot. Your account manager is always here to keep in touch with you about what we're doing.
To get started with us, just call 888-601-5359 or contact us online today!
Earn a 20% greater ROI with WebFX