Maximize Digital Marketing Efforts With Sage ERP
If your business uses Sage as your enterprise resource planning (ERP) platform, you have the potential to drive high-quality results. However, you'll only reach that potential with the help of strong marketing campaigns. Keep reading to learn how to maximize your digital marketing efforts with Sage ERP! If you're looking for professional help with improving and managing your online marketing strategy and data, contact us online to learn what our award-winning team can do!
Get more from Sage ERP with digital marketing
Having an ERP platform like Sage is a fantastic way to improve your company's performance. Sage lets you integrate data from across your organization in one place, from accounting to sales to marketing.
The fact is, though, Sage by itself can only benefit you so much. Sage is excellent for helping you keep track of your leads, but how do you get those leads in the first place? The answer is digital marketing. Marketing is the key to how to improve Sage for your business.
If you're looking for some help with your marketing, you're in luck — WebFX has a team of over 500 experts proficient in all sorts of digital marketing strategies, and we'd love to help you optimize yours.
Read on to learn more about how we can benefit you, and then consider partnering with us for our digital marketing services. Just call 888-601-5359 or contact us online today!
Our digital marketing campaigns impact the metrics that improve your bottom line.
See More Results

WebFX has driven the following results for clients:

$3 billion
In client revenue

7.8 million
Leads for our clients

5.2 million
Client phone calls
How can digital marketing help you get more value from Sage?
You probably already know the core benefits of marketing, but you may be unsure what it can do to improve your performance in Sage. If that's the case, just read on.
Here are three ways using digital marketing and Sage together can benefit you!
1. Improve brand awareness
One of the first ways our marketing services can benefit you is by increasing brand awareness. Our online marketing efforts will introduce more people to your business, and we'll make sure we're marketing to your ideal audience.
As a result, we'll be able to expand your audience greatly. Right now, you're only reaching a certain number of people with your Sage marketing. That number might already be large, or it might not.
Regardless, by driving increased brand awareness for your business, WebFX can expand that group so your Sage marketing will be more fruitful.
2. Drive traffic to your site
Brand awareness will set up your Sage marketing for success, but we can do more than that.
We'll also use our marketing efforts to drive traffic straight to your website. Our marketing is optimized to bring that traffic in from multiple sources across the Internet, funneling it right to you.
With increased web traffic, you'll end up with more customers.
More than that, though, higher traffic will improve your performance in Sage. The more traffic you have, the more data you obtain about your site visitors and your overall audience. You can then use that data to further improve your marketing.
3. Generate leads and conversions
WebFX won't stop at pointing people your way. Once we have your audience's interest, we'll make the final push to turn them into leads and — after that — customers.
On top of having obvious benefits for your business as a whole, it will make Sage that much more worth your investment since you'll have more leads and revenue to keep track of through it.
Having all your data stored in one place and linked together can give you more insight into user behavior. You can then feed that insight back into your business by driving and closing more leads for your sales team.
Sales aren't the only conversions we can drive, either. We'll use our services to push users toward signing up for emails, trying out demos, or anything else you want to drive them to do. With so many more conversions, your use of Sage ERP will be much more effective.
How can WebFX help you maximize digital marketing efforts with Sage?
We've talked about the general benefits of our marketing services, but what exactly are those services? What will WebFX do to improve Sage's performance through marketing? Read on to find out.
Here are just three ways we'll use marketing to drive up your brand awareness, traffic, and conversions!
1. Search engine marketing
WebFX's prime specialty is search engine marketing, both paid and organic.
We'll start with search engine optimization (SEO), where we craft compelling content for your website and then get it ranking in search results where users can find it. We'll harness Google ranking algorithms with keywords and other optimization tactics to boost your rankings.
Then we'll help you launch pay-per-click (PPC) ads through Google Ads. For your PPC campaigns, we'll help craft everything from your bidding strategy to your landing pages, optimizing everything to draw users in and push them toward conversions.

Between SEO and PPC, we'll be able to reach users at multiple levels of the marketing funnel, giving you a wide audience to work with in Sage.
2. Social media marketing
Social media is another valuable outlet through which we'll help you market your business. It offers a vast audience that we'll help you tap into, beginning by creating an account for your business on the platform or platforms of your choice.
From your account, we'll post engaging content meant to inform users about your business and industry and persuade them to engage with you on your page. Those posts will then point users toward your website.
We'll also run paid social media ads that will appear right in users' feeds, and we'll target those users by demographics that align with your target audience. That way, you can ensure that you're reaching just the right group of people on social media.
If you handle your social media efforts through Sage ERP, our services will give you a lot more to work with!
3. Web design and development
With SEO, PPC, and social media all directing users back to your website, it's only fitting that we offer web design and development services. We can build you a high-quality website from scratch, or if you want to keep your current one, we can help you reoptimize it.
We'll use a variety of tactics to make your website more visually appealing and more functional, so users won't want to leave once they visit it. Among those tactics are:
With a high-quality website, you'll be able to drive more traffic, leads, and conversions to work with in Sage!
WebFX is a partner businesses trust.
Hear from HydroWorx, who saw a 236% increase in organic sessions with WebFX services.
Watch the Video Testimonial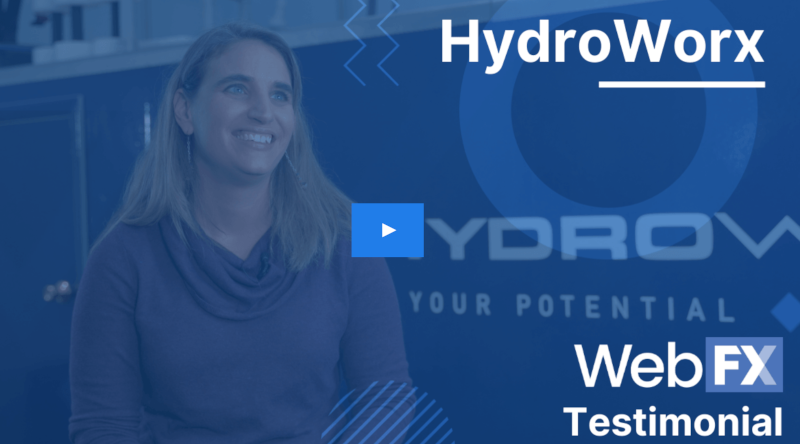 Why choose WebFX?
Marketing is key for your Sage optimization, but why partner with WebFX to make it happen? Why not just handle it on your own?
The fact is, WebFX offers a number of advantages you won't have without us. Here are three ways we stand out!
1. WebFX has decades of experience
When you entrust your marketing to an outside agency, you want it to be one that knows what they're doing. Thankfully, that couldn't be truer of WebFX. We've been driving high-quality marketing results since 1996, giving us well over 25 years of experience.
With so many years of marketing under our belt, we have a level of expertise you'd be hard-pressed to find anywhere else. We know what it takes to drive superior marketing results, and we know what tactics to avoid.
When we put that knowledge to use in your campaigns, it will drive fantastic results!
2. WebFX has a history of driving results
In addition to having an agency with experience, you need one that you're certain will drive results. Fortunately, with WebFX, there's no room for doubt. If you're unsure about our capabilities, all you have to do is look at the results we've driven previously.
In the past five years alone, we've generated over 7.8 million leads and $3 billion in revenue for our clients. That might be why we've earned over 1000 testimonials from those same clients over the years, which speak to how proficient we are.
When you partner with us, you can rest assured that you're in extraordinarily capable hands.
3. WebFX is a full-service marketing agency
Arguably, the main benefit of using Sage is that it centralizes all your business information in one place. As it happens, WebFX offers that same benefit for your marketing.
WebFX is a full-service digital marketing agency, which means we offer a full range of marketing services. Other agencies often limit themselves to one or two strategies, but our services include:
When you partner with us, you'll be able to centralize all your marketing in one place, rather than dividing your budget and attention between multiple agencies. Moreover, our team is large enough to have specialists in every single strategy, so you won't be trading out quality for quantity!
Time to Level Up Your Sales
Our long list of services helps you grow every aspect of your business with marketing strategies that are proven to increase bottom-line metrics like revenue and conversions.

In the past 5 years, we've managed more than 12.9 MILLION transactions across our client base.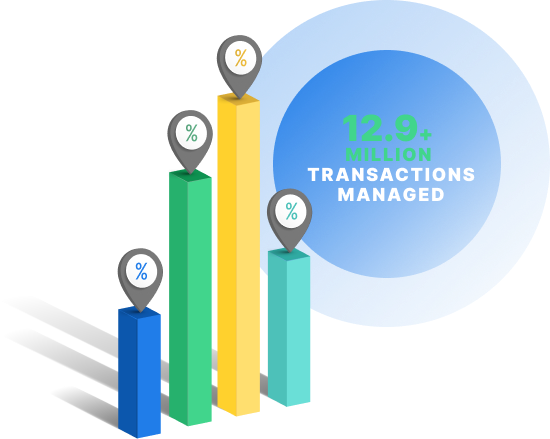 Let WebFX help you improve Sage ERP results for your company
Ready to maximize digital marketing efforts with Sage? Let WebFX give you a hand! We can drive Sage optimization for your business through our various marketing services, bringing in new leads and driving conversions to make your use of Sage more worthwhile.
With our digital marketing services, you'll get help implementing each of the strategies listed above and more. You'll also receive a dedicated account representative to coordinate with you on everything we do for your campaigns.
To get started with us, just give us a call at 888-601-5359 or contact us online today!