6 Tips for Optimizing Your YouTube Mobile Profile
Videos are a fresh and easy way to connect with customers online, especially since an increasing number of people stream videos from their mobile devices. In fact, over half of YouTube views come from mobile devices. Because you can use YouTube to host your videos and share them with your audience, YouTube mobile videos have the potential to be an instrumental part of your marketing plan.
On this page, we'll discuss six ways to optimize your YouTube mobile profile. If you need help creating better videos for your campaign, call us today at 888-601-5359 to speak with a strategist.
WebFX is a partner businesses trust.
Hear from HydroWorx, who saw a 236% increase in organic sessions with WebFX services.
Watch the Video Testimonial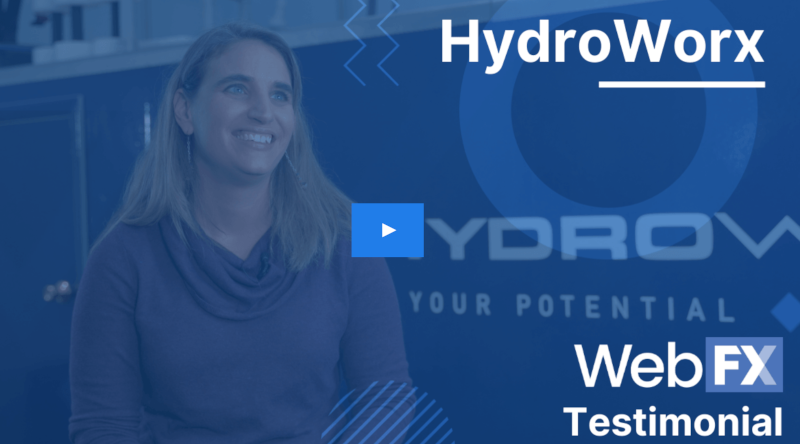 1. Analyze your site traffic
Before you start to optimize your YouTube mobile videos, you should analyze your site traffic to understand how many people view your site on mobile. It is important to understand how your audience accesses your business first, so you can figure out the best way to optimize your YouTube mobile profile.
You can use Google Analytics to help you see how many people access your site from mobile compared to desktop devices. You can see how long they spend on your pages, too. This will help you understand your audience better, so you can optimize your YouTube mobile profile.
It will also help you see if you lack mobile views. If people aren't accessing your site through mobile, you may need to alter your strategy to make it more mobile-friendly.
So, why it is important to understand your traffic?
If you have a lot of mobile users, optimizing your videos will provide the best experience for them. While they already enjoy your videos and your content, a better viewing experience could lead them to watch more of your videos or make a purchase.
Also, when you look at your analytics, you may find that you have a low number of mobile viewers. This could indicate that you are missing an essential audience. Rethink who you are targeting before you start to optimize your videos for mobile.
2. Put your audience in control
While your desktop users may enjoy a lengthier video, this isn't the case for a mobile user. Mobile users are on the go, so they can't always spend 10 minutes watching your video.
A great way to counteract this is to include a start time for your video. This ensures that the video starts at a certain timestamp when you send it to your audience.
To do this, you'll need to upload your video of choice first. Once uploaded, click on "Share" and check the box that says, "Start at." In this box, you can input the time stamp in the video when you want your audience to begin watching.
If you send your audience this video in a link, your mobile users will understand the point of the video quickly and efficiently. They won't need to scrub through your video to receive the most important information. It's a great way to pique their interest and give them the information they need.
This feature only works for linking videos. If you embed videos in your emails, you cannot have it start at a certain time. To take full advantage of this feature, share the video's link.
3. Optimize your video's thumbnail
Like the cover of a book, people judge your video based on your thumbnail. The thumbnail is the still image that your audience sees when they search for videos. It's often a preview of something in the video.
To see better results with your YouTube mobile videos, create an impactful thumbnail. It will set a good first impression with your audience. It's also crucial for catching their attention and drumming up interest in your video.
Your audience shouldn't struggle to see your thumbnail, so it needs to be easily visible. If your audience can't tell what's in your thumbnail or need to zoom in to see it, it is too small.
It's also important to note that you aren't restricted to taking a still image from your video. You can create customized thumbnails to stimulate your audience's interest and encourage them to click your video.
Optimizing your thumbnail creates a better experience for mobile users. They can read your thumbnail better, which will entice them to click on your video. By doing this, you will earn more mobile views for your YouTube videos.
4. Tag your videos
When you create YouTube videos, it's important that you tag them with keywords related to your content. Tagging helps your videos appear in the right search results so that your audience finds them easier.
To figure out the right keywords for your video, you'll need to conduct keyword research. Keyword research generates a list of potential keywords you can use for your YouTube video. You'll want to use as many relevant keywords as possible to ensure that your videos appear in related search results.
When you create tags, use different variations of your tag words. If your keyword is "How to create origami cranes," you'll also want to use the keyword "origami cranes how-to." People search using different keywords and formats, so ensure that you cover these keyword variations.
By tagging your videos, you'll reach more YouTube mobile users. It will help you attract more interested leads for your business.
5. Use closed captions
Many people use their phones in public places where they can't turn on the sound for the video. In addition, some of your audience may be deaf or hard of hearing (HoH). By enabling closed captions, they can still watch your video and understand the context.
It is extremely common for people to watch videos without sound, especially in public places. If you don't have closed captions, those leads will leave your video and try watching another video. It is important that enable closed captions so that every type of user has a positive experience when watching your videos.
This is extremely significant for social media, too. As soon as a user scrolls to the video, it starts to play. There is no sound, but you can have closed captions.
When you used closed-captions, many users won't turn on the sound. The video hooks them, and they just read the captions. If your video doesn't have captions, they may just scroll by it and continue through their newsfeed.
By including closed captions, you'll create a better mobile experience with your YouTube mobile videos. Your audience will remain engaged and take an interest in your video by reading the closed captions.
6. Create a custom YouTube URL
When you create your YouTube channel, you're given a URL for your channel. Up to this point, you probably just copy and paste the link to encourage people to follow your YouTube page. Instead of using a generic URL, you can customize your business's YouTube URL to be more reflective of your brand.
This URL can be whatever you want. It can be based on your display name, YouTube username, or the URL of your website. You're able to customize and choose what you like best for your business.
It is important to note that YouTube only allows you to change your URL once, so be sure of your decision. After you change it, you can't change it back or select a new name.
There are a few qualifications you need to customize your URL. First, your account must be 30 days old. If you just created your account, you'll need to wait to make your custom URL.
In the meantime, garner more subscribers. You need at least 100 subscribers to receive a custom URL. To do this, share your YouTube account through social media and email to earn more followers.
You also need to make sure you include a photo in your channel icon. People don't want to follow an account that doesn't have a photo. You can input a custom photo that is unique to your business.
Lastly, upload channel art, such as your cover photo. YouTube wants you to have a complete profile before you obtain a custom URL.
A custom URL will not only reinforce your brand, but will make it easy for your target audience to find your YouTube page. This makes your profile more likely to be found by your audience.
Optimize your YouTube mobile videos with WebFX
Just like Google, YouTube has its own algorithm which determines where you rank on the platform. With the number of mobile users growing, it is crucial that you regularly audit your YouTube channel and optimize your YouTube videos for mobile. You'll provide a better mobile experience for your audience and garner more views on your video. At WebFX, we know how to optimize YouTube mobile videos to help them perform better.
When you partner with us, you'll get a team of 500+ experts that will bring their knowledge and expertise to your campaign. We have over 25 years of experience creating effective videos that drive results. Our team will help you create impactful videos optimized for mobile.
If you want a video marketing company that drives results, look no further. To date, we've driven over $3 billion in sales and over 7.8 million leads for our clients. We'll dedicate our time and energy to helping your business see results.
Don't believe us? Just ask our clients! Check out our 1020+ client testimonials that attest to the great work we do for our clients!
Create better YouTube mobile videos today
If you're ready to start optimizing your YouTube mobile videos, contact us online or call us today at 888-601-5359 to speak with a strategist.
We look forward to helping your business grow!