8 Tips to Help You Create Successful Twitter Ads
Social media marketing is a great way to reach new leads. You can use platforms, such as Twitter, to connect with your audience and build stronger relationships through organic and paid posts. If you want to reach more valuable leads for your business, Twitter ads are a great option.
So, how can you create effective Twitter ad campaigns?
On this page, we'll provide you with eight tips to help you create more effective Twitter ads. If you need help creating a social media marketing campaign that integrates Twitter ads, call us today at 888-601-5359 to speak with a strategist.
1. Set a goal
If you're going to run a Twitter advertising campaign, you need to set a goal. It is important to know what you hope to achieve by running your ads. This will help you structure your campaign better.
When you start your campaign, you must choose an objective. This is the goal you want to achieve with your campaign.
Twitter enables you to choose a variety of goals. You can set the following goals:
Raise awareness: You can promote your tweets to raise awareness of your business or build brand recognition and maximize your reach to interested leads.
Build engagement: This goal focuses on promoting your tweets to get more people to retweet, like, and reply to them.
Gain followers: If you set this goal, you use ads to promote your account and get leads to follow your Twitter page.
Website clicks: You can direct people to your website by using Twitter ads so that you can gain more clicks and website traffic to your site.
App installs: If you want to promote your app, you can use Twitter to get people to download your app.
This means you need to take time to determine the goal of your campaign. Your goal will help you structure your campaign and choose the right advertising experience for your audience. Once you have your goal set, you can start creating your campaign.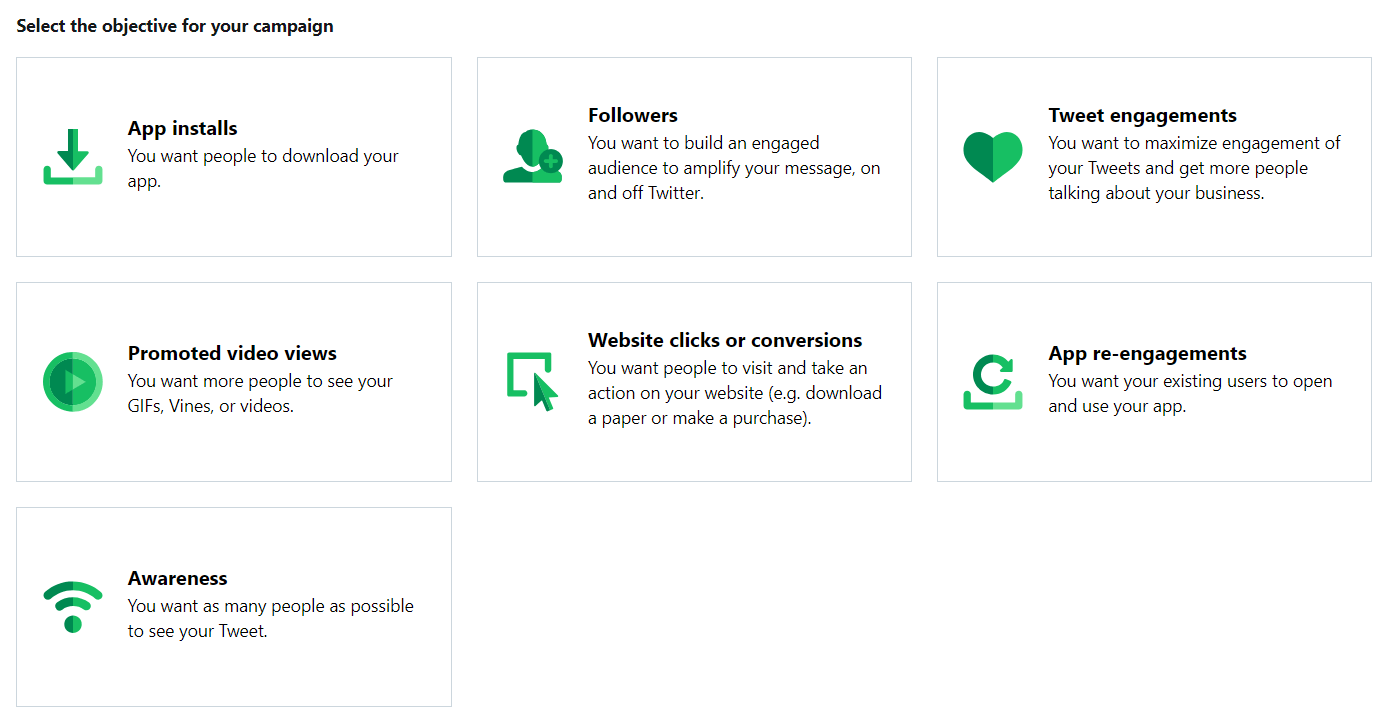 2. Target a specific audience
When you use Twitter ads, you need to know who you are trying to reach. Who do you want to follow your page or buy your products? You need to think about who would be the most interested in your business.
Your target audience will help you shape your campaign. They will determine the type of ads you run. You want to establish your target market so that you can create more effective advertising campaigns.
So, how do you determine your target audience?
You need to think about people who are most likely to buy your products. Are they men or women? What age range is interested in your products or services?
You'll want to build a profile of the types of people that are the most interested in your products. It will help you create a better ad experience and appeal to more people.
You can also use targeting features to help you reach people who are more interested in your products. Once you have a basic target market set, you can use targeting features to reach people that fit your profile. These targeting features help your business reach people through influencers they follow or keywords they use.
3. Convey a sense of urgency
If you want to create an effective Twitter advertisement, you want to entice your audience to act on your ad. When an ad focuses on urgency, it gets your audience to act on it immediately.
You can create urgency through your ad's word choice. This is an opportunity to use phrases such a "limited time only" or "deal ends on (date)." It indicates that your ad only lasts for a limited amount of time, so your audience should take advantage of that time.
You can get more leads to act on your ads by creating a sense of urgency. If people know it is only available for a short amount of time, they are more willing to act on it. This will help you see better results with your Twitter ads.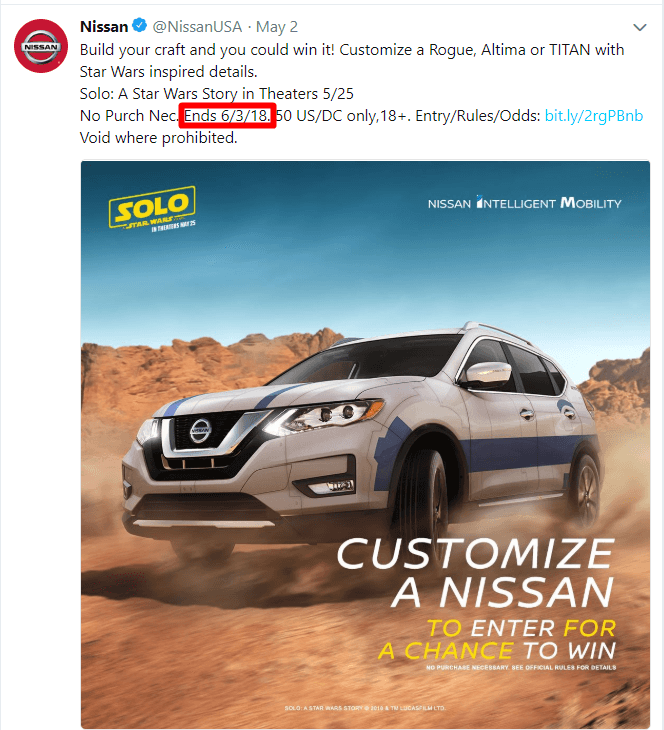 4. Create engaging ads
If you want your Twitter ads to be effective, you need to make your ads engaging for your audience. You want them to interact with your ad and take interest in it.
A great way to do this is by posing a question. You can ask them a question related to your ad. Some great starter phrases include "Are you tired of…," "Looking for something…," or "Do you need…"
These questions get your audience to answer yes or no to the question. If they answer yes, they will take more interest in your ad and engage with it. It's a great way to build more interaction with your ads.
5. Be mindful of hashtags
Hashtags are a great addition to social media. They help you build engagement and get your audience to interact with your social posts. When it comes to your Twitter ads, you'll want to be cautious about using hashtags.
These hashtags are great for engagement, but can sometimes deter your audience from your ad. Instead of clicking on your ad, they may click on the hashtag. It can be distracting for your audience and prevent them from clicking on your ad.
This doesn't mean you can't use hashtags all. If your main goal is to get people to follow your Twitter page or build brand recognition, hashtags are a great supplement to engage them. They can click on the hashtag in your ad and learn more about how this hashtag relates to your business.
If your focus is to earn conversions, you may want to stray away from the hashtags. This will help your audience focus on the ad and work towards converting.
6. Make your ads visual
Visuals are an important part of your Twitter ad. You want your audience to notice your advertisement and take interest in it. If you want to create effective ads, you need to include visuals.
There are various types of visuals you can use in your Twitter ads. The most common visual is photos. You want to make sure that your photo is relevant to the ad, but also catches your audience's eye.
Another option for visuals is GIFs. These are a unique feature of Twitter. It is one of the few platforms where GIFs operate seamlessly.
You can use a GIF to generate interest in your ad. Since GIFs tend to be moving photos from popular TV shows, movies, and other media, these engage your audience and get them interested in your ad. They are also eye-catching, as the GIF starts moving once someone scrolls to the ad.
Lastly, you can use videos. This is a great way to get your audience engaged and interested in your business. Videos catch your audience's attention and keep it longer than other media forms.
By using visuals in your ads, you can create better Twitter ads. You will engage your audience better and get them to act on your ad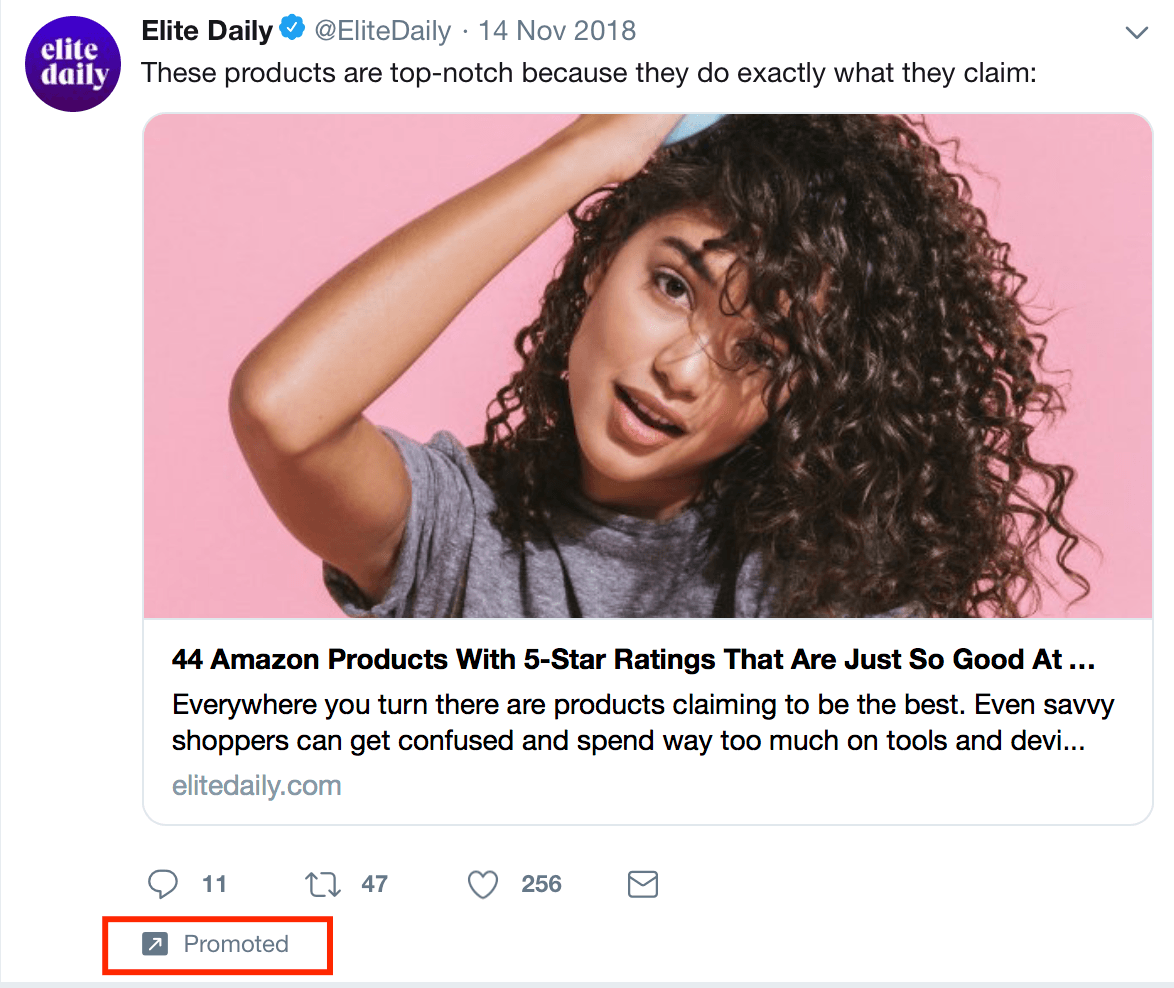 7. Use powerful calls to action (CTA)
Your calls to action (CTA) are the most powerful elements of your ad. There will be people who view your ad and like what they see. The tricky part is that they don't know how to proceed next.
CTAs guide your audience to the next step. It tells them how to proceed and how they can act on your ad.
It is important that your CTA is powerful and actionable. Instead of saying "Sign up today," you can say "Sign up today to receive your free guide!" This is more powerful and enticing for your audience. They know exactly what they will get when they choose to sign up.
A CTA is a chance for your business to capture leads. You can guide them to the next step and help them move towards achieving your goal.
8. Test your ads
When you run an advertising campaign, you want to make sure that your ads are effective. You don't want to put in time, money, and effort for ads that don't generate results. It is important that you test your ads so that you can create an effective campaign for your business.
You can conduct A/B testing to test two different ads and see how your audience responds. This will give you insight into ads that are more effective for your audience. You may think that your ad is effective, but come to find that a different ad generates better results.
By testing your ads, you ensure that you produce the best Twitter ad for your campaign.
74% of people use social media when making a purchasing decision.
Make their decision easy with a stellar social media presence. See how your brand can level up by requesting a no-obligation proposal today.
One of our experts will be in touch within 24 hours!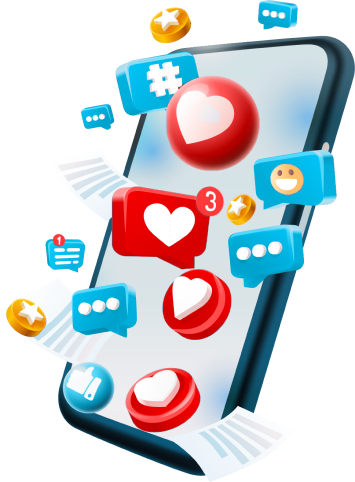 WebFX can help you create successful Twitter ads
When you use social media marketing, you want to take advantage of the advertising campaigns available to your business. Twitter ads are a great opportunity for your business to reach more qualified leads. At WebFX, we know how to create Twitter ads that will generate better results for your business.
We're a full-service digital marketing company that specializes in creating social media marketing campaigns that drive results. We have a team of 500+ experts that are dedicated to your campaign. Our award-winning team of social media savvy experts will help you produce effective Twitter ads that drive results.
If you're looking for a company that knows how to drive results, look no further. To date, we've driven over $3 billion in sales and over 7.8 million leads for our clients. We focus on putting our clients' success first.
Our clients love the work we do, too. In fact, we have over 1020 client testimonials from a variety of industries. Check them out to see what it's like to partner with a top social media marketing company like WebFX!
Get started today
If you want to start creating more effective Twitter ads that drive results for your business, contact us online or call us today at 888-601-5359 to speak with a strategist.
We look forward to helping your business grow!