How Do Ecommerce Websites Get Product Images?
Ecommerce is an incredibly competitive industry that requires lots of strategizing, high-level web development, web content, and — most importantly — images.
Internet shopping is convenient, but customers can't get the same experience online that they can in a store. Instead, you need to provide images to help them fully understand what your products are.
But as an ecommerce retailer, it can be difficult to find images that give customers a real idea of what to expect. If you just use Google to find photos of a product, sometimes your competitors' sites are the only places that have the right images. So where do they get those images?
Request a free quote online or call 888-601-5359 to speak with a strategist about your ecommerce site! Or, keep reading to learn how ecommerce companies get images for their products.
Time to Level Up Your Sales
Our long list of services helps you grow every aspect of your business with marketing strategies that are proven to increase bottom-line metrics like revenue and conversions.
In the past 5 years, we've managed more than 12.9 MILLION transactions across our client base.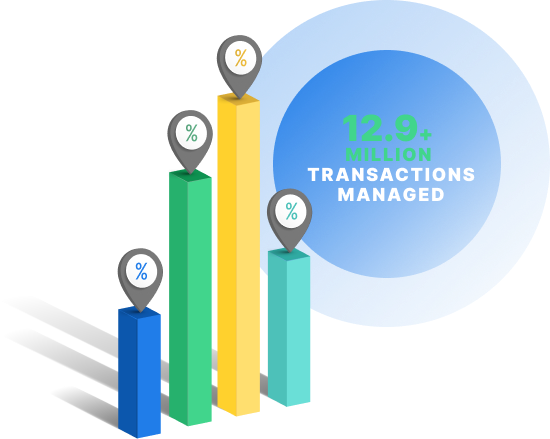 Option 1: Photos directly from manufacturers
The first option ecommerce companies (or "vendors") have for images is to get them directly from a product's manufacturer.
This option works for almost every third-party ecommerce retailer since it's in the manufacturer's best interest to supply as much information as possible to their vendors. With all that information, the vendor can make more sales, and both the manufacturer and the vendor can earn more revenue.
If, for some reason, an ecommerce site can't get images sent to them, they can always look through the manufacturer's website to find images as well.
An ecommerce company might also track down an image in a manufacturer's catalog and scan it into a digital format.
Regardless of the medium, these are all ways that an ecommerce company can get proper product images from a manufacturer.
Option 2: In-house photography
Sometimes, a manufacturer won't have any images of their products. The most common reason this happens is that the manufacturer has created a brand new product and an ecommerce company has first dibs on initial sales through a contract.
That means it may be up to the ecommerce company to photograph and touch-up product images before placing them on their site.
This typically involves the manufacturer shipping the physical product to the ecommerce company. Then, a team will have to stage and photograph the product themselves.
Afterward, the manufacturer may allow the product to enter the ecommerce company's inventory or request the product to be returned. Either way, the ecommerce company has the photos it needs.
It's also common in this kind of arrangement for the manufacturer to request to use the photos after they're processed. If they're the first photos anyone has taken of a new product, the manufacturer may share the images with all of their vendors for more sales.
Option 3: Finding the product in stores and photographing it
On rare occasions, it's possible that a manufacturer doesn't have any photos of its products on hand. This could be for any number of reasons, including mass outsourcing of image responsibilities, introducing new documentation systems aren't compatible with old systems, and a variety of other technical, contractual, or legal obligations.
In this case, the ecommerce company may have to fend for itself and actually find the product in a physical store or buy it elsewhere for photography purposes.
This isn't exactly fair — and it's definitely not a desired outcome — but sometimes circumstances require extra effort and expense to get the job done.
Generally, ecommerce companies won't put up too much of a fight in this situation, since it's essentially a short-term investment.
The ecommerce company buys the product, photographs it, and then they can resell it. Plus, they have all the photos they need to sell more, so the product's expense should pay for itself after one or two sales.
And while an ecommerce company shouldn't do that for every product in its inventory, one every now and again won't hurt.
Option 4: Composite imaging
At times, a manufacturer may create a new product that's a combination of two older products or only has a minor difference from other products in its catalog.
In that case, an ecommerce company may not want to request product images or the physical product to photograph — they may have a photo manipulation expert who can make an accurate image that works for sales purposes.
Creating this kind of image could take a matter of minutes, and it's far preferable to shipping products if the manufacturer doesn't have photographs at the ready.
It may not be a literal photograph of an item, but doctored images can still authentically show what an item looks like while saving money for both manufacturers and ecommerce companies.
Option 5: Schematic drawings
Finally, on exceptionally rare occasions, it's possible that a manufacturer doesn't have any photos, inventory, or composite possibilities for an ecommerce company to show.
If that happens, an ecommerce company may have no choice but to show an item's schematic drawings, so shoppers can at least have an idea about what they're buying.
This isn't the outcome that most ecommerce companies want. But sometimes, you just have to make do with what you have, and you may not have much.
These images don't usually apply to big-seller products — more often than not, they're used to showing replacement parts, accessories, inserts, plugins, or other non-standard add-ons.
If an ecommerce company uses these drawings, they probably won't keep them on the site for very long. They'll almost always look for other ways to get an accurate photograph to their customers as quickly as possible.
Still, a drawing is better than nothing.
WebFX knows how to get product images for ecommerce companies
At WebFX, we have an experienced team of ecommerce experts who know how to get everything you could need to get your ecommerce store up and running. Whether you want product photos, descriptions, categories, or other listings, we can make it happen.
We've achieved exceptional results for ecommerce companies in the past, and we'll do the same for you. Contact us today to create an ecommerce strategy for your company!