Top Marketing Analytics Companies to Consider For Your Business
Want to work with a top marketing analytics company?
Are you tired of digging through masses of data to discover the secrets of your marketing campaigns? We've produced a list of the top marketing analytics companies that will make your competition shudder! Our five selections are data experts who can provide comprehensive analysis and recommendations for your marketing initiatives.
These businesses use cutting-edge analytics tools and methods to glean insightful information from your marketing data. With this knowledge, you can expect to understand your target market better, improve your marketing tactics, and generate successful outcomes.
Our digital marketing campaigns impact the metrics that improve your bottom line.
See More Results

WebFX has driven the following results for clients:

$3 billion
In client revenue

7.8 million
Leads for our clients

5.2 million
Client phone calls
5 top marketing analytics companies to consider for your business in 2023
Here are the top marketing analytics companies to transform your marketing campaigns:
1. WebFX
WebFX is not just a top marketing analytics company — it's the secret weapon you need to catapult your business to new heights. This agency provides a full suite of services and tools to assist your company in tracking and analyzing its marketing activities.
With their MarketingCloudFX platform, you can receive vital information about your website performance, consumer behavior, and overall marketing return on investment (ROI).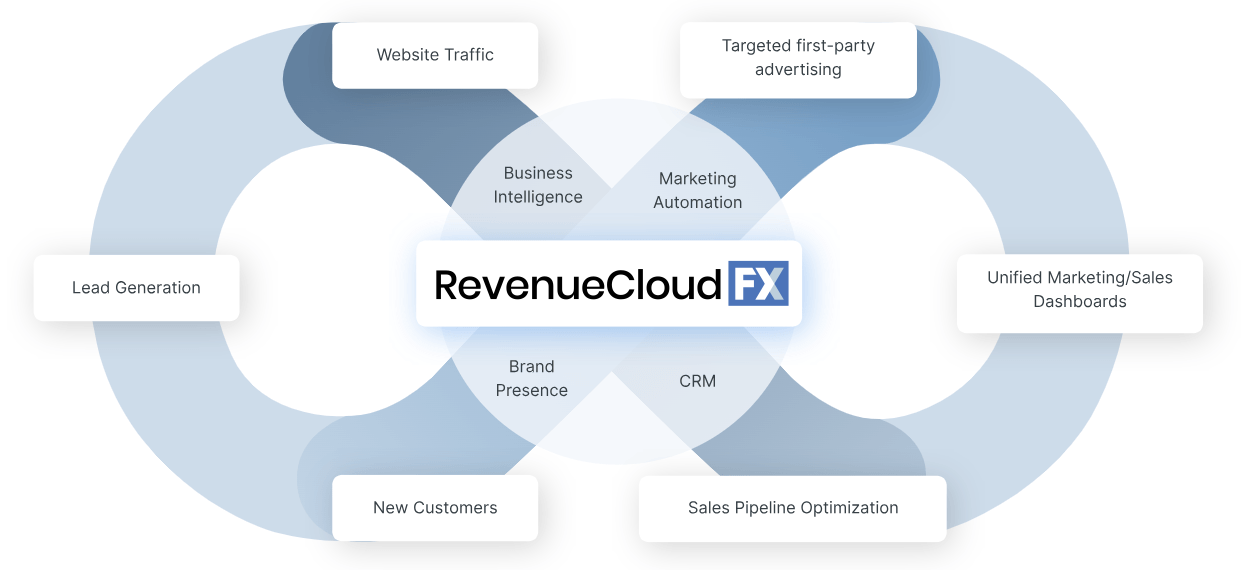 WebFX strategists will collaborate with you to develop tailored analytics strategies that connect with your business's objectives and produce measurable outcomes. The company provides the knowledge and technology to give actionable insights to enhance your marketing initiatives and boost your bottom line.
2. HubSpot
HubSpot is a marketing analytics provider that provides extensive tools to assist you in monitoring and evaluating the success of your marketing initiatives. Their suite of tools allows you to keep tabs on website traffic, track leads and conversions, and obtain a thorough insight into your customers' buying cycles.

By utilizing HubSpot's analytics features, you can make data-driven decisions to enhance your marketing tactics and get more significant outcomes. HubSpot provides the tools and resources to support your success when you're seeking to improve your email campaigns, monitor social media engagement, or assess the effectiveness of your content marketing efforts.
4. Marketo
Marketo is a CRM application that aids companies in streamlining their marketing initiatives and improving outcomes. With Marketo, you can customize consumer interactions, automate marketing campaigns, and monitor the results of your marketing efforts.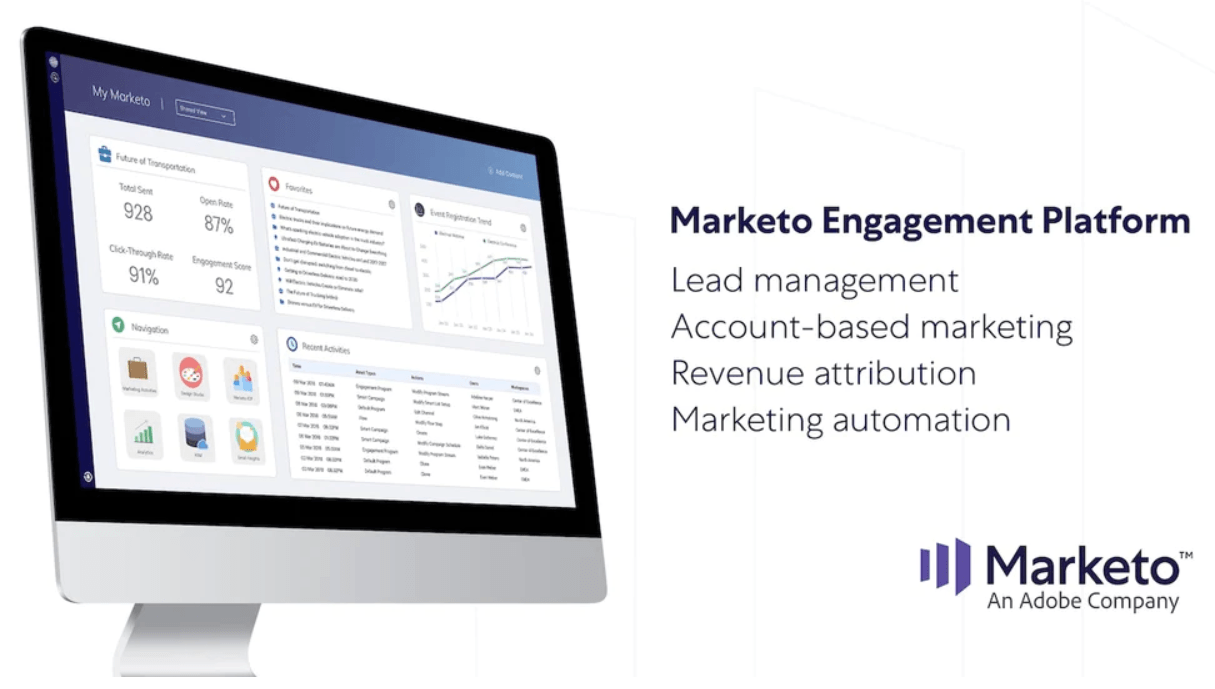 Additionally, this CRM platform includes sophisticated analytics and reporting tools that let you analyze data to inform your decisions and get insightful knowledge of your marketing effectiveness. Marketo also effortlessly interfaces with other platforms and tools for marketing, making it simpler to manage and improve your complete marketing ecosystem.
5. IBM Watson Marketing
IBM Watson Marketing is one of the top marketing analytics companies that provides a CRM platform with many features and functionalities to improve your marketing efforts. Watson Marketing can evaluate consumer data, forecast customer behavior, and offer tailored suggestions for targeted marketing efforts thanks to its cutting-edge artificial intelligence (AI) capabilities.

This company provides robust automation technologies to help you automate your marketing procedures and save time and effort. Furthermore, Watson Marketing offers extensive analytics and reporting options that let you monitor the progress of your marketing campaigns and come to informed judgments.
6. Mixpanel
Mixpanel is a powerful analytics platform that enables companies to monitor and examine customer activity across their websites and mobile apps. Using its extensive collection of tools and capabilities, you can gain many insights about user engagement, retention, and conversion rates.
Mixpanel empowers your team to make data-driven choices and enhance their marketing strategy for optimal performance by offering real-time data and configurable dashboards. Additionally, it has sophisticated segmentation skills that let organizations target particular user groups with tailored content and promotions.
Measuring the metrics that affect your bottom line.
Are you interested in custom reporting that is specific to your unique business needs? Powered by MarketingCloudFX, WebFX creates custom reports based on the metrics that matter most to your company.
Leads

Transactions

Calls

Revenue
Learn More

Frequently asked questions (FAQs) about top marketing analytics companies
1. What is the role of a marketing analytics company?
A marketing analytics company plays a crucial role in assisting organizations in analyzing and interpreting data to get insights into their marketing activities.
They use advanced tools and approaches to track and measure numerous marketing variables such as consumer behavior, campaign performance, and ROI. These agencies help businesses make educated decisions and enhance their marketing campaigns by giving valuable data-driven insights.
2. How can a top marketing analytics company help improve my business's conversion rate?
A marketing analytics company can support your organization in increasing conversion rates by analyzing data from multiple marketing channels to uncover patterns and trends. They can trace the customer journey from first contact to conversion, identifying places where potential consumers lose interest or abandon it.
By identifying these issues, this company can provide data-driven recommendations to improve your marketing strategy and conversion rates. They may also do A/B testing to determine which marketing methods and messaging are most effective with your target demographic, boosting the possibility of conversions.
3. How do top marketing analytics companies measure the impact of changes or updates to digital products?
Top marketing analytics companies use a variety of approaches and indicators to assess the impact of modifications or upgrades to digital goods. One popular strategy is to measure key performance indicators (KPIs) like website traffic, click-through rates, and conversion rates before and after the modifications.
This tactic enables them to examine the efficacy of the modifications and identify whether they resulted in good results, such as greater engagement or improved revenues. They may also employ technologies like heat maps and user behavior analysis to acquire insights into how people engage with the upgraded digital goods and recommend areas for future improvement.
4. How much does hiring a marketing analytics company typically cost?
The cost depends on your company's size and complexity, the project's scope, and the necessary experience. Top marketing analytics companies often provide various pricing options, such as hourly rates, project-based fees, or monthly retainers. It's critical to properly investigate and evaluate many firms to select one that fits your budget and special needs.
What are some key factors to consider when choosing a top marketing analytics company?
When selecting a marketing analytics company, examine its industry expertise and track record, the variety of services it offers, the technology and tools it employs, and the customization it gives.
Evaluating their capacity to analyze and interpret your data correctly and their communication and reporting abilities is also critical. Furthermore, examining their reputation and client testimonies may assist in determining their integrity and dependability.
How do top marketing analytics companies ensure data privacy and security?
Top marketing analytics companies protect data privacy and security through various safeguards and policies. They frequently have robust data security methods, such as encryption and secure servers, to protect critical information from unwanted access. Furthermore, they adhere to industry norms and laws, such as GDPR and CCPA, to ensure proper data processing and preservation.
These businesses also have stringent internal rules and processes to govern data access and limit its usage to authorized individuals exclusively. They undertake regular audits and assessments to detect and resolve system vulnerabilities. Furthermore, they give clients explicit privacy rules and agreements defining how data will be acquired, utilized, and safeguarded.
Time to Level Up Your Sales
Our long list of services helps you grow every aspect of your business with marketing strategies that are proven to increase bottom-line metrics like revenue and conversions.
In the past 5 years, we've managed more than 12.9 MILLION transactions across our client base.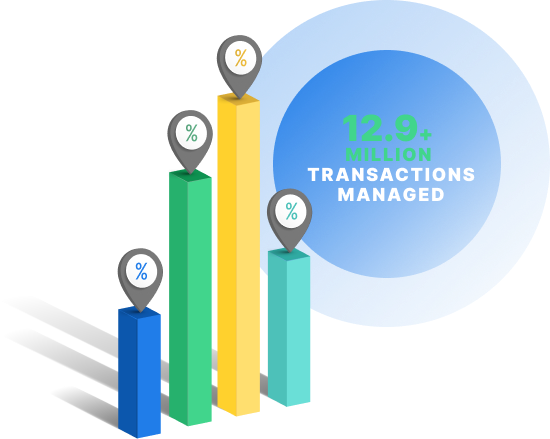 Partner with the top marketing analytics company
WebFX is a leading marketing analytics company that will support your business in realizing the full potential of its online marketing initiatives. We provide various analytics services with a team of highly qualified analysts and cutting-edge technology that lets you make data-driven choices and achieve demonstrable outcomes.
By collaborating with us, you can gain valuable insights about your company's marketing initiatives, find areas for development, and optimize its methods for optimum ROI. We provide the experience and resources to give meaningful insights that fuel your business development and enhance overall performance.
Contact us online or call 888-601-5359 to speak with a strategist.