August 4, 2023
12 minute read

Sina is a marketing expert who specializes in SEO, AI, and digital marketing content. With over five years of experience, she's written hundreds of pieces, spanning a variety of topics and industry niches. She loves combining her strong eye for detail and passion for storytelling in her work. You'll find her fruit picking or horse riding at the local farm when she's not writing.

What is account-based selling?
Account-based selling is a tactical sales strategy targeting high-value accounts and customizing the sales process to suit each client's demands and preferences. It entails in-depth research on each, identifying the key decision-makers, and developing tailored sales tactics and messaging to engage and win over these accounts.
Account-based sales aren't about selling to everyone — it's about selling to the right ones. So, you have to put on your detective game face, conduct a thorough investigation, and track down those high-value accounts waiting for you to wow them with your custom sales approach.
Focusing on account-based sales ensures that you direct your efforts at the accounts with the best chances of success. Using this method, you can modify your sales tactics and communications to better appeal to each account's unique requirements and interests, increasing your conversion chances.
How do you recognize these high-value accounts and carry out account-based sales?
This article will provide a foundation on account-based selling, a step-by-step explanation of spotting high-value accounts, and instructions on implementing an account-based sales strategy. Here's the sequence:
Let's begin!
Time to Level Up Your Sales
Our long list of services helps you grow every aspect of your business with marketing strategies that are proven to increase bottom-line metrics like revenue and conversions.
In the past 5 years, we've managed more than 12.9 MILLION transactions across our client base.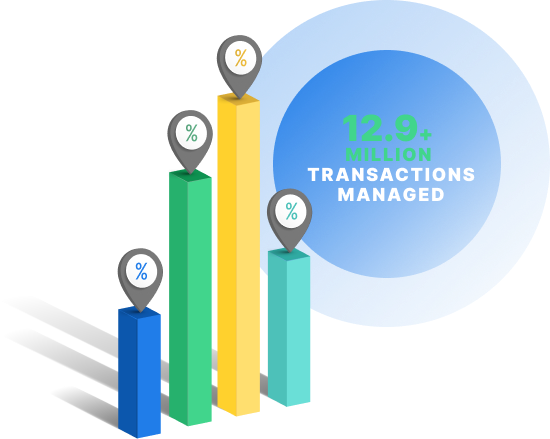 What is account-based selling?
Account-based selling is a strategic approach to identifying and engaging specific high-value accounts rather than casting a wide net. It entails targeted outreach and specialized solutions to address the particular demands of each account.
How does account-based selling have a business impact?
Account-based selling significantly impacts business performance because it enables you to center your resources on the accounts most likely to produce high-value sales.
Targeting specific accounts allows your team to customize their sales and marketing strategies to fit individual customers' particular demands and preferences, thereby boosting the possibility of deal closure and revenue generation.
Account-based sales also enable your business to offer specialized and customized solutions to valuable clients, strengthening customer relationships and loyalty. Adopting this approach will allow you to understand your clients' challenges better and create solutions that offer value.
Account-based sales vs. account-based marketing
Account-based marketing and sales may sound similar, but they are separate strategies. Account-based sales emphasize individualized, one-on-one engagements with individual accounts, personalizing solutions and tactics to their particular requirements.
This strategy necessitates a thorough awareness of each account's problems, objectives, and pain points to be effective. Only then can sales teams offer focused and genuinely helpful solutions.
On the other hand, account-based marketing adopts a broader strategy and uses various marketing channels and methods to target multiple stakeholders within a single account.
This technique tries to raise awareness and spark interest among a larger account holders, aiming to turn them into customers. It frequently uses personalized and unique content that responds directly to the wants and concerns of each stakeholder.
Your business can build a comprehensive strategy that increases its chances of success in acquiring and keeping key accounts by combining account-based sales and marketing strategies.
Measuring the metrics that affect your bottom line.
Are you interested in custom reporting that is specific to your unique business needs? Powered by MarketingCloudFX, WebFX creates custom reports based on the metrics that matter most to your company.
Leads

Transactions

Calls

Revenue
Learn More

Organizing your account-based sales team
There are several key factors to consider when organizing your account-based sales team. Here are the top three:
1. Clearly define roles and responsibilities within the team
First, you need to define the team's roles and responsibilities clearly. This step involves assigning certain staff members to prospecting, nurturing, and closing accounts.
For instance, you could give a committed team member the prospecting task of researching and uncovering potential significant accounts. Then assign another team member to nurture those connections through specialized marketing initiatives. You could also give the closing role to a proficient salesman who establishes rapport and persuasively presents the company's products to important decision-makers inside the accounts.
This division of labor allows each team member to focus on their expertise, enhancing productivity and success in securing and retaining key accounts.
2. Ensure the team comprehends the target accounts' unique needs
Secondly, ensure the team is thoroughly aware of the target accounts and their unique requirements. You can do this through a thorough investigation and consistent communication with account holders.
The team can learn valuable information about the account holders' objectives, difficulties, and preferences by remaining informed and in contact with them. They can then use this information to adjust their strategy and product offerings to suit each unique account's requirements better.
Regular communication also strengthens the trust between the team and the account holders, increasing customer retention and loyalty.
3. Establish effective communication channels within the team
Establishing efficient lines of communication inside the team and with other divisions like marketing and customer service is another crucial factor. This approach guarantees smooth coordination and collaboration, providing account holders a unified and customized experience.
Frequent team meetings and open communication channels enable the exchange of ideas, comments, and information on account holders' requirements and preferences. Your departments can work together to handle any obstacles or concerns by building a culture of cooperation and openness, eventually leading to greater customer satisfaction.
How to identify high-value accounts
Here are six steps to identify high-value accounts:
Analyze historical data: Evaluate historical data to locate accounts that routinely produce significant income or can potentially do so in the future. Analyse prior account transactions, buying trends, and general customer behavior.
Implement segmentation strategies: Group accounts by income, spending habits, demographics, and engagement level to determine high-value accounts within each segment.
Set criteria for high-value accounts: Establish precise standards that constitute a high-value account for your company based on your analysis and segmentation. This criterion might include the overall amount spent over a specified period, regular and frequent purchases, or activities that directly bring in Revenue.
Use predictive modeling techniques: Leverage statistical methods and algorithms to forecast the future value of accounts based on previous data and factors such as customer churn rate, average transaction amount, and lifetime value.
Track account activity: Monitor account activity closely to spot any abrupt increases or shifts in spending trends that could point to a high-value account. You can utilize technologies like data analytics platforms and transaction monitoring software to automate this process and get real-time warnings.
Seek customer feedback: Interact with customers via surveys or feedback forms to learn more about their satisfaction levels, preferences, and ideas for enhancing their experience. This data can aid in finding high-value clients who are more likely to give insightful input and advance your company's objectives.
Combining data-driven analytics and proactive client interaction techniques can help your firm find high-value accounts. By utilizing analytics solutions, you can automate locating high-value accounts and get instant notifications when specific conditions are satisfied.
Meet MarketingCloudFX:
One platform tracking countless metrics and driving stellar results.
Learn More About Our Proprietary Software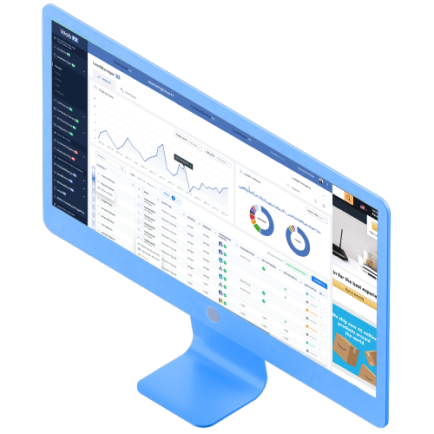 How to implement an effective account-based sales strategy
Follow these steps to implement an account-based sales strategy:
Step 1: Identify target accounts
The first step in executing a successful account-based sales strategy is identifying your target accounts. This step involves extensive research and analysis to determine which accounts best match your ideal customer profile (ICP) and have the most excellent chance of success.
Consider variables like industry, company size, income, and buying habits to ensure you focus on the proper accounts. By determining your target accounts, you can focus your time and resources on the accounts that are most likely to provide a successful sales outcome.
Refer to the above section to learn how to identify high-value accounts in just six steps.
Step 2: Build a cross-functional team
Once you've identified your high-value accounts, assemble a cross-functional team to manage and nurture them. This team should include representatives from various departments, including:
Sales: Sales representatives will be responsible for managing and nurturing high-value accounts. They will be responsible for cultivating connections with essential stakeholders, understanding their needs and challenges, and offering customized solutions that meet their demands.
Marketing: Marketers will assist the salespeople by developing specialized campaigns and messages to include and inform high-value account clients. They will also examine market trends and rivals to discover areas for development and distinction.
Customer support: Customer care agents will be ready to assist high-value account customers and solve any issues or difficulties. They will guarantee that issues are addressed quickly and efficiently to increase customer happiness and loyalty.
Client happiness management: The client happiness managers will focus on developing and sustaining great connections with high-value account clients. This team will contact decision-makers on a proactive basis to collect feedback, resolve any issues, and maintain their overall happiness.
Product development team: The product developer will be in charge of constantly enhancing and upgrading our services to satisfy the changing demands of high-value account clients.
You can leverage a diverse group of experts' unique talents and knowledge to communicate with your target accounts by bringing them together. This cross-functional strategy guarantees that all parts of the customer journey are considered and that the appropriate resources are assigned to each account.
Step 3: Create personalized messaging and a contact plan
Create customized messaging and a contact plan once the account management team is in place. This step entails recognizing each account's unique demands and pain areas and adapting communications to address them adequately. Customized messaging allows you to guarantee that your communication is relevant to the account and adds value.
Establishing a contact plan can help you decide how often and how you will communicate with each account — phone, email, or in-person meetings. The strategy should be adaptable enough to ensure consistency and dependability in your communication efforts while considering the account's shifting demands and preferences.
Step 4: Create account-specific content
The next stage is to build account-specific content that speaks directly to each account's requirements and interests.
To develop account-specific content, follow these steps:
Learn about the account's needs, objectives, and difficulties. You can achieve this by speaking with the account reps or investigating the market and rivals.
Create a content strategy that specifies the types of content you'll produce — blog posts, case studies, or social media campaigns.
Customize each content type to target the account's pain points and offer valuable solutions. This tactic ensures that your material resonates with the account's decision-makers and successfully conveys the benefits of your product or service.
Establish the frequency and timing of content distribution while considering the account's preferences and the platforms where they are most engaged. Collaborate with account managers to develop a content schedule that reflects their marketing goals and objectives. This approach will guarantee that you consistently deliver your content on schedule.
Frequently analyze your content's effectiveness to spot problem areas and inform your judgments on what material to produce going forward. This approach will enable you to consistently improve your strategy and create even more powerful content that directly solves the account's problems and generates substantial results.
Understanding what connects and does not with your target audience allows you to make educated decisions about modifying and optimizing your content for better results. This iterative strategy will help you stay ahead of the competition and keep improving the effectiveness of your content marketing activities.
Step 5: Implement a multi-channel approach
You can improve the efficiency of your account-based marketing initiatives by using a multi-channel marketing strategy. To connect with your target accounts, combine different channels:
This process increases the likelihood that your target accounts will connect with your content by consistently distributing it across various channels. Also, incorporating these tactics enables a more thorough and all-encompassing approach to your marketing initiatives, enhancing the campaign's overall success.
Step 6: Track account-based sales metrics
Establish key performance indicators (KPIs) to measure the effectiveness of your account-based sales strategy. Track account-based sales metrics like:
Account engagement rates: This metric indicates the degree of engagement and interest from your target accounts, including the number of website visits, email openings, and social media engagements. You can use it to determine how successfully your plan connects with your core audience.
Conversion rates: This metric measure the proportion of target accounts that successfully become paying clients or carry out a desired activity — making a purchase or requesting a demo. It offers perceptions of how well your sales activities contribute to business outcomes.
Average contract value (ACV): This indicator calculates the typical value of client contracts. It aids in determining the total income made from every account and evaluating the profitability of various customer categories.
Target accounts Revenue: This metric mainly records the income earned from your target accounts. It aids in evaluating your sales team's ability to sell to these major accounts efficiently and can guide future tactics for pursuing similar consumers.
Customer retention rates: This metric indicates the proportion of clients who stick around over an extended period. It's a crucial sign of client loyalty and happiness, as well as the success of your strategy for keeping customers.
Consistently assessing and evaluating these outcomes enables you to spot areas for development and implement essential changes to guarantee ongoing success in your account-based sales initiatives.
37% of marketers say that generating high-quality leads was one of their biggest challenges.
We want to decrease that percentage.
WebFX can help you generate high-quality leads with a customized marketing strategy.
Learn More About Lead Generation Services
Boost Revenue with account-based marketing services from WebFX
WebFX provides a full range of account-based marketing services to boost your business's Revenue. We'll work with you to locate and focus on high-value accounts with the highest conversion rates using our digital marketing expertise and data-driven strategy.
Our account-based selling strategies let you customize your sales process, making it more successful and efficient at grabbing the interest of key decision-makers. With our guidance, you can develop specialized marketing strategies, distribute targeted content, and offer a streamlined client experience that increases conversions and profits.
Why wait?
Contact us online or call 888-601-5359 to speak with a strategist about how our account-based marketing services can help your business convert more customers.
Sina is a marketing expert who specializes in SEO, AI, and digital marketing content. With over five years of experience, she's written hundreds of pieces, spanning a variety of topics and industry niches. She loves combining her strong eye for detail and passion for storytelling in her work. You'll find her fruit picking or horse riding at the local farm when she's not writing.

WebFX is a full-service marketing agency with 1000+ client reviews and a 4.9-star rating on Clutch! Find out how our expert team and revenue-accelerating tech can drive results for you! Learn more
Try our free Marketing Calculator
Craft a tailored online marketing strategy! Utilize our free Internet marketing calculator for a custom plan based on your location, reach, timeframe, and budget.
Plan Your Marketing Budget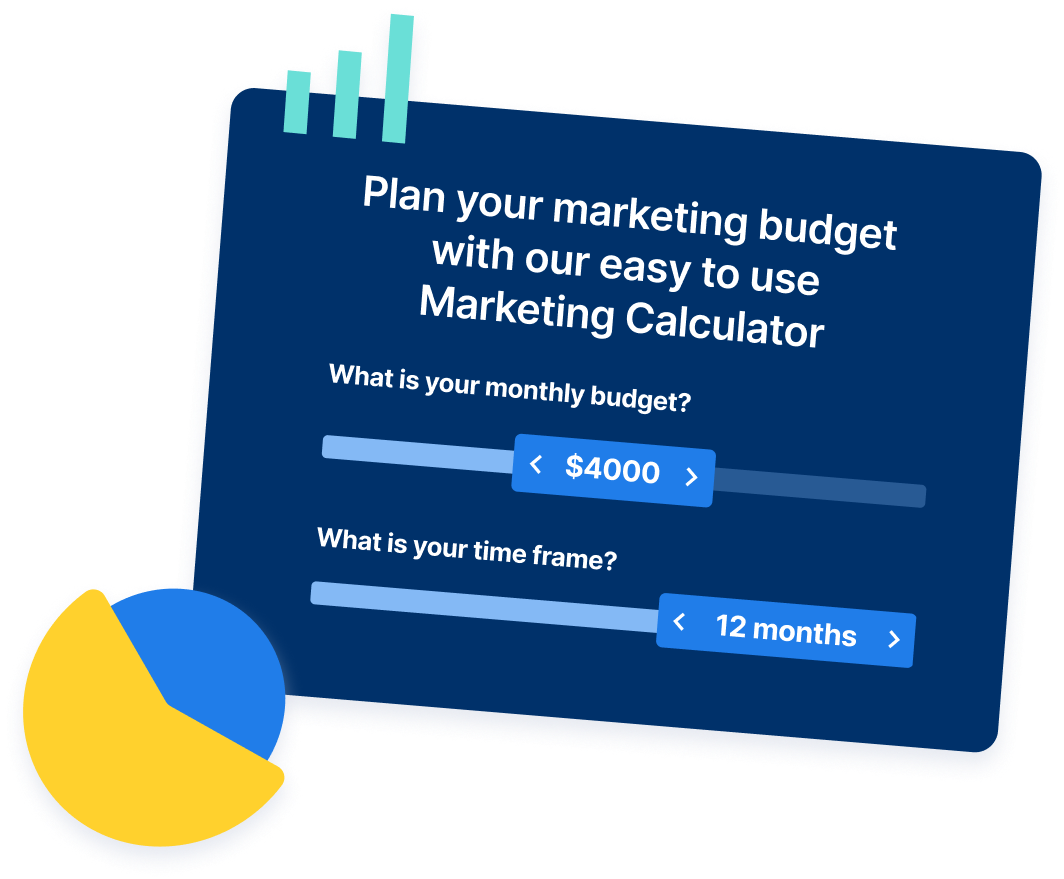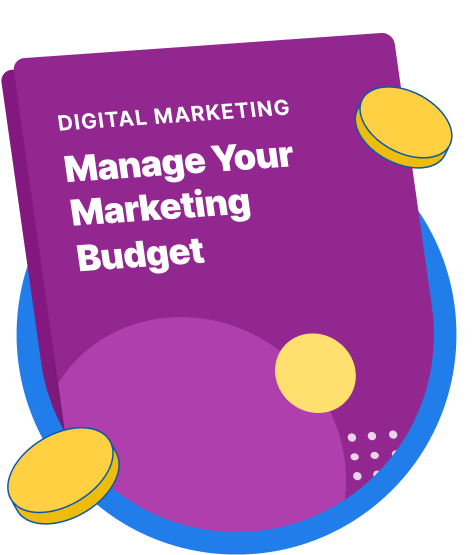 Maximize Your Marketing ROI
Claim your free eBook packed with proven strategies to boost your marketing efforts.
Get the Guide
Try our free Marketing Calculator
Craft a tailored online marketing strategy! Utilize our free Internet marketing calculator for a custom plan based on your location, reach, timeframe, and budget.
Plan Your Marketing Budget