At your construction company, building homes or offices is what you do best. But what about building a phenomenal online marketing campaign? With the help of some killer advertising, you can quickly rocket up the amount of construction work you get in your area!
How do you do that effectively, though? If you're still uncertain about what to do, don't worry. Below, we'll explore how to get more construction jobs with five tips.
Read on to learn more, and then consider partnering with WebFX's team of over 500 experts to get help implementing all these tips for your contracting business. Just call us at 888-601-5359 or contact us online today!
5 tips for how to get more construction jobs
There are several ways you can use online advertising to boost your leads and conversions. Here are five tips on how to get more construction work.
1. Craft compelling web content
To get construction leads, you need to find a way to draw people in, and few tactics are more effective at doing that than content marketing.
Content marketing is a strategy where you craft web content like videos and blog posts to attract users to your site. It's one of the most essential elements for getting construction projects.
All the content you create should be relevant to your construction business. Some of your pieces can provide people with information about your industry, while others can be specifically about you or your services.
A great way to continue generating fresh content consistently is to start a blog. On your blog, you can write about topics relevant to your industry that you think potential clients might find interesting. You can find topic ideas by using a tool like Google Trends to find popular topics.
If your content is engaging enough, users will visit your site to read it. You can then use practices like internal linking — where you link to other pages on your site in your content — and call to action (CTA) buttons to keep those users on your site longer.
2. Harness the power of local search
Since your construction business operates within a specific geographic area, you need a way to target people exclusively within that area on Google. Fortunately, you can do exactly that when you use local search engine optimization (SEO).
Local SEO is the practice of optimizing your site to rank in local Google searches. One of the best ways to do this is to integrate local keywords into some of your pages. Then, when nearby users search for those keywords, they'll encounter your content as an answer to their query.
One way to harness the power of local search is to write content that targets your specific location, which will help you rank in searches for terms like "near me" or "in [your city]."
You can further increase your local search optimization by setting up a Google Business Profile listing. Local searches generate Google Business Profiles in the top results, increasing the chance of people coming to your website when they search for construction companies.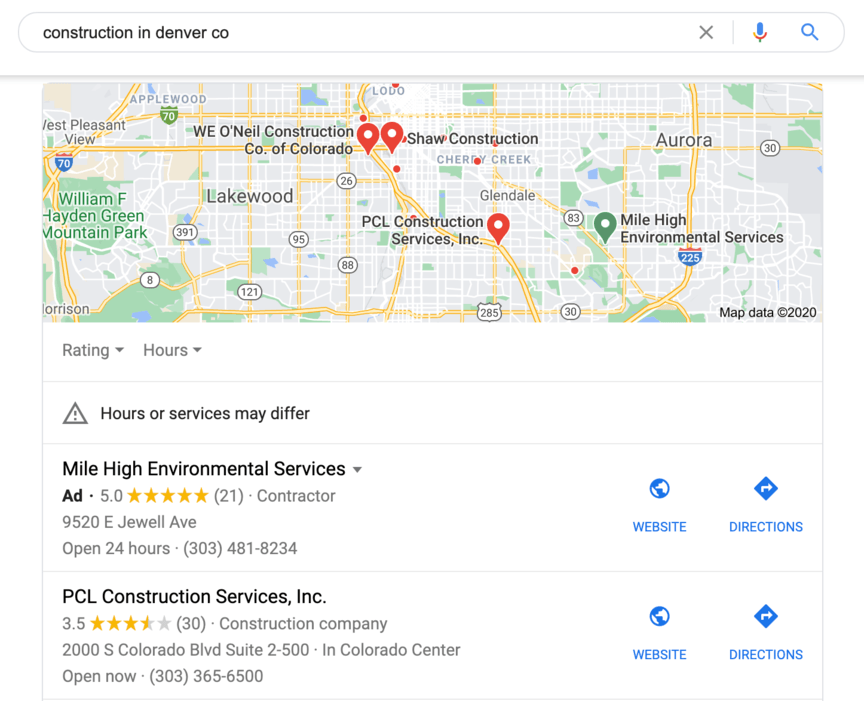 When you set up a Google Business Profile, you'll put in information such as your business's location and contact information. When you claim and fill out your listing, users can find your business first.
3. Invest in paid search advertising
Another great way of getting construction projects through Google is to launch a campaign. Paid ads appear at the top of Google search results and resemble organic results, save for the "Ad" label in the top corner.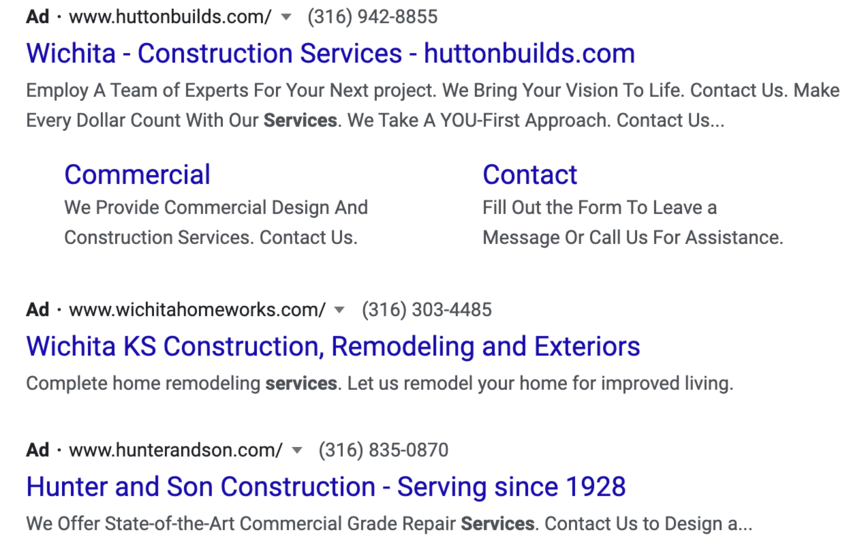 To launch paid ads, set up an account in Google Ads, and then bid on the keywords you want to target with your ads. Anytime someone searches those keywords, Google shows the ads of the companies with the highest bids and best quality scores.
Most paid advertising in Google is pay-per-click (PPC), which means you only have to pay for an ad when someone clicks on it. This setup makes PPC relatively cost-effective.
Like with SEO, you should target keywords that are relevant to your business, particularly those related to local searches. You should also design your ads — as well as the landing pages they lead to — to satisfy user search intent.
Particularly when you pair SEO and PPC together, you can put your business in a position to dominate Google search results and get construction leads at a much faster rate.
4. Market your business on social media
Google isn't the only place to find an audience online. Social media owns nearly a third of the average user's Internet time. That means it's a surefire way to find a wide audience — and expanding your audience is one of the key elements in how to get more construction work.
To start, you can set up a social media account for your business on the platforms of your choice. Popular social media platforms include:
Once you choose your platform(s), start posting engaging content.
From your account, you can post infographics, videos, and links to your blog posts. Whatever you do, make sure you're giving your followers content that they're interested in viewing.
You can also launch a paid social media advertising campaign to get construction leads at an even higher rate. The most common format for social media ads is in-feed ads, which appears in users' social media feeds.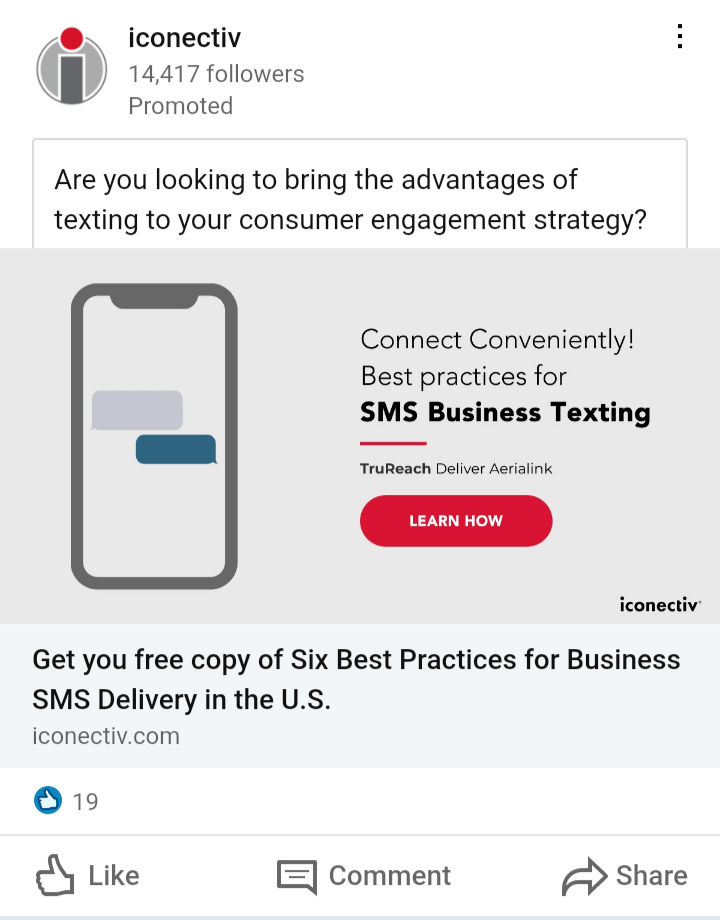 The best part about paid social media ads is that you can target them to specific groups of users based on factors like age and geographic location. This targeting allows you to reach members of your audience that haven't discovered your business yet.
5. Optimize your web design
Everything else on this list has aimed to lead users back to your website, so for it to pay off, you need to make sure your site can keep users engaged once they arrive. To do that, you'll need to optimize your web design.
Web design covers a variety of features on your site, but one of the most essential elements to get right is responsive design. Responsive design is the practice of optimizing your site for a mobile format, which is crucial because Google ranks sites based on that format.
Another important factor in web design is page load speed. Most users expect pages to load in two seconds or less, so you need to ensure that your site meets that demand. Otherwise, you could see many of your visitors hitting the back button before the site even loads.
On top of those things, you can improve the visual appeal of your site, so users will find it pleasing to view. When you optimize for these elements, and more, you'll get more construction projects for your business.
Time to Level Up Your Sales
Our long list of services helps you grow every aspect of your business with marketing strategies that are proven to increase bottom-line metrics like revenue and conversions.
In the past 5 years, we've managed more than 12.9 MILLION transactions across our client base.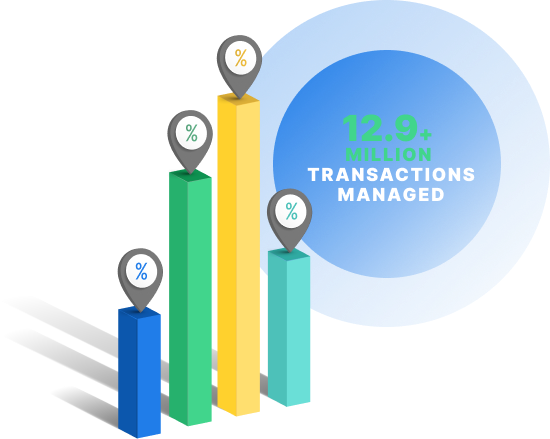 Hear What It's Like to Work With WebFX!

"We were looking for a forward-thinking but down to earth SEO company to partner with. Not only were we looking to build a long term business relationship but we needed them to understand our needs as a small company. And WebFX met all of that criteria. Our experience has been unparalleled; from the sales team who made the drive to our office to meet us in person to our Internet Marketer who has been an absolute joy to work with. They are completely transparent about their services and they take the time to explain everything which not only sets them apart from every other SEO company we have worked with but we also feel like we're taking something away from our interactions with the staff at WebFX. We are exited to see where this year will take us knowing that we have such a great support system with their company."
Home Contractor
Get help getting construction clients with WebFX
Knowing how to get more construction jobs is as simple as knowing the strategies listed above. What may not be as simple is figuring out how best to implement those strategies. If you need help working out all the details, don't worry — WebFX is here to help!
With over 25 years of experience in the digital marketing industry, WebFX knows all the ins and outs of getting construction clients, including the latest construction trends. We'd love to help bring that knowledge to your business!
To get started with us, just call us at 888-601-5359 or contact us online today to learn more about our digital marketing services!
Earn a 20% greater ROI with WebFX