5 Ways to Increase Online Response Rates
When you look at the typical response rates on marketing campaigns, the numbers are remarkably low. In one study by the DMA, mobile, social media and email all had rates at 0.1-0.2 percent—a fraction of 1 percent.
But although these may be the average rates, that doesn't mean you have to settle for them. Remember, this study revealed the average response rate. People may ignore a marketing message for a variety of reasons. Some may not be in the market, some may miss a message amid a flood of similar pitches, and some may not like how it was presented.
You could accept these rates as the benchmark, or you could take it as a challenge to find out why your rates are low and then make changes to drive them even higher.
One of the reasons so many marketers are focused on optimization is because they want to drive even more performance out of each new marketing initiative. You will, too, if you follow these steps for increasing online response rates.
If you'd like to speak with a specialist, you can reach us at 888-601-5359.
WebFX has the strategies necessary to increase your online response rates.
1. Ensure lead quality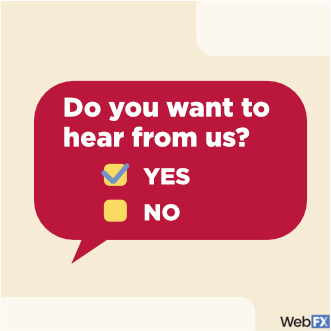 Some marketing campaigns are great in terms of content and offer quality, but still don't achieve high response rates. In many cases, it's because the content and offer aren't a good match for the target market—or rather, the target market brought in by previous offers or lead generation efforts.
If you're focused on increasing online response rates, make sure your potential leads are truly in the market for your products and services.
A lead nurturing program will help you focus your efforts on prospects who are most interested in your offer. You don't need a lengthy process to qualify leads, though. An email marketing program, for instance, can identify viable leads with a double opt-in strategy.
Ask subscribers to confirm that they want to hear from you, and you'll eliminate the chances of gaining subscribers that will never open any of your emails.
2. Include clear calls to action
The goal of any marketing campaign is to drive an action. However, your customers and prospects have to know what that action is if they're going to take it. Before sending out every email or social media post, make sure your call to action is clear and easy to follow.
Be explicit about what you want your audience to do. Tell them to click a designated button or fill out a form on a landing page. Make your call to action stand out from other elements on the page with a large font size and contrasting color, and place it above the fold and away from the body of the copy.
The easier is it to see, the more prominent it is on the page, and the more likely it is to get attention.
3. Personalize your offers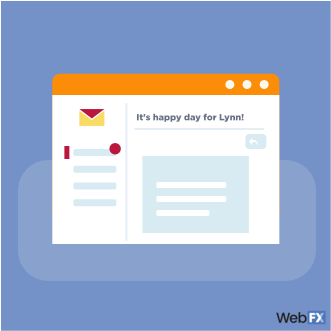 Today's consumers are accustomed to marketing materials that are designed with their specific needs in mind. Get a better response to each marketing campaign by tailoring the message and the offer to each individual recipient.
Address every email recipient by first name. Craft offers bases on past purchases and prior motivating incentives. When promoting a sale, highlight products that are similar to the ones they've bought in the past.
You might even consider crafting different incentives for different audiences. That way, consumers who respond to discounts will get a coupon, while those who respond to up-sells and add-ons would get something free with each purchase.
4. Test and optimize everything
What makes one campaign succeed and another campaign fall short? There are all sorts of reasons why. Perhaps the message wasn't very exciting, or the price point didn't attract the right prospects. You'll never know what works and what doesn't until you start testing and optimizing each element of your campaigns.
Run A/B tests on each of your marketing materials. Test headlines, button colors, photos, calls to action, and page layouts. Once you perform a test, put the winning element in your next campaign and then test something else.
This will help you increase online response rates on each campaign, as well as give you insights into how to effectively target and personalize subsequent campaigns.
5. Check technical issues
Even after optimizing copy, graphics, and calls to action, you may still find your response rates aren't moving up. The problem may not be the offer, but the user experience.
Slow-loading pages, broken links, and incompatible browsers can frustrate potential customers and drive them away from your website for good. Don't lose these sales—ensure a good experience by fixing technical issues before they occur.
Format images, so they appear intact in emails and help pages load quickly. Check links to product pages, contact fields and other important destinations to ensure customers can move seamlessly through the ordering process.
Run tests across multiple browsers and devices and fix any problems that might cause people to abandon your site. People fail to make sales for several reasons—a poor-performing website shouldn't be one of them.
Want to increase your online response rates?
No online marketing strategy will ever have a 100 percent response rate, but every marketing strategy can be optimized for better results. Whether you want to reach a specific marketing goal or just want to get a bigger boost out of your marketing spend, these strategies will bring in the additional response, sales and revenue your company wants.
If you'd like assistance with improving your company's response rate, WebFX can help. Contact us today to speak with a strategist!
Earn a 20% greater ROI with WebFX