Paul owns a car dealership that's been successful for a few years, but he feels like his foot traffic is dropping off recently. He wants to find new ways to reach people and grow his business. If you're like Paul, you're probably wondering how you can grow your car dealership online.
Well, we've got the solution for you: Search engine optimization (SEO).
SEO is the process of optimizing your site to rank better in search results, which can help you get your dealership more interested customers.
On this page, we'll provide you with five tips for getting started with SEO for dealers and distributors.
If you need help launching your SEO campaign, give us a call at 888-601-5359 or contact us online to speak with a strategist about our SEO services!
Independent research from Clutch has named WebFX the
top SEO company

in the United States.

Clutch has personally interviewed more than 250 WebFX clients to discuss their experience partnering with us.

Read More Clutch Reviews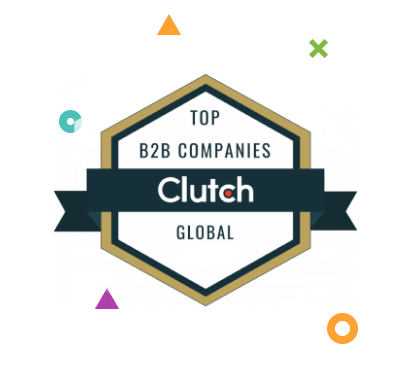 1. Optimize your pages for relevant key terms to rank in the right search results
If you want your site to appear in relevant search results, add relevant keywords to your pages. When users conduct searches, they use keywords to help them find relevant pages.
Drive relevant leads to your page by choosing keywords that drive qualified traffic. You can find applicable key terms by using a keyword research tool, like KeywordsFX, to conduct keyword research. Start with your topic idea for your page and input it into the tool.
Let's say you own a car dealership in Seattle and want to find relevant key terms to help you rank in local searches. When you input "car dealership Seattle" into KeywordsFX, you'll get dozens of options for keywords you can use on your site.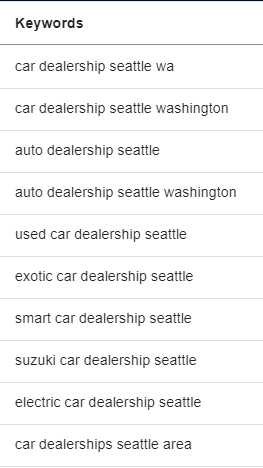 You can see numerous great keywords to use on your site like:
auto dealership Seattle Washington
car dealership Seattle, WA
Generally, when you conduct keyword research, you'll want to stick to keywords with three or more words — known as long-tail keywords. Long-tail keywords are better for your business because they're more specific.
When someone uses long-tail keywords, you know the search intent and what they hope to find. A term like "used car dealership in Seattle" indicates that someone is looking for someone who sells used cars in Seattle.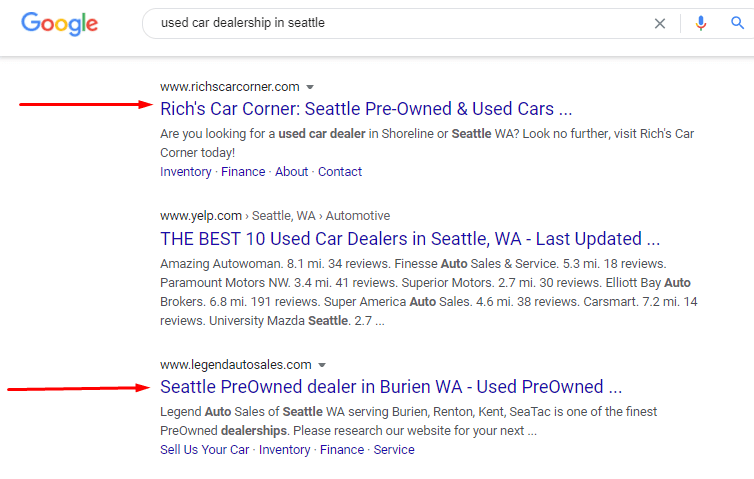 A term like "used cars" is vague, as it doesn't specifically tell you what the searcher wants to find.
They're probably looking for a used car, but where? Not to mention, this generic search term is more likely to generate results from third-party sites like Car Gurus and Cars.com rather than results for specific dealerships.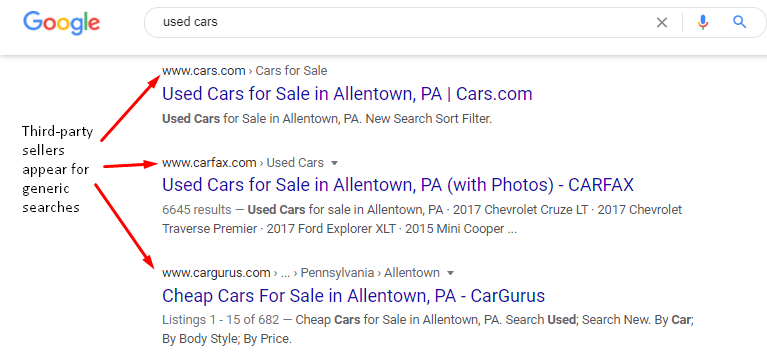 If you want to see success with dealership SEO, you need to focus on selecting long-tail keywords and integrating them into your site. With that approach, you'll help drive more qualified traffic to your site — and your dealership.

Hear What It's Like to Work With WebFX!

"WebFX is a great company to work with! The marketers are dedicated to their clients and you can tell each team member truly enjoys their work and has a real passion for what they do!"
Heavy Equipment Distributor
2. Claim your Google Business Profile listing to drive local leads
When you do SEO for auto dealers and distributors, you need to remember that many of your customers are local to your area. You need to ensure that when leads search for a local auto dealer, your website appears in these local searches.
To help your dealership appear in local searches, you need to claim your Google Business Profile listing.
Your Google Business Profile listing is your local listing that appears when people conduct searches looking for businesses in a specific area or using the phrase "near me." This search query generates a box with three Google Business Profile listings, known as the local SEO 3-pack.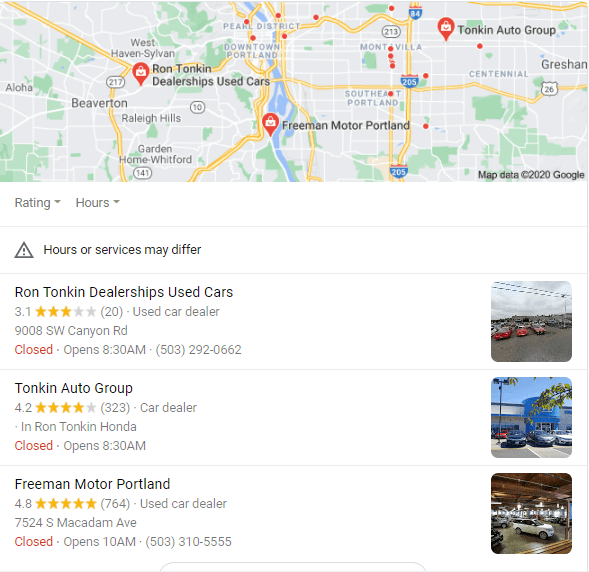 When you claim your local listing, fill it out completely. Make sure your name, address, and phone number are accurate. You'll also want to add your hours of operation and a short blurb about your business.
Another critical part of your listing is photos. Photos have a significant impact on leads engaging with your listing. In fact, by having 100 images or more, you can receive 520% more phone calls and 1065% more website clicks!
By filling out your Google Business Profile, you can help your car dealership appear in more local search results and drive more qualified leads.
3. Ensure your site loads quickly, so users don't abandon your site
When users search for information, they want it fast.
Users expect your site to load within two seconds, so they can get the information they need and go. People won't sit around and wait for your site to load — 53% of users will abandon your website if it takes more than three seconds to load.
If users abandon your site almost immediately, it sends a negative signal to Google that your site isn't relevant to the search query. As a result, you won't rank as well in relevant searches.
To ensure your site ranks well in search results, you need to speed up your site.
You can check your site's current load time by using a tool like Google PageSpeed Insights. This tool will help you see your site's load time on mobile and desktop devices, as well as make suggestions to improve your load time.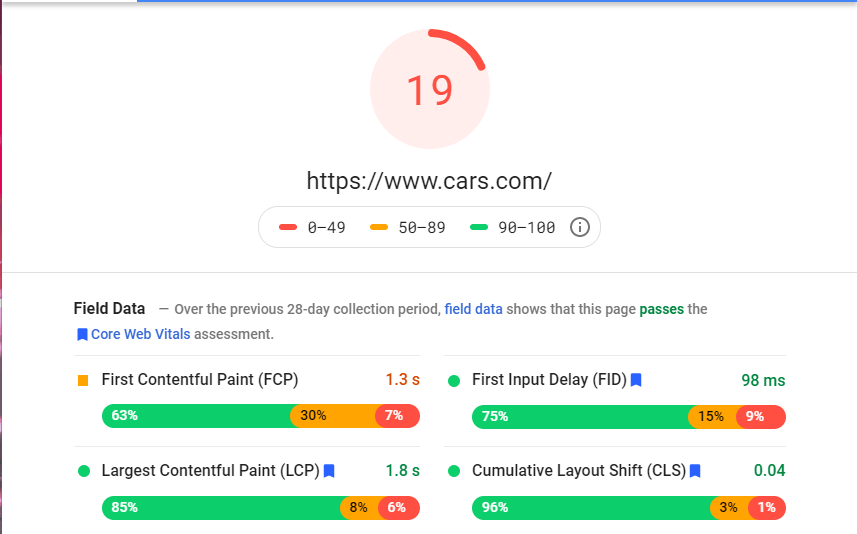 When you use this tool, you'll get numerous suggestions on how to improve your site's load time, like:
Compressing image files
Using browser caching
Minifying site coding
Reducing redirects
If you don't have experience optimizing your site's backend, you can invest in page speed services from a digital marketing company like WebFX to help you improve load time.
4. Make sure your site is mobile-friendly to provide a positive user experience
When you do SEO for dealers and distributors, you need to ensure that your site works well on mobile. Google adopted a mobile-first index that takes your site's mobile version into account when ranking you in search results.
So, if your site isn't mobile-friendly, you're less likely to rank high in search results.
To make your site mobile-friendly, use responsive design. Responsive design enables your site to adapt to whatever device your audience uses, so they get the best experience. They can browse your inventory of cars without skipping a beat.
Without responsive design, your audience won't have a positive experience.
Imagine trying to access the desktop version of your site on a small, mobile device. You'd have to zoom in and out to click buttons and immediately get frustrated. Responsive design ensures your audience doesn't have that experience.
Improving user experience is a critical component of dealership SEO, so you'll appease your users and Google by providing a mobile-friendly site.
5. Create content to establish yourself as a trustworthy expert
If you want to get the most out of SEO for auto dealers and distributors, you need to add content marketing to your plan. Content marketing and SEO go hand-in-hand with helping you rank in search results.
If you want to appear in search results, you need to create content to have something to rank. To get content to rank, you need to do dealership SEO to help more people discover your helpful information!
To start with content marketing, you need topic ideas.
What are the common questions your buyers ask when purchasing a car? You may hear questions like:
How do I finance a car?
How do I figure out which car is best for me?
How do I get an auto loan?
You can use these types of questions and frame content around them to help answer your audience's questions.
If you need additional topic ideas, you can try using a tool like Google Trends to see what topics are trending in your industry. You can also visit your competitor's sites and see what content topics they're covering.
Once you have your topic, you can choose your content format. Some popular content formats include:
You want to use various content formats to appeal to everyone in your audience. Some people enjoy reading blogs, and some people would rather watch a video. Utilizing different content formats will help keep your content fresh, too, because people can consume it in various ways.
When you create your content, make sure it matches the user search intent. Search your term first, and see what people have already written about the topic. You'll want to ensure you're covering similar information, so you meet your audience's expectations.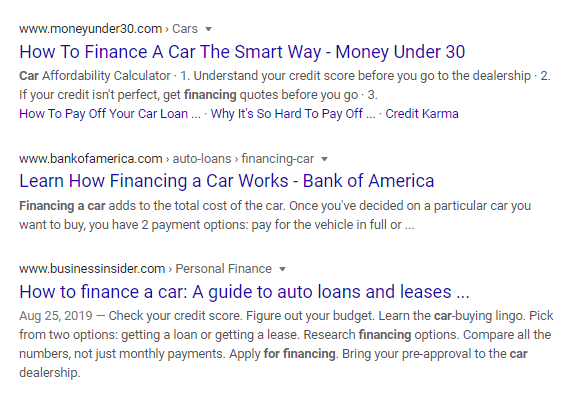 Once you create your content, dealer and distributor SEO will come into play. You need to ensure your content is optimized for your target keywords and doesn't contain anything that will slow the page's load time.
Additionally, make sure your content is user-friendly, too. When content is user-friendly, your audience is more likely to stay on your page and engage with your content, boosting your SEO. You can create user-friendly content by:
Adding relevant visual images to the page
Breaking up text in paragraphs with three lines
Using numbered or bulleted lists
Making sure you're using easy-to-read web-safe fonts
Start selling more cars with SEO for dealers and distributors
Dealer and distributor SEO is no small feat. It requires optimization and improvements to help your site rank in search results and drive relevant leads. If you're too busy trying to manage your dealership to invest time in SEO, WebFX is here to help.
We have a team of over 500 SEO experts that can help you craft a custom dealership SEO campaign that will grow your business online. In the past five years, we've driven over $3 billion in sales and over 7.8 million leads for our clients. You can count on us to drive the results you desire.
Ready to rev up your marketing efforts? Contact us online or call us today at 888-601-5359 to speak with a strategist about our SEO services!
Earn a 20% greater ROI with WebFX