As a skid steer attachment company, you provide your customers with the tools they need to get the job done. Whatever work they need to do, they know they can count on you to get them the right skid steer attachment.
You can think about your digital marketing similarly. Each asset in your digital marketing arsenal has a role to play. But they all work together to accomplish your overarching goals — meeting your customers' needs and growing your business.
So, which assets are the most useful in Internet marketing for skid steer attachment companies? And how can you use each one to its fullest potential? That's what we'll discuss in this article.
At WebFX, we have more than 25 years of experience providing digital marketing services to companies in a wide variety of industries, including heavy equipment. Contact us to learn more about our expert online marketing services.
Our digital marketing campaigns impact the metrics that improve your bottom line.
See More Results

WebFX has driven the following results for clients:

$3 billion
In client revenue

7.8 million
Leads for our clients

5.2 million
Client phone calls
7 assets for Internet marketing for skid steer attachment companies
What are the top assets for online marketing for skid steer attachment companies? Here are seven skid steer attachment marketing assets to try and how to best use them.

Hear What It's Like to Work With WebFX!

"Our website has experienced a significant increase in traffic since starting with Webfx. Our team is very impressed with the clicks we are experiencing with our Geo-Fencing campaigns and we look forward to seeing our monthly reports with the positive results."
Heavy Equipment Dealership
1. Your website
Your website is the foundation of your digital marketing strategy. It's the primary place customers will go to learn about your business and make purchases. Your emails, videos, and other types of content will aim to bring users to your site.
Because your website is so integral to digital marketing for skid steer attachment companies, you need to invest time and resources into making it as effective as possible.
Make sure your website features professional design, as 75% of the factors visitors use to assess a website's credibility are design-related.
Your website should be responsive, which enables it to look great and work correctly, whether someone views it on a desktop computer, a tablet, or a smartphone. Responsive design is essential since more than half of website traffic now comes to mobile devices.
Clear navigation is another website necessity, as it enables visitors to quickly find for the information they need.
2. Your blog
You'll also want to include a blog on your website. A blog is an excellent place to share helpful information with your audience.
Your blog can help you improve your search engine rankings. You can write about topics that your audience is searching online. That way, when they're searching for information related to your products, your website will show in search engine results.
For example, online marketing for skid steer attachment companies might involve writing a blog post about the best skid steer attachments for clearing brush. With the right search engine optimization (SEO) strategy in place, that post will show up when users search that term, bringing traffic to your website.
If you're looking for other blog topic ideas, think about what questions your customers often ask and try to answer them. You can also offer tips and ideas for using skid steer attachments and highlight use cases from your customers.
3. Your Google Business Profile
Optimizing your Google Business Profile will help your website show up in local searches. These are searches related to a specific location, such as "skid steer companies near me" or "skid steer companies in Los Angeles."
Your GBP profile is what Google uses to populate the local 3-pack that shows up at the top of these local searches. Your GBP information also shows up in Google Maps and the box on the right side of the search engine results page (SERP) for branded searches.
Below is an example of a local three-pack that the search "where to buy skid steer attachments" brings up: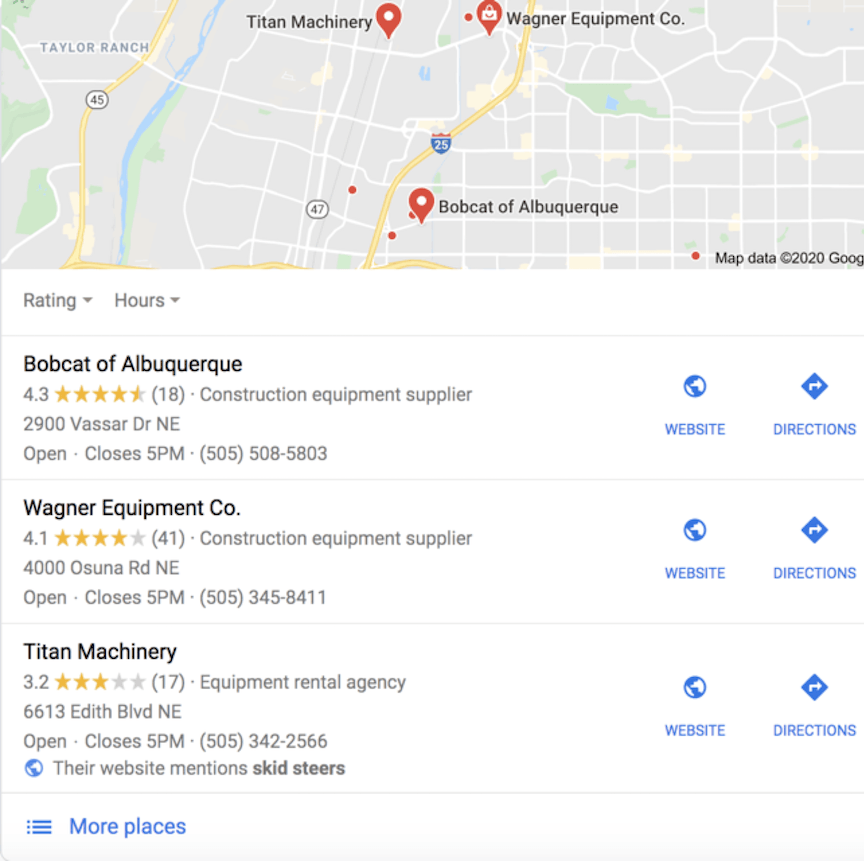 If your business doesn't have a GBP listing yet, you can create one by logging into GBP. If your business already has a listing, you can claim it through GBP or Google Maps.
To optimize your listing, make sure all of your information is filled out, including your business name, address, and phone number. Also, choose a category for your business, and write a short description of your company that uses terms your customers might use when searching for it, such as "skid steer attachment company."
4. Videos
Videos are another useful asset for online marketing for skid steer attachment companies.
You can cover similar topics as you would with your blog. Some ideas include:
Product descriptions
Model comparisons
Use cases
Customer interviews
And more
Videos let you present information in a visual way, which can be more engaging. In fact, customers are 10 times more likely to interact with a video than a block of text.
Adding video can also enhance many other digital marketing tactics. It can improve your SEO, increase your email click-through rate (CTR), and boost conversions.
5. Email marketing
Another useful skid steer attachment marketing asset is email. It's excellent for keeping interested users up to date on your products and converting leads into customers.
One of the best tips for using email is to segment your subscriber list according to characteristics like demographics, industry, and past purchases and sending different emails to each segment.
For example, you could send an email newsletter focused on farming equipment to agriculture professionals, and one about construction to those in the construction industry.
You can even send emails that are personalized to the individual. For instance, if someone views brush cutting attachments on your site but doesn't make a purchase, you could email them about brush cutter attachments after a day or two.
To make it easier to personalize emails, you can use email marketing software. Email marketing software like EmailMarketingFX helps you to manage your email strategy, automate various tasks, and track the results of your campaigns all in one place.
6. Targeted pay-per-click (PPC) ads
Pay-per-click (PPC) ads are useful for converting people who are almost ready to purchase. Searches in which the user intends to make a purchase are called high-intent searches. Nearly 65% of high-intent searches result in an ad click.
PPC ads include paid search results in SERPS and display ads on other websites. Advertisers bid on keywords or ad space and only pay when their ad gets a click.
The way you target your PPC ads has a significant impact on their success. Target keywords related to your products and industry that your potential customers might search.
Some keyword ideas include "bale spear skid steer attachments," "used skid steer attachments," and "tools for digging drainpipe trenches."
Here are some PPC search ads on Google for "bale spear skid steer attachments."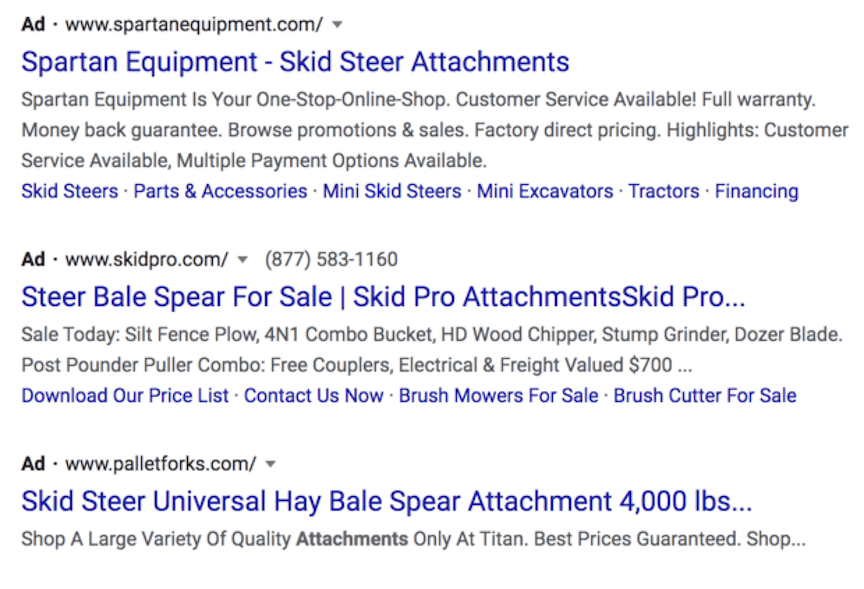 7. Social media
Internet marketing for skid steer attachment companies can also include a social media strategy.
Social media sites, like Facebook, Twitter, and LinkedIn, are useful for building communities, increasing brand awareness, and sharing your blog posts, videos, and other content.
Post on social media regularly and consistently so that people can get to know your brand. You might, for example, want to emphasize how reliable your skid steer attachments are or that you care about the safety of your customers and employees.
Interacting with your followers on social media can also help you build relationships with them, which can increase brand loyalty. If you have a consistent social media presence and share content that users find valuable, they'll think of your company first when they need a new attachment.
We're masters of our craft.
WebFX is a marketing and design industry leader.

Meta, Amazon, and Google Partner


4,000+
blog posts written


300+
Google Certified team members

Contact Us

Digital marketing for skid steer attachment companies with WebFX
The right Internet marketing strategy can help you find new customers and grow your skid steer attachment company. At WebFX, we use carefully collected data, along with our digital marketing expertise, to create strategies for our clients that help them reach their goals.
Over the last five years, our online marketing services have generated 7.8 million leads and $3 billion in revenue for our clients.
What are your goals for your business? Contact us online or at 888-601-5359 to talk to a strategist about how our digital marketing services can help you accomplish them!
Earn a 20% greater ROI with WebFX