If you're looking for a way to grow your business online, lead generation for building material suppliers is the solution.
Online lead generation methods will help you obtain more qualified leads interested in your company. It's a valuable tactic for earning more leads that turn into sales.
On this page, we'll provide you with the top three strategies for lead generation for building material suppliers. If you want to learn more about how online lead generation will help your business grow, call us today at 888-601-5359 or contact us online to speak with a strategist!
37% of marketers say that generating high-quality leads was one of their biggest challenges.
We want to decrease that percentage.
WebFX can help you generate high-quality leads with a customized marketing strategy.
Learn More About Lead Generation Services
1. Use pay-per-click (PPC) to generate leads that convert
Pay-per-click (PPC) advertising is an excellent method for generating leads for building material suppliers. PPC lets you put ads at the top of search engine result pages (SERPs). Having an ad at the top of search results allows you to reach valuable leads looking for your services.
In fact, ad clickers are 50% more likely to become a customer than organic visitors.
Let's look at some essential components of PPC ads.
Keyword selection
To get started with PPC, you must select keywords for your ad. When users search, they use keywords and phrases to generate relevant search results. You must choose your keywords, so your ad appears in search results related to your ad.
If you want your ad to appear in relevant search results, you must choose the right keywords to trigger your ad. You can find relevant keywords for your ad by conducting keyword research.
When you research keywords, you'll get a list of relevant keywords you can use for your ad. As you look through this list, you'll want to focus on long-tail keywords. Long-tail keywords are terms that contain three or more words.
Long-tail keywords work best for your campaign because they're specific.
A long-tail keyword, like "building material suppliers in Harrisburg, PA," is only going to bring people searching for that keyword to your website. If you used a keyword like "material supplier," you'll get a host of people looking for a different type of supplier.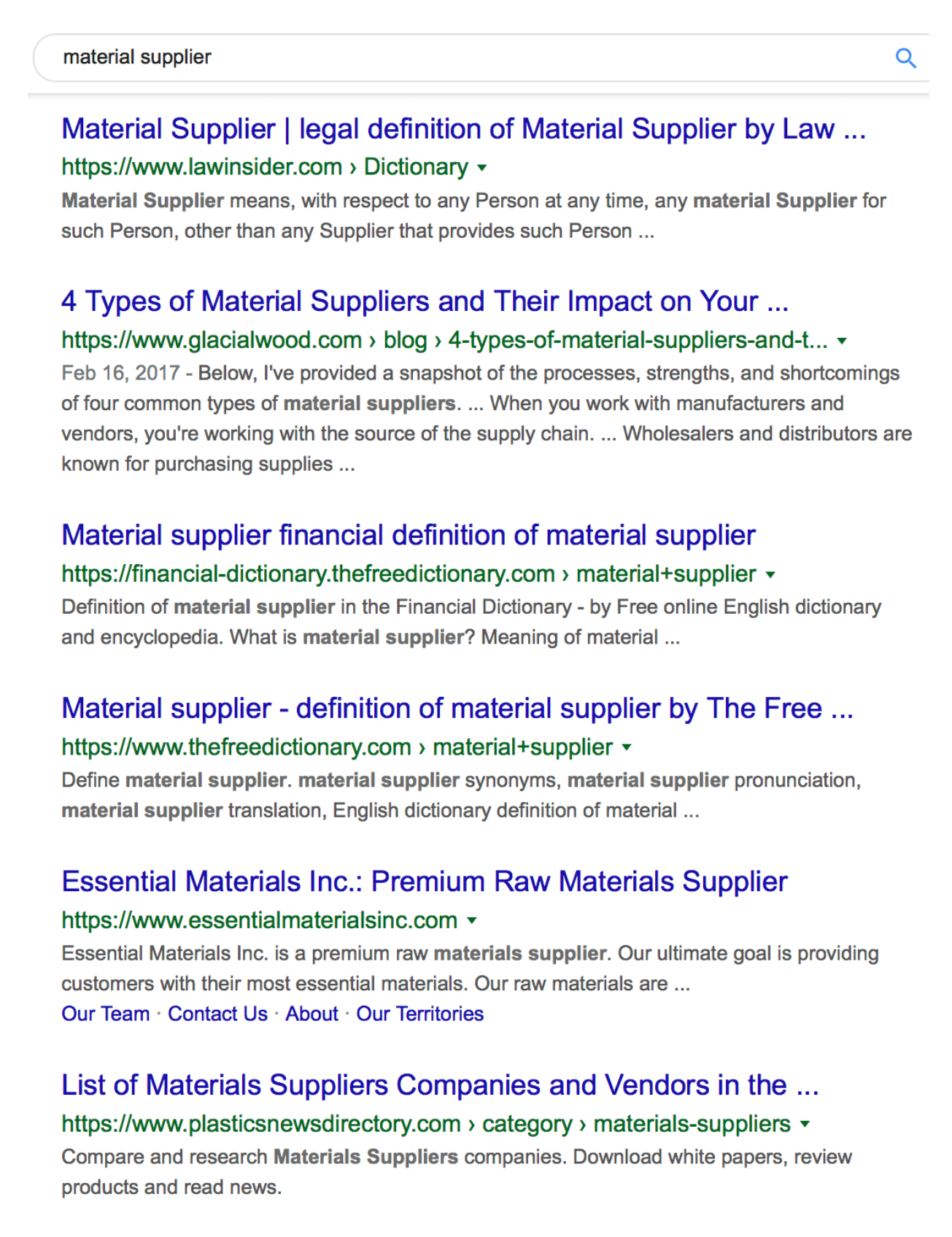 Look at the difference in the SERPs for these two keywords. The short-tail keyword, "material suppliers," generates generic search results that cover different types of supply companies. It doesn't focus solely on building material suppliers.
With the second set of search results, using the long-tail keyword "building material supplier," you already see a difference. The results focus solely on building material suppliers. This long-tail keyword generates specific results related to the key phrase.
This same process applies to your PPC ads. If you use a generic keyword like "material suppliers," you're going to compete with other types of material suppliers. It will lead to you driving less relevant traffic for your ad.
Instead, you can rank for "building material supplier" and appear in more tailored search results. Not to mention, since these keywords are so specific and have less competition, you keep your cost per click (CPC) low.
Maximum bid and Quality Score
Once you have your keywords selected, you'll bid for your ad placement. You must set your maximum bid. Your maximum bid is the amount you're willing to spend when someone clicks on your ad. This amount is flexible, and you can change it as you need.
When you conduct keyword research, you'll obtain information about the average CPC for that keyword. This average CPC will help you determine your bid amount.
Your maximum bid and Quality Score determine ad placement. Quality score includes factors like ad relevancy and click-through rate. It's best to have a high Quality Score with a low maximum bid.
Google wants to deliver the most relevant content for their audience because it makes people more likely to click on ads. The more relevant your ad content is to the search query, the better chance you have of getting your ad in a top position.
Once you set your maximum bid and receive your quality score, you'll get your ad's placement and launch your campaign. You will start using one of the best lead generation methods for building material suppliers looking to generate valuable leads.

Hear What It's Like to Work With WebFX!

"The sophistication and professionalism of the team at WebFX, and the agency itself with their proprietary tools and platform, is hands down the best I've ever experienced. Highly recommend."
Building Manufacturer
2. Use social media advertising to attract leads that haven't heard about your business
Social media ads are an excellent opportunity to capture leads that haven't discovered your building material supply company yet. These ads appear seamlessly in a user's newsfeed. It's a unique opportunity for you to market your business to qualified leads.
To get started with social media ads, you must pick your platform first.
You can use numerous social media platforms to reach your audience, including:
These are the most popular platforms companies use to reach their audience. Find yours by researching your target audience to understand where they're most likely to engage with your business.
Once you establish your social media platforms, check out their advertising offerings. Each platform offers different types of advertising opportunities for your business.
Some platforms, like Facebook, offer a wide variety of advertising formats. You can run a basic photo advertisement or an in-depth and engaging Instant Experience ad, for example. Other platforms, like Instagram, only allow photo, video, and carousel ads.
Once you select your ad format, set your targeting perimeters.
One of the best features of generating leads for building material suppliers through social media is advanced targeting. Social media platforms enable you to target leads with precision, so you deliver the most relevant and timely ad experience for your audience.
Some targeting options include:
Demographics
Location
Interests/hobbies
Buying habits
This feature benefits your business because it enables you to target people interested in your building material supplies. You put your ad in front of the users most likely to engage and learn more about your company.
After setting your target audience, you'll set your bid amount and budget.
Social media platforms enable you to set daily and weekly budgets, so you can plan accordingly. This process makes it easy for you to spread out your budget and show your ad multiple days so that you can obtain more leads.
Investing in social media advertising gives you access to one of the best lead generation methods for building material suppliers. This strategy will help you reach more interested leads and get them to check out your supply company.
3. Use email marketing to start a referral program
Email marketing is a valuable tool for helping you obtain new leads. While many people view this method primarily as a lead nurturing strategy, it also has opportunities for you to receive new leads.
To get started with email marketing, you need a list of subscribers. You can obtain subscribers by asking for email sign-ups through your website, ads, and other opportunities.
You have the option to buy email subscriber lists, but you should avoid this strategy. Paid email lists have very few leads interested in your business. In most cases, your emails will end up in spam folders or get deleted because they're not relevant to the reader.
The best way to obtain subscribers is through your email marketing efforts, like by asking in-person for emails at tradeshows, adding an email sign-up bar to your website, and having a sign-up pop-up box on your blog.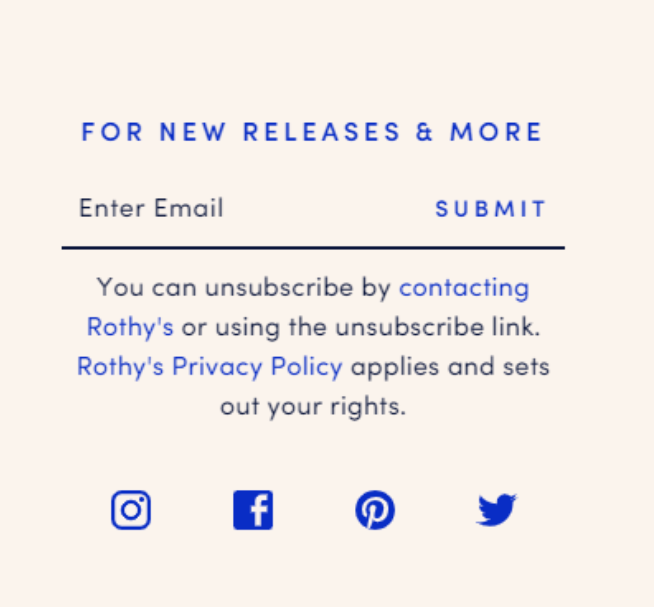 Once you have a list of subscribers, you can start sending them emails about your products.
You'll want to segment your audience to ensure you're delivering the best email experience.
Segmenting your audience allows you to distribute different types of information to people based on their different interests in your business. Segmentation helps you create a more effective email marketing campaign.
Once you have a list of people who've converted in the past, you can use this as an opportunity to obtain new leads. You can create a referral program, for example, to get your current customers to refer new leads to your building material supply company.
A referral program often offers incentives for customers. For example, let's say you have a customer named Bob that likes your building material supplies. He's purchased supplies from you a few times.
You incentivize Bob to help refer your business to people he thinks would be interested. For his referrals, you offer him a discount on his next order. As a result, he recommends his friend Mark to your company.
To entice Mark to become a customer, you offer him a discount on his first order. With incentives for both parties, you entice Bob to refer someone and Mark to follow through on the referral. It's an excellent way for you to obtain new leads for your business.
Our digital marketing campaigns impact the metrics that improve your bottom line.
See More Results

WebFX has driven the following results for clients:

$3 billion
In client revenue

7.8 million
Leads for our clients

5.2 million
Client phone calls
Start using lead generation for building material suppliers today
Lead generation for construction companies is an excellent opportunity for your business to grow online. You'll help your business obtain new and valuable leads that you can turn into conversions for your company.
If you need help getting started with lead generation, our team of over 500 experts will help you pick the right tactics for your business. In the past five years, we've driven over 7.8 million leads for our clients.
You can count on us to help you build a lead generation strategy that grows your business.
Ready to learn more about lead generation for building material suppliers? Contact us online or call us today at 888-601-5359 to speak with a strategist about our lead generation services.