Did you know the average user spends 28% of their Internet time on social media?
If you haven't created a social media presence for your building material supply company, you're missing an excellent opportunity to engage and capture leads. With social media for building material suppliers, you'll help your business obtain new leads and grow.
On this page, we'll provide you with five social media tips for building material suppliers. If you need help getting started with building your social media presence, call us today at 888-601-5359 or contact us online to speak with a strategist about how our social media marketing plans will help you grow.
Not happy with your social media engagement?
We've got just the blog post for you.
Read the Blog Post & Watch the Video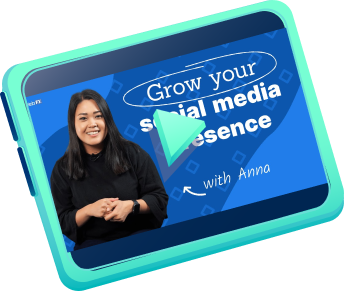 1. Find which platforms work best for your business
Before you embark on your social media marketing journey, you must establish which platforms you're going to use for your strategy.
You have several options for your business, including:
You can use any of these networks to market your building material supply business.
Some companies will establish a presence on all social sites, while others may stick to one or two platforms. Research your target audience first to determine where they're likely to spend their time. It will help you focus on the platforms that offer the most value to your business.
You don't want to waste your time and money on a social platform that your audience doesn't use. Focus on the networks where your audience spends the most time.
When you establish the right platforms for your business, you'll take the first step towards a successful social media marketing strategy.

Hear What It's Like to Work With WebFX!

"The sophistication and professionalism of the team at WebFX, and the agency itself with their proprietary tools and platform, is hands down the best I've ever experienced. Highly recommend."
Building Manufacturer
2. Create content to share on your social media platforms
One of the most significant benefits of social media is it allows you to share valuable content with your audience.
Once you have your platforms selected, you can start creating and sharing content. Content creation offers the opportunity for you to engage your audience and get them to interact with your brand.
The type of content you create and share will vary with each platform.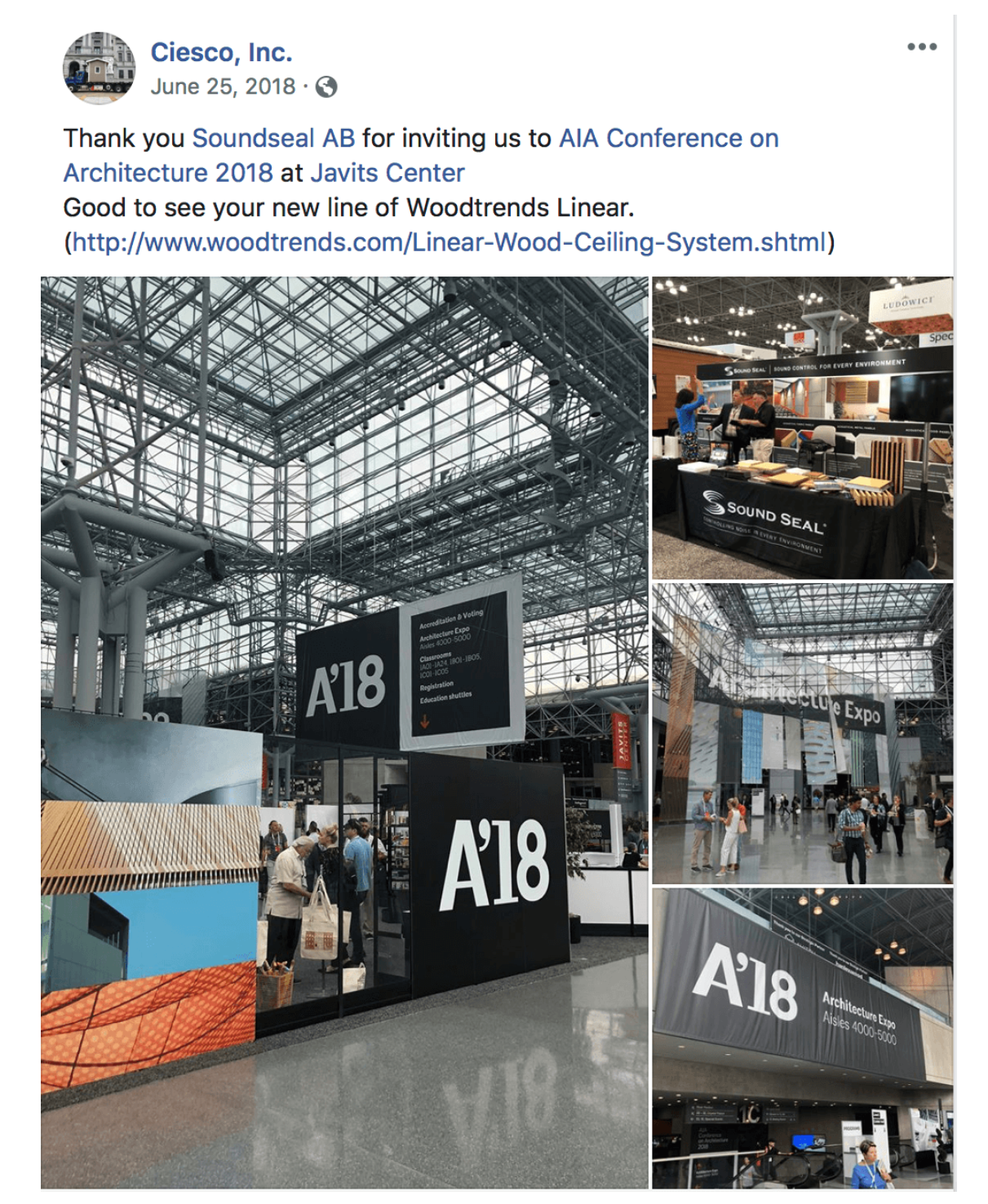 Platforms like Facebook and Twitter allow you to create a variety of content. You can share blog posts, videos, photos, and more. Other platforms, like Instagram, are hyper-focused and only allow you to share photos and videos.
When you create content, make it interesting for your audience.
You can provide your audience with valuable information or get their opinion through a poll. Your content should always focus on enhancing the user experience and providing them with value, whether it's knowledge or entertainment (or both!).
By creating content for your audience, you'll get them to engage with your business more. It's a necessary tool for creating a successful social media marketing plan for building material suppliers.
3. Take a humanistic approach to your social marketing efforts
If you want to be successful with social media for building material suppliers, you must take a humanistic approach with your social presence.
Social media is one of the best places to connect with your audience one-on-one.
Your audience doesn't want to connect with a cold corporation that treats them like a number. They want to engage with a company that takes a humanistic approach and makes them feel like they're interacting with a person.
The approach helps you connect with your audience better. You make your business appear more personable and approachable.
One way to appear more like a human and less like a corporation is to post professional, but friendly content. Stay away from stiff corporate language. Speak to your audience as if you're having a conversation with a friend.
Target is a prime example of a company that uses a humanistic approach to get engagement. In this example, Target shared a Venn diagram related to what makes people happy. This diagram markets their company in a fun and relatable way.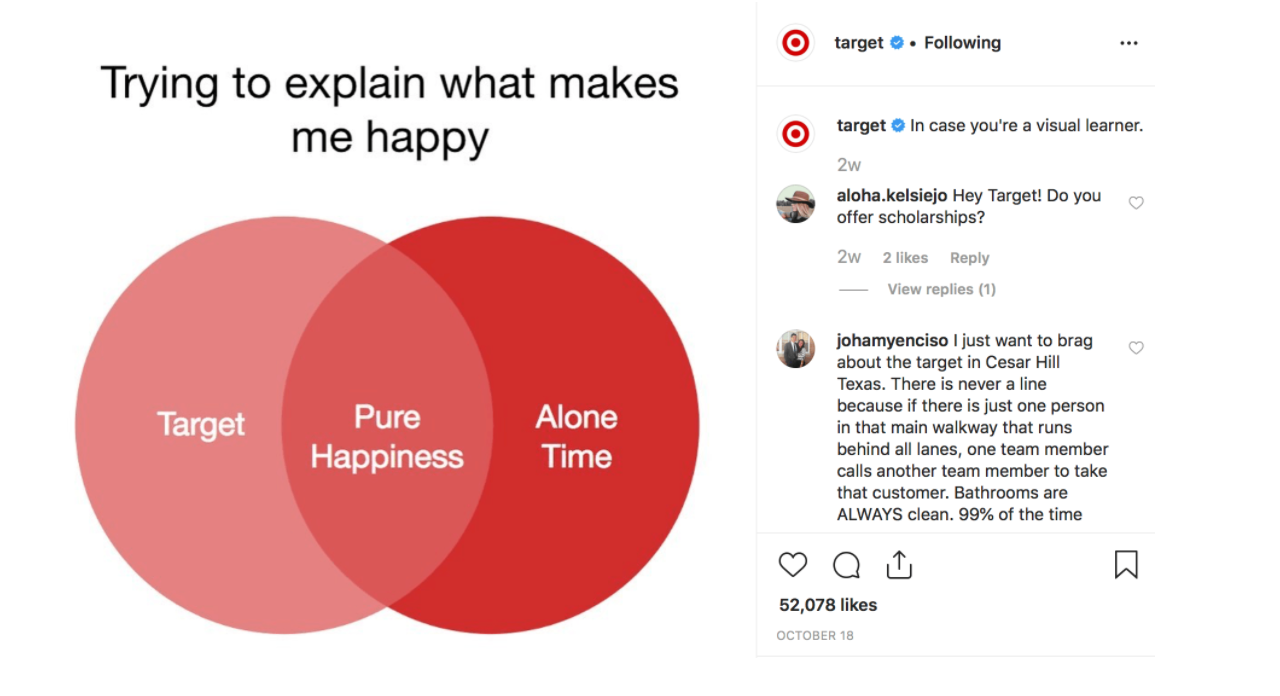 Target's caption for the photo is casual, too, reading "In case you're a visual learner." This content gets the point across that Target brings happiness, but Target presents the information in a fun and casual way that garners engagement.
By taking a humanistic approach, you'll appeal more to your target audience and get them to engage with your building material supply company.
4. Encourage user-generated content
User-generated content is a valuable part of social media for building material suppliers.
When users want to learn about your business to determine if you're a good fit for them, they check out what others say about your company. User-generated content serves as testimonials for your business.
With user-generated content, you take posts from your audience and share them on your page. It provides your audience with insight into your customers' experiences. People get a first-hand look at how others like your company.
Users rely on reviews to gain insight into your business.
In fact, 92% of users trust recommendations over a brand. If they see users giving positive feedback about your company through your user-generated content, they will feel more confident in selecting your business.
5. Use paid social ads to reach new leads
Aside from posting organic content, you also have the option to run paid advertisements on social media. Social media ads are an integral part of social media for building material suppliers. These ads help you drive interested leads and conversions for your business.
Each social media platform offers its own paid advertising options.
Your advertisement depends on which social platforms you use. Many platforms provide photo, video, and carousel advertisements, but some platforms may offer additional formats.
Once you select your format, you'll decide who you're targeting. Social media ads enable you to target specific leads interested in your business. You can set precise targeting parameters, like age, location, and occupation, to help you reach people most interested in your company.
These ads appear seamlessly in a user's newsfeed. They're an excellent way for you to reach people interested in your building material supply company.
By running social media ads, you'll drive more valuable leads for your business.
Start using social media for building material suppliers to grow your business
Social media for building material supply companies is crucial if you want to grow.
This strategy will help you reach more interested leads that want to partner with a building material supplier. Social media offers an excellent opportunity for you to connect with viable leads and nurture them towards conversion.
At WebFX, we have a team of more than 500 social media marketing experts that will help you grow your social media presence. In the past five years, we've driven over $3 billion in sales and over 7.8 million leads for our clients.
You can count on us to help you drive results with your social media campaign.
Want to learn more about how social media for building material suppliers will help your business grow? Contact us online or call us today at 888-601-5359 to speak with a strategist about our social media plans and social advertising packages.
Earn a 20% greater ROI with WebFX