If you haven't started marketing your law firm online, you're missing a prime opportunity to reach new clients. Digital marketing for lawyers helps you expand your practice's reach and connect with more people looking for a lawyer.
So, how can you get started with online marketing for lawyers?
On this page, we'll provide you five ways to make online marketing for your law firm a success.
WebFX is a top digital marketing company that can help you launch a successful online marketing campaign. With our team of over 500 digital marketing experts, you can feel confident we'll build a digital marketing campaign that drives results.
Contact us or call us today at 888-601-5359 to learn more!
Our digital marketing campaigns impact the metrics that improve your bottom line.
See More Results

WebFX has driven the following results for clients:

$3 billion
In client revenue

7.8 million
Leads for our clients

5.2 million
Client phone calls
1. Improve your website to keep clients engaged
Your website is the heart of your law firm's digital marketing efforts. With most strategies, you drive leads back to your website. You want to ensure that you have a beautifully designed site your audience will want to stay on to learn more about your business.
If your website is outdated or doesn't function properly, you'll miss out on potential leads.
Here's how you can improve your website to earn more clients:
Create a beautiful and modern design
Did you know that 94% of first impressions relate to web design? If your website isn't visually appealing to your audience, they will bounce from your site and visit a competitor instead. You need to set a positive first impression with your design, so you keep leads engaged.
You'll want to choose a design that reflects your law firm and is consistent throughout your site.
Take the Law Offices of Greg Prosmushkin as an example.

In this example, the design is consistent throughout and keeps the same color scheme that reflects the law office's brand. You'll want to take a similar approach with your design to ensure you're putting your law firm's unique style into your website.
Ensure your website loads quickly
Your audience doesn't want to wait for your site to load, so if you have a slow-loading website, you'll deter people from spending time on your site.
To see where your site's load time currently stands, use Google PageSpeed Insights to help you understand how your website performs.

Google will provide you with suggestions on how to improve your site. If you don't have experience with optimizing the backend of your website, you can invest in page speed services to help improve your site's load time.
Make sure your site functions on mobile
Having a mobile-friendly website is critical to providing your audience with a positive experience. People will access your site from different devices, so you must provide them with a positive experience.
You can create a mobile-friendly website with a responsive design. Responsive design ensures your website adapts to whatever device someone uses. As a result, you'll provide a better experience on your site and keep more people engaged with your law firm.

Hear What It's Like to Work With WebFX!

"Our account manager and the WebFX team have the tools, tips, and tricks to provide solid analysis and actionable updates and content to our website. They are studying our industry to ensure we are all on the same page and growing our audience."
Law Firm
2. Obtain reviews and testimonials to build up your law firm's reputation
When you do online marketing for lawyers, you want to ensure you include a strategy to build up reviews and testimonials for your firm. These two elements are critical to your firm's success because people want to partner with a lawyer that drives results.
People who hire your law firm choose you because they think you'll do the best job of helping them win their case. Reviews and testimonials provide insight into whether you're capable of getting clients the best results.
For reviews, you'll want to encourage clients to leave their feedback on sites like Google, Yelp, or your Facebook page (if you have one). Encourage them to be honest about their experience — don't try to pad your profile with only positive reviews.
For testimonials, try to reach out to your current clients and see if they'd be willing to talk about what it was like to work with your firm. You can then interview them and pull quotes or create a video to showcase to future clients.
By building up your reputation online, you'll help your law firm earn new clients and expand your practice.
3. Boost your presence in search engines with search engine optimization (SEO)
A core component of a marketing plan for lawyers is search engine optimization (SEO).
SEO involves optimizing your site to rank better in search results. When you consider that 93% of all online experiences start with a search engine, you must optimize your website to rank in search.
When people want to find a lawyer, they're going to turn to Google to help them find one. If your site isn't ranking on the first page of results, you're going to lose valuable clients to your competition.
To get started with SEO, follow these best practices:
Optimize your site for relevant keywords
If you want to have success with SEO, start by optimizing your site for relevant keywords. Keywords trigger your website to appear in relevant search results. If you want clients to find your practice, you need to conduct keyword research and discover the right terms to integrate on your website.
You can use a keyword research tool, like KeywordsFX, to find relevant terms. You can plug in a phrase, like "criminal defense attorney," and generate numerous keywords you can potentially use on your site.
When you conduct keyword research, you'll generally want to stick to terms that contain three or more words, also known as long-tail keywords. These keywords are more specific, so you can feel confident that the leads that search them are interested in your law firm.
Once you have your keywords selected, you'll want to integrate them throughout your page, including the body text and headings. You don't want to over-integrate your keywords, though, as it will lead to keyword stuffing and negatively impact your ranking.
Optimize your title tags and meta descriptions
If you want to rank in search results, you need to optimize your title tag and meta description. These two components are what your audience sees first when they find your practice's listing in the search results.

To optimize these tags, make sure you integrate your core keyword into both. Incorporating your keyword into your title tag and meta description will help you rank in relevant search results.
You'll also want to ensure you stay within the character limit for each type of tag.
For title tags, keep them within 60 characters.
For meta descriptions, keep them within 155 characters.
Build up your backlink profile
For the last component of SEO, you'll want to focus on building up your backlink profile. Backlinks are links to your site from an authoritative site in your industry. These links help boost your site's trust, drive valuable traffic, and help you rank better in search results.
You can earn backlinks by creating informative content.
We'll dive into content creation more next, but just note that creating content helps you create opportunities to reach out to industry authorities. You can reach out with your related content and invite them to check it out.
If you find they have a broken link on their site, like to a competitor's website, you can even inform them of the broken link and offer your relevant piece as a replacement for the link.
4. Create content to share your knowledge
Content marketing is a crucial component of digital marketing for lawyers. When you create content, you share your knowledge and expertise with your audience. As a lawyer, you have tons of legal expertise to share with your audience.
Creating content creates an opportunity for you to provide your audience with the information they want.
When you provide this information, they see you as a trustworthy resource. Once those leads are ready to hire a lawyer, they're more likely to choose your firm because they trust you're knowledgeable and experienced.
Follow these best practices for launching a successful content marketing campaign:
Try a variety of content formats
When you create content, you want to keep it fresh and exciting for your audience. To get the most from your content marketing strategy, you'll want to use a variety of formats, so your content appeals to different learning styles.
You can present content in numerous formats, including:
Ebooks
Guides
Podcasts
And more
Using multiple formats will help you appeal to various members of your audience that consume content differently.
Create content often
When you add content marketing to your marketing plan for lawyers, you need to ensure you create content often to drive success. Creating content consistently enables you to rank in different search results. So, you're creating multiple avenues for new people to discover your practice.
So, how often should you create content?
That number will depend on your practice and your audience. Some companies can see success with only creating two pieces of content a week, while others drive better results when publishing ten. It may take some experimenting to figure out how much publishing you need to do to maximize your results.
Use a content calendar
When you create content often, it's easy to miss deadlines and lose track of content projects. To help keep your law firm organized, you'll want to use a content calendar.
A content calendar ensures that you know when a piece starts, when it's going to get edited, and when you want to publish it. It makes it easier for you to ensure your content is spread out over time, too, so you don't push all your content out at once.
5. Create a social media strategy to engage with audiences
When you do Internet marketing for lawyers, don't forget to include social media marketing as part of your plan! Social media marketing enables you to connect directly with clients interested in your services.
This tool is valuable to your business because it enables you to build a direct connection with your audience. You can share helpful information directly and get your target audience to engage with your brand.
Here's how you can launch a social media strategy:
Choose the right platforms
When you launch a social media strategy, you want to ensure you're using the right platforms to reach your target audience.
You can choose from multiple social media platforms, including:
You'll want to choose platforms where your audience spends most of their time. You can investigate each platform's demographics and see which ones your audience uses the most.
Post often
If you want to succeed with social media marketing, you need to post often. Your audience follows numerous friends, family members, and businesses on social media. If you want your message to reach your audience, you need to post often to ensure leads see it.
How often you post will depend on the platform and your audience.
Some platforms, like Twitter, are meant for posting dozens of times a day. If you tried to post dozens of times on a different platform, like Facebook, for example, it might clog up a user's feed and annoy them.
It's also critical to take your audience into account when posting content on social. Your audience may want to see five Facebook posts from you, or they may only want to see one a day. You need to know your audience to figure out the proper posting frequency.
Run social media ads
Social media platforms offer advertising that enables you to reach new clients for your law firm. These ads appear in relevant users' newsfeeds like social media posts but are tagged with words like "sponsored" or "promoted" to indicate paid content.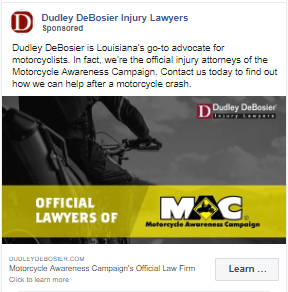 You can target people precisely with these social ads. From demographics to socioeconomic status to buying habits, you have numerous ways to target interested leads.
When you create your social media ads, make them visually appealing. Social media platforms enable you to run photo and video ads, so you want to ensure your visual is attractive and catches your audience's attention, so they stop scrolling.
Get started with digital marketing for lawyers today
These are just a few of the digital marketing strategies you can use to grow online.
By expanding your reach online, you'll help your firm earn more clients.
If you aren't sure how to get started, WebFX is here to help.
We're a full-service digital marketing company that offers everything you need to grow online, including:
And more
We have an award-winning team of over 500 marketing experts that know how to drive results. We've driven over $3 billion in sales and over 7.8 million leads for our clients in the past five years.
Ready to get started with your digital marketing plan?
Contact us online or call us today at 888-601-5359 to speak with a strategist!