Social media marketing is vital for businesses across industries, including childcare. Many parents turn to social media to discover childcare options in their area and read reviews from their peers. When you take the time to cater to these digital-focused parents, you will grow your business and drive revenue.
Read on to learn more about social media for your childcare center, or call us at 888-601-5359 to jump-start your social media marketing efforts!
Growing your social presence with WebFX is a walk in the park.
"WebFX allows growing your social media platforms to be stress-free! They are knowledgeable and adapt to your company needs!"
Learn More About Our Social Media Services

Why use social media for childcare providers?
A solid first impression is essential to growing your childcare business. With more parents seeking services online, your social media may be the first place parents discover your business. Your social media presence will help parents find and learn more about you, growing your business over time.
Maintaining your social media will provide many other benefits, including:
A better brand image:

Showcase your building, services, and staff to build credibility and create an optimistic viewpoint of your business.

Easier communication:

Staying connected with parents, the community, and others in the industry is quick and simple through social media platforms.

Improved lead generation:

Social media lets you advertise your business online through ads, referrals, and increased awareness.

Deeper community connections:

Social media's personal nature allows you to create better relationships with parents and other businesses, building loyalty and growth opportunities.

Access to free resources:

Social media gives you access to many resources that could help you improve your skills and provide fun opportunities for the children at your care center.
6 social media marketing tips for childcare providers
Check out these social media best practices to grow your business!
1. Pick the right platforms
To get the most out of a social media presence, you'll want to ensure you are on the same platforms your audience is on. Your business's goals, values, and budget will help you determine where to dedicate your time and resources.
A few of the most popular platforms to consider are:
Facebook:

With millions of daily users, Facebook enables you to reach a broad audience and

create a business profile

. You can join established communities and quickly spread essential information, such as enrollment dates or job openings.

Instagram:

Give your audience a peek into daily life at your childcare center

with an Instagram account

. This platform is ideal for sharing images of your space, activities, and staff members, helping your audience understand what goes on at your business.

LinkedIn:

As a more business-oriented platform,

LinkedIn provides many opportunities

to network with others in your industry and stay updated on trends. This type of social media can boost your credibility and help your audience trust you more.
2. Manage reviews
Parents often look for reviews and testimonials when they turn to social media for childcare options. Invite parents who currently use your services to leave reviews and find ways to share their opinions on your social media accounts. You can also include links on your social media to a testimonials page on your website, helping parents find information while also driving more traffic to your site.
Take time to respond to reviews, whether positive or negative. Your active interactions will inspire your audience to view you as honest and professional, encouraging them to learn more about your business. Addressing negative reviews may also allow you to answer parents' questions or concerns about your services.
3. Share quality content
Establish your social media presence by posting quality content that is relevant and helpful to your followers. Every post should be intentional and relate to your business goals, values, and activities.
Your content should:
Encourage conversations.

Drive traffic to your website.

Create a community.

Educate parents.

Form connections.

Inform your audience of events.
To meet these content goals, try a few of these childcare social media post ideas:
Event announcements

Staff spotlights

Children's artwork

Menu for the week

Craft instructions

Funny quotes or stories from children

FAQs

Videos and images with permission from parents
4. Engage with your community
Posting consistently and frequently interacting with your audience will help more people recognize and trust your brand. Invite followers to participate in discussions, like and share posts from other creators, and answer questions.
Strive to be active within your community by attending events or partnering with businesses that complement yours. As parents see you involved in the community, they will be more likely to associate your brand with a positive image and trust your services.
5. Create clear policies
Since your business revolves around children, you'll want to create comprehensive, transparent social media policies to follow. Be clear with parents about your marketing efforts and social media policies, and ask for permission before posting any images of children. With definitive policies, you can ensure the children's safety, respect the parent's wishes, and protect your business.
6. Maintain a professional image
Parents are searching for trustworthy childcare centers. The appearance of your social media pages plays a vital role in creating that professional perception. A few ways to maintain a reliable image include:
Ensuring your information is correct and up to date.

Posting clear and real photos of your staff and center.

Sharing relevant content.

Using professional and respectful language.

Making contact details prominent and accessible.
74% of people use social media when making a purchasing decision.
Make their decision easy with a stellar social media presence. See how your brand can level up by requesting a no-obligation proposal today.
One of our experts will be in touch within 24 hours!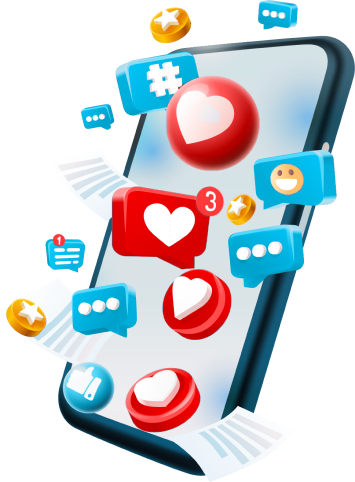 WebFX can help with your social media marketing
Ready to grow your business through social media? If you aren't sure where to start, WebFX can help! We are a social media marketing company focused on building brand awareness and driving revenue for our clients.
Contact us online to see how we can transform your social media marketing efforts!
Find Us Driving Revenue Nationwide