As a veterinarian, you know that animals don't always come when you call. Sometimes you must coax them over with the promise of food or a soft bed.
Digital marketing is no different. Sometimes you must draw people in with quality content, be it an informative article or an engaging video. But even high-quality content won't be effective if it isn't partnered with good web design.
So, how can you optimize web design for veterinarians? Below, we'll look at seven things you can implement to improve your web design, along with some veterinary websites that exemplify each one.
Read on to learn more, and then consider partnering with WebFX — the digital marketing agency with over 1020 client testimonials — for more help with your veterinary web design! Just call 888-601-5359 or contact us online to get started!
Our digital marketing campaigns impact the metrics that improve your bottom line.
See More Results

WebFX has driven the following results for clients:

$3 billion
In client revenue

7.8 million
Leads for our clients

5.2 million
Client phone calls
1. Implement intuitive navigation
Imagine you walked into a store to buy some things, but quickly realized that you had no idea how to find your way to what you needed. The products on the shelves seemed completely disorganized, and there were no signs to guide you to different sections of the store.
That's how users feel when they visit a website that doesn't have good navigation. But when you help them find their way around, they'll be much more likely to stick around.
The easiest way of doing this is to have a navigation bar with tabs that divide the site into its different sections — think of the tabs as the signs above each aisle in a store. You can also use breadcrumb navigation to show users where they are on the site at any given moment.
Canyon Pet Hospital does a great job of this on their website, with their navigation bar tabs dropping to show the different subsections of the site.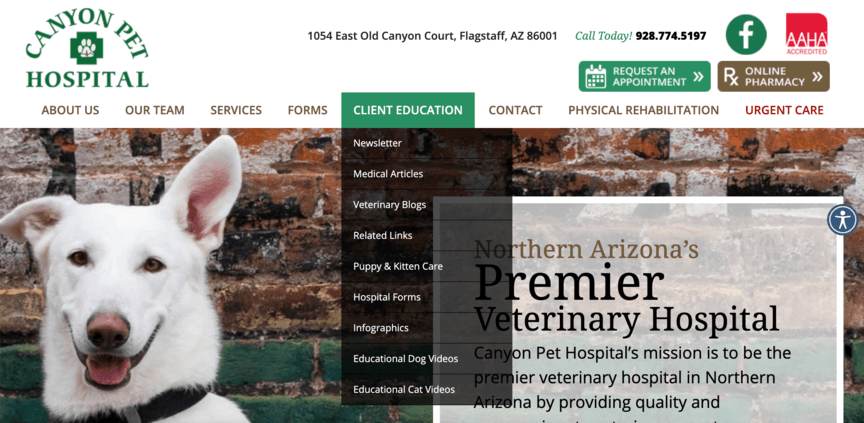 Hear What It's Like to Work With WebFX!

"Although we have only been working with WebFX for a short time, I have already received more communication and better ideas than all of the prior SEO companies I have used before combined. I'm looking forward to a long lasting relationship with WebFX."
Animal Hospital
2. Apply visual principles of design
Another surefire way to make users more interested in a veterinary web page is, quite simply, to make it look nice. A visually pleasing page will always be better at keeping users around than an unappealing one.
One of the simplest ways to make this happen is to implement the four principles of design:
Proximity: Keeping related pieces of content near each other
Alignment: Using consistent right, left, or center alignment for text and images
Repetition: Establishing a theme or brand by repeating specific design elements
Contrast: Avoiding letting different elements blend together, especially with color
Habitat Veterinary Hospital provides a great example of great design.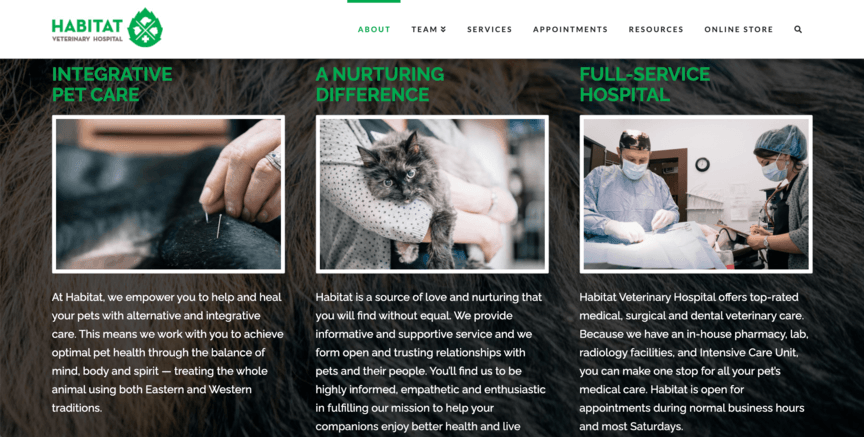 On an all-around beautiful homepage, they use excellent alignment for their text and images. The green-and-white color scheme they use across the website, meanwhile, offers a fantastic example of both contrast and repetition.
3. Build your design around your unique brand
Your website shouldn't just look good — it should look like you. Even the most well-designed veterinary web page won't bring users back to it if they can't remember whose page it is.
There's no singular way to accomplish this task. You can harness the power of different fonts, color combinations, and even principles of design to give your website a feel that's unique to your clinic. Whatever you do, it needs to convey your own specific brand.
PAZ Veterinary is one of the best veterinary websites out there when it comes to branding.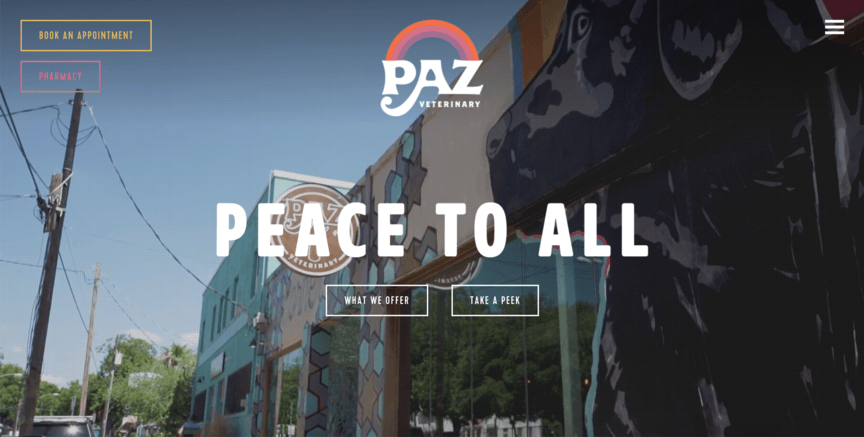 PAZ's brand centers on something akin to a "hippie aesthetic," and their site reflects it. The homepage alone is filled with rainbows, phrases like "peace to all," and references to Chinese herbals — all of which cement this clinic's brand in the mind of anyone who visits their site.
4. Surround your text and images with white space
Another important thing to get right in your veterinary web design is to keep things from getting too cluttered. When users visit your website, you don't want them to be overwhelmed by how much content is on the page. You want to give them room to breathe.
The best way to do this is to incorporate plenty of white space, particularly around textual content. Rather than trying to cover every part of the page with content, leave a reasonable amount of empty space around the text and images you include.
WestVet provides a good example of how this should look.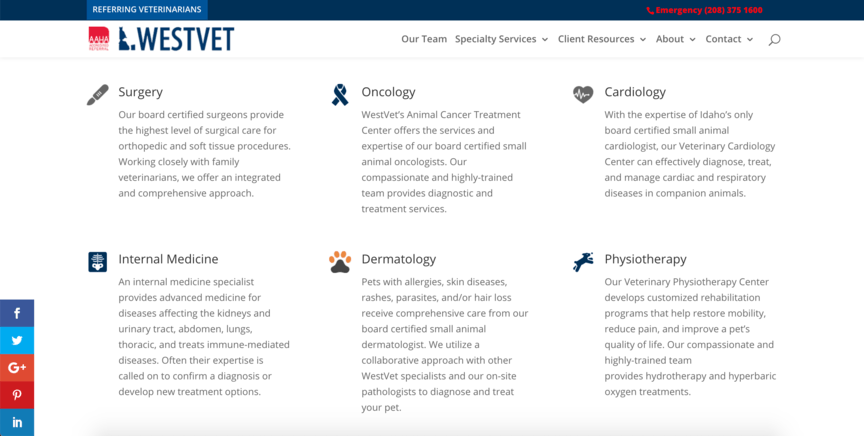 As you can see in the image above, their homepage includes several small blocks of text to give an overview of the different services they offer. But those text blocks are no bigger than a single short paragraph each, and the gaps between them are left empty, making it easy on the eyes.
5. Craft compelling video content
A great tactic when it comes to web design for veterinarians, in particular, is to use video content. Videos are excellent at capturing people's attention, and as a veterinary clinic, you have a chance to create some of the most engaging video content on the Internet.
With countless online users already looking up cute animal videos in their spare time, there's no doubt that you can significantly boost traffic to your website simply by putting up videos featuring some of your most adorable patients.
Veterinary Healthcare Associates does this right at the top of their homepage.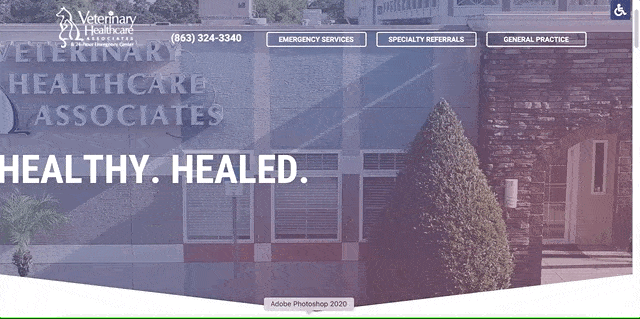 The video, which plays automatically as soon as the page loads, shows off the clinic's employees taking care of their various animal patients.
6. Heighten your page speed so your site loads quickly
With 83% of users expecting websites to load in under three seconds, you want to make sure your page load speed isn't falling behind your competitor's sites. When your website takes longer to load than expected, people might start hitting the back button.
Fortunately, there are several ways you can make your website load faster:
Cache web pages
Compress impages
Minify your code
Limit redirects
Mendocino Animal Hospital does a good job of this, with its website's page speeds typically coming out to only one or two seconds.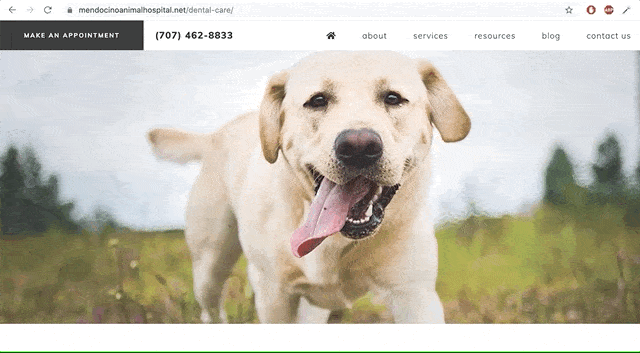 7. Optimize your site for responsive design
Though it comes last on this list, responsive design is one of the most essential elements of web design. It refers to optimizing your website for both mobile and desktop formats, so it looks pleasant and functions properly on both types of devices.
The reason it's so essential is that it affects the way Google ranks your site. One of the most likely ways for a user to find your website is through a Google search, so you want your veterinary web pages to rank high in Google search results.
But Google ranks content based on its mobile format, which means that a site optimized only for desktop won't rank as well, and it will receive very little traffic as a result.
To see what good responsive design on veterinary websites looks like, you can pay a visit to Southeast Veterinary Neurology.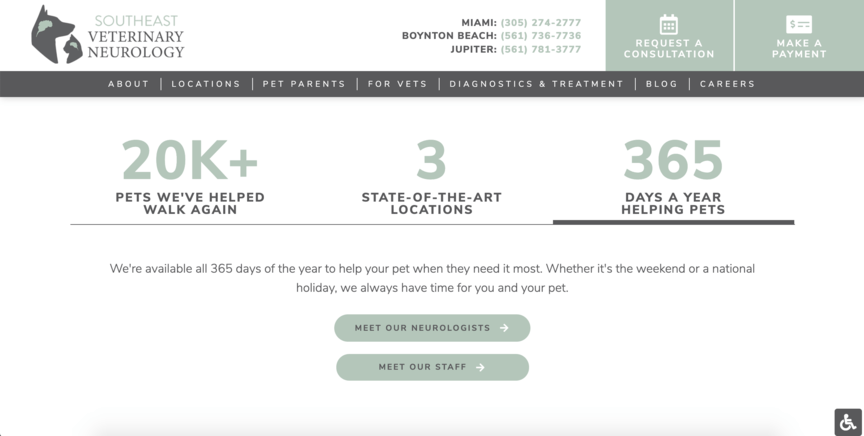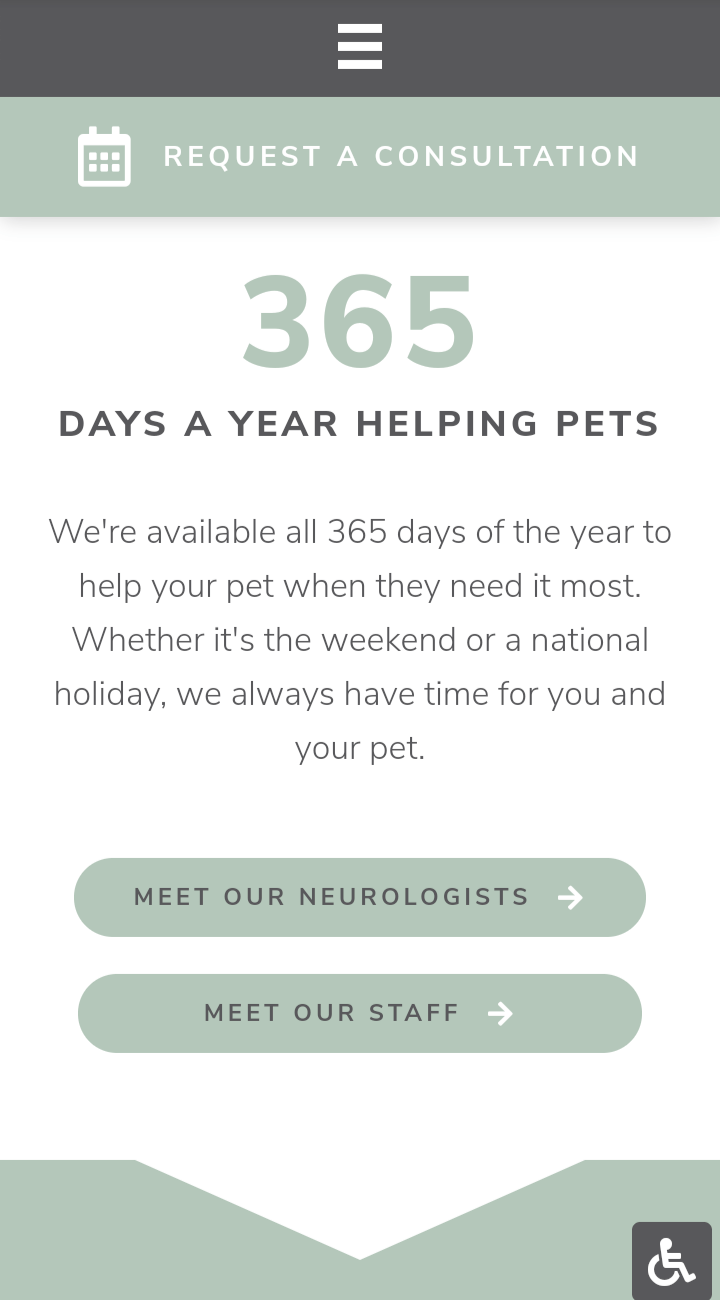 Southeast Veterinary's homepage appears one way on desktop, with information spanning the width of the screen. But on mobile, the text and graphics are reorganized to adapt to the new aspect ratio.
Bring in more clients
When you partner with WebFX, we'll help you use social media to build brand awareness, attract new clients, and more.
Get help optimizing your veterinary web design from WebFX
Still unsure how to craft the best web design for veterinarians? WebFX has you covered. With over 25 years of experience, we have all the knowledge and dedication to make your website the best.
We can help you implement every item on the list above, from video production to page speed optimization. Take a look at our other web design services to learn more!
Or, if you're ready to partner with us, just give us a call at 888-601-5359 or contact us online today!
Earn a 20% greater ROI with WebFX